5 Conversion Best Practices Defied by Lead Generation Studies (with actionable insights)
If sticking to conversion optimization best practices would yield positive outcome every time, the whole definition of A/B testing will change. Then AB tests would be conducted to only document the conversion increase percentage of the challenger, instead of testing which variation of the website performs the best.
But let's get real. That's not how it is. Sometimes even best practices can lead to negative test results. If you choose to only test best practices in the industry, you are merely restricting the conversion potential of your website.
So instead of judging a testing idea on the basis of what works or doesn't work for the majority, why not move beyond the usual "best practices" and try out a few ideas to see how it works for your unique visitor set?
To help you move along, given below are 5 conversion best practices that are defied by lead generation case studies:
1. Featuring the Privacy Policy with the Signup Form Increases Trust and Improves Conversions
A recent case study by Content Verve showed how their Challenger that included the "100% privacy – we will never spam you"  message with the signup form lost to their Control (that had no privacy message with the signup form) and reduced their leads by 18.7%.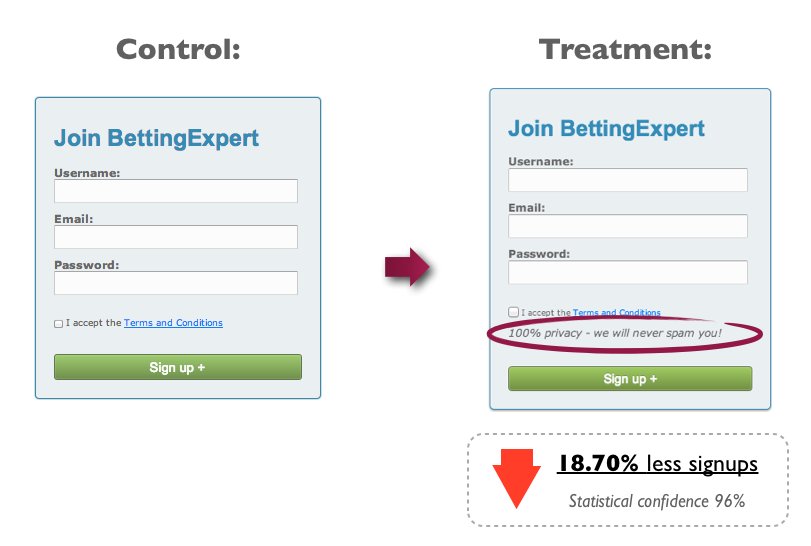 Now this was surprising especially because the privacy message should ideally build trust with prospects.
But thankfully, the Content Verve team didn't give up. And finally they did find a winning Challenger with the message "We guarantee 100% privacy. Your information will not be shared," which increased their signups by 19.47% when tested against the same control that is shown in the image above.
Actionable Insights:
Apparently, the negative connotation of the word "spam" (in the first challenger that was tested) reduced signups because it increased visitor anxiety than address their concerns. And yes, it seems that this stands true even if you use the word "spam" in the positive context.
This reasoning about word connotations reflecting visitors' actions made even more sense as they tested another Variation against the same Control that combined the message from the Winning Variation and the Losing Variation. The message in this new Variation was "We guarantee 100% privacy, We will never spam you." It showed no significant change in results for the Challenger and the Control.
Probably the positive connotation of the word "guarantee" nullified the negative impact of the word "spam." So, it's imperative that you choose your words carefully. Sometimes context may not matter to your visitors and connotations can make all the difference.
2. The Lesser the Form Fields, the Better
Well, not always. You might argue that increasing form fields means more effort by prospects and hence it should "quite obviously" decrease conversions. Tell you what? It isn't that obvious!
Because if you're stuck with the notion that fewer form fields are always better for conversion, how will you explain the Kindercare's experiment where they dared to add an extra "Comments or Questions" field to their Variation page?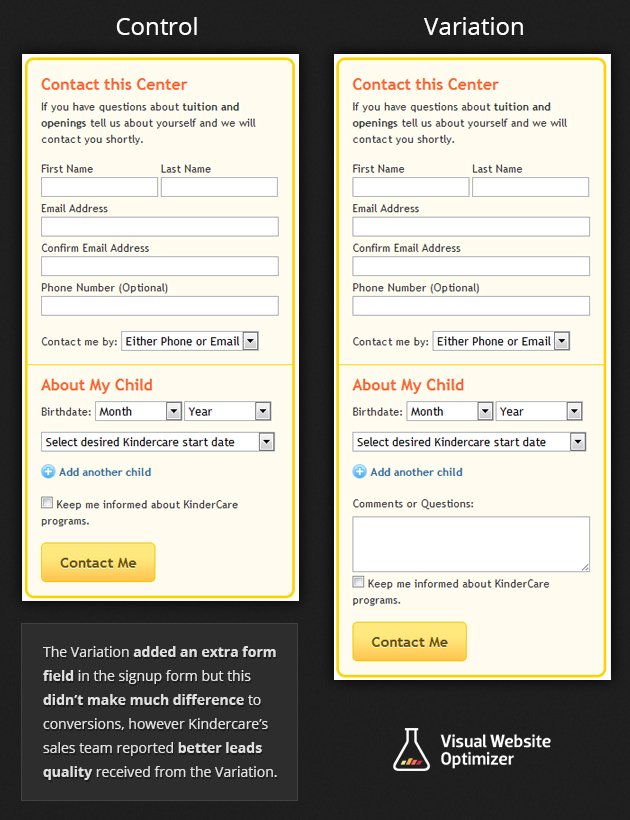 Even though there was no significant change in conversions for these two versions, at least the number of leads didn't plummet. And their sales team reported an improvement in the quality of leads from the Variation page.
Actionable Insights:
As long as visitors can justify the perceived value of form fields on your site, it at least shouldn't impact your conversions negatively, if not improve them.
Plus, even if you want to add 1-2 extra fields to your form, you can add (*) to your mandatory fields so that it's clear for your prospects what all they can skip instead of just getting put off after seeing a lengthy form.
Another important point to notice here is the lead quality v/s lead quantity. Sometimes all you need from your leads is their contact number and name to follow up with them over the call. You can always boast about higher conversion numbers if you only intend to have increase in number of leads. But a good majority of them might not be serious leads. There will be a lot of them who are looking only for free advice and have no interest in buying from you.
The best way to weed out these leads and keep your focus only on serious or qualified leads is to add a few more specific questions in your form. This won't deter your serious prospects as they will be able to reason out the need for you to mention these fields in the form. But a lot of non-serious leads will be filtered because of these additional fields.
3. Call-to-Action (CTA) Should Be Above the Fold
Okay, a lot many of you must have heard about this already. The rationale behind this practice is that a good majority of prospects won't care to scroll down the page, due to lack of time, limited attention span, whatever. So, the common practice says, if you have buried your call-to-action below the fold, your conversion rate will suffer.
The above-the-fold myth was demystified long back and is pretty popular among the conversion fanatics. In case you haven't seen an example where placing the call-to-action button below the fold increased conversions, here's one for you: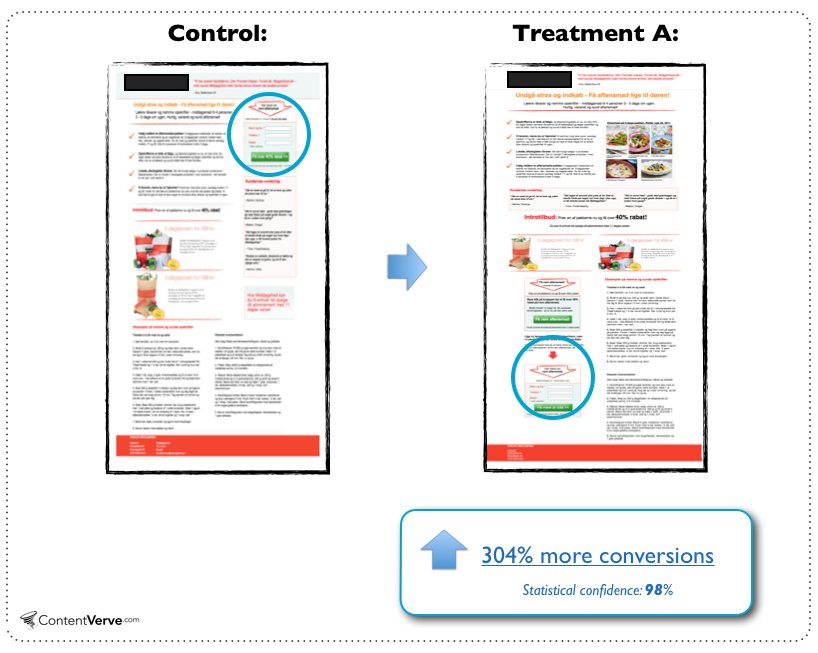 Michael Lykke Aagaard from Content Verve who optimized a Danish website found that placing their CTA or the signup form below the fold gave them an astounding 304% conversion lift.
The site offered a subscription where dinner recipes along with their ingredients were delivered to the customers 3-5 times per week.
Actionable Insights:
Looks like when you have a complex offer, prospects don't mind scrolling all that much as long as you provide something of value to them. Just snapping a bright red or orange CTA on the top won't help much if your visitors are not confident about what exactly the offer is about or what are they signing up for.
Communicate all information required by your prospects to make an informed decision before you ask them to take action. It's called "right timing."
Make Your Readers Scroll Below the Fold
But if you still fear losing some prospects, you can definitely use a few designing tips along the way to guide visitors to scroll down the page:
Don't Cram Everything Above the Fold – Good use of whitespace and imagery encourage users to explore the page further. When you try to cram everything above the fold, it may overwhelm visitors and make them lose interest as there are too many things vouching for their attention at once.
Have Some Interesting Content Poke Above the Fold – Horizontal lines can sometimes discourage scrolling. This doesn't suggest that complete outcast of horizontal elements is the solution here. But when you have some elements poking above the fold, they establish a continuity in visitors' minds and serve as a teaser that make them scroll the page further.
4. Short Copy Convert Better Than Long Copy
No one has the time to read after all. And we all know about our limited attention span when we are online. Right?
A post by Neil Patel last year emphasized how long copy can many times convert better than a short copy.
Neil reduced the 1292 words copy on the homepage of his site to 488 words and moved the form fields above the fold in his Variation from their placement below the fold in the Control. Much to his surprise, the short copy Variation that placed form fields above the fold lost to the Control page by 7.6%.
Actionable Insights:
You can carry forward the same argument from the previous best practice here. Understand that as long as readers can find value in your copy, it's okay to have a lengthy copy.
He even goes on to prove that long copies make for a better link bait and are thereby more likely to rank higher in SERPs. And that there is a direct correlation between the copy length and the response and links it received. In fact, the data presented by him showed that the first three results in Google often have 2400+ words, and this number goes down to 2000+ words for the 10th result.
In the end, you understand your customers better than anyone else. Know what their pain points or anxiety concerns are, and make sure they know what are the problems you can sort out for them. And if you think a long copy will do better for your prospects, go ahead and give it a shot!
5. Show Signup Form on the Homepage/Landing Page
Okay so I've covered this practice in one of my previous posts here. And it still seems perfectly logical if you think about it, especially when you have a short signup form. But in this post I would argue that sometimes it is okay to break the registration process into two steps. Relax! I know you might be thinking, "why the hell will anyone include the signup form (a short one) on the second page" and add more clicks to the registration process?
As it turns out, breaking the registration into a 2-step process and showing the form on the second page can increase conversion rate. One of our customers, Vendio, tried this and saw a 60% conversion lift by as they tested their 2-step registration process and placed their signup form on the second page.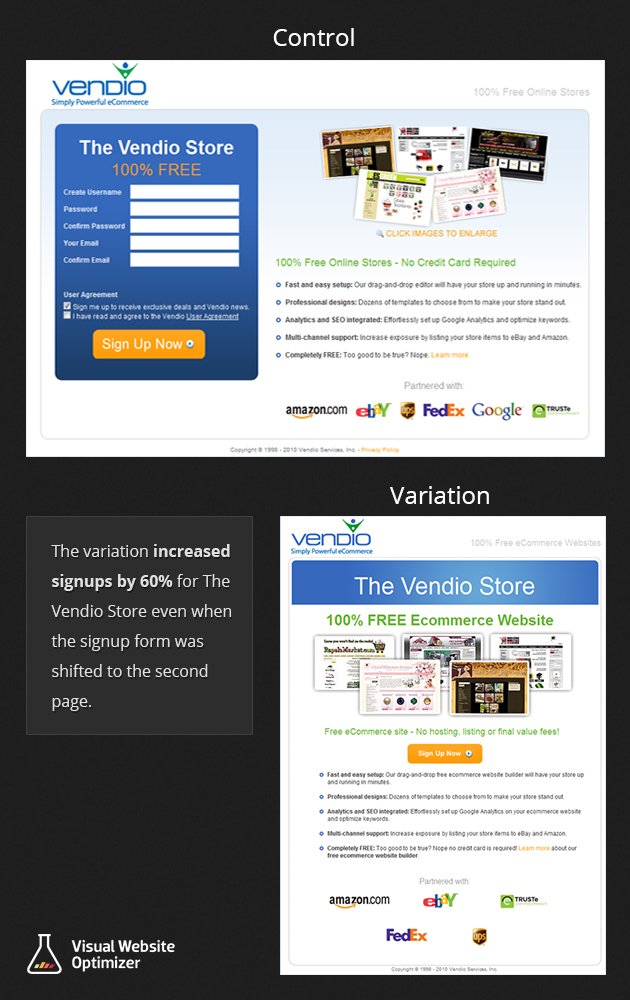 Although some other changes were made on the homepage, still this case study is a good example that switching the signup form from the landing page to the second page can be a good conversion idea. If you know how to manage the expectations of your prospects right, you can definitely try this as your next testing idea.
Actionable Insights
It might not seem like a smart move sometimes. But you never know what works for your visitors. The conversions here probably increased because Vendio team took the time to manage visitors' expectations and convince them on the first page before sending them to the signup form on the next page.
So maybe you can first try to ripen your leads before you ask them to take action for better conversions.
Image Credits: