How to Choose a CRO Agency That Fits the Bill Profitably
Despite being a complex process, CRO is essentially web design done right to maximize your conversions. Online businesses are adopting CRO and an experimentation culture with open arms like never before to multiply their revenue with minimum investment costs. Nevertheless, a constant battle for businesses remains—deciding whether to build an in-house CRO expertise or to outsource the same through an agency.
Having a team running your CRO in-house might sound idealistic, but as they say, idealism is the highest form of reason. Can you reason it well? Do you have the resources, technology, knowledge, and most importantly, the bandwidth to train your team in a way that they can yield results faster? The answer to this can vary based on the size, goal, and resources of your business.
If you're looking to start with CRO by placing it in safe hands, have tried it in-house without getting the desired output, or are looking for advice to scale your CRO program, an agency can certainly bring in quick CRO solutions by offering experience and expertise at no training cost and in minimum on-boarding time.
In this blog post, we will discuss how CRO agencies operate, how they can help you achieve your conversion goals, and most importantly, how you can sense quackeries by asking an agency the right set of questions before deciding to choose one that fits the bill profitably.
What is a CRO agency?
A CRO agency is an establishment having a team of experienced and skilled professionals who are equipped to fix your CRO issues. They understand your website well and ensure to provide step-by-step guidance for an identified issue in your specific conversion rate optimization efforts.
A typical CRO agency has a dedicated team consisting of:
CRO strategists: An optimization strategist is skilled in serving end-to-end optimization management for clients. The CRO strategist sits with clients to understand their issues, ideate the solutions, and build a testing roadmap for them. Generally, they are kept as the main POC for clients in an agency.
Data analysts: A data analyst analyzes client data and does qualitative and quantitative research to gather insights and identify optimization opportunities by ideating with clients, as the first step. He/She is a Google Analytics and excel/Google sheets pro who can guide you through implementing the insights from the data for your A/B testing process, and helps you run your campaigns.
Designers: Agencies can cater to your design requirements with their designers, who ensure that the look and feel of the website is maintained with every change as per the brand style.
Developers: Developers in agencies typically have vast experience with different technologies and languages (Javascript and HTML). They can find robust solutions to work around complex development challenges.
Quality assurance person: Agencies have a dedicated quality assurance person who has a great eye for detail and who checks the quality of campaigns before deployment.
However, many prudent businesses do prefer hybrid CRO to save on overall costs. They have in-house CRO teams to which CRO agencies either act as a second pair of eyes or share the divided workload amongst themselves. For example, the in-house team can control the design and bring in the business/brand context, while the agency is outsourced for the execution of A/B testing. This ensures that these two bodies work in a collaborative manner towards the same goal, that is, getting results in minimum time.
If your website's conversion rate is running sub-par as compared with the industry standards, a CRO agency is equipped with skills, CRO tools, and expertise to assist you in generating ideas, improving your website elements' performance, assessing and evaluating these ideas, to utilizing A/B testing to maximize your desired outcomes.
However, before you decide to opt for a CRO agency, you must evaluate your requirements.
Why do you need one?
Knowing your imperative to hire an agency for CRO should be the first step. Your business can be stuck on multiple levels –
You have low traffic: Perhaps, you have a great website design that has everything in the right places. But nobody lands on your website. In such cases, you would need an agency that would help you bring in more traffic through ads, PPC, impacting your conversion rates.
You have low conversion rates: In this scenario, you may have a wealth of traffic on your website but these visitors are not converting, resulting in a stagnant or in the worst case, declining conversion rate. Such cases call for a typical CRO agency who can identify your current conversion rates (CRO audit) and find opportunities to optimize your low-converting landing pages.
Your testing velocity is low: Many businesses start off with experimentation but gradually, fail to keep up with it. The reasons could be many—limited knowledge around CRO, lack of time, workforce, software, and motivation to form a dedicated in-house team. Outsourcing testing tools and services is certainly for this group.
You want to build an in-house CRO team with limited knowledge and experience: You learn by assisting. Having an in-house CRO team is a dream to many. However, bogged down by the reasons mentioned in the above point, people give up because they have jobs to be done at work that keep their plates full most of the time. If you aspire to create your own CRO arsenal, you need to know how they operate and approach problems.
Generally, in-house teams have their plates full. They have long-term financial commitments and north-star goals to achieve they might want to focus on.
In such cases, it gets unrealistic to expect that they should channelize their energy and time into the nitty-gritty of experimentation, analyzing the conversion metrics of the website or behavior analysis of the website visitors, etc., besides doing the work they are knee-deep in.
That's where a CRO agency can enter to solve a specific problem at hand, with the in-house team remaining focused on what they are doing best.
What does a CRO agency do?
A typical CRO agency offers a multitude of marketing services, such as SEO, CRO, Paid Ads, etc. However, the best practice is to opt for the one which can offer dedicated services, with a laser-sharp focus to uplift your top KPIs metrics. Most agencies have a team of specialists that assist clients with ideation from data-backed insights, create testing roadmaps, run campaigns, implement the changes, and assure to manage end-to-end optimization of the website to bring the KPI metrics up, directly impacting the conversions.
Since agencies are an expensive affair, ensure they fit your budget and are worth establishing a healthy and fruitful professional relationship for the long haul by asking them relevant yet important questions (covered in the following section.)
For example, if you are an eCommerce company, and you are not reengaging with your users when they abandon shopping carts, you might miss out on a very profitable activity. In this case, an agency can help you run a full-fledged campaign to re-engage your users, utilizing their tools such as push notifications and email marketing.
Paltak, a B2C video chat service based out of the USA, increased their revenue by delivering optimized experiences using VWO. Their objectives were:
To reduce cognitive load and increasing purchases
To improve Average Order Value (AOV)
To increasing Average Revenue Per User (ARPU)
They ran 3 separate tests using VWO's testing, heatmaps, and session recording capabilities and saw staggering jumps in the AOV and ARPU, besides reducing the cognitive load on the landing page. The variations won in all three tests.
How do you choose one?
There are numerous CRO agencies you might come across during your research to find the right one. It's a best practice to choose experts who solve specific problems.
First and foremost – get clarity on your goals and budget. If your business is stuck on traffic, go for an agency with expertise in SEO and paid ads. If you have low testing velocity, choose an agency that has a skillful resource base in testing and great experimentation experience (you can figure that out in your research.)
You can start by asking yourself basic questions such as what the most profitable aspect of the business is that you are not leveraging right now, where you are stuck in the funnel, would you be able to afford a top-notch agency to get the stuff done, etc. It can be overwhelming to think of all of it at once. Therefore, the compartmentalization of these questions is necessary:
Budget and pricing: These factors play a critical role while you get into a long-term relationship with an agency. Typically, a CRO marketing agency can cost you between USD 3,000 and USD 9,000. Ensure that you can afford them for the long haul, have confidence in them, and keep your expectations low at the beginning and realistic all the time. No one can double up conversions overnight!
Dedicated resources: If you have low-conversion rate issues, you can go for someone who can do a holistic assessment of your website and conversion funnel. From there, they can take on the responsibility to upgrade your website to deliver better conversion rates. Ensure that you are assigned a dedicated team who would work closely with you and can deploy the changes you both collaboratively agree upon.
Great communication: Ensure that you communicate with the dedicated team regularly. Keeping one point of contact reduces the stress of whom to call, saves time, and clears roadblocks as and when required efficiently.
Apart from doing self-analysis, it is recommended to have a set of questions relevant to your business ready when you get on a call with a potential agency.
Ask them:
About their focus area of expertise and the range of services they offer.
Whether their process is data driven or instinct driven.
About their understanding of CRO as a process and how they implement it.
If they handled cases where they analyzed visitor behavior and derived insights. What was their methodology?
If they have any case studies, highlighting the results.
For a business proposal for evaluation.
Whether you can try their services (trial) before committing.
If they have any questions for you to understand your issues better.
Responses to the above-mentioned questions will give you a fair understanding of the capabilities of the agency, thus, smoothening your decision-making process.
Additionally, you can listen to this interesting conversation with Seshadri Vyas, the Product Lead at Amazon, to learn how you can slowly build a strong culture of experimentation within your company.
List of agencies
It is easy to get hold of the right software and tools, but the right tools in the wrong hands are lethal for your conversions. It becomes awkward for both parties if you opt for a software provider with the best CRO tools but can't explain the statistical significance of your tests. Fortunately, there are CRO agencies that have adopted the latest software and are proper in their knowledge and technicalities pertaining to the complex process of CRO.
Here are a few examples:
1. Conversion Kings:
Conversion Kings is an Australia-based dedicated CRO agency that offers expert CRO services with industry-leading A/B testing strategies and tools such as VWO. Besides CRO services, they handle CRO auditing, UX prototyping, analytics, development, and training to deliver results.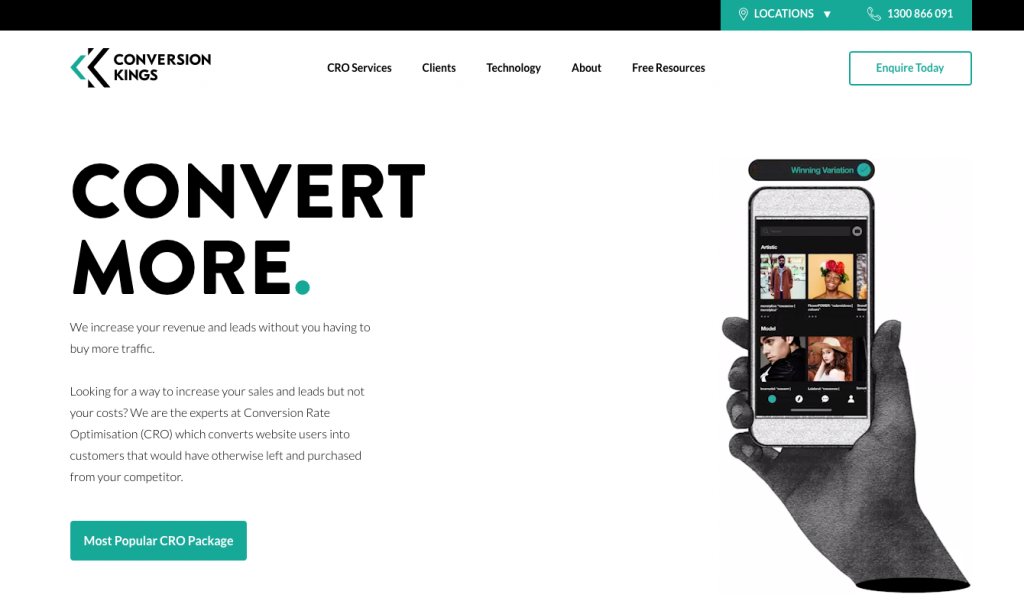 2. Catchi:
With an expert optimization team having 40+ years of combined experience, Catchi operates with methods that work well for high traffic and high volume online businesses or organizations with high turnover to improve their online performance.
They claim to have a proven customized framework for their clients that delivers tangible results.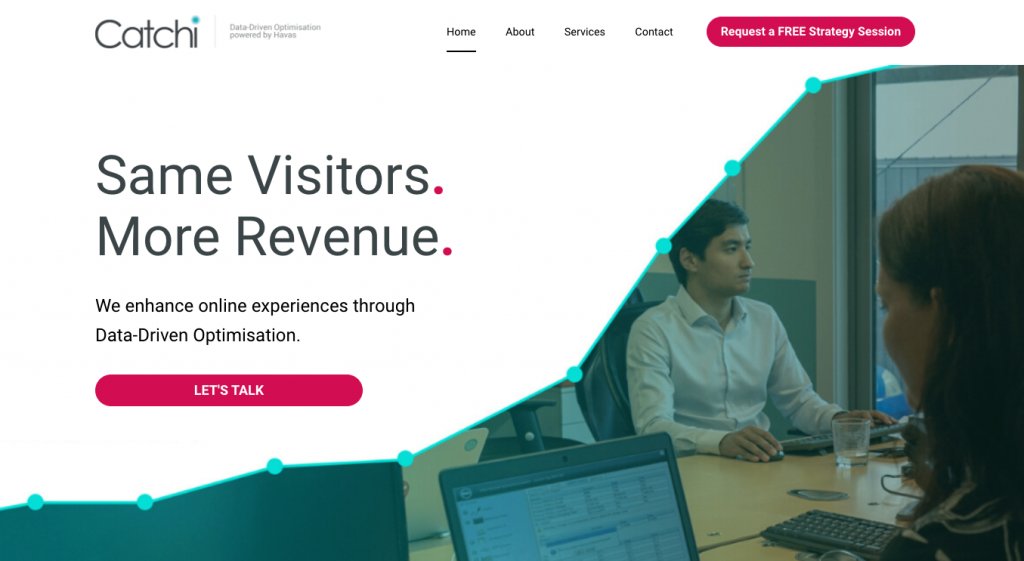 Find the list of VWO Partner Agencies here.
Conclusion
Having clarity on your goals is the top thing you need to sort even before starting your research. It makes the process smooth when you know what services you require from an agency. Ensure the chosen one ticks all the boxes in your CRO agency checklist, including budgeting, pricing, and communication.
Here's a quick summation of the important points covered on CRO agencies in this post:
A typical CRO agency has an optimization strategist, data analyst, developer, designer, copywriter and quality assurance person to ideate, implement, and manage CRO for clients.
There are multiple problems that CRO agencies fix by coming on board, namely, low conversion rates, low traffic, low testing velocity, lack of time, resources and proper knowledge about CRO, or simply to watch and learn from them while they operate/assist your business, before you plan to build your own CRO arsenal.
CRO agencies assist clients with ideation from data-backed insights, create testing roadmaps for them, run campaigns, ads, implement the changes, and assure to manage end-to-end optimization of the website to bring the KPI metrics up, which directly impact the conversions.
It is imperative to ask the right set of questions while you choose an agency to be mindful of any red flags and avoid quackery, which is common.