6 Must-Test Elements of Your eCommerce Shop That Can Give Epic Wins
Jacob McMillen
Jacob McMillen is a website copywriter, email marketing specialist, amateur comedian, Thursday night poker player, and daily coffee drinker.
It has never been easier to create an online business. Accordingly, competition has never been more fierce. To not just survive, but thrive … every element of your online business must be optimized for maximum conversions: sign ups, landing pages, product descriptions, buttons, design, and (of course) your copy. What you need is real data from real people to create real insights, real action and epic wins. And, there's no debate. The best way to get valuable data is through A/B testing – creating different versions of your online material to see which one performs best. The results of A/B testing are powerful.
Social media powerhouse Buffer, for instance, literally doubled their email signups in 30 days by adding "nine times the email capture opportunities" and then testing their new layout against their original page.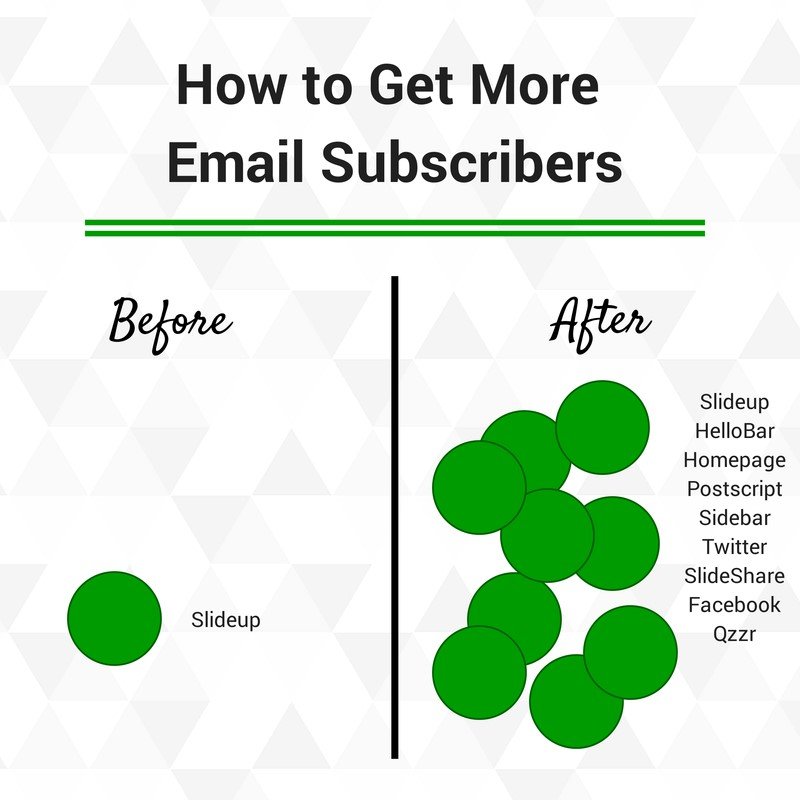 Image Credit: Buffer
So, to help you and your business succeed online, here are six must-test elements you absolutely should pay attention to, and more importantly, tips on how to actually do that… the right way.
These Elements Can Yield Big Wins If Tested The Right Way
1. Headlines
A headline is the first thing that captures the attention of your reader. It's at the top of your page and for blog posts, it's usually what's shared on social media. Make the mistake of using a poor headline and your content will sit on your website gathering dust … no matter how good the actual content is. While following best practices is generally a good strategy, your customers won't always respond the way that one marketing article said they would. For example, we've been taught that using promotional tactics such as discounts will drive sales. Yet, that wasn't true for EA Games when selling their new SimCity game. Their test page without a promotional coupon drove 43.4% more purchases than the one offering 20% off for pre-ordering. It turns out their visitors didn't want an incentive. They just wanted to buy the game.
Here's another best-practice fail. In copywriting it's often advised that you don't talk about what your company does. Instead, talk about the benefits your company will provide for the customer. But here's a case when this supposed best practice was beaten hands down. When Movexa changed its headline from "Natural Joint Relief", a classic benefits-focused line, to "Natural Joint Relief Supplement", a more "what"-focused line, conversions increased by 89.97%! Now take a look at these two webpage screenshots from an A/B test for email management tool, AwayFind, and guess which one is more likely to convert visitors.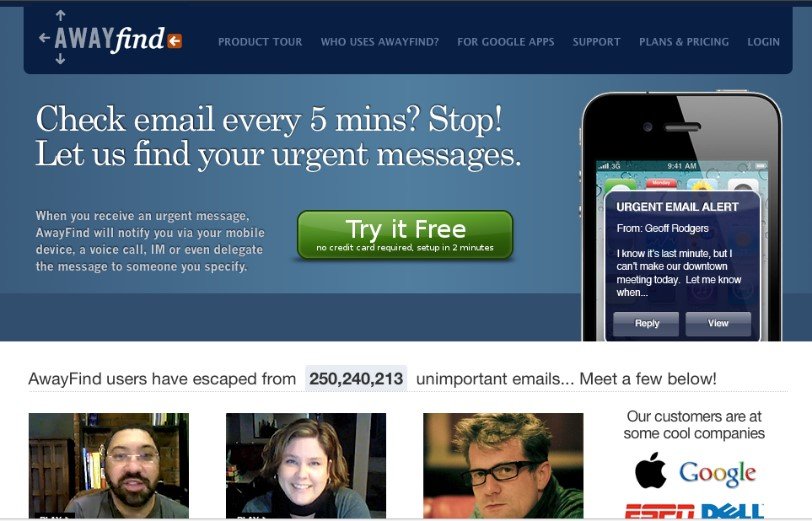 Version A (Source: Which Test Won)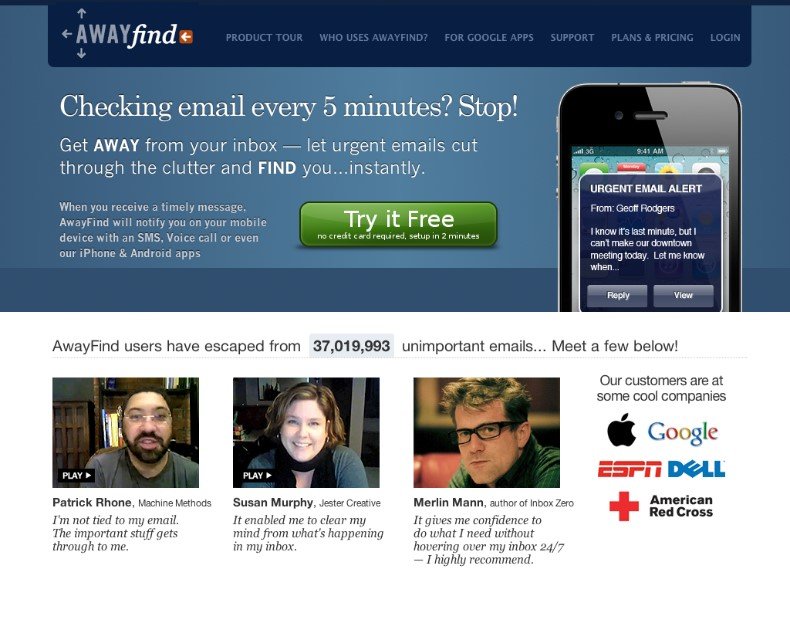 Version B (Source: Which Test Won)
If you guessed Version A because of the larger, stand-out headline and bigger CTA button, you'd be wrong. Due to the shorter — and easier to read — headline along with the bolded key features in the sub-heading, Version B increased sign-ups by 38%. You can experiment with your headlines in similar ways, like testing whether your audience prefer long headlines or shorter ones, or whether they respond better to a friendly tone– "7 Easy Ways to Get Better Sleep" – or a frightening tone – "The Shocking Truth about What's Hiding in Your Bed".
2. Calls-to-Action (CTAs)
The call to action in any web content tells the reader what you want them to do next.
Interested in our software? Sign up for a free trial.
Like the article you just read? Get more like this delivered to your inbox.
A good call-to-action gives readers a clear route to accomplishing their goals, while simultaneously leading them to where you want them to go. To ensure you are getting the most out of your CTAs, you should be testing four elements:
(1) Copy
(2) Size
(3) Color
(4) Placement
These factors can make a big difference in your audience's response. Take copy for instance. Friendbuy was able to significantely increase views of their product demo with only a slight tweak in their wording. Their A/B test proved that a button with the words "See demo" got 82% more clicks than a button which said "Test it out." Small change. Big results. Why? Because visitors to the Friendbuy homepage, typically marketers, were most likely seeking out more information about the products and clearly understood the term "demo." To further confirm this point, VWO was able to boost Zwitserleven's landing page conversion rate 14.1%, with a 5% total lead increase, by simply changing their CTA from a rather vague "Go Further" to a much more specific "More Information".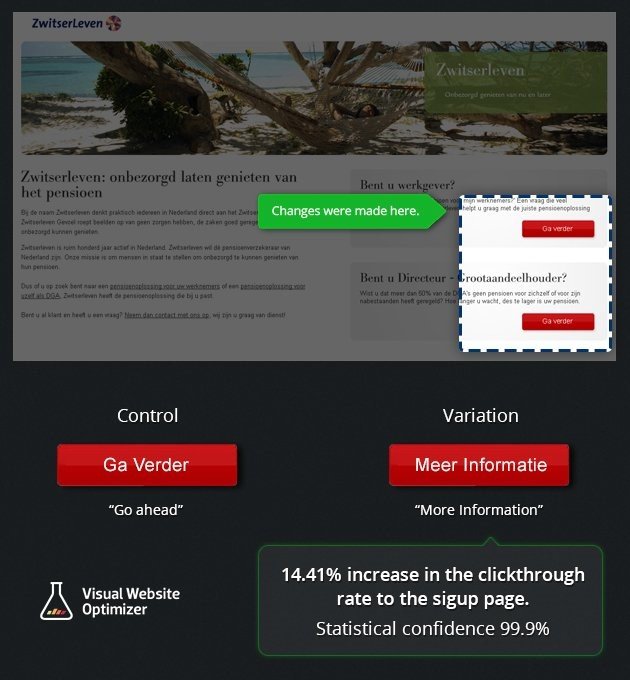 And what about placement? One excellent tool to test is HelloBar, which puts a high-converting bar at the top of your website, promoting your latest content or even to get email signups directly through the bar.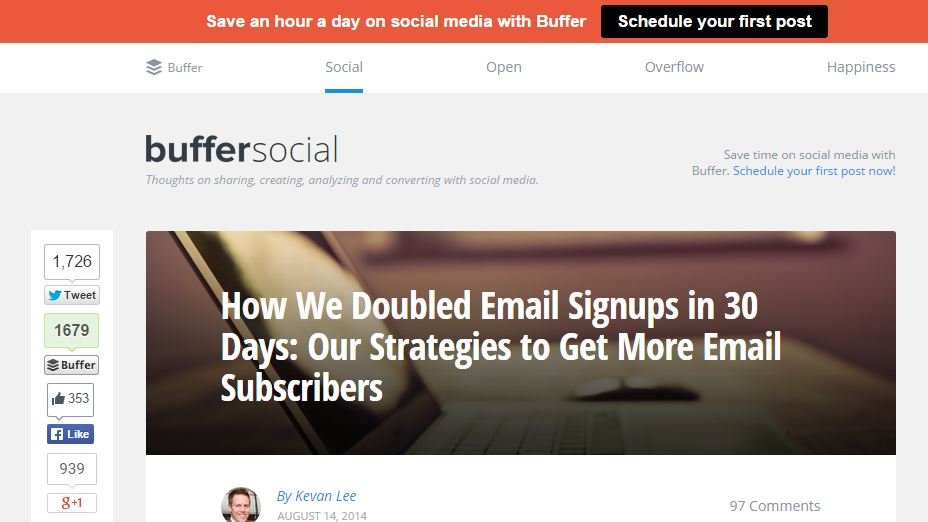 3. Emails
As GetResponse points out, "People who buy products marked by email spend 138% more than those who do not receive email offers." In other words, the payoffs are huge. The main ways to test the success of your email marketing campaigns are to measure the:
Open Rate: How many people click on your subject line to see your full email
Click-Through Rate: How many click on the links/buttons you've provided in your emails
As with your website, there is room for testing the elements that contribute to a reader's decision to click – in this case, these would be your email subject line, content, form fields, CTAs etc. Here are some ways to A/B test your emails:
Do your customers prefer being addressed by their first names, or do they prefer a more formal last name approach?
Do they want to get emails from the company itself, or would they be more likely to click on emails from a human, like "Jake from State Farm"?
Should you use simple language to make your content easy to understand, or will your industry-savvy customers respond better to industry jargon that shows you're "in the know."
Are your customers more likely to buy products directly through your emails, or are they looking for more valuable content and tips first?
Would you get more responses if you repeated the same CTA throughout your email or used multiple CTAs in one email?
4. Landing Pages
Your landing page is where decision-making happens. This is where you present the most appealing information to your viewers in hopes that they'll sign up for your mailing list, opt in to your latest offer, or even buy your product. As with headlines and web page design, we should never assume that the most aesthetically pleasing page will win. It's important to test the various elements on your landing pages to find what works, not just what looks better.
Adding a trust badge, for example, could make a huge impact. That's what eCommerce site Bag Servant found when they switched out their Twitter followers widget with a trust badge. This tiny change resulted in a whopping 72.05% improvement in conversions for the brand. Here's more on how to increase customers' trust on your eCommerce website. For an even more in-depth test, use tools like Heatmaps to analyse what customers look at when visiting your page.
5. Responsiveness
Contrary to popular belief, not every business NEEDS a responsive website. But you probably do. If you don't want to invest in building a responsive site, it's important to at least run a few tests on your audience and assess the ROI of upgrading or creating a responsive website. If your customers simply aren't visiting your site via mobile that much, or your content is too complex to render well on a mobile device, it might not be worth it just yet. But since mobile viewership is growing at a tremendous rate (34% of global eCommerce sales happen on mobile devices as opposed 30% in 2014 Q4), you really don't want to miss out without at least testing a few pages out. It's really as simple as that.
The best way to test out whether a responsive site makes sense is to simply… test it out… and see how well it performs. That's what TwentySixDigital did for one of their clients in the travel sector. With mobile visitors increasing, they picked ONE page that had the highest revenue earning potential, made it responsive, and tracked its performance against the non-responsive version. Results? The responsive mobile version was 50% better at getting users to buy tickets. 50%!!! That's worth a one page effort.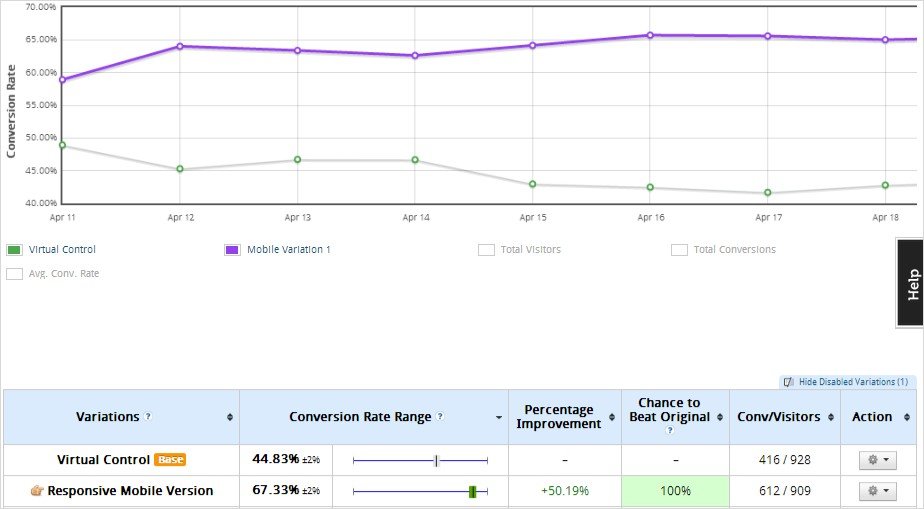 Results of mobile responsive test (Source: TwentySixDigital)
6. Quality of Leads
Of course, nearly all the optimization tips mentioned in this article talk about getting more leads, but you shouldn't forget the importance of quality in acquiring leads and customers. The three factors you should be testing are:
Frequency – how often these leads are buying or interacting with your business
Recency – the last time they interacted with your business
Value – the average dollar amount of purchase
Testing these factors against the leads you get with each of your A/B campaigns will help you truly determine the most beneficial strategy for your business. Even if you're getting 100% more signups, would it really matter unless they become paying customers?
Why Leave Money On The Table..When You Can Test?
Testing the various elements of your business' online presence is crucial for optimization and growth. When you start out, test one element at a time, even refer to best practices (keeping your audience in mind) and run your A/B tests properly. Look to attain statistical significance before calling a winner. But don't be afraid to break out of the box and try something different if the research backs your decision. Remember, if you never explore your options, you'll never know how much money you're leaving on the table.