How to Write Content for a Better Conversion Rate
Niraj Ranjan
Niraj is the founder of Hiver, an app that turns Gmail into a powerful customer support and collaboration tool.
Did you know that enterprise satisfaction with their conversion rate has been decreasing over the last four years! According to Econsultancy, only about 22 percent of businesses are satisfied with their conversion rates.
Achieving satisfactory conversion numbers is the true ROI of Marketing, and to win this game, you must work primarily on the basics — aspects such as email marketing and content marketing.
In this post, let's look at some steps you can include in your content marketing strategy to boost conversions:
1) Get Content Ideas From Your Customers
Every bit of content you create must bear usefulness, and the right desirability in order to boost conversions. The best way to achieve this is by creating content that users genuinely need.
Remember: Nobody likes marketing fluff anymore. Content marketing has evolved, so have the readers.
What works: Find out what your readers like to read about.
Here are some ways you can get content ideas from your customers:
Take a look at your customer service records and see what questions your users ask the most. Address those problems in your content.
See the time your readers spend on your posts for example, to understand what type of content they are most interested in.
Don't neglect the comments section. Along with useful insights, sometimes users also post questions for you in the comments. Never miss them and if possible, use them as topics for your future content. Here's more on how to use comments to become a better content marketer.
Explicitly ask your customers to suggest. For example, if you post a how-to guide,  you can ask your customers while concluding the article to post requests for more how-to articles on other topics.
Salesforce does this neatly. They recently wrote an article that invites their readers to fill a survey form about what what would they like to read about.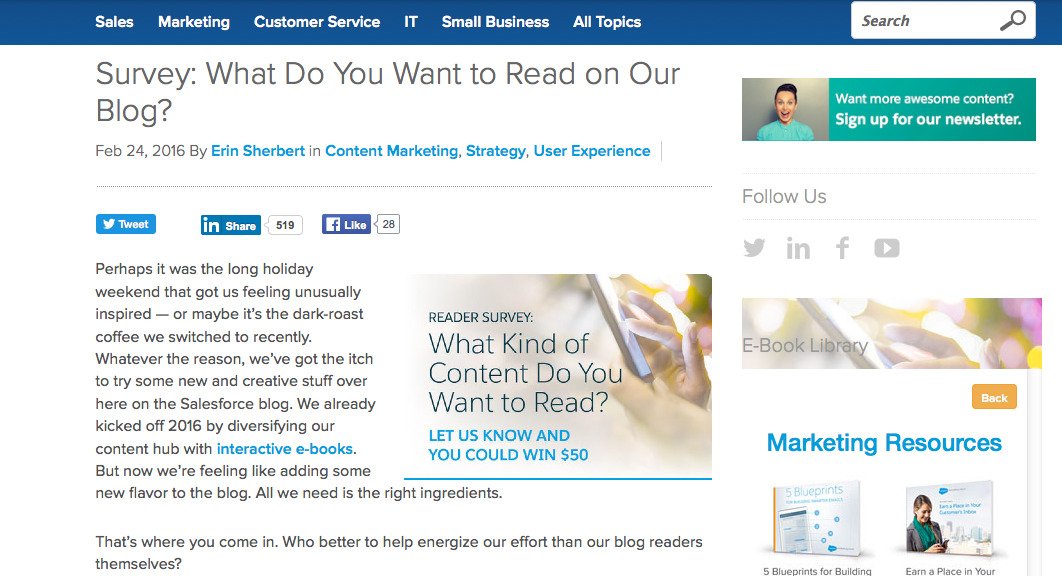 2) Educate Your Readers
In order to get better conversions, you need to look beyond the trending keywords; you have to write valuable content for your customers and prospects. Keyword stuffing is no longer cool.
Focus on establishing your expertise in your field. If you can do that, your prospective customers will give you their time and attention. Once they give you their time and attention, use that to offer your product and services to them.
Here are some ways you can establish your expertise:
Write useful e-books and put them out for free on your website.
Make tutorial videos and how-to guides.
Run webinars.
Record podcasts.
Publish well-researched long posts, with technical and scientific explanations of various topics in your field.
Hubspot has got it just right – they maintain a wide variety of marketing resources ranging from eBooks to webinars.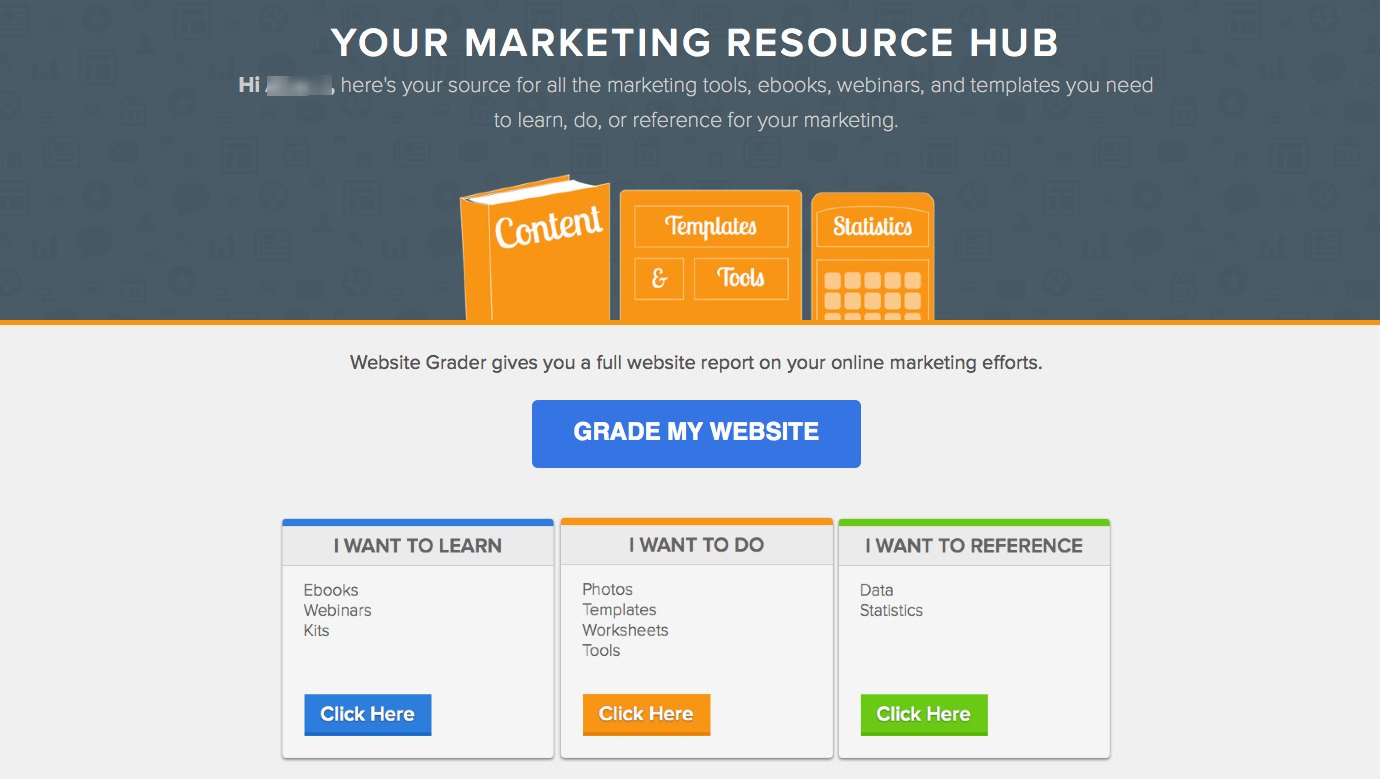 3) Create Content With Scope For a Two-Way Conversation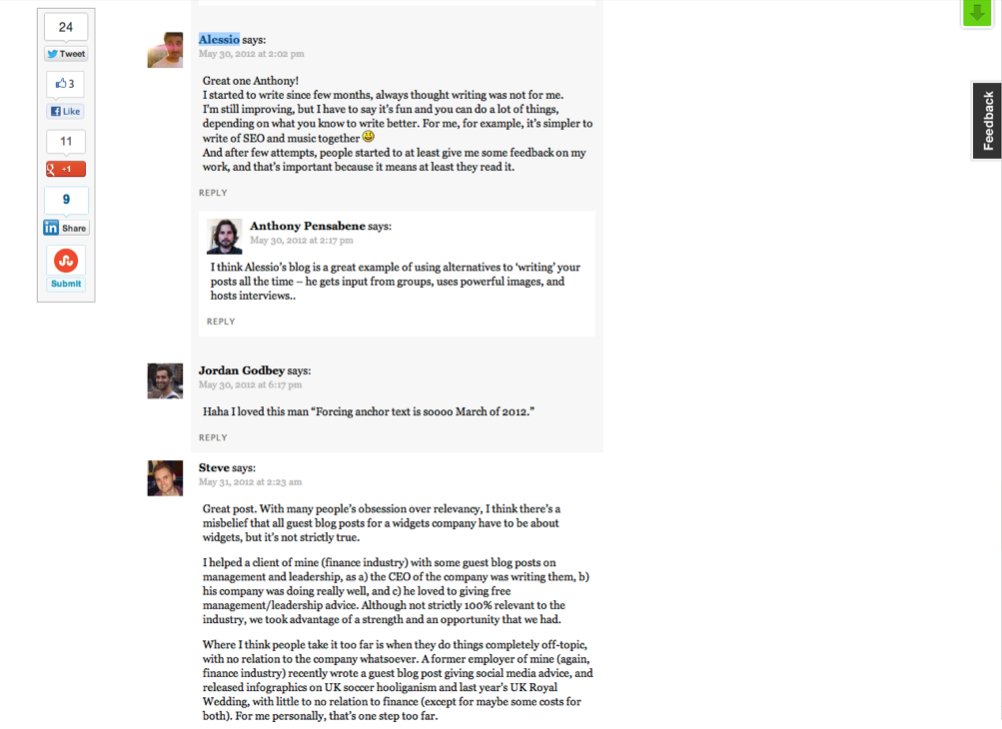 You must work to carve out a content strategy that will encourage your audience and your target market to interact with you. It could be in the form of commenting, sharing your post, tweeting about it, reaching out to you, etc. Either way, you must ensure that the customer can and will reciprocate to your content.
Here are some tips:
Like mentioned before, pose questions at the end of your posts. Ask your audience about their opinion, or their suggestions etc.
Reply to the comments, this way you are encouraging your readers to start a discussion on the subject.
In the about author section, leave a way for them to reach you.
Create content with powerful takeaways to ensure that your readers share it.
Check out how Buffer manages to engage their users in an impeccable fashion.
4) Follow the 60/40 Content Rule
Once you publish your content, it's out there. Most marketers don't take the time to optimize their content based on the initial results — views, time spent, bounce rate, etc., and they move on to work on new content.
Testing, tweaking, and refining is important to maximize the value of the content you publish. If you are not coming back to make it better, you are literally throwing away your content.
Sometimes, though, optimization marketers take it a little too far and keep refining the content over and over again, which is a waste of time and energy and quite ineffective.
To counteract these two extremes, at my startup Hiver, we arrived at a  content marketing strategy which we call the 60/40 split. According to this rule, you must spend 60% of your time in content creation and the remaining 40% in refining, testing, and tweaking the published content.
Every time we see that an article has a below-industry-average time spent on page, we ensure that we go back and add more examples, interesting statistics, more visuals. More often than not, we were able to contain the problem. It also helped us test what works better — in our case, statistics followed by inferences work the best!
5) Follow the 80/20 Strategy
The only way to differentiate yourself is to create high quality and well-researched resources. The good news, though, is that you don't need to create a huge pile of content.
The idea is to create a decent quantity of great content, and derive the maximum benefit from it — by promoting aggressively in every possible platform. Most content marketers would spend more time on creating content, and relatively less time promoting it. They've got it just wrong.
You've got to promote your content — by sending out newsletters, reaching out to bloggers/influencers, and by using the right mix of social media tools to promote them on various platforms, etc.
According to a large number of marketing experts, if you spend 20% of your resources on content creation, you have to spend 80% of your resources on content promotion. This is the 80/20 rule.
"Content is fire, social media is gasoline." Jay Baer, Convince and Convert
Remember – Great quality, relatively less content, aggressive promotion – is the key.
As a result of following this strategy, we have been able to achieve the same number of conversions as before by writing fewer articles. I mean it's always easier to come up with 4 interesting topics as opposed to 10 – I'd rather spend that time promoting what I already have.
Final Thoughts
Of course, there is no one-size-fits-all solution for the best content strategy to boost conversions, but you can start with these tips and use them as pillars while you do a little bit of experimenting to find answers perfectly craft for you and your business.
And finally,
"Your top of the funnel content must be intellectually divorced from your product but emotionally wed to it." Joe Chernov