This was a part of the
blog earlier which is now
VWO Engage
Learn more here
.
Will Progressive Web Apps Topple Native Mobile Apps?
From apps that remind you to drink water to those that help you calculate the compound interest on your home loan, the number of both immensely useful as well as insanely useless mobile apps is growing. The total number of apps in Google Play Store surpassed 1 million in 2013 and is currently estimated to be 2.8 million.
Apps have become so important in our lives that we have run out of space in our phones. But what if I tell you, you can have thousands of apps, without ever worrying about space? Let me introduce you to Progressive Web Apps.
Progressive Web Apps are web pages that are lightweight but when loaded on a mobile device, act like an app. They load faster, use less space, less data, and can even work offline.
How Does It Work?
PWA uses JavaScript to make the user experience smooth by working in the background. It loads all the necessary resources when the user clicks on the icon and interacts with the app. The JS code also gives the app its ability to work offline and loads the website much faster than native apps.
The obvious question now is, why is PWA not mainstream yet. Well, the technology and concept has been around since 2005, but recent improvements in scripting languages such as HTML5 has made it much easier to build or convert your website into a PWA. It has also begun to gain more attention from developers and designers. Google recently featured a talk on PWAs and their immense capabilities at Google IO 17.
Why PWA?
Native apps have their merits. But here's why PWA has its own edge. In the case of native apps, a developer has to build three versions: for Android, IOS and Windows. With PWA, they have to build only one. Another major obstacle that native apps face is something called App install friction. It is estimated that, it takes a user a minimum of 6 clicks to install a native app and with each click you lose about 20% of users.
Apparently, deciding to install a native app is much harder than deciding to install a web app. But these are not the only advantages PWAs offer.
1) Discoverability
We have all spent hours on a food app looking for that one restaurant menu that we never eventually found. Although most native apps on your phone have their own search feature, if you want results from more than one app, you would have to go to each individual app to search. Native apps cannot be crawled by search engines. But PWA can be. Now, you can go about searching for stuff in Google and get results from content inside your progressive app.
2) Web Push Notifications
It is not only native mobile apps that can send push notifications. PWA also supports Push Notification API which means they support browser push notifications. Web or browser push notifications are small clickable popups that appear on your web or mobile browser when you're online. They're sent by websites instead of apps. So if you're reading up on PWA to find an alternative to building a mobile app, this is yet another reason why PWA has its own appeal.
3) Installation
The high friction action of asking a user to install a mobile app and the fuss of going to an app store, finding the right app and installing it, is a tedious task on its own. Coupled with a crappy network connection is almost impossible. It is much simpler to get started with a PWA (as you can see below). It takes less than a second to install and it takes up less than a megabyte of space.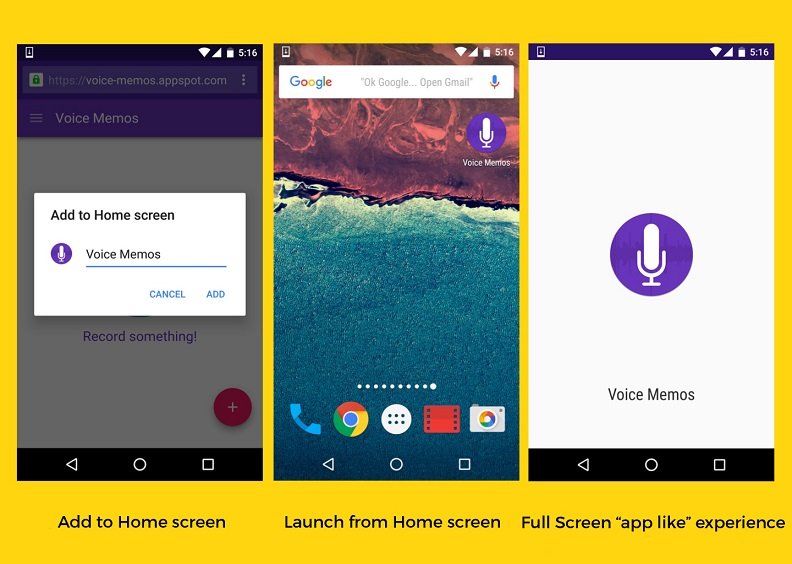 4) Always Up-to-date
Updates are some of the most annoying and data consuming part of any app. With PWAs, there is no such thing as updates. The progressive app automatically updates in the background with minimal data usage and without ever disturbing your in-app experience.
5) Cost Effective
Building a mobile app is not always the most cost effective thing you can do to increase customer experience. It takes a lot of time and a lot of money to build a mobile app and if it has to be popular, it has to be present on all the platforms, which further brings up the cost. The PWA alternative is budget friendly and can be done in a very short time. As it is progressive, it will work on all platforms without the need for further customizations.
The PWA technology is still in its infancy and every day the technology is improving, with new features and functions in the making. Soon, they will be able to have access to more areas of your mobile device and maybe one day PWA will even replace the native mobile app.