VWO Emerged As the Leader in the A/B Testing Space – The Winter G2 Report and Its Implications
VWO has been recently recognized as a leader in the A/B testing category by G2—a popular user review platform for software, in its Winter 2022 report. Based on first-hand experiences and reviews by users, VWO Testing has emerged as a leader in multiple categories, including usability, implementation, results, and relationship indices and also in the mid-market grid and momentum reports created by G2.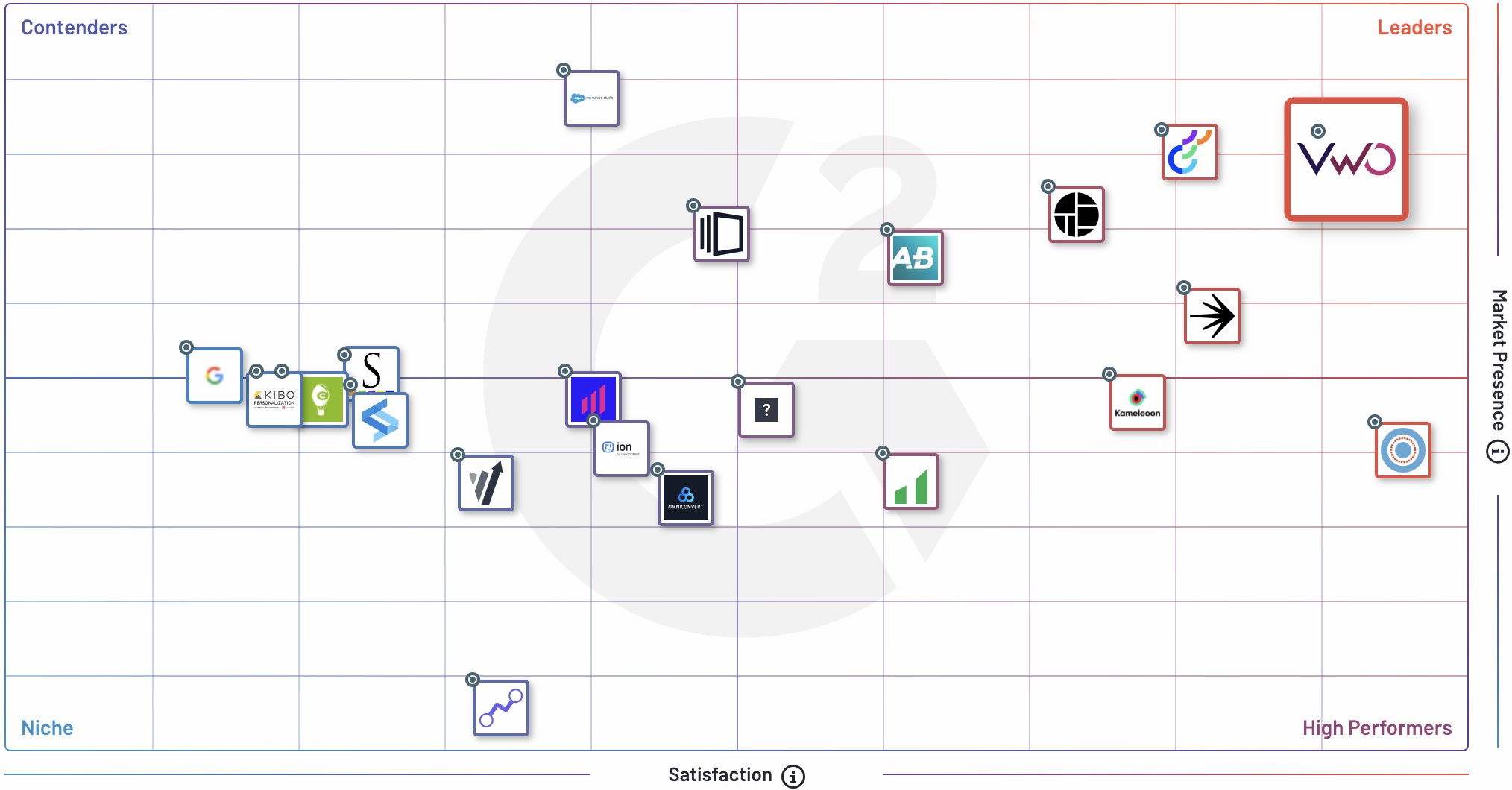 What does it mean to be a leader in the A/B testing space?
With Software as a Service (SaaS) penetrating the broad spectrum of businesses, VWO has established itself as a leading A/B testing platform helping 2,500+ brands like Domino's, HBO, eBay and Disney improve their key business metrics by empowering businesses to easily discover customer insights, A/B test hypotheses, and improve conversions across the entire customer journey. 
The no-code Visual Editor of VWO enables businesses to create and run A/B tests easily without relying heavily on developers. This helps brands ramp up their experimentation velocity, allowing for faster optimization and thereby results. VWO offers a platform where you can study visitor behavior, log insights, create hypotheses, run experiments, and analyze results without moving in and out of the environment. For example, visitor insights gathered from heatmaps and session recordings can be fed into different A/B tests for improving conversions on your website.
VWO advocates cultivating the culture of experimentation in every organization that wants to grow in the new-age economy consistently.
What is G2?
G2 (previously G2 Crowd) is a business technology review platform where professionals flock to gather insights on various tech products, software, and services. Before investing in a new piece of software, professionals consider many aspects, including usability, implementation, troubleshooting, services, etc. G2 helps prospective buyers make a purchase decision by offering them information such as credible reviews and real experiences of fellow professionals.
How does G2 evaluate tools?
VWO Testing has been hailed and primarily adopted by mid-market companies, as per G2's momentum grid report for Winter 2022. G2 uses its proprietary algorithms to designate a score to a tool under evaluation based on specific parameters such as customer satisfaction, popularity, usability, and quality of user reviews. A comparative analysis of all the evaluated tools over a grid provides a visual representation of individual performances.
VWO has established its spot in the market by consistently optimizing its own products through regular feedback from its users and keeping itself up to date with the business dynamics in its domain.
Awards won by VWO
In its Winter 2022 report, G2 has recognized VWO Testing as a leader in the A/B testing domain under multiple categories as listed below:
Leader in the mid-market implementation
VWO Testing has been placed as a top leader in the mid-market implementation index category by G2, based on the high user ratings and market presence.
VWO Testing has been recognized as a top leader in the momentum grid report by G2, which calculates a score based on customer satisfaction, popularity, and quality of reviews.
Leader in the mid-market relationship and the result index
Based on customers' convenience of doing business with the seller, satisfaction with the product's quality of support based on reviews, and likelihood to recommend each product based on reviews, VWO Testing ranked high in the mid-market relationship and result index reports.
Leader in the mid-market usability index
The mid-market usability index report is a scoreboard having tools ranking as per the scores based on their ease of use (as rated by G2 users for customer satisfaction with the ease of use for each product), ease of admin (as rated by G2 users for the ease of admin for each product), and whether the tool meets requirement. This is the fourth category wherein VWO Testing claimed its spot as a top leader.
Try VWO Testing to enjoy ease of experimentation
VWO Testing provides robust and efficient features to set up and scale your tests. VWO's asynchronous SmartCode reduces your page load time during a test. The platform's segmentation capability allows segmenting visitors in a test based on their behavior on a web page. Also, you can run multiple tests on a page by allocating visitors to specific variations without running into the risk of skewing your test data.
VWO's Bayesian-powered statistical engine enables you to make smart business decisions based on intelligent test results, wherein you are not required to look for a p-value every time a test concludes to measure its statistical significance. With SmartStats, you can comfortably rely on the test results, conclude tests faster, and increase your conversions by testing new ideas quicker.
VWO offers a 30-day all-inclusive free trial to organizations that want to fuel their CRO strategy through rigorous experimentation. Request a free demo to know more and embark on your A/B testing journey today.