Today is a very proud day for us primarily due to two reasons: a) we are launching completely revamped interface of Visual Website Optimizer that is packed with loads of new features; b) we have achieved 10,000 total signups (trial + paid).
Awesome new interface
This new interface has been in development for about 3 months and it completely changes the look-and-feel of the application. Focus of the new interface has been to make creating and running A/B (or multivariate or split) tests even easier (and snappier). The new (tabbed) reports allows you to intuitively interpret test results. Know which variations are performing better and which ones are performing worse on goals such as revenue, conversion rate, visitor engagement, etc. Okay, enough of talking. Watch a short video of the new interface:
Awesome new features
It is not just the interface that has changed. We have added number of features alongside. Sample a few new features:
Asynchronous code snippet (in beta): Our biggest innovation! This new code snippet ensures there is zero impact on your website load time while an A/B test is running. It also ensures that if our servers are inaccessible, your website loads normally (graceful degradation). The asynchronous code is in beta but we are very confident about it as early adopters reported success with it.
Email reports, tracking code and variation previews to your colleagues
Thumbnail previews of your variations
Tabbed reports so you don't have to do lot of scrolling in case of multiple conversion goals
New test summary chart to instantly understand test performance
Intuitive and snappier test creation process (AJAX powered)
Report enhancements: print option, average order value, tabbed navigation of goals, etc.
Powerful account management: add/edit permission based logins and sub-accounts
Improved test filtering and searching
There are many other subtle improvements that we will leave to you to discover.
Screenshots of the new interface
Following screenshots will show you different aspects of Visual Website Optimizer's new interface.
Sample Report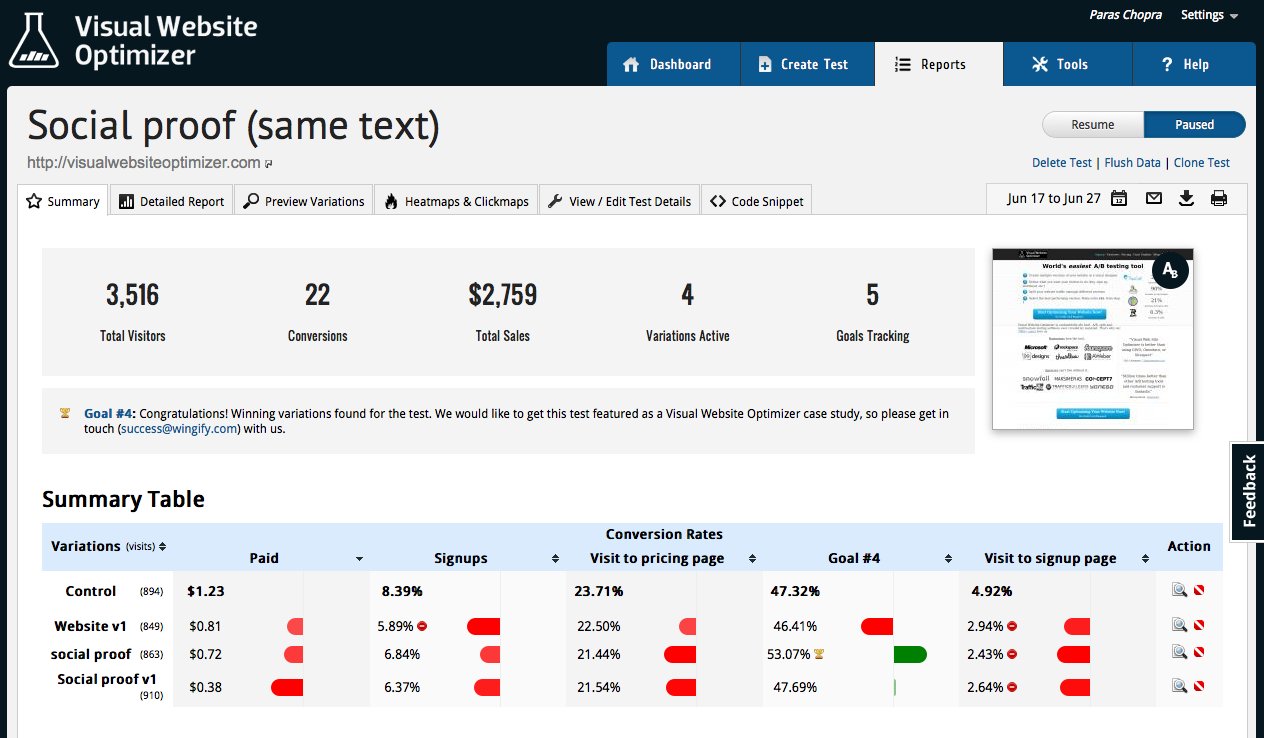 Thumbnail Previews

Heatmap

Testing Options

Plugins / Integrations

Send report via email

Milestone: 10,000 signups
We begin our journey about a year ago (in May 2010) when we launched Visual Website Optimizer paid plans. Today we are psyched to announce that we have achieved a total of 10,000 signups (free trial + paid). Our customers include individual bloggers, small businesses and all the way to large enterprises such as Mircosoft, AMD, Groupon and FourSquare. Our revenue has been growing by 10-15% consistently for last one year and thanks to increased userbase our servers are now handling 2.2+ billion pageviews per month. We are proudly self-funded and are extremely profitable. Next phase is to expand the team and hence we are actively hiring engineers and sales guys. If you want to shake the website optimization world, join us!
Thank you, our users and customers
This new interface was driven entirely from user feedback and we thank all early adopters for helping us fix kinks before release (including but of course not limited to Janco Klijnstra from Traffic4U, Ahmad Rahman from AMD, Lucy Spencer from LoveFilm, Nate Ende from Trinity Insight and Karl Blanks from Conversion Rate Experts) . We are incredibly lucky to have them as customers as they take their precious time to help us improve Visual Website Optimizer.
Of course, we are far from done in our mission to make A/B testing fun, easy and profitable. We would love to hear your feedback on new interface and how we can further improve Visual Website Optimizer.
Signup for FREE 30 day trial
If you want to try out the new interface, simply signup for our no commitments free 30 day trial and let us know what you think!