How to Generate More Leads Using Content Marketing
Smriti Chopra
Inspired by old-school marketing and contemporary products, Smriti is often found engrossed in classic fiction when she's not busy managing product marketing for VWO.
Content Marketing is the most popular buzzword in the marketing world these days. If you are doing business in the online space, content marketing forms a major part of your marketing initiatives. Whether it's a simple influencer e-mail or your entire website with hundreds of thousands of articles, everything falls under the umbrella of content marketing. Content marketing is known to lay the foundation for gathering prospects for your business. The more people your content reaches out to, the greater is your prospect database.
Having said this, a major task for marketers today is to plan and implement a successful content strategy. The success of your content strategy depends on the number of prospects you reach out to or simply, the number of leads generated. Therefore, the ultimate aim of content marketing is to generate more number of leads for your business.
Lead generation is essentially the process of stimulating and capturing interest in your product or service. By this definition, lead generation is a two-stage process beginning with activities that generate awareness and get people interested in knowing more about a product or service. So be it your landing page, blog post or newsletter, all these act as tools for getting people to show interest in your offering.
The second stage of lead generation deals more with acquiring concrete information about any individual who exhibits interest. While your landing page works to get visitors know more about your offering, the form-fill on your landing page functions to gather information about who's your landing page reaching out to.
This two-stage process points to the fact that both quantity and quality of leads play an important role in deciding the success of your content marketing campaign. While quantity of leads flowing in determine how well you are reaching out to various sets of your target audience, the quality of leads will finally define how much money your business is making.
In the B2B scenario, marketers have identified lead generation as the biggest challenge they face.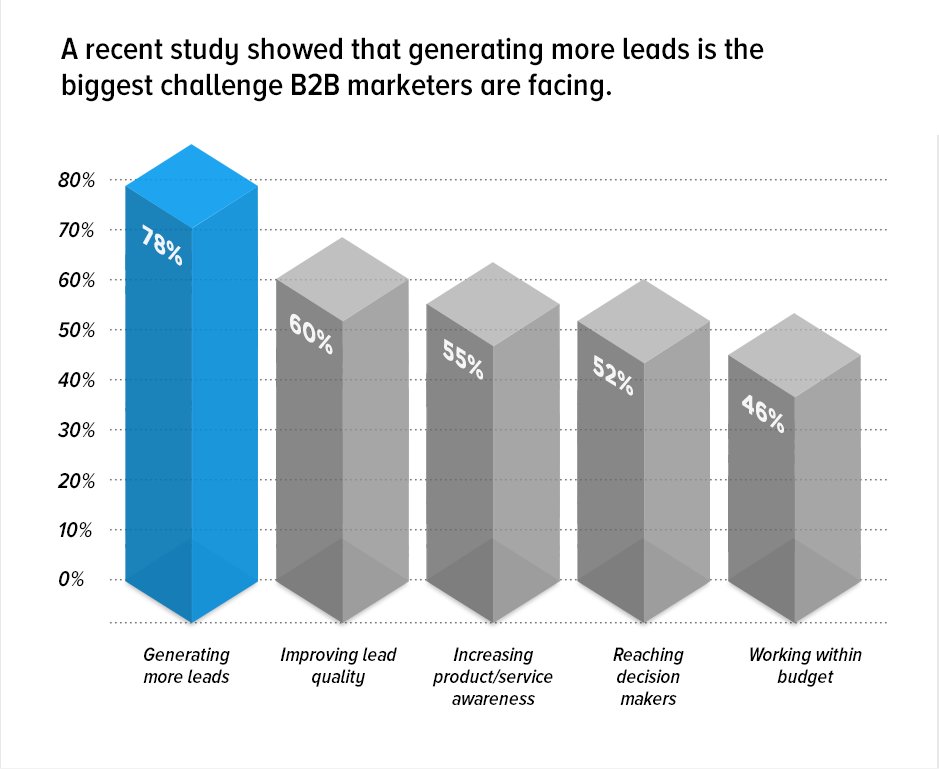 Generating Leads with Content Marketing
The 2014 B2C Content Marketing survey conducted by Content Marketing Institute reports that 86% of marketers in the United Kingdom are using content marketing to generate more leads.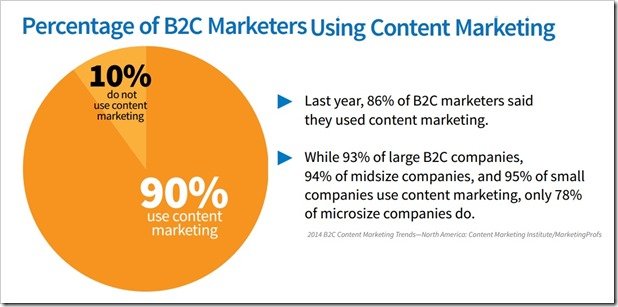 The same survey also indicates that the most effective B2C marketers allocate 32% of their total marketing budget to content marketing. Compared to this, the least effective B2C marketers allocate 10% of their marketing budget to content marketing.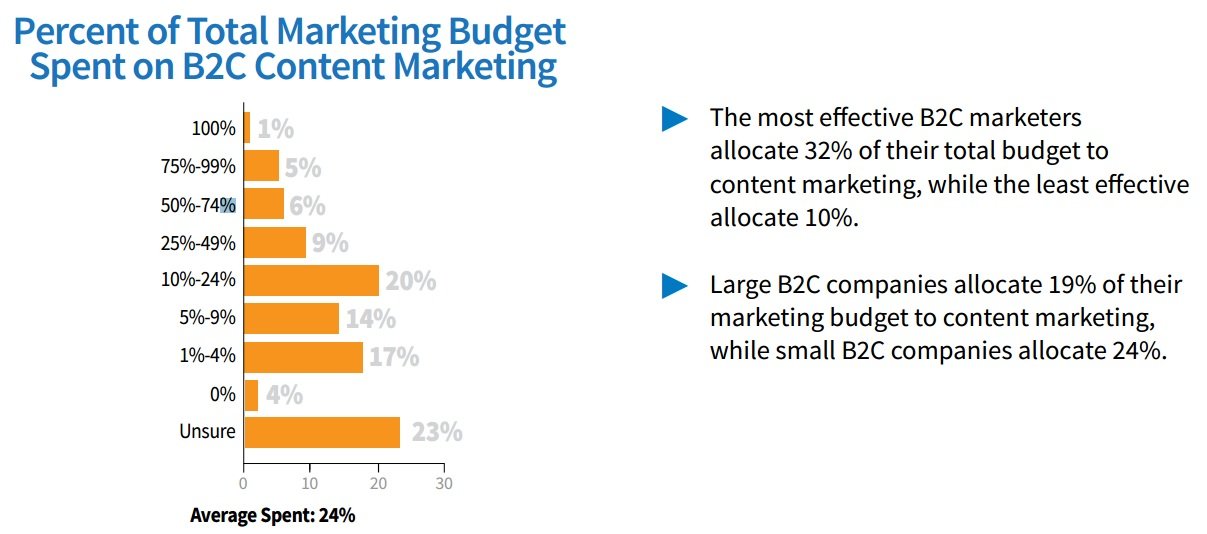 Before we get on to creating a content strategy, let's begin by understanding what defines content marketing. According to the Content Marketing Institute, content marketing is "a marketing technique of creating and distributing relevant and valuable content to attract, acquire, and engage a clearly defined and understood target audience—with the objective of driving profitable customer action". Content forms the basis for all your marketing efforts. Hence, a sound content strategy is what lies at the core of an effective marketing strategy.
A comprehensive content marketing strategy should include various forms of content to address a plethora of target audience with varying interests. On an industry-wide level, it is important for your company to establish thought leadership in your domain of expertise. Thought leadership not only earns respect and admiration for your brand but also establishes a network of brand ambassadors for your business.
In addition to establishing yourself as thought leaders in the industry, it is also important for you to reach out to the masses. This is where promotional content comes to your rescue. Any form of content that is aimed at catching eyeballs is promotional in nature. This can include landing pages, e-books, guest posts, etc. Promotional content is analogous to TV advertising; the primary aim here is to reach out to a wide variety of target audience and spread awareness about the brand. With this form of content, you can easily motivate your target audience to take immediate action.
Here's a list of 5 steps you need to follow to create an effective content strategy for your business:
1. Identify and characterize your target audience
Developing buyer personas is a good way to identify who your target audience is. Focus on answering these basic questions while creating buyer personas:
What does your target audience look like?
What are their key sources of information?
What are their goals?
What are the key challenges that they face?
What is their level of influence in the decision making process?
Once you have created a well define persona, do keep your target audience in mind while creating any form of content. The next step is to map your content to the buyer's journey. This not only helps you address your audience with the right content at a time when they need it the most, it also helps you identify content gaps.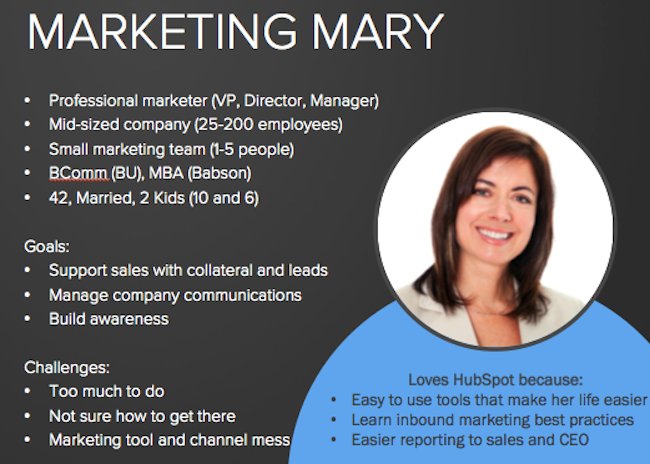 2. Define your goals and objectives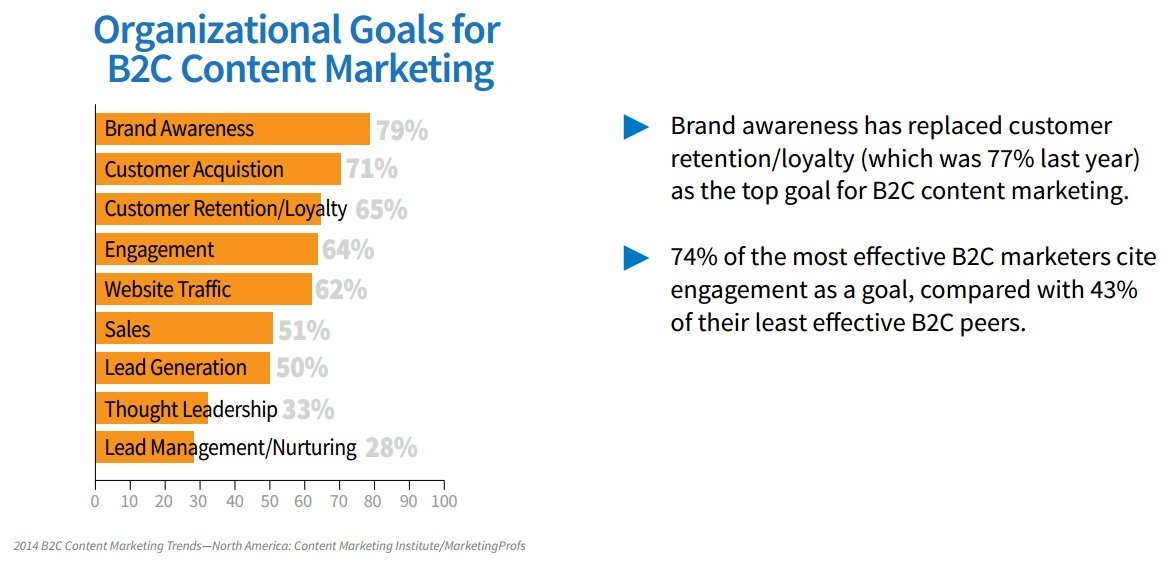 According to the 2014 content marketing survey, brand awareness is the most popularly used goal for content marketing followed by customer acquisition and customer retention/loyalty. The fact that 71% marketers use customer acquisition as a goal for content marketing is indicative of its significant contribution to lead generation.
Identify the key business challenges that you want to solve using content marketing. On the basis of that, clearly define what you expect to achieve from your content strategy. Are you aiming to generate more leads? Tailor your content such that it prompts the reader to take action. While defining goals, try answering this question: What will success look like 6-12 months from now?
3. List down types of content
Based on your buyer persona, develop a list of content-type categories. For each category, define which stage of the buying process that content piece will cater to. Plan your content to fill in gaps in the buying funnel. Creating content for specific stages of the funnel will increase relevancy of your content piece for your target audience.
Make sure your brand message remains consistent across all content types!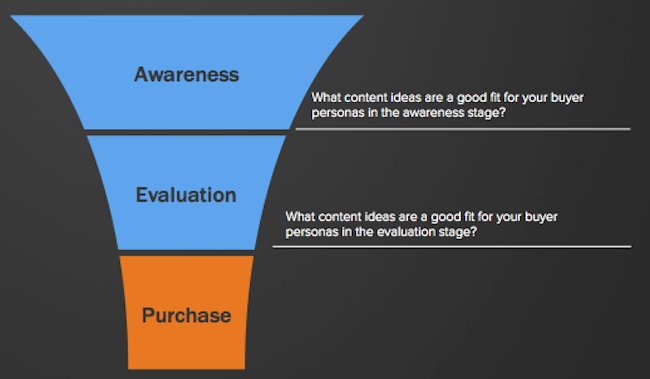 Here's a list of a few types of content categories that you can incorporate in your plan:
1. Tutorial videos: Webinars or informative videos are an effective way to teach your audience something new with step-by-step instructions. Tutorials are useful in the evaluation stage where your target audience is perhaps comparing how easy-to use your tool is.
2. Guides and infographics: Make sure your guide delivers immense value and has a strong call-to-action.
3. Landing pages: Cater to specific challenges for your target audiences using dedicated landing pages.
4. Blog posts: Add a relevant and powerful call-to-action with all your blog posts.
Below is a chart that shows how effective are different types of content for lead generation: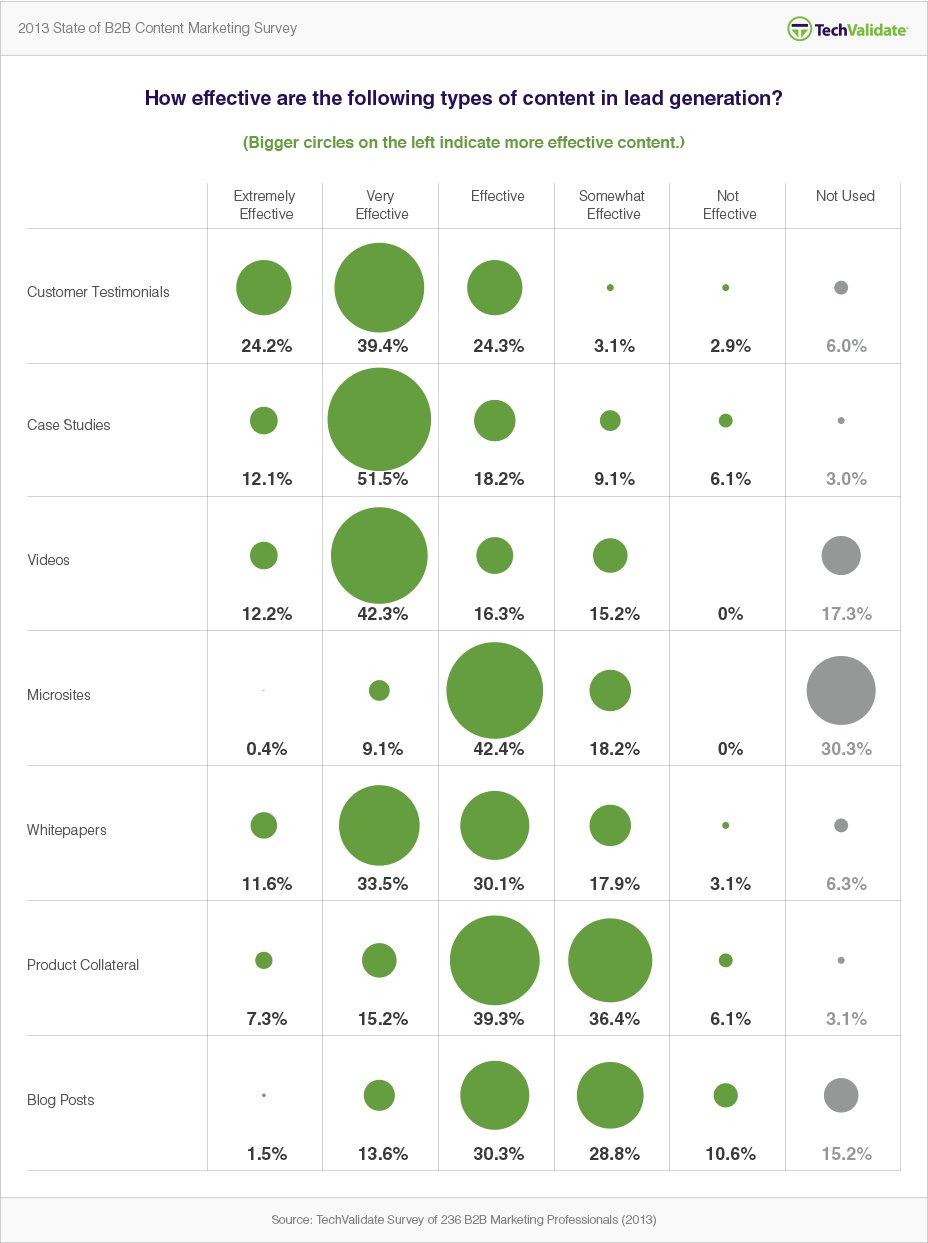 4. Develop an editorial calendar and a promotional plan
Every good content strategy incorporates a well-planned and carefully designed editorial calendar. Any form of content will be effective only if it evolves into a cohesive brand story. Your editorial calendar should add a structure to your content strategy and ensure consistency in the delivery of quality content. Your editorial calendar should have the following:
A list of customer-centric themes, associating content with appropriate phases in the buying cycle.
A tentative plan of what piece of content will be published when and through what medium.
Clearly chalked out timelines for production and publishing of content pieces.
Content publishing and promotion go hand-in-hand. Once you have a well-planned editorial calendar, make sure you develop a strong promotional plan to derive maximum mileage out of your content. Promote a content piece by converting it into various formats. For example, after you write a whitepaper, extract two key ideas from it and create short articles or blog posts. You can also create a concise presentation from the white paper and upload it on slideshare. Information derived out of the whitepaper can be converted into an infographic and shared across various media.
Don't forget to include social sharing links in your content pieces to maximize the visibility and of your content.
5. Measure success
The 2014 Content Marketing survey conducted by Content Marketing Institute lists down top metrics used by marketers to measure success of their content marketing efforts. Web traffic followed by social sharing turn out to be the most popular indicators of success of content marketing.
While developing your content strategy, make sure you list down the key performance indicators and keep track of these on a regular basis.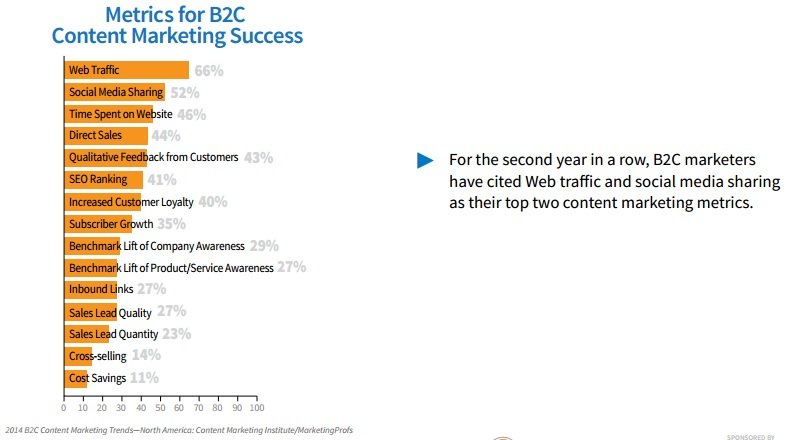 Creating good quality content is one thing and getting it to generate leads for you is another! That's why it become important to understand how your prospective customers digest the content that you generate. Once you understand the content delivery channels that work best for your target audience, you'll have a better idea on how to plan your content strategy to reach out to the right audience.
Have any insights to share with us based on your experience with content marketing? Reach out to us at marketing@vwo.com!