The Importance of CRO as a Research and Validation Tool to UX
Kieron Woodhouse
Kieron is Head of UX at MVF, one of the UK's fastest growing technology companies. Since joining MVF, Kieron has helped shape world-class platforms driven by a comprehensive understanding of user behaviour.
Note: This is a guest article written by Kieron Woodhouse, head of UX at MVF (one of the UK's fastest growing technology companies). Any and all opinions expressed in the post are of Kieron. Brickbats and bouquets can be sent at the contact details in the author bio at the end of the post.
---
Building concrete validation and support around an idea or proposal is the easiest way to get your ideas pushed to the top of any tech queue. It also ensures that you have thoroughly explored the value of your proposition, and you're not left embarrassed by a basic oversight when someone else picks your proposal apart.
I love working in tech, but it can be unforgiving — remember you are working with some of the brightest, most intelligent people in the business. It is imperative that you understand how to quantify and validate everything you do as a UX designer.
Communicating creative ideas to techies and financially-led teams can sometimes feel like converting analogue information to digital. We, designers, like to wave our arms around and think about things visually, inspirationally and emotionally. On the other hand, logical thinkers tend to prefer hard facts, reasons and numbers. Having run my own creative-led agency before joining MVF in 2015, this was one of the biggest learning curves for me. Designing to satisfy a client is a completely different ball game from designing based on a data-set, research and performance of that design.
I very quickly realized that I needed to align the way I was working and ensure my design ideas satisfied certain criteria set by a business full of logical thinkers. After a short stint heading our CRO efforts and building an interim strategy, I soon realized the benefits CRO brings to UX (and vice-versa).
The UX team at MVF now works very closely with our CRO team, so I wanted to share five quick methods I used to get our teams working in natural synergy, which helped us get the best results on both sides.
Five Quick Tips to Bring Your UX Team Closer to CRO (From a UX Specialist Standpoint)
1) Become part of each other's process and share regularly.
Organize regular catch-ups with your CRO team and offer your UX expertise to the team — they'll love you for it. It will also help you control UX consistency across the business.
Work with CRO to test most (if not all) of your designs.
Share intel across teams to avoid covering ventured ground. The last thing you want to hear is that the CRO team has already tried the design that you have been perfecting for two weeks!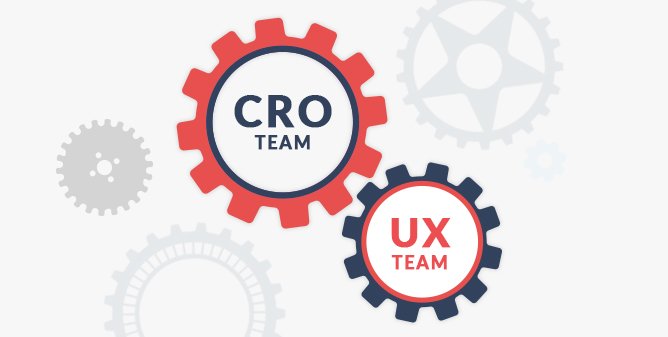 2) Learn how to read CRO data and results.
The more you understand, the better you can build informed, bulletproof designs.
Ask your CRO team to go through their platforms with you. Ask them how they come to their decisions and attribute value to results. It is also important that you know how to pull intel from this data to inform your UX work.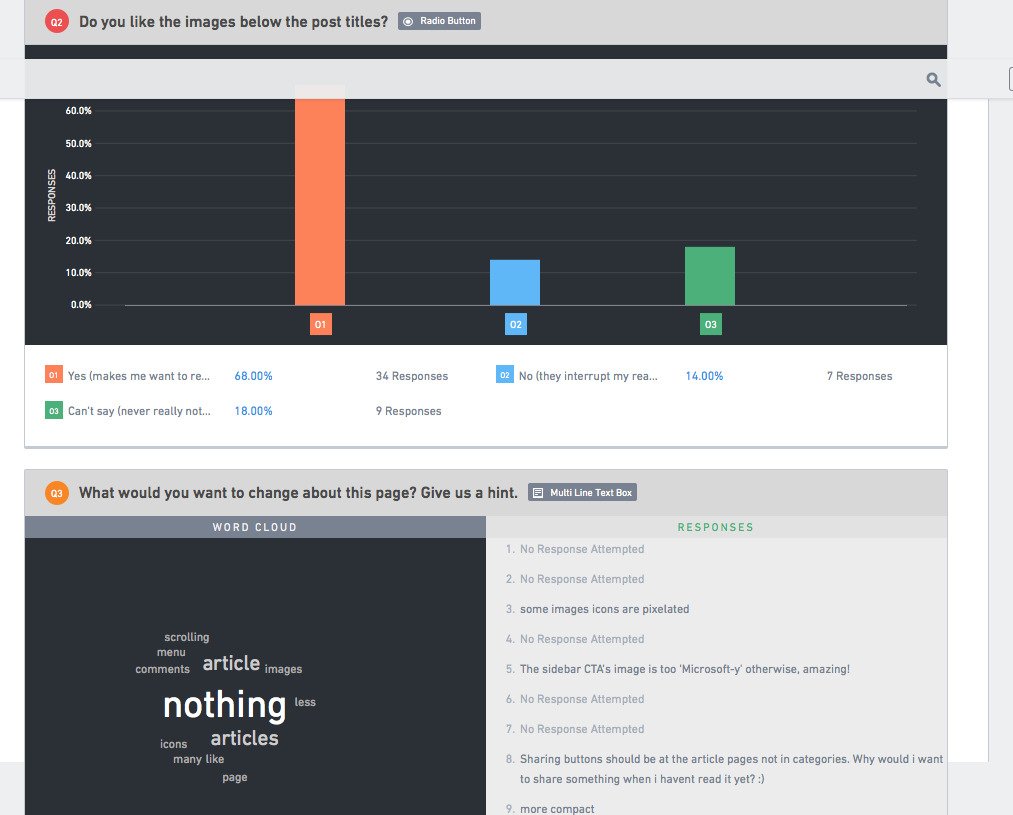 3) Use this data to enhance your designs and proposals.
CRO should have worked out the most effective way to work across their platform, instead of doing your own research into areas they are experts in, pick their brains whenever you are unsure of something.
In order to get buy-in for your proposals, you need to sell the reasoning behind your plans. Make sure you have concrete data to back up all of your plans and make your suggestions indisputably the best course of action. Stakeholders are less likely to see your UX decisions as "radical" if they are backed up by solid reasoning.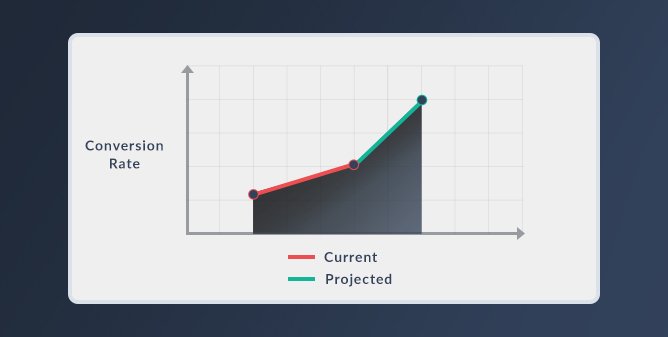 4) Universal "best practice" is dead. Oh, and so is blagging.
Forget about it. Don't use this phrase to justify your ideas unless you have data to back it up. A good CRO team will ground themselves with the same principles. Align your UX strategy to think the same way.
"Best practice" based on external research is the easy way out and may have no relationship to your business model, customers and/or product. Use internal resources such as CRO to build strong best practice specific to the needs of the business/service/product.
Nobody has time for a blagger. As a UX expert, this shouldn't ever be a fallback mechanism. Back up what you say with data and results. If someone throws a curveball, catch it, and throw it back with results. Think of yourself as an architect: would an architect build a house without a solid foundation? No.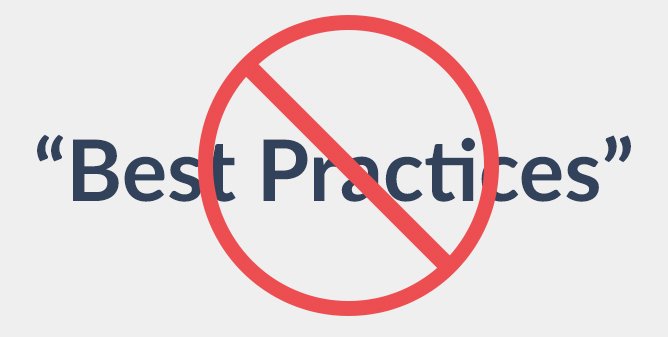 5) Base your UX spec on a hypothesis-driven process.
A very important part of CRO is creating strong hypotheses built around findings, coming from your previous tests or research. Try and spec out UX projects in the same way. The points below come from MVF's own internal CRO guidelines.
Research: Increase your potential success rate by really understanding a problem.
Diagnose: Using the research and data you have gathered, identify specific issues.
Plan: Based on research and diagnoses, create a more honed-in plan of how you will be treating the diagnosed issues or problem.
It is also important at this point to establish your success metrics. How will you measure success?
Treat: Test your designs and iterate. Learn and build from every implementation.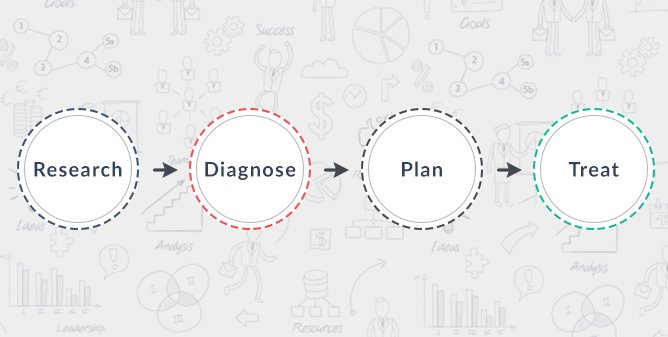 Conclusion
The key message I am keen to stress is to build bridges of communication to help inform everything you (as a UX specialist) and your team do. Organize weekly catch-ups, create a dedicated Slack channel and collaborate on as many projects as possible. Become each other's weapon of choice by sharing in-depth expertise regularly.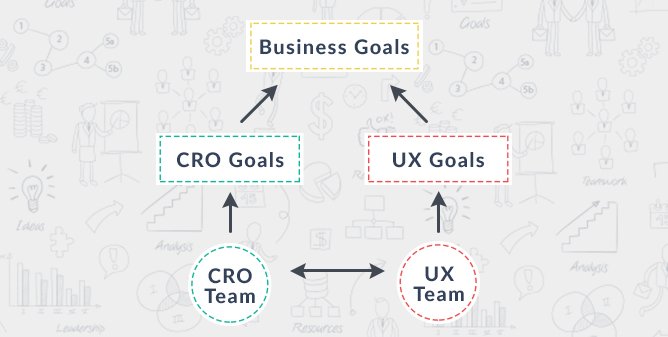 Your Thoughts
How closely do your UX and CRO team work together? Do you relate to the points mentioned in this post (or, you think otherwise)? We'd love to know your thoughts. Post them in the comments section below.