Two weeks back we launched a brand new interface for Visual Website Optimizer which, thankfully, was very well received by our customers. They love how simple we have made creating A/B and multivariate tests. They also love the redesigned, detailed (conversion rate, revenue and heatmap) reports. Today, we are proud to release an update to the new interface: a comprehensive test management interface!
New test management interface
Why do we need test management? Well, some of our customers do very large scale testing. They have hundreds of tests in their account with many that are currently live and running. The plethora of (A/B, split, multivariate or heatmap tests) made it somewhat difficult to make sense of the list of tests. So based on user feedback, we have come up with a new test management interface. Have a look at the screenshot: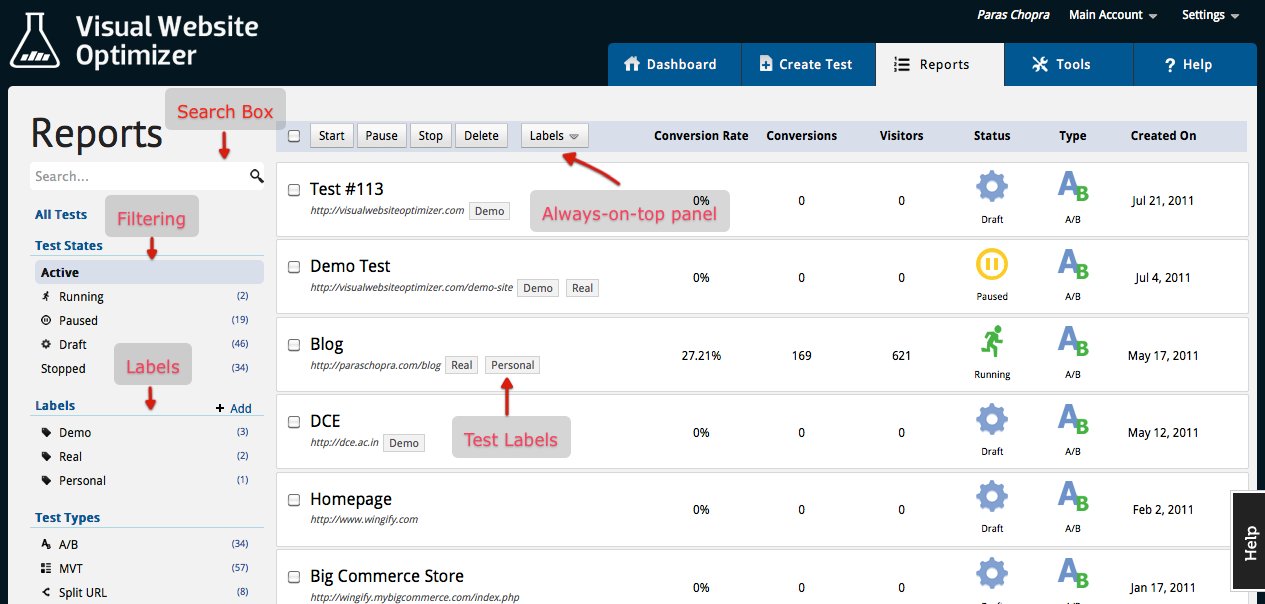 So, what's new?
There are number of new test management features but following are the major ones:
Labels: this new feature allows you to create and add (arbitrary) labels to your tests thereby helping in grouping and filtering. For example, if you are running three different kinds of tests (on homepage, product pages and checkout page respectively), you can use labels to group and filter similar tests simply by clicking on that label. Of course, you can apply multiple labels to tests so in addition to label specifying category of tests, you could have one label for tests with winners and one label for tests that didn't work out.
Always-on-top test panel: this feature allows you to select multiple tests and start, stop, pause or delete all of them at once. This panel will also allow you to add labels to multiple tests simultaneously. A great feature about this panel is that it always remains on top of the page (even as you scroll).
Search box: allows you to quickly search for the test by searching various attributes (test name, test URL, etc.)
Filtering: you can filter tests by test state (running, paused, stopped or draft) and by test type (A/B, split, multivariate, etc.)
We hope you like the new features. As usual, if you have any feedback for us, we're all ears!