6 Proven Strategies to Promote Your Affiliate Content And Link Effectively
Awesome, you've joined our VWO Affiliate Program!
But you know what? The real work begins now! Promoting your content and affiliate link. With tons of content on the internet these days, it's indeed difficult to garner your audience's attention. On top of it, getting your audiences to click the affiliate link is even more challenging.
Fret not, we're here to help you. In this blog, we tell you how to promote your affiliate content and links so you get the most returns out of your efforts. Let's get started.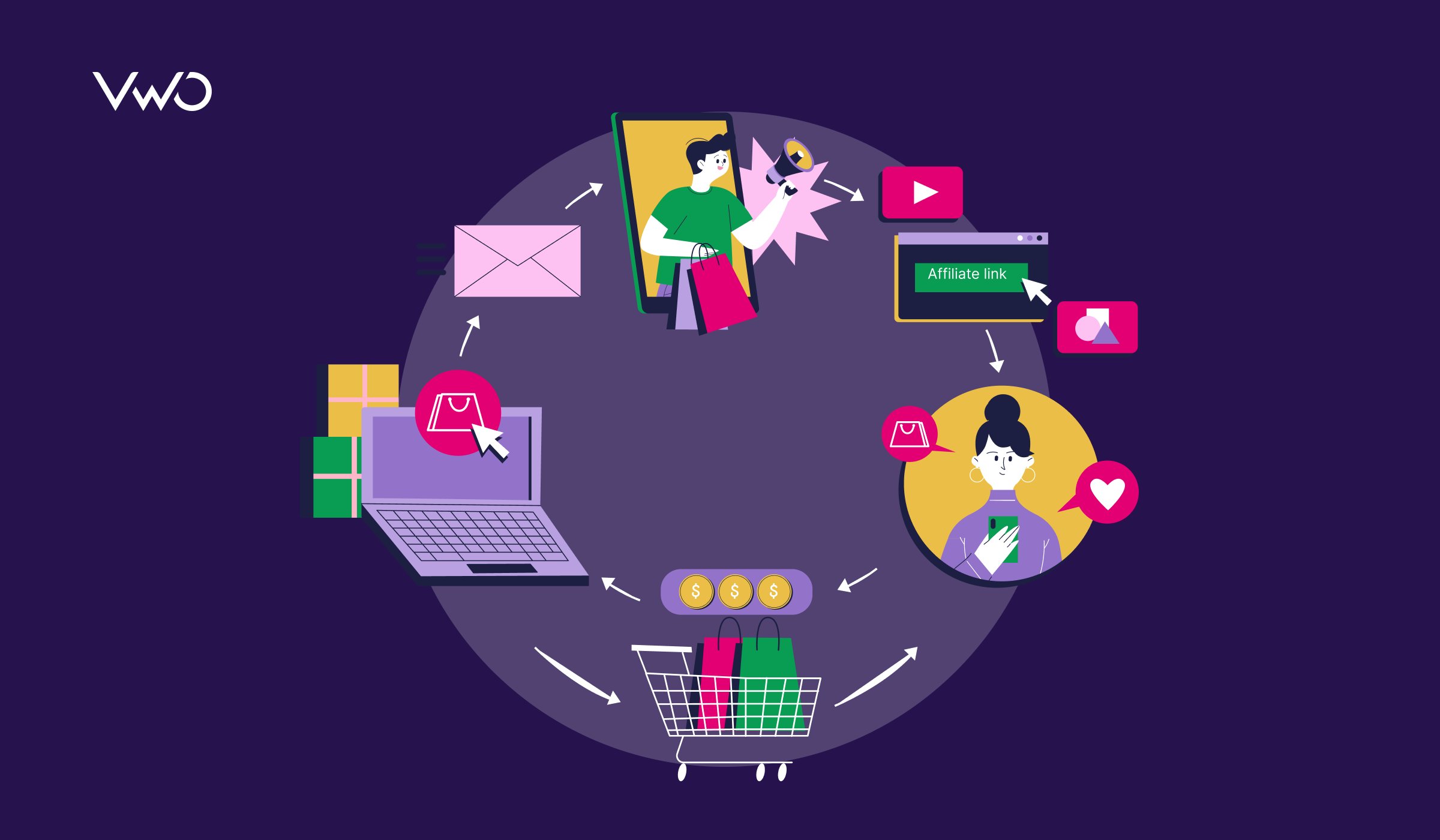 Leverage your list of email subscribers
Your email list is a valuable asset. By building your email list, you own customer data without being at the mercy of third-party data providers and therefore control your communication with your subscribers. This ensures that your loyal fans receive your message without worrying about algorithm changes or policy changes on external platforms.
So, don't delay and explore different ways of incorporating links in your newsletters. Create content that's solely meant for promoting our product. Alternatively, you can include the link in non-promotional yet informative content. Let's say you prepare a list of martech stack tools you tried and loved recently and you include the VWO platform in the list. The key is to make the link flow naturally within the content and position it prominently.
Need inspiration? Pat Flynn is a big name in the affiliate industry and who better than him to inspire you? Look below how he chose to promote a software product and the corresponding affiliate link in one of his newsletters. Reads easy and organic, right? Also, he doesn't miss a chance to promote his eBook while mentioning why he thinks reading it can help his audiences.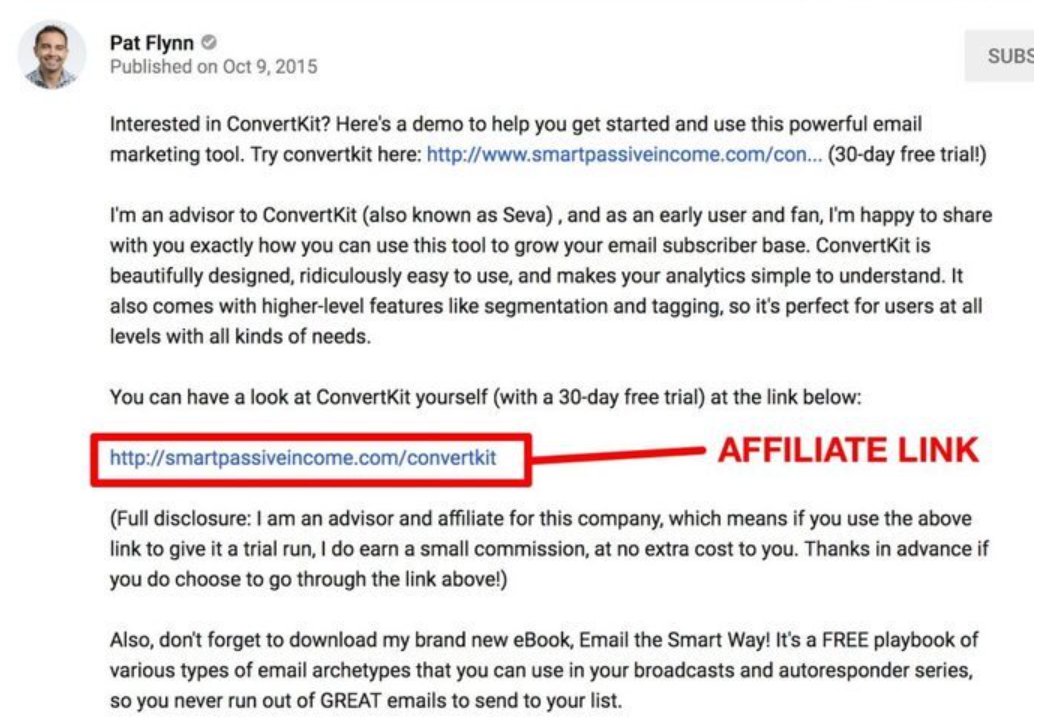 Make the most of your blog posts
Including the affiliate link in blog posts is one of the oldest and proven strategies to promote affiliate marketing links. But some wonder if it's even relevant in the times of digital boom and cut-throat competition with 32 million bloggers in the US alone. Surprisingly, the fact that 77% of people still read blogs online shows that blogs are still an important source of knowledge consumption and should be made the most of to reach more audiences. To establish trust with your readers, your blogs must be based on original research and reflect your authority on the subject.
Your next goal is to make audiences click your affiliate link without making them feel compelled to do so. One way to achieve this is by putting the affiliate link in the content to make certain words clickable. See the two options below and decide which one you like as a reader:
Click https://vwo.com/free-trial/ to unlock the true marketing potential of your business.
Take a full-featured trial of VWO to unlock the true marketing potential of your business.
Of course, the second option is easier to read and more user-friendly as it weaves smoothly into your content. On the other hand, the first option looks a bit forced and when read in a flow, it can stand out as the right affiliate link promotion tactic. Inserting your affiliate link organically in your content is an art that you get better at with practicing.
Influence customer decisions through product reviews and tutorials
Users reading product reviews and tutorials are usually said to be in the final stages of making a purchase decision. Now that they've done their research, they want to get their hands on a tool that will help them solve their problem. This is where promoting your affiliate link through reviews or tutorials that highlight your first-hand experience with the product becomes so important.
Don't hesitate to go analytical. Explain what you like about our VWO products and why you like them better than other tools you tried before. And precisely for this kind of content, place affiliate links toward the end of the content. Why? When the affiliate link is placed toward the end of the product review, it shows that your priority is providing an honest and informative review of the product.
John Chow is a superstar in the field of affiliate marketing, having earned millions in this industry. Here's an example of his way of promoting AWeber email marketing software. He ditched the usual long-form copy content and shared a video where he explained how to write for an automated email campaign using AWeber. And it's only towards the end that he mentions that AWeber is offering a 30-day free trial for new customers. And like any smart affiliate marketer, he also promotes his personal content on a free video course at the bottom.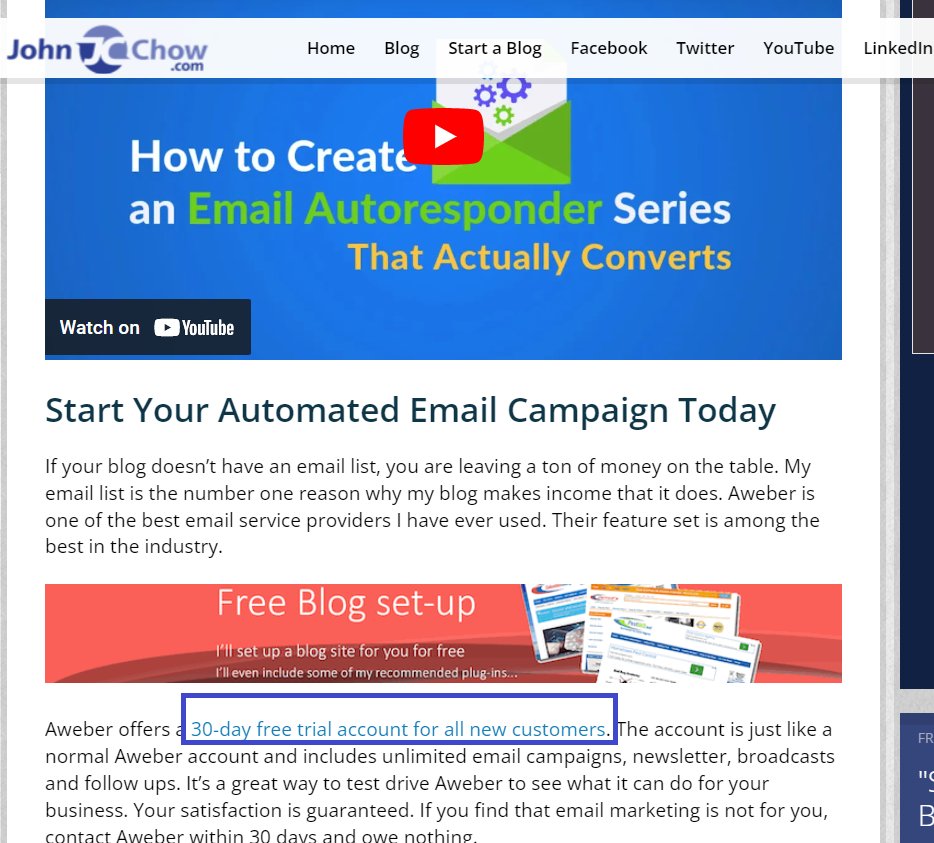 Spread the word on social media
If you want to promote your content on social media, there are different formats you can experiment with! For example, try posting articles and snippets on LinkedIn or go for reels on Instagram and long videos on YouTube. Joining groups and communities on social media platforms – be it LinkedIn or Facebook – is also a great way to connect with potential customers and share your content with like-minded audiences.
But there are also nuanced differences in the different types of content you create. For example, creating content for reels and videos is fundamentally different. Reels are all about being concise and entertaining, while long videos give you more room to showcase your skills and knowledge. For instance, you could create a brief reel providing an overview of VWO Insights, and then elaborate on the details in a longer YouTube video.
When it comes to link placement, you can add them in the descriptions along with a few lines on the product you're promoting. And since Instagram doesn't let you add links to descriptions, don't forget to keep updating the link in your bio as and when new affiliate content comes up.
While sharing affiliate links directly on forums like Quora and Reddit is considered spam, you can still include links to your content in your answers to questions. This way, you can attract potential customers without coming off as too pushy.
Don't leave out podcasts and webinars
The recipe for successful affiliate link promotion remains the same even when you're creating podcasts or webinars – create high-quality content and include relevant affiliate links in the description.
For instance, imagine you're a digital marketer who hosts podcasts on marketing trends. In one of your episodes, you emphasize the significance of conversion rate optimization and share your trust in VWO for testing not only your website but also those of your clients. Simultaneously, you include your affiliate link in the description.
Dough Cunnington, an affiliate marketer, runs his podcast show called The Doug Show. In one of his episodes, he discusses prompt engineering with another expert and includes affiliate links for two AI products he endorses in the description. While he has kept the description quite straightforward, you can explain a synopsis of the podcast of your episode, so users can feel the context in which you're promoting a particular product without having to listen to the entire episode.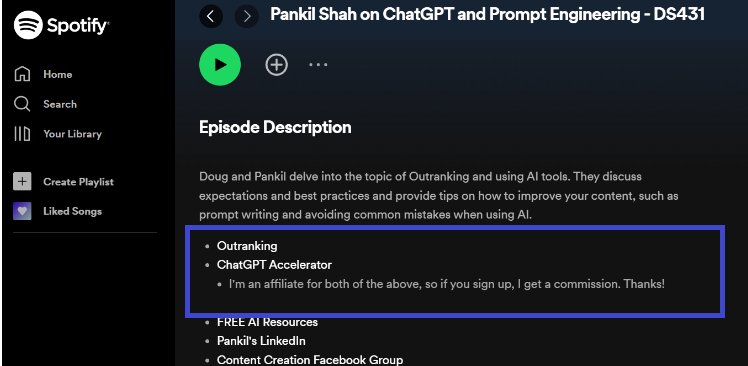 Maximize reach through short videos
Short-form video content, exemplified by platforms like TikTok and Instagram, has revolutionized our way of online content consumption. Today, we crave concise, creative, and personal content that helps us save time by sharing only the necessary information.
Now, don't downplay the effort required to create this content only because it's brief. You've to work on creating engaging content infused with authentic storytelling to hook your audience. Your content should do a good job of piquing audiences' interests and making them eager to explore the products or services you're promoting. And to do that in a few seconds is not a cakewalk.
If you regularly update your product reviews, place the latest affiliate link in your Instagram bio, and be sure to mention it in your posts or stories. Also, you can use hashtags to help broaden your content's reach.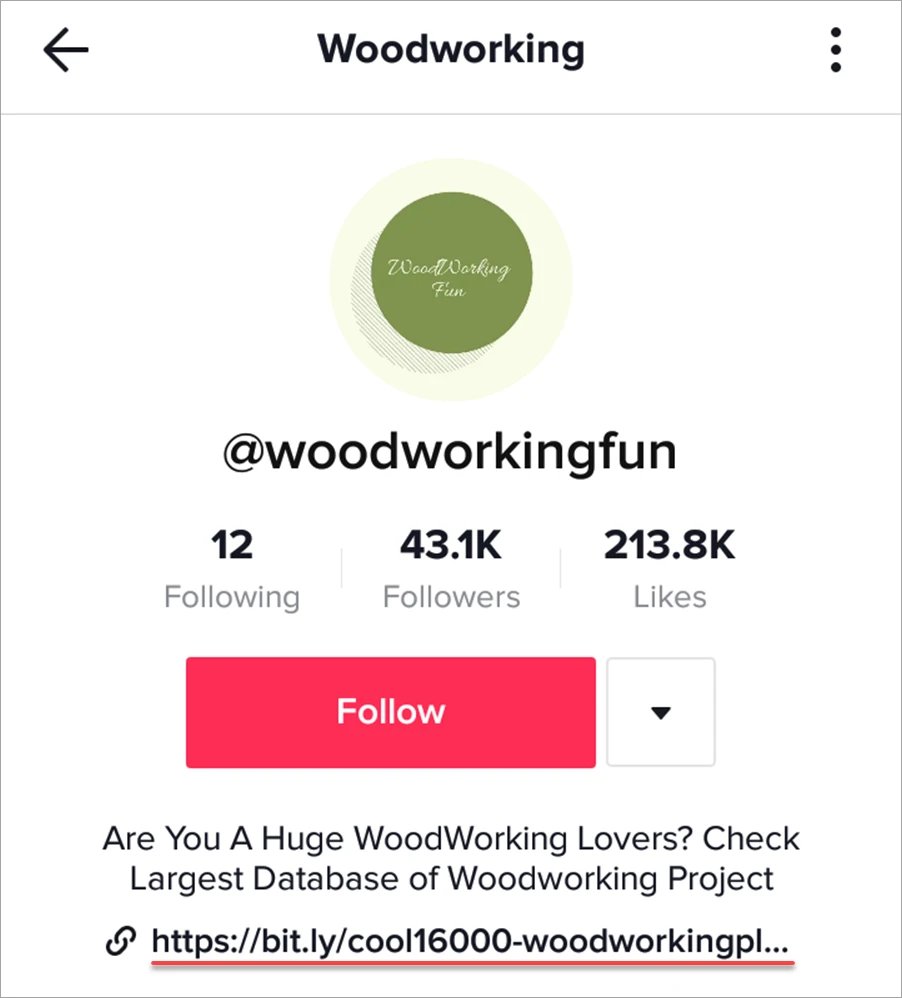 Over to you
It can be quite challenging to cut through the clutter and promote your affiliate content and links to the right set of audiences. But hang in there! It might take some time, but when you have a solid plan, you can stay assured of great results and succeed as a VWO affiliate. We hope you found our tips on promoting your affiliate content and links helpful! Now that you have all these tips, it's time to put them into practice, catch your reader's attention, and watch your commissions soar. Good luck with your affiliate marketing journey!