How to Become a Successful VWO Affiliate
Building passive income is an effective way to add security and stability to your financial life.
And of late, affiliate marketing has emerged as one of the most popular means of generating passive income.
The US has the biggest affiliate industry, with a whopping 39% share and over 81% of marketers investing in affiliate programs to drive more revenue.
VWO also offers you the opportunity to become a brand referrer. In this blog, we tell you more about how affiliate marketing works, what advantages it offers, and how you can become a VWO affiliate to earn attractive commissions.
What is affiliate marketing?
Affiliate marketing is about you (as a content creator and brand referrer) promoting the products and services of other businesses. When customers click your unique affiliate link and purchase through it, you earn a commission.
The parties involved in an affiliate program are:
Affiliate – If you promote somebody else's products or services, you become an affiliate or a promoter.
Merchants – A company or a person whose products or services you promote, help sell, and earn commissions.
Consumers – These people click your unique affiliate link to try the product or services promoted by you.
What are the benefits of affiliate marketing?
This marketing tactic has taken the world by storm despite there being several other passive ways to earn. Let's explore the reasons:
Cost-effective
Setting up your own business is super expensive. You need capital, manpower, technology, and whatnot! Whereas to become an affiliate marketer, you need your website and decide through which channel you want to reach your audience. It is comparatively easier to start here than in any other income stream. The loss is minimal even if it doesn't work out for you.
Flexible
Whether you want to work full-time, part-time, or as a freelancer, it's totally up to you. You can work from anywhere in the world and join multiple affiliate programs. All in all, you are the captain of your ship.
Career growth
As an affiliate marketer, you have the liberty to join as many affiliate programs as you want. When customers purchase from your affiliate links, you make a ton of money! Plus, networking with new people will give you more opportunities to explore and earn more.
Steps to becoming a successful affiliate
Anyone can be an affiliate marketer, but not everyone can be successful in this field. So what should you do correctly to become a successful affiliate? Keep reading to know more.
Select the right niche
Kickstart the process by selecting a niche you are truly interested in. Remember, as an affiliate, you will have to produce a lot of content. If you choose a niche out of whims, it might get difficult for you to stick to it in the long run. And giving up would mean a lot of time and energy going down the drain.
So ask yourself these questions:
What do I like doing?
Does this work interest me?
Can I invest significant time and effort in it?
Do people say I'm good at something in particular?
Whether it's cooking, photography, SaaS, or crypto – choose a niche you're confident producing content about. This way, your content will reflect your authority in the subject and build trust in your audiences.
Similarly, at VWO, we expect our affiliates to take interest in A/B testing, CRO, and other optimization-related concepts. We believe someone with in-depth knowledge about these topics will do justice to our products and promote them effectively.
Choose the most suitable platform
Now that you have selected your niche, you will need to choose a platform on which you can promote the products of businesses belonging to that niche.
So, let's say you are promoting a video editing tool. In that case, posting videos on YouTube can be a better option than simply writing a blog because watching videos gives audiences a clear and comprehensive view of the product, and therefore, understanding it in a better way.
As a VWO affiliate, you can promote on any platform such as your
Website
Social media handles
YouTube channel
Podcast
Newsletter
Just make sure your content contains your affiliate link with a unique ID that audiences can click to purchase products so that you get a commission.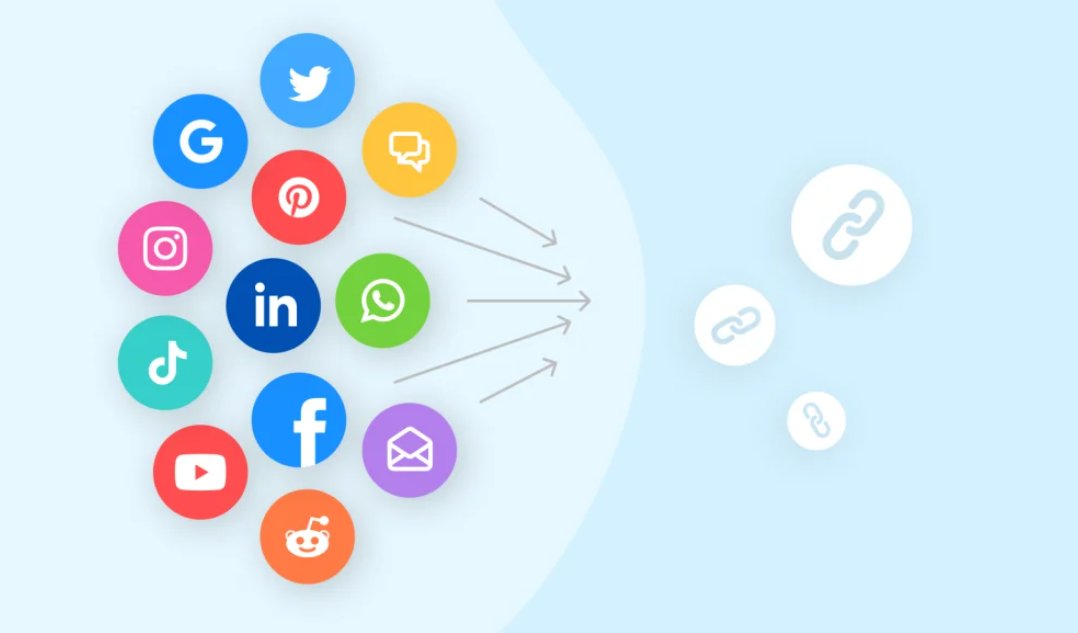 Find affiliate programs
Now, it is time for you to sign up for an affiliate program. As already mentioned, there is no upfront cost for you to get started. However, you may have to incur ongoing costs depending on how you decide to create the content. If you think you have to outsource the promotional content, in that case, you will have to bear expenses.
It's also for you to decide what type of affiliate program you want to join. Some are very niche products with fewer buyers, but the product creator pays you well. Similarly, some can be mass products, but promoting them may give you less money.
At VWO, we have niche products and promise to pay our affiliates highly, provided they are eligible for them. To get started, sign-up with PartnerStack and find VWO's Affiliate program through the list of available programs.
Create great content on what you promote
Creating content that convinces your followers to try the product you are promoting is easier said than done. Before creating content around a product, ensure you have first-hand experience using it. You must use it for a significant time and then note your observations.
Your findings should come across as authentic. From comparing it with other products to interviewing experts – make your research as in-depth as possible. Your safest bet is not talking about products you have not tried personally.
You can promote any VWO product that catches your interest. The only prerequisite is the content should be high-quality. Suppose you speak about our customer data platform VWO Data360. You must understand and explain the nitty-gritty well – how it works, how it's different from a DMP, and so on.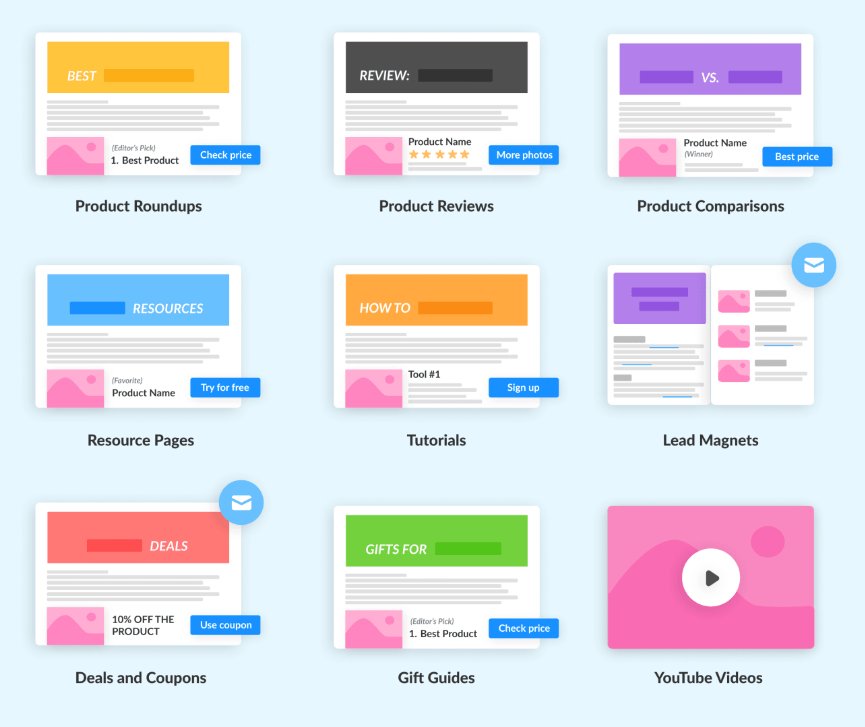 Drive traffic to your content
So, your content is ready. How do you bring quality traffic to it? Start with your greatest treasure – your email list. As newsletters help you build one-on-one connections with your audiences, talking about a product and promoting it in a newsletter may persuade them to try it.
SEO is also a great way to drive high-quality traffic to your content. Include keywords in your content for which you want it to rank on search engines. Our pro-tip is to target long-term keywords. They may not have a lot of search volume but being niche-specific, users searching for them have higher chances of converting.
You can also use pay-per-click (PPC) to drive high-converting traffic. But to keep getting that traffic, you will have to continue paying for advertisements. Keep in mind, if you opt for PPC, the costs to run ads will go out of your pocket.
Click and convert
In affiliate marketing, click-through conversions happen twice. First, when audiences click the affiliate link in your content to check out the product or service you're promoting. Second, when they visit the merchant's website to make a purchase and convert.
You're in full control of the first click-through and can improve it in the following ways:
Use storytelling to make your content appealing
Place affiliate links in easy-to-find places within your content
Highlight callouts like buttons and boxes to catch the audience's attention
To be sanguine of the second click-through conversion, look for merchants offering high-converting affiliate programs.
At VWO, we take pride in high conversion rates and pay our affiliates highly accordingly. Our referral program offers tiered commission rates. You will receive a 15% or more commission for every referral that becomes a client. If your revenue exceeds certain thresholds during a quarter, you may be eligible for higher commission rates on the surplus:
*Till $50k – 15%
* Above 51k and less than 100k – 20%
* Between 100k and 250k – 25%
* More than 250k – 30%
We release the commission according to money realization i.e. if we have realized $5k, for the first qtr, 15% commission will be paid to the affiliate in the upcoming payment cycle, and so on and so forth.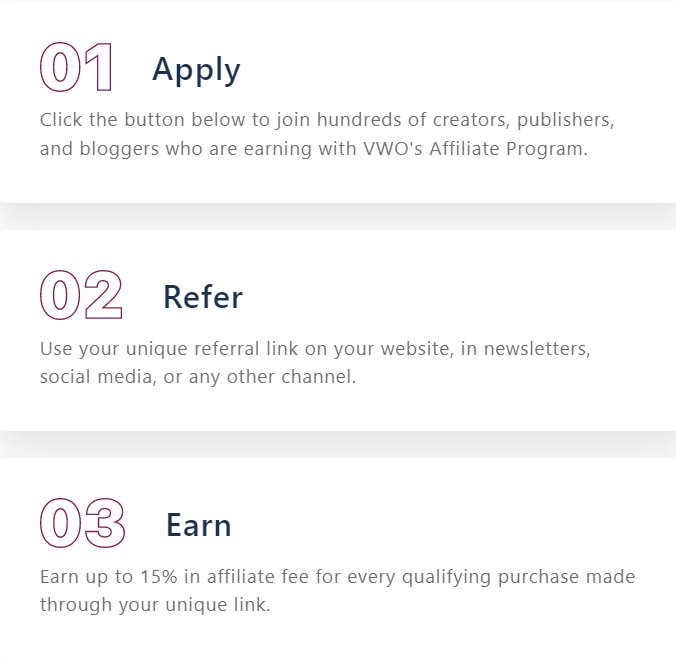 Measure performance
How will product creators differentiate your referrals from several other leads from other affiliates or even other sources? This is why a cookie is inserted into a user's browser whenever they click on your affiliate link.
The product creator or merchant can then track this action and understand from which affiliate the user came so they can pay out the commission. For instance, when you join the VWO affiliate program, we keep track of leads flowing into our system. If the same lead comes from 2 different affiliate partners, the one with the earliest timestamp will be considered valid.
All these make it important for you to track metrics. Understand what content performs well and what needs improvement. For instance, if your podcasts are generating more leads and sales than blogs, you can focus more on the former. Doing this will guide your next affiliate marketing strategies and increase your earning potential.
Join the VWO Affiliate Program
To succeed as a VWO affiliate is completely within your reach. If your passion aligns with what we do and what we offer, your success (and commissions!) is guaranteed. Most of your questions are answered in our FAQ. So sign up today and start your journey as a VWO affiliate today.