How to Become a VWO Affiliate in Easy Steps – A Quick Guide 
It's great that you're thinking about boosting your passive income by becoming a VWO affiliate partner. And we understand you probably have questions on how to get started, so we've got you covered in this blog post with all the details. Let's dive in without any delay.
Sign up from our page
Our VWO Affiliate Program page is full of relevant information. Read it thoroughly, and if it piques your interest, sign up for our program by clicking the 'Become a partner now' button.
Once you've filled out the form, you will receive an email in the next 24 hours confirming your addition to our affiliate partner network.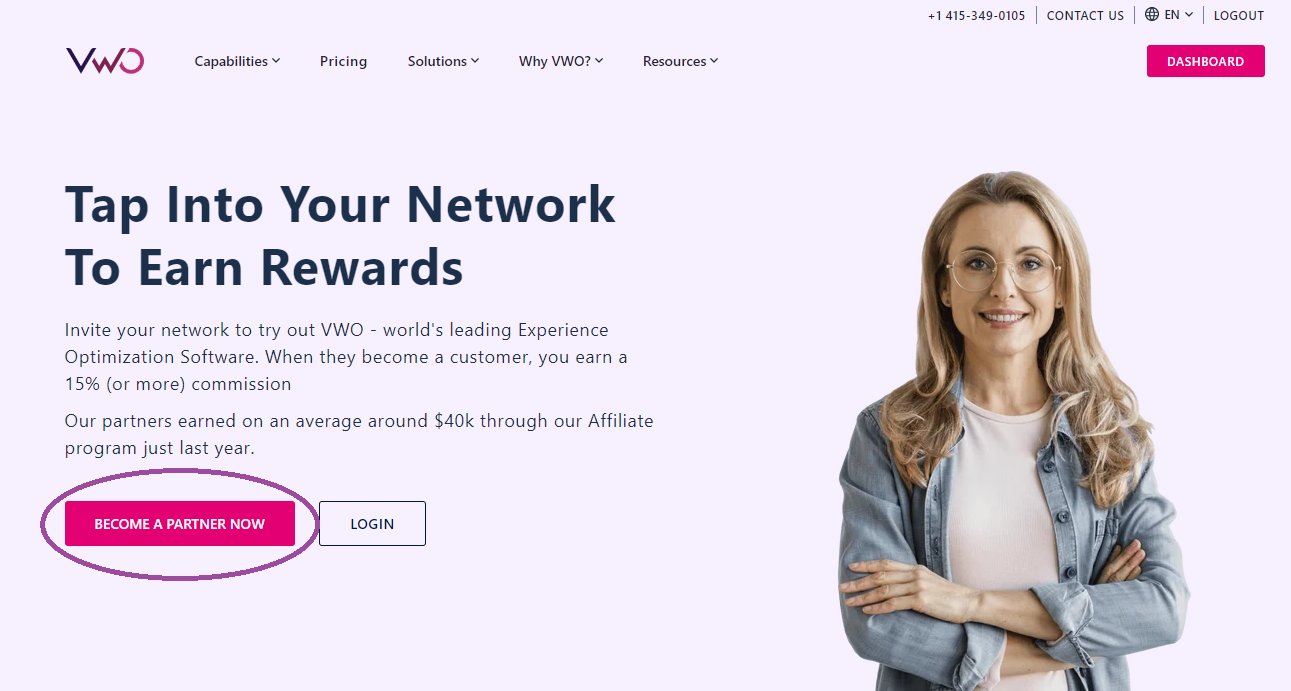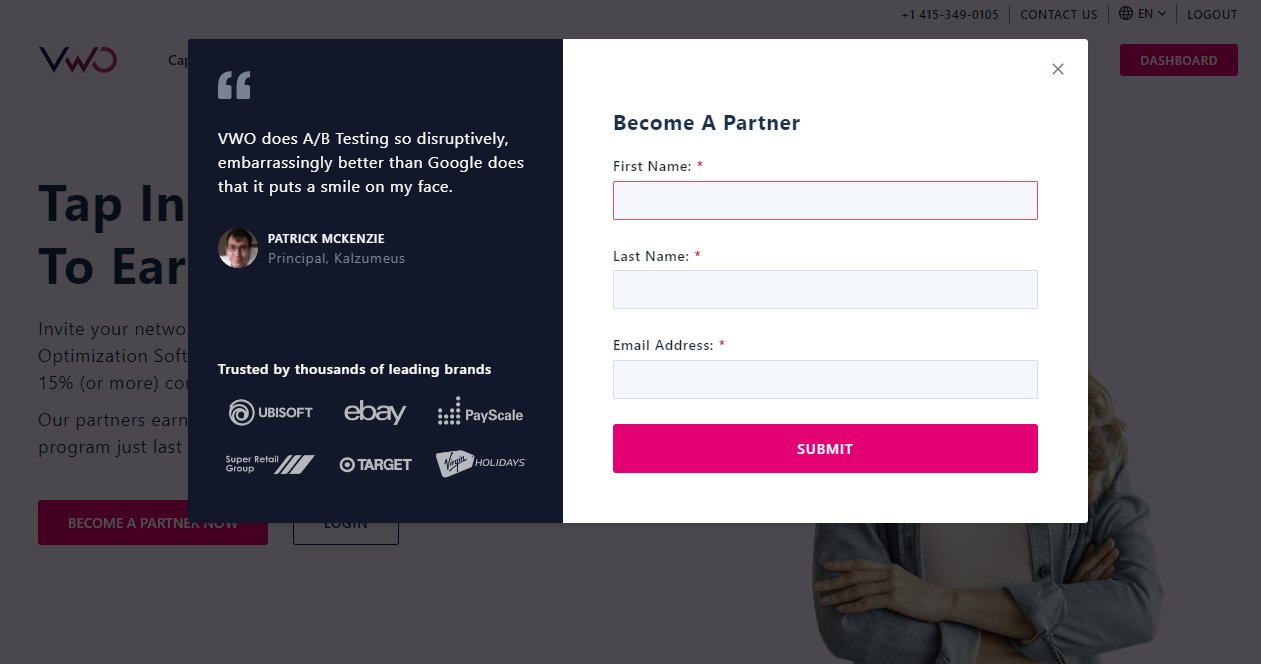 Join PartnerStack
Want to know how we collaborate with all amazing affiliate partners like you? We use PartnerStack – it's the ultimate platform for affiliate collaboration!
If you're not already part of the PartnerStack (PS) community, don't worry, it's super easy to join. Just click here to create your free account. Alternatively, simply hit the "Login" button (check out the screenshot below!) and you'll be directed to PS. But make sure that you use the same email address that you used to sign up for our affiliate program. If you have an account already, feel free to skip this step.
The PS dashboard is super easy to navigate. Whether you want to access your affiliate link, track commissions generated, or access resources, you can view and control everything from your dashboard. No hunting around to find information – it's all right there at your fingertips!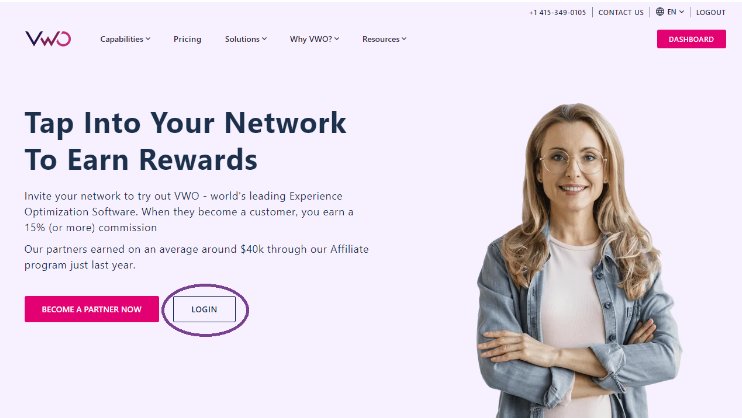 Create a custom link and quality content
The default affiliate link is provided to you in the 'Links' section on the dashboard. Just copy and paste it into your content and you're good to go. It gets even better when you customize your affiliate link and make it unique to your brand.
Incorporating the affiliate link strategically into your content is the most important step for this operation to be successful. Remember, very few readers will make that extra effort to click your custom link if they're not convinced of the quality of your content. Similarly, producing top-notch content alone will not suffice if users fail to notice your referral link. Hence, these two aspects are very important and dependent on each other for success.
Because VWO products are highly technical and geared toward a specific niche, you should have an interest in A/B testing and CRO, and your content must demonstrate your expertise in these areas. To educate yourself on these subjects, access amazing resources right from your PartnerStack dashboard. Click the 'Resources' section and you'll find everything from blogs and eBooks to webinars and knowledge-base articles.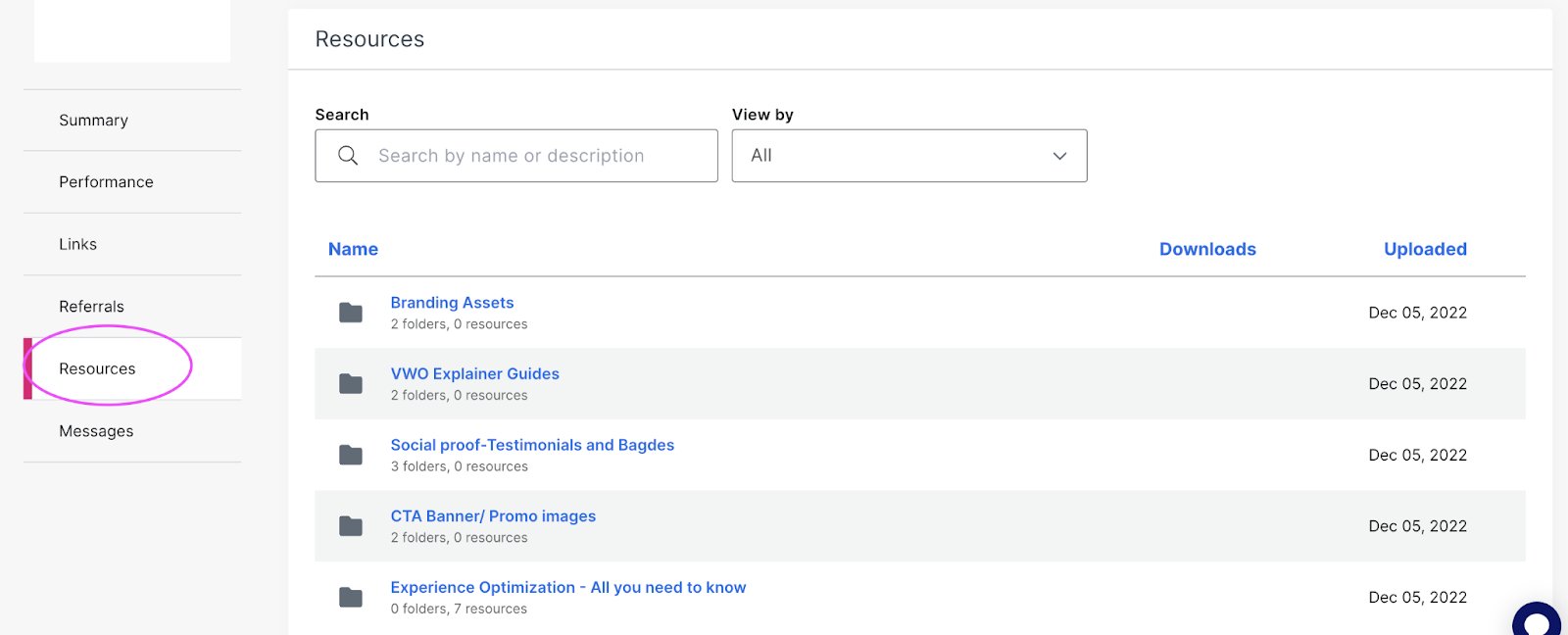 Choose the right platforms to drive traffic
To effectively reach your desired audience and increase their engagement with your affiliate content, it's important to choose the right promotion platforms. As VWO targets B2B buyers, platforms such as LinkedIn, Quora, Reddit, and YouTube, where this audience is most active, are ideal for promoting our products.
Your website serves as a central hub for your brand and content. Posting your content on your website is crucial, apart from promoting it elsewhere\. To target high-converting audiences, use long-tail keywords in your affiliate content. Additionally, building backlinks from reputable sources can help establish credibility with your audience, convincing them to convert.
Educate yourself on our commission structure
You can increase the likelihood of your audiences clicking the affiliate link by increasing its appeal. How? Hyperlinks that include dynamic parameters are lengthy and look unattractive, potentially discouraging users from clicking on them. You can shorten them and improve their readability. There are several other methods to increase clicks in this stage that you can explore.
In the second step when visitors click and convert on our website, we track unique IDs in each affiliate link to determine which partner generated a lead and ensure correct commission payments. At VWO, we compensate our affiliates generously. Here is the breakdown of the commission rates based on the revenue you generate for us:
Up to $50k – 15%.
Between $51k and $100k – 20%.
Between $100k and $250k – 25%.
Exceeding $250k – 30%.
And the best part? Unlike most affiliate programs, we not only pay for referrals but also for renewals from the same lead (for up to 4 years). Here's the structure:
15% on every referral
5% on year 2 renewal
3% on year 3 renewal
1% on year 4 renewal
We process commission payments based on money realization. For instance, if we realize $5k in the first quarter, we will pay the affiliate a 15% commission in the next payment cycle. The same process will be followed for subsequent payments.
Track performance
Ready to see how your affiliate campaigns are doing? Go to the performance section on your dashboard. Check out the number of clicks, referrals, rewards, and revenue for any given month of the year. Everything is updated every hour, so you don't have to wait for ages to get the latest info. Did we mention that you can download the performance report with just one click? Yes, it's really that easy.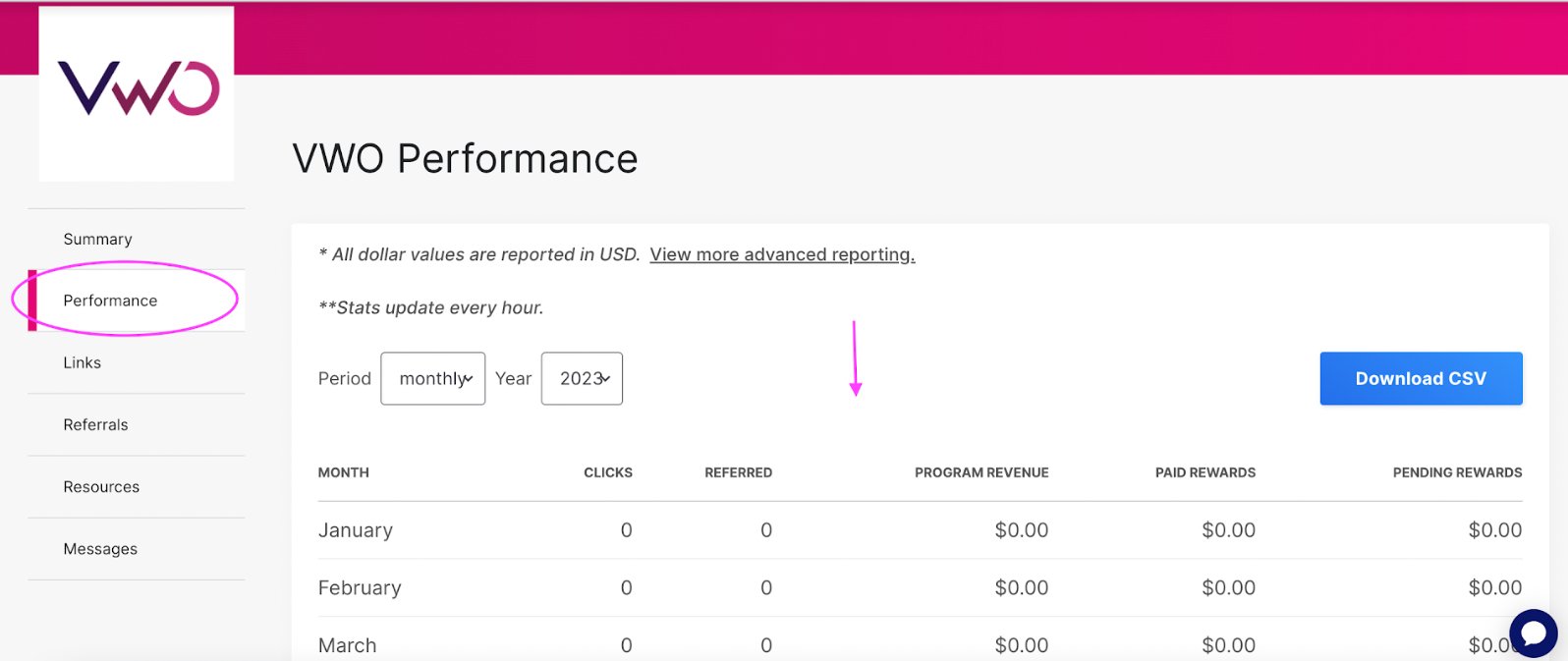 Get started now
You're now convinced that joining VWO's affiliate program is a breeze, right? If you still have any questions, check out our FAQ section. And if you want to learn how to become a successful VWO affiliate, be sure to read this blog! Start now and earn high commissions!