2017 eCommerce Conversion Rate Trends That Are Here to Stay
Shivangi
With a love for exploring the newest cafes in town, Shivangi is a tarot dilettante and an authority on wine among friends. She works as a copywriter at VWO.
We have hardly seen through the first month of the year and the internet is already overwhelmed with the advice and trend pieces on eCommerce.
In this post, however, we specifically focus on those trends that can influence eCommerce conversion rates this year. It is important to keep a watch on such trends to keep ahead of the game.
Let's read through what eCommerce experts are saying.
On-Site Search Optimization
Effective site search is well known for increasing website conversion rates. WebLinc's internal study for 2016 points out that shoppers who use internal site search converted at a 216% higher rate than those who do not.
In 2014, Smashing Magazine benchmarked the search experience of the 50 top-grossing US e-commerce websites, revealing a lot of untapped potential:
60% of e-commerce websites do not support searches with symbols and abbreviations.
While 82% websites have autocomplete suggestions, 36% of implementations do more harm than good.
According to Paul Rogers, 2017 will see more and more eCommerce businesses fix and optimize their on-site search in order to increase their conversion rates.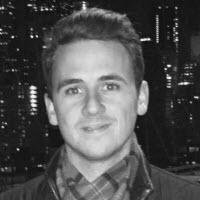 Paul Rogers, eCommerce consultant
I think an area of eCommerce that more and more merchants are starting to address, with a view to optimizing conversion metrics, is on-site search. Many of the clients I work with have upped their game in this area this year, making use of things like self-learning capabilities (via a third-party solution, supporting merchandising), natural language processing (to better understand more complex queries), product / category / attribute boosting and also promoting the use of the function.
In my experience, users who complete a search are considerably more likely to convert. I've seen positive results from making search boxes more prominent and more of a core navigation focus (through encouraging more complex queries like 'search for product, SKU, brand or help' for example). There are some really good, advanced solutions available for eCommerce stores now that can handle far more complex queries and drive more trade — I really like Klevu for the NLP and catalog enrichment side of things, but Algolia is very strong too.
Using a third-party solution is generally the best route for optimizing search, as the majority of the eCommerce platforms on the market (with the exception of enterprise systems like Oracle Commerce Cloud and IBM Websphere) have weak search technology, some of which are unable to process even the most simple queries.
Amazon Rise Continues
A survey conducted by BloomReach 2015 revealed that approximately half of the online consumers conduct their first product search on Amazon. The survey gives some interesting insights into how and why Amazon continues to dominate American e-commerce market year-on-year.
In fact, the percentage of people who search for a product first on Amazon has gone up from 30% in 2012 to 44% in 2015. Check the graph for numbers on first searches made on Amazon vs. search engines vs. retailer websites.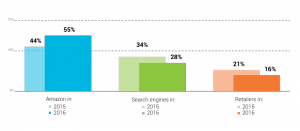 Andrew Youderian believes that the same trend will continue well into 2017 unless other players are able to build a brand connection with customers.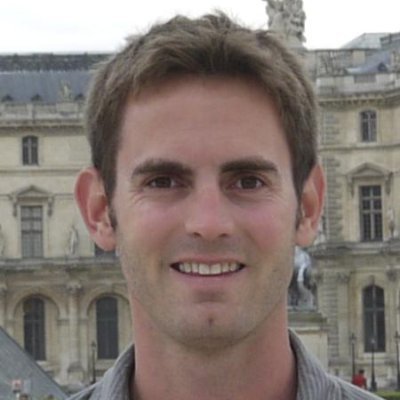 Andrew Youderian, Founder, eCommerceFuel
I think many merchants in 2017—especially those in the U.S.—will see continued downward pressure on their website conversion rates due to Amazon. As Amazon continues to gobble up market share, they are increasingly becoming the go-to place for consumers looking to purchase online. Unless merchants are selling something unique or have a strong brand connection with their customers, it will be difficult to win this battle, and it's a transition that many merchants haven't yet made.
Conversion Rate Optimization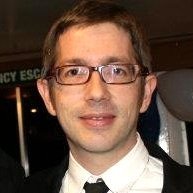 Chris Lake, co-founder of EmpiricalProof
The main trend for 2017 is the widespread maturing of the Conversion Rate Optimization industry. It is reminiscent of the usability and analytics industry a decade or so ago. Budgets are on the rise, companies are adopting a structured approach to optimization, and in-house staff are being hired.
Chris backs his statement with an interesting study by eConsultancy, according to which over half of companies plan to increase their conversion optimization budgets in 2017. The whole CRO industry will attract attention from the C-suite, he adds further.
Personalization
A survey conducted by eConsultancy in 2013 concluded that 94% of the in-house marketers consider website personalization to be critical to the success of the business. This popularity of personalization in eCommerce has grown over the years. Evergage combines extensive data on personalization in a stats roundup for 2016. The gist of the report is that consumers are likely to buy from a retailer that:
Recognizes them by name
Makes suggestions based on recent purchases
Knows the purchase history of their consumers
While a lot is being discussed on personalization since long, Tracey Wallace opines that 2017 is going to be the year of personalization.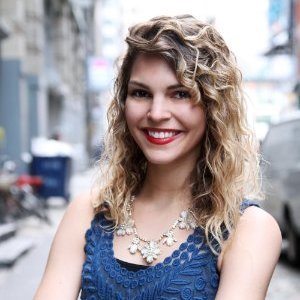 Tracey Wallace, Editor in Chief at Bigcommerce
The eCommerce industry has been talking about personalization for a while, without much data or fruition. In 2017, I think personalization is going to be the key to more sales from your already existing customers –– i.e. driving up AOV and retention. With so many channels for customers to check out on (and most brands being at least multi if not omnichannel), what will make them checkout on *your* webstore? VIP programs, special discounts, and early access will help to foster loyalty and drive up repeat sales. Plus, you can use this same type of segmentation to sell B2B and wholesale without having to take every single call. 2017 will be about efficiency, and there's nothing more efficient than getting people who have already purchased from you to buy again, and again, and again.
Mobile Optimization
Throughout the day, the one device that consumes most of our time is mobile. comScore reports that digital media time in the U.S. has exploded recently – growing nearly 50 percent in the past two years, with more than three-fourths of that growth directly attributable to the mobile app.
Since mobile plays a critical role in significantly increasing reach, awareness, and engagement, it is time that eCommerce players start giving it the due attention. Look at the following graph to see how mobile and tablet usage has been increasing over time.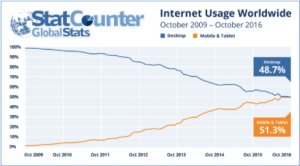 Google has already shown its inclination towards mobile by announcing a "mobile-first" culture. As a result, Accelerated Mobile Pages (AMP) is being talked about a lot.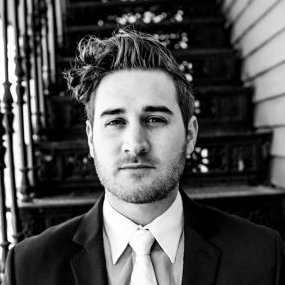 William Harris, Growth Marketer & Entrepreneur
One of the biggest trends in 2017 will be the growth of AMP. I tested this out with a few merchants on Shopify Plus when they were running the beta, and the results were impressive.
We know that stripping pages down to the necessary elements tends to increase conversion rates.  We know that faster load times tend to increase conversion rates.  So when you combine the both, it only makes sense that conversion rates will go up on mobile devices. Since mobile accounts for the majority of website traffic, that's where the biggest increase in conversions will come in 2017.
Look to see more merchants adopting AMP and pushing the mobile conversion rate even higher (especially when AMP gets better and more flexible)."
Smarter Buy Buttons
The busy consumer is looking for smarter ways to shop. While he browses his mobile to make a mental to-buy list, he compares the best deals on a desktop for making an informed purchase.
For retailers, there lies an opportunity in this challenge. With the help of buy buttons, social commerce has enabled eCommerce players convert the buyer at the first point of contact – mobile, tablet, desktop, email, Facebook, Pinterest, or anywhere else.
Nicole Leinbach Reyhle, founder of Retail Minded Magazine, says that buy buttons will be one of the major trends driving up conversion rates for eCommerce in 2017.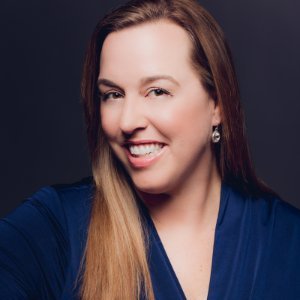 Nicole Leinbach Reyhle, founder, Retail Minded Magazine
The buyer journey will always evolve and as a result, retailers must, as well. Among the ways I believe eCommerce, in particular, will see change in the year ahead is by the introduction of smart buy buttons. Such buy buttons do not need as many steps to purchase as they have in the past. This will undoubtedly help conversion rates, as well as connect consumers to brands more efficiently and more quickly than ever before. Through the introduction of buy buttons via social media, email, video platforms and other digital avenues, I believe that customers will be able to skip steps they have not been able to in the past. And, as a result, retailers will benefit with stronger sales and customer engagement.
To Wrap Up
Personalization, on-site optimization, the continuous rise of Amazon, conversion rate optimization, buy buttons—eCommerce businesses can use these trends to their advantage in 2017.
Have any of the trends listed above had any impact on your business? Tell us and our readers in the comments section below.