Announcing Visitor Profiles – Profitable Digital Empathy as an Outcome
We define Digital Empathy as the complex ability to stack all individual, unique pieces of the digital jigsaw puzzle together, for the sum of a collective to be greater than its individual components.
What does a 'jigsaw puzzle' stand for, in your digital context?
The ability for you to look at outcomes for a visitor (or user) instead of focusing on their individual sessions. Positive outcomes (form fills, feature adoption, add-to-baskets, purchases, etc.) are the inspiration for you to replicate similar experiences for fence-sitters and non-committals to add to your happy outcome ticker. Negative outcomes (funnel leaks, form drops, cart abandonment, diminishing feature usage, etc.) are opportunities to identify friction points and quash them in your next sprint.
What are its 'individual components'?
TL:DR: Individual, unique, disparate sessions are individual components of the puzzle.
No positive outcome is an isolated event. Pure Experience Optimization is a function of looking at the bigger picture: individual sessions provide little merit. In a Wolfgang report, we learned that 81% of visitors who converted engaged in at least 5 sessions before whipping out their credit cards. We envisage that the ratio of sessions: conversion will only increase in the future, owing to the proliferation of new research channels (open-social, dark-social & niche aggregators)
Trying to optimize experiences by relying on individual sessions is an exercise in futility: you stand to lose more than the gains. Loss of context by focusing on individual sessions to elevate user experience is a derailer & we want to address it by unifying data across sessions at a visitor level.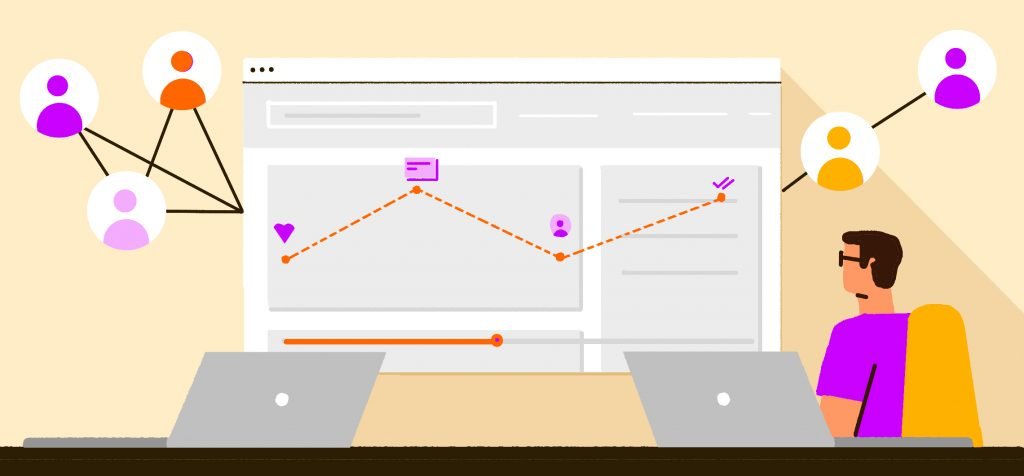 The 'Collective' – Announcing Visitor Profiles
A little over a month ago, in one of our recurring customer calls, our product team bumped into an interesting use case
"We run continuous surveys to identify optimization opportunities. NPS surveys are our go-to instrument to accomplish this. Approximately, 10% of our users rate us 10/10. We want to filter all experiences from their first visit to their last, identify delight points and try to replicate similar experiences for other visitors falling in the same segment"
The customer wanted to empathize with their Promoters. Instead of looking at disjointed sessions of Promoters, they wanted to attach a User ID for all unique sessions and unify session logs for them to analyze 'aha' moments for each Promoter individually. The hypothesis was simple – replicating these 'aha' moments for Passives and Detractors would turn them into Promoters.
Which leads us to Visitor Profiles.
Starting today, all our Pro, Growth & Enterprise customers will have access to Visitor Profiles under Session Recordings in our Insights product. Multiple sessions across all Returning Visitors will be classified under a larger 'Visitor' umbrella for you to replay connected experiences.
Not just that, we have also introduced an additional capability to bolster user-level analysis of friction in their respective experiences – all recordings will be replete with specific instances of Rage and Dead clicks across individual sessions for the entire journey. For even richer analysis, we recommend using Custom Dimensions that can be used to dig out the deeper gaps in a customer's experience. –
For example, teams can analyze "logged in" and "logged out" visitor behavior and engagement metrics. A visitor-level customer identifier is fired to VWO which classifies visitors in 3 buckets – visitors yet to sign-up, visitors who have signed up but are inactive and logged-in users. With this information, teams can exclude inactive and logged-in users from their sign-up campaigns for wholesome experiences for everybody.
We envision our customers exploiting Visitor Profiles and their Recordings for the following jobs (indicative list)
Higher experimentation velocity:
Generating quality hypothesis for continuous experimentation is one of the trickier challenges for growth teams. With Visitor Profiles and their associated frustration hotspots, Experience Managers can discover friction areas quickly and work towards experimenting with refined variations in their next release. Higher experimentation velocity is a natural outcome of observing Visitor Profiles.
Intervening in the moment of displeasure:
A higher than usual occurrence of rage and dead clicks by a visitor is a proxy for 'displeasure'. Experience Managers can build an intelligent system that triggers an intervention when a visitor taps a cut-off number of rage & dead clicks. As an example, a Fortune 50 Digital Innovation team tested triggering a chatbot for visitors showing signs of displeasure and secured an NPS of 8.5 against their average site NPS of 6.8
Arming Customer Support teams with rich customer context for their next conversation:
With a visitor level view of customers, Support teams can replay videos and filter them by specific instances of displeasure along with coupling them with specific app. elements that caused friction. For example, Customer Success teams can check out Visitor Recording for sessions which concluded with a Support Ticket. Reach out to us if you wish to initiate this for your Support teams
Getting Started With Visitor Profiles
If you are on a Pro, Growth or Enterprise plan, you can now access Visitor Profiles under Session Recordings. You can find them as a distinct tile to the right of session logs in the bottom panel of the Recordings capability.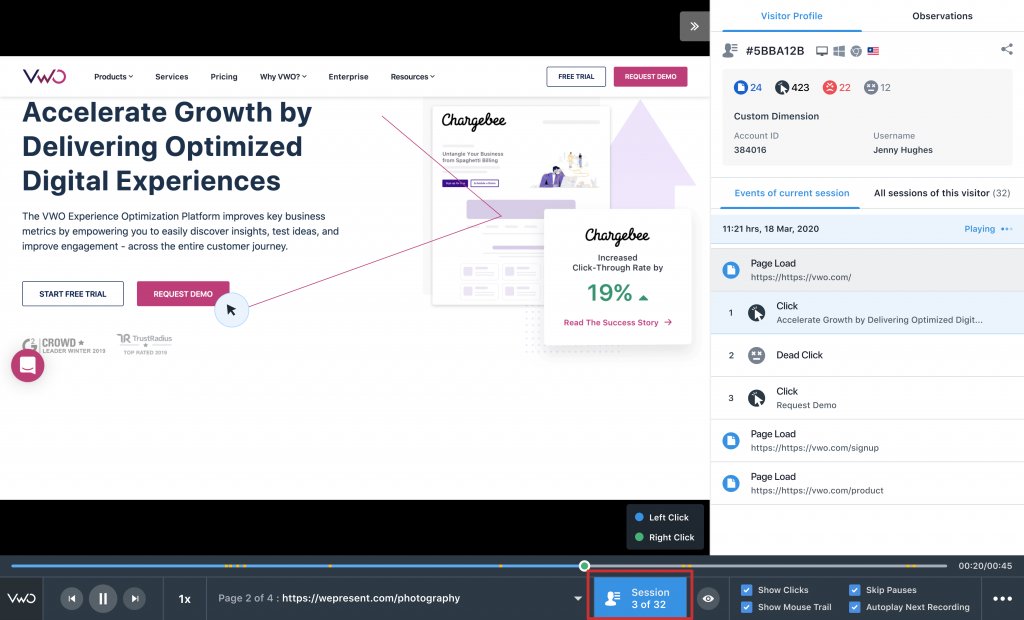 More important than checking out Visitor Profiles is understanding the philosophy (or approach) behind the successful adoption of Profiles.

Often, optimization teams would want to grab a holistic view of positive/negative sessions. Negative sessions, however, serve as a constant stream of learning. For example, eCommerce teams might want to observe funnel drops closely. However, the current model of approaching funnel drops by session is limiting, in nature. Drop-offs in the current session might not be independent of the session alone: there might have been negative experiences in the past few sessions that might have led to the negative outcome. By looking at Visitor Profiles in unison, teams can be more certain in their user understanding and can influence curation of quality hypothesis.
Following are some cues that might help you refine your analysis heuristics.
Customers can analyze data by Custom Dimensions of their choice: In the sidebar, you will find Custom Profiles under 'Visitor Profile'. We envision our customers analyzing recordings across segments of choice – eCommerce customers can analyze experiences for product category usage, repeat buyers, gender, country, etc.- the only limit is your imagination. Similarly, SaaS customers can segment by plans, feature usage, high NPS & plan upgrades to name a few.
You can find the Custom Dimension under the scanner, in the right sidebar overlay on top of the recording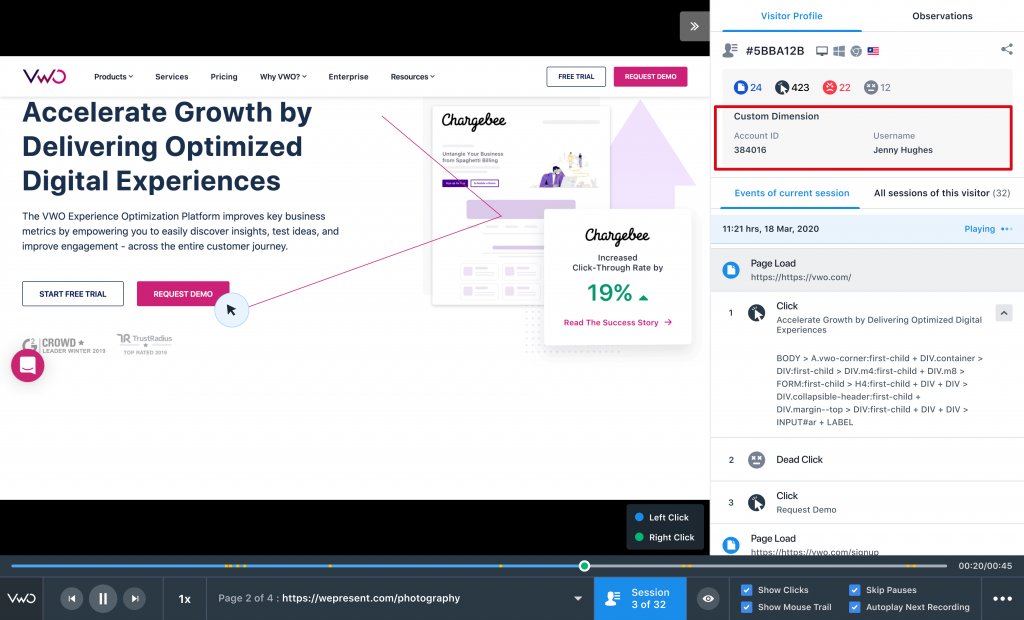 Analyzing by specific instances of user displeasure: For customer-centric teams seeking granularity in their analysis, Visitor Profiles store and display specific instances of displeasure across a particular session or the entire journey. By clicking on any instance, you will access additional information behind the specifics of displeasure – page element, displeasure type (rage, dead or idle click) and the exact moment in their journey behind the displeasure.
Just hover & click on the instance under Events. This data is available for both unique sessions as well as the entire journey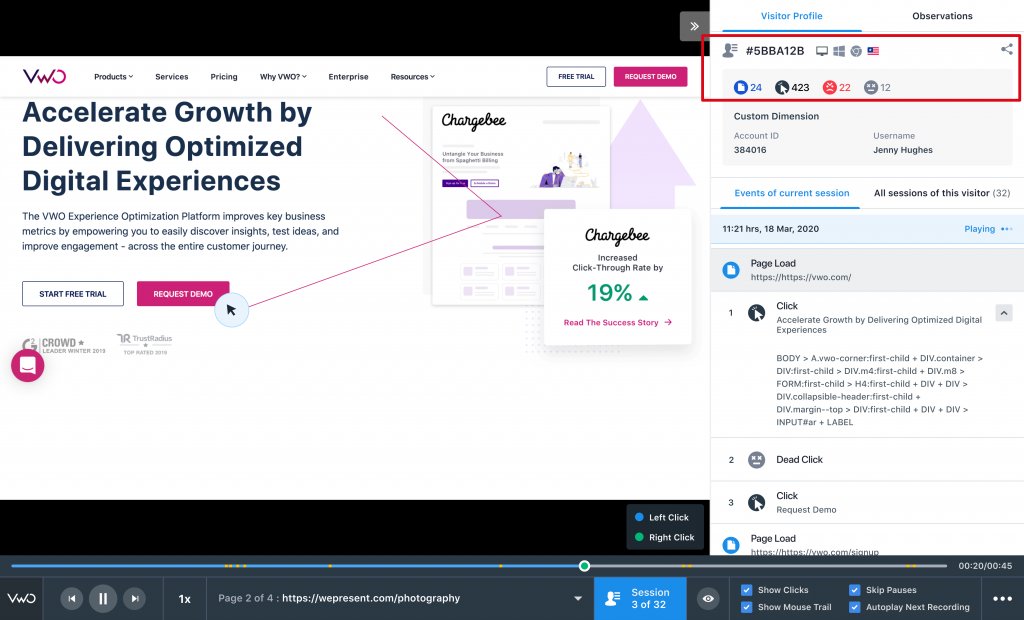 Collaborative Analysis: High-performance Optimization teams are a cross-functional set of professionals with vested interests spanning across Product, Marketing, UX, Analytics, BA and Customer Support teams. Users might want to share interesting Profiles with members falling outside the core CRO team.
Following are certain use-cases that we envisage
For sales teams: Sales teams love to be powered with rich context behind every lead that signs up. Through Visitor Profiles, they can have an in-depth look at the lead journey from start to finish.

For success teams: Success teams can have a look at user onboarding videos and segregate various stages. The insights gleaned during the journey from prospect to customer can provide a rich context for them before they interact with the customer.
You can find share elements for all Profiles beside the Visitor descriptor
We thrive on user feedback as a compass for feature upgrades and new roll-outs. Drop us a line at productupdates@vwo.com with your feedback for Visitor Profiles. We look forward to your usage stories.