CDP vs DMP: What is the difference and Which one do you need?
Inaccurate customer data is costing companies real dollars.
Why? Because when companies look at incorrect data, they end up making incorrect decisions about customer experiences.
Inaccuracies in customer data creep in because a huge amount of this data is collected manually and in fragments over different touch points.
Let's say you want to target customers who purchased furniture for their homes in the last six months – and offer them a discount on their next purchase. In the absence of a centralized system, you will need to collect this data manually from various offline and online stores that sell your furniture, and at the very least, remove the duplication of customers. An activity as seemingly simple as this could take you weeks. Moreover, it is bound to be erroneous when you do it manually. You would also not be able to gather the most recent data through this exercise. And in the process, the piles of data end up being scattered, unattended, and eventually unused.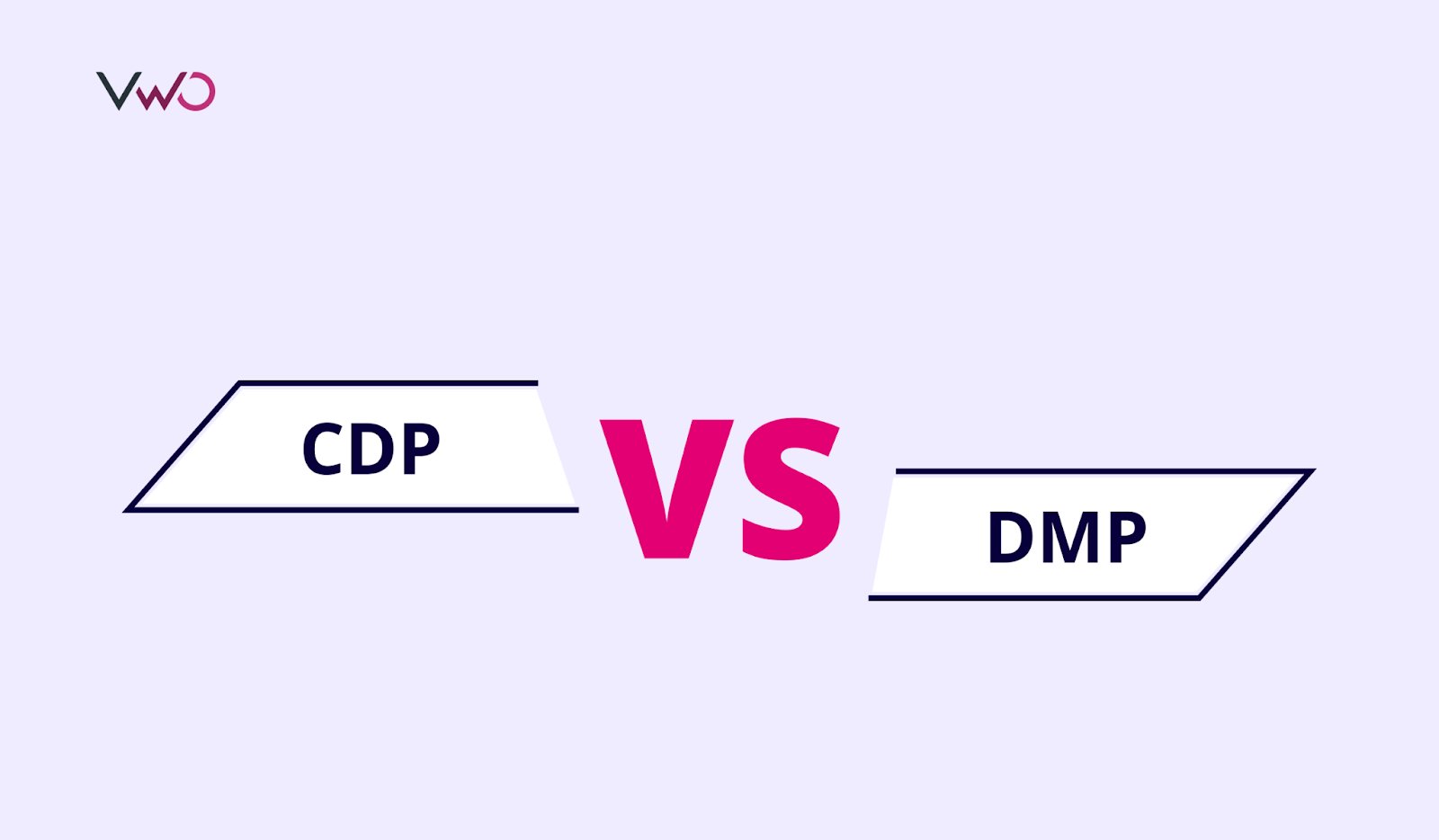 This is where you must go for either Customer Data Platforms or Data Management Platforms to overcome data challenges and strengthen your marketing strategy.
While both of these platforms can help you run successful marketing campaigns, the key lies in identifying your business requirements and then choosing a platform that meets your objectives.
Ask yourself questions like –
What kind of data will help you accomplish your marketing goals?
How are you going to use this data to target different customer identities?
How long do you plan to store that data?
Answering these questions and identifying your marketing needs would be a good starting point in the exercise of choosing the right platform.
In this blog, you'll understand the in and out of CDPs and DMPs, what they're used for, and which one you should employ to create a better customer experience, target the right set of audiences, and convert them into paid customers.
What is a CDP?
A Customer Data Platform is used to collect, organize, and analyze data collected from different sources to create customer profiles.
A CDP takes the help of first-party, second-party, and third-party data to create customer profiles, organize data across millions of customer touchpoints, and determine customer needs and wants.
It makes the best use of all sources, like
Analytics
A/B testing
Social media
CRM
The best part?
CDP stores information from many sources and is built in a way that captures multiple data points, without losing the data or replicating it.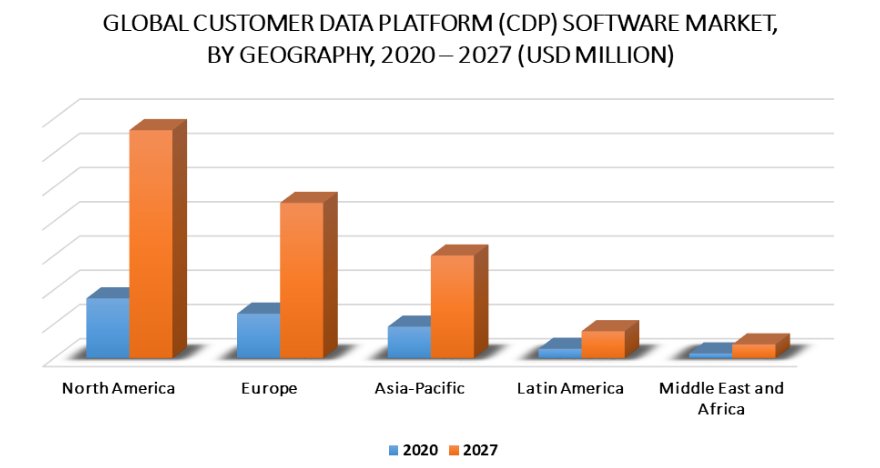 What data does a CDP track?
In order to create a detailed customer avatar, a CDP collects the following types of information based on the customer's different touchpoints with the brand's product.
Identification data
The data collected under this criterion aims to provide the basic demographics and information about the customer.
Name
Location
Contact
Demographics
Social information
Work information
Personal information, if needed
Descriptional data
This data relates to the industry and the role of the customer. It takes into account the lifestyles and habits of the customer as well.
Which industry are they working in?
What's the size of the company?
The designation/role of the customer
What's the salary paid to them?
Lifestyle habits like what kind of house they live in, etc.
Habits, and hobbies of the customer
Behavioral data
Behavioral data outlines the customer's action after knowing your brand, making the purchase, and everything that comes between the process of awareness and purchase.
How many times have they abandoned a cart mid-purchase?
How many times have they made a purchase?
How many times was the same product bought twice?
Did the customer accept an upsell offer promoted by the brand?
Furthermore, a CDP tracks data on email marketing providers to collect information about –
Email open rates
Email CTRs
Amount of responses received, etc.
It also tracks website information, like –
Website visits
Product views
Social media engagement.
Qualitative data
This data includes the customer's motivation, actions/thoughts while buying, news on if they liked the product, and the service provided pre and post-purchase.
Benefits of using a CDP
Using a customer data platform benefits a brand in the following ways –
It eliminates data silos and makes exporting data collected to any marketing and sales platform simple.
It helps in maintaining the accuracy of data thereby reducing the chances of data discrepancies.
It helps you in determining customer intent with the help of an up-to-date customer view.
It ensures that you're following the latest data compliance rules.
It creates better and unified customer profiles.
It helps you extract data from different customer journeys so you can create personalized messages to meet them at every stage of their interaction with you.
It helps you in integrating fragmented data.
Now that you know what a CDP is and the benefits it provides, it's time to understand what a DMP is, and how it helps your marketing purposes.
What is a DMP?
A Data Management Platform collects and organizes data of audiences from various sources(mostly third-party, and a bit of second-party data) to create anonymized customer profiles. Marketers use this data to create better and highly personalized ad campaigns.
Difference between CDP and DMP
| | |
| --- | --- |
| Customer Data Platform | Data Management Platform |
| CDPs depend on PII(Personally Identifiable Information) to collect as much customer data as possible from all the customer touchpoints. | DMPs don't use PII as they collect data on anonymous users. |
| CDPs mostly collect first-party data along with a bit of second-party data. This second-party data is usually a result of data sharing between the two tools. | DMPs collect data from third-party platforms with some second-party data that comes from data exchange. |
| CDPs allow data to be stored for a longer time, or a set duration. These platforms allow the users' customers to delete the data as and when they want. | DMPs don't allow data storage for a longer time. As most customers' interests and preferences change, thus retaining years-old data doesn't help. |
Despite having all these differences, both CDPs and DMPs have their advantages. To decide between one of these platforms, you need to take a look at how they work.
CDP vs DMP (How do these platforms work)
How does CDP work?
A CDP collects data from websites, email marketing CRMs, transactional and eCommerce data, along with certain API integrations.
Once the data is collected from the sources, CDPs normalize and enrich the data to create a Single Customer View(SCV). This SCV helps the platforms in creating analytical reports, activate the audience, and create different customer avatars and segments.
The most important function of a CDP is to activate the audience on the company's website, CRM, social media profiles, and search advertising.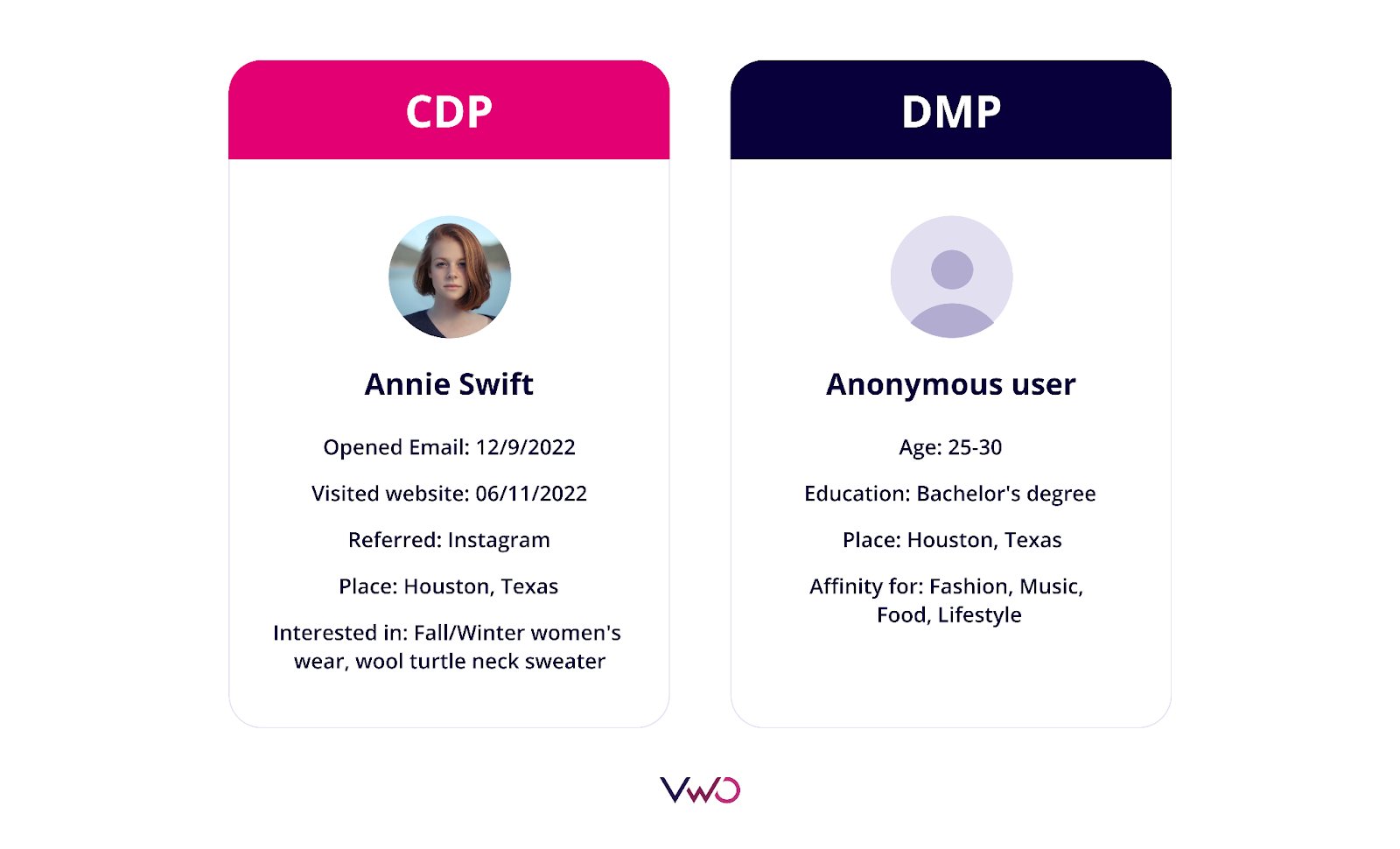 Say, for instance, an eCommerce brand wants to increase its sales of carpet rugs. To achieve this, they decide to cross-sell carpet rugs to those who have purchased coffee tables or beds in the past from their online store. In this case, a CDP can help with data like age, gender, average browsing time, location, etc. of these customers. It can also provide click-through rates, email open rates, and other important information to improve the targeting of this segment of customers.
Using this data, the eCommerce brand can create personalized messages recommending carpet rugs, offer discounts and one-time offers, and send targeted emails, SMS, etc, increasing the likelihood of customers making the desired purchase. The data collected from the CDP can be used to optimize experiments, and personalize the buying journey of the customer leading to an increase in sales and revenue.
How does DMP work?
DMPs collect data from various sources(mostly third-party), like websites and emails. These platforms also make use of data brokers and other corporate partners.
The collected data is then normalized. During data normalization, visitor IDs are gathered from cookies, useless data is removed, and other data attributes like geolocation and OS/browser are added. This helps in organizing the data into structured formats and improving data quality.
Once the data is organized, DMPs use it to build a customer profile. As most of the data in DMPs is anonymized, profile building helps in creating different audience segments and eliminating duplicate profiles.

The customer profiles are shared with the ad teams or agencies so that they can perform advertising activities with accurate customer data and profiles. Once the ads start running, DMPs collect the performance metrics and use them to improve future ad creation and purchases.
What kind of data is stored by DMP & CDP?
The customer data both DMPs and CDPs collect widely differs from each other.
CDPs collect first-party customer data from multiple sources to create one single view of each customer. Marketers use this data to create more targeted and customized marketing strategies—CDPs help in unifying all the data collected to a Single Customer View or SCV.
DMPs use browser identifiers like website cookies, Apple IDFA or Android AAID for Mobile, and Samsung TIFA for TV devices to gather data. Each identifier used in the process of collecting and compiling the data results in an individual view of each audience.
Why should one use a CDP over a DMP?
There are certain functions that a DMP can't perform, which gives a CDP advantage over a DMP.
Here are 6 reasons why you should use CDPs over DMPs.
CDP collects first-party data from various sources, even A/B tests, to create long-term customer engagement.
CDPs can help you create customer-centric and personalized marketing messages and campaigns based on accurate data.
They help obtain personally identifiable information.
CDPs collect first-party data ethically and show proper data collection protocols have been followed.
CDPs track customer data on websites that different marketing tools can use if needed. They also help in categorizing website visitors into different customer segments.
You can use the data collected by a CDP for different purposes, like A/B testing, personalization, and ABM strategy, among many others.
DMP vs CDP use case
Samantha, a marketing head at an eCommerce business, wants to create hyper-personalized marketing messages across the company's website to drive more sales on its newly-launched recyclable coffee cups. She uses VWO Data360 to collect customer data and personalize marketing campaigns.
VWO Data360 facilitated easy tracking and unification of customer data from different touch points across multiple channels – from the browser sources like traffic and device to third-party sources like CMS, CRM, and offline POS channels. By synthesizing all that data to create a single view of customer profiles, the platform allowed Samantha to craft tailored messages based on it.
Customer segments (drawn on the collected data) that showed an affinity for or interest in coffee accessories or related items were shown personalized banners, product recommendations, and coupon offers on the website.
It is this creation of contextual experiences for the right audience at the right time that can help you, just like Samantha, increase sales and earn customers' confidence.
This doesn't end here; with VWO Data360's metric module, you can create rule-based metrics to track complex metrics like average order value and lifetime value per customer.
So, can Samantha track crucial metrics to analyze customers' reactions to her personalized campaigns on recyclable coffee cups? Of course!
Now, if Samantha's marketing goal was only to run display advertisements, a DMP would have worked just fine. Collecting data for a shorter duration, a DMP supports running short-term targeted campaigns instead of helping with customer engagement improvement in the long run.
The best part about using a CDP like VWO Data360? Samantha can also use first-party data collected by the CDP in ad targeting on other platforms. VWO Data360 allows you to integrate customer data with any third-party platforms like your CRM, engagement platform, sales support platform, and so on, for both granular analysis and crafting targeted ads on those platforms.
Request a demo to understand all benefits that VWO Data360 offers in detail.
Final thoughts
CDPs and DMPs have respective roles to play in making marketing campaigns successful for a business. But as we pointed out early on, CDPs do enjoy some benefits over DMPs for several reasons. Most importantly, in a fast-approaching cookieless world, strengthening your reliance on 1st party data-driven CDPs becomes a priority if you want to continue winning at marketing. And what's better than VWO Data360 to start your customer-focused marketing journey with? Combining its power with other VWO capabilities like Insights, Testing, and Personalize can take your marketing strategy to the next level. So, take a full-featured trial of VWO to unlock the true marketing potential of your business.