Social media and how it can be used in digital marketing has been the subject of many articles and is a centerpiece of many digital strategies. However, recently conversion testing has shown that social media can actually harm some websites, but has not yet clearly established why and how to avoid this 'social media conversion trap'.
CalPont is a database management software company based in Frisco, TX. CalPont makes InfiniDB, an award winning, scalable, software-only columnar database for big data analytics applications. CalPont engaged Hathway – a digital agency in California with expertise in strategy and development for mobile and web experiences (yup, I work here) to help establish CalPont's web presence and optimize the website for end users and search engines.
So, after reviewing the social media implementation on the CalPont website, which appears in three areas, Hathway determined that a conversion test was needed to establish if the social media implementation was working:
In the left side below three major Call To Action buttons
On all backpages at the top of the content
In the footer
CalPont – Without social sharing features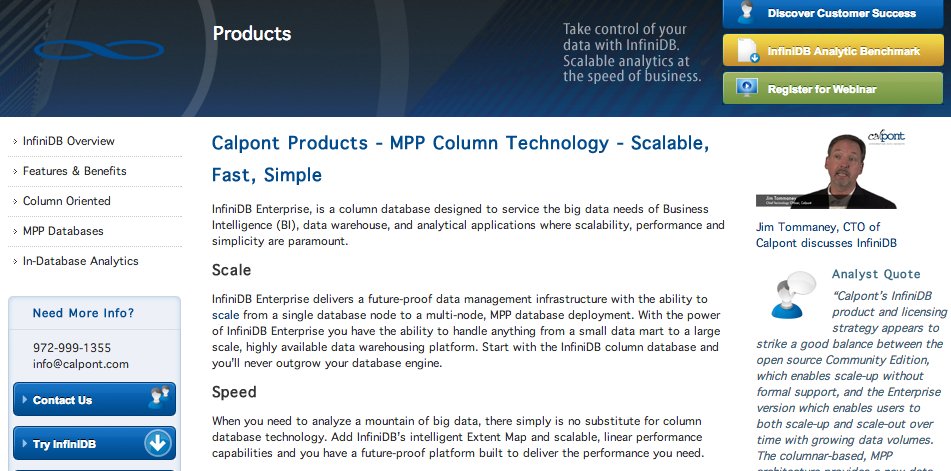 CalPont – With social sharing features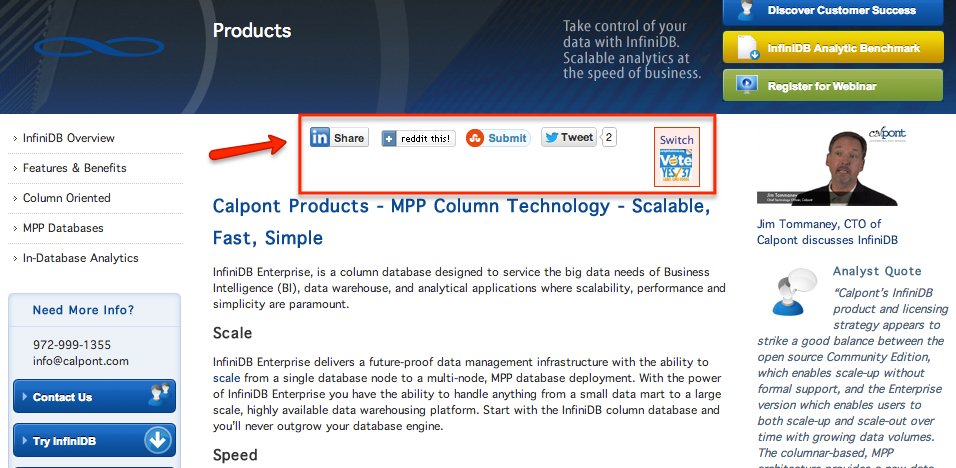 There are two major Social Media integrations; one allowing users to 'Share' the content on their own social media profiles, and another where users can 'follow' a company on a social network. CalPont only uses the 'share' or 'like' functionality in all three instances.
Paying particular attention to the icon set located at the top of all content, which may act as a distraction to users and interfere with the informational aspect of the site, not to mention the conversion purpose. In addition, the displayed 'Likes' are often below 5, thus failing to provide social proof and gaining users' trust. Thus the hypothesis for this test was, that removing the social media icons from the top of the page content, would help conversions because users no longer saw how few people 'liked' the page, and because the content was given more weight and focus because it was higher up on the page and there was less distraction.
Thus an A/B test was designed that removes the social icons at the top of all pages, leaving only the Sidebar and footer sets. This variant was then served to 50% of the website's audience (randomly chosen) and 11 goals were measured against both variants. The test ran for 3 weeks at which point three goals had reached full statistical conclusion showing big wins and many of the other goals were also showing positive trends.
Only two goals showed a decline: Debian Downloads and Engagement. The slight decrease in engagement suggests that the primary problem with this social network integration was the prominent placement, the type or choice of networks as well as the low 'likes' rather than the distraction factor. The main goal, 'Sale Inquiry SENT' which measures users who have successfully submitted a Form to buy the product, showed a massive gain, with 96% statistical confidence.
Why does this happen?
In  their post "Sweep The Sleaze", Information Architects make a solid case for not including social media buttons on your website, specially when it hinders real communication:
If readers are too lazy to copy and paste the URL, and write a few words about your content, then it is not because you lack these magical buttons.
or
If you're unknown, social media buttons make you look like a dog waiting for the crumbs from the table. You might have magnificent writing skills and a lot to say, but you will still only get a few retweets and likes. Yes, it's not fair, but that's the way it is. If you're known, you will get attention, even for the mediocre. If you're not known, no matter how good you are, initially you won't. That button that says "2 retweets" will be read as: "This is not so great, but please read it anyway? Please?"
and
[blackbirdpie id="204955763368660992″]
But finally, here's another bit of A/B testing that should make you think: How AMD used A/B testing to achieve 3600% increase in social sharing.