How to Deal with Negative Customer Feedback for your eCommerce Business
Customer feedback goes a long way in generating trust for your online store. Let's just say that testimonials put the 'T' in Trust when buying online.
Going by the Brightlocal Survey 2014, 88% of consumers say they trust online reviews as much as personal recommendations.
But customer feedback, as we all know, may not always be wrapped in adulation. According to the American Express Survey 2014, on an average consumers tell 8 people about their good experiences, and about 21 people about their bad experiences.
But on the positive side, reports also suggest that negative reviews can be in fact good for businesses and help build credibility and authenticity. Receiving negative feedback is a great chance for you to identify what can make your customers love you more.
So how do you go about handling negative customer feedback? Let's find out.
In this post, first we'll take a look at a three-fold solution to respond to negative reviews. Next, we'll take a look at the different channels where you're likely to receive negative customer feedback and what can be done for them in specific.
Responding to Negative Customer Feedback – The Three-Fold Solution
Research into the Incident
First and foremost, check for the validity and relevance of the feedback. Delete it, if it's purely spam or profane. You could have to look at the commentator's name and email address for more insights into the credibility of review.
After ensuring validity, look further into the particular incident. Some questions you need to ask yourself before hitting reply are:
   What went wrong? ( slip-up from a vendor, poor product quality, shipment gone wrong or a technical error)
   What can be done? (immediate solution that you can provide)
   Reputation and tone of the customer? (how influential and how angry is he)
This will help you tailor your response according to the situation and not send in an automated response. For example, if the commentator is complaining about poor product quality, give him an option of exchange or refund. Also discuss the situation with the people involved (internal team/vendor/shipment company) to avoid these mistakes in the future.
If it's taking time for you to assess the situation, maintain communication still. Tell them that you're looking into the problem and will get back to them as soon as possible.
This extract from an infographic by Kissmetrics depicts how quickly do customers expect a brand to reply based on different channels. A majority of them expect a response within one day.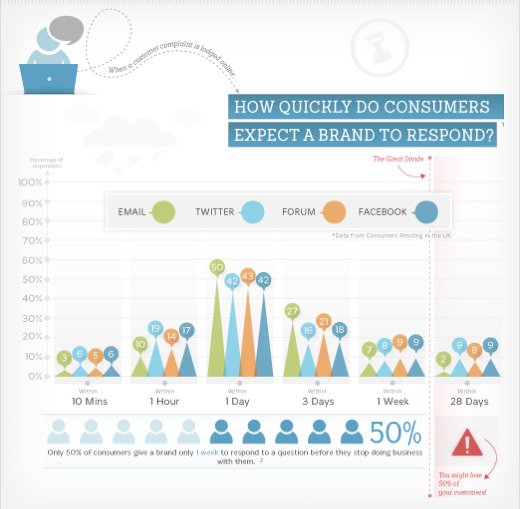 Craft a Reply
This is the most crucial part, as the response would most likely be read by not only the complaining customer, but also your potential customers.
You should look into incorporating these 3 'A's to craft a perfect reply:
Acknowledgement: Accepting and apologizing for your mistake and empathizing with the inconvenience that it may have caused to the customer.
Assistance: An immediate and handy solution for the problem at hand. Consider offering freebie/discount depending on the severity of the issue.
Assurance: Assuring them that the issue has been resolved and won't recur — and if it did, that you'd only be more prompt with your service.
Also remember to personalize the response by addressing the issue at hand directly. Look at these responses which hit the nail: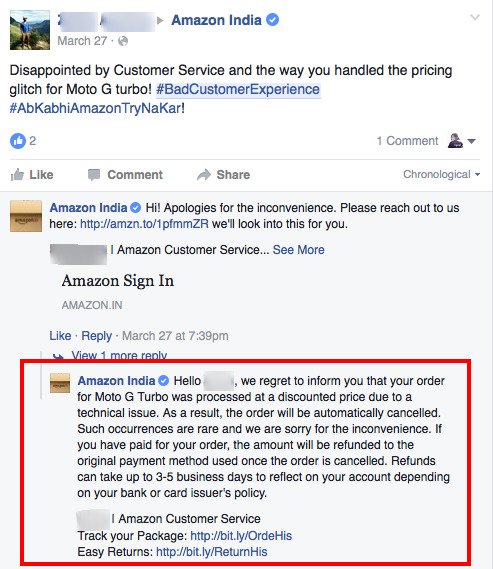 Encourage them to Update/Revise their Review
After you have successfully resolved the issue, you could even venture to ask your customers to update their response. Exercise caution here. Timing is essential, gauge the sentiment of the affected customer and slip in a polite request to take down the negative review if their concerns have been addressed.
See how Nordstrom managed to turn a negative reviewer into an evangelist with great customer service (screenshot below).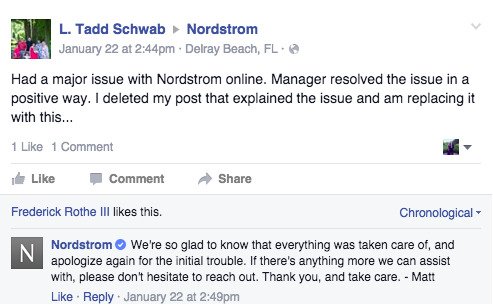 Negative Customer Feedback on Different Platforms
Apart from the solution described above, there is a little extra that you can do based on the channel on which the feedback is received. The popular channels (apart from the traditional email) where customers are likely to provide you with some kind of feedback are:
Reviews on your product page
Social Media
Third party review websites
App store/Play store
Reviews on your Product Page
Reviews provided by customers on the product pages are known to increase conversions highly. According to the eMarketer report, consumer reviews are significantly more trusted (nearly 12 times more) than descriptions that come from manufacturers.
A lot of negative product reviews can deter the potential buyers from your website. And if you closely examine a considerable number of these could be invalid, incorrect or simply mal-intentioned. The best way to deal with those is to delete them. However, make sure you don't tamper with a genuine customer's response while doing so.
To ensure the validity of the feedback, you could employ smart gamification tactics like upvote/downvote and special incentives. Amazon does this beautifully by categorizing reviews under two umbrellas of "most helpful" and "most critical." (See image) Most helpful reviews are the ones found most helpful by other customer and most critical are are the ones with least ratings.
Amazon also offers a myriad of incentives to their top reviewers, like freebies, early access and more, encouraging others to do the same.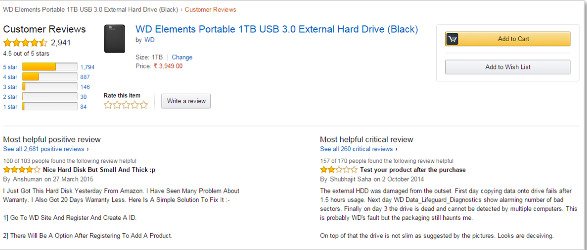 Social Media
A 2013 survey by Zendesk found that 88% of the respondents said negative reviews on social media affected their purchasing decisions. No wonder then that consumers tend to use this one the most to air their feedback — negative feedback in particular. The same study found that customers are 15% more likely to leave a bad review on social media than they are to sing praises.
Customers choose social media to report issues to catch immediate attention. A majority of customers have noted a response within the same day on Facebook (51%) and  Twitter(83%).
Customers flock to social media for faster response time, so active and regular presence there will be wise. You could use the many online reputation management tools to stay on top of all the mentions of your company on the internet. Apart from the popular monitoring tools like Hootsuite and Mention, you could also set up alerts to be updated on all that is being talked about you on social media.
Another thing that can be done on social media is to contact the negative reviewer by direct message. You could try to have a conversation about a problem in private, thereby allowing you to build a more personal relationship and an opportunity to delight.
This could also be helpful as offering discounts or freebies publicly to assuage the issue may lead to other people creating problems just to get that special treatment. So it's best to keep these practices off the wall.
Third Party Review Websites
There is also a likelihood of customers giving you a negative feedback on various third party review websites like Trustpilot, Yotpo, Consumeraffairs, etc.
These reviews are important as your business pages on these sites tend to rank well in search engines. Look at these results that crop up on searching for "amazon reviews" on Google.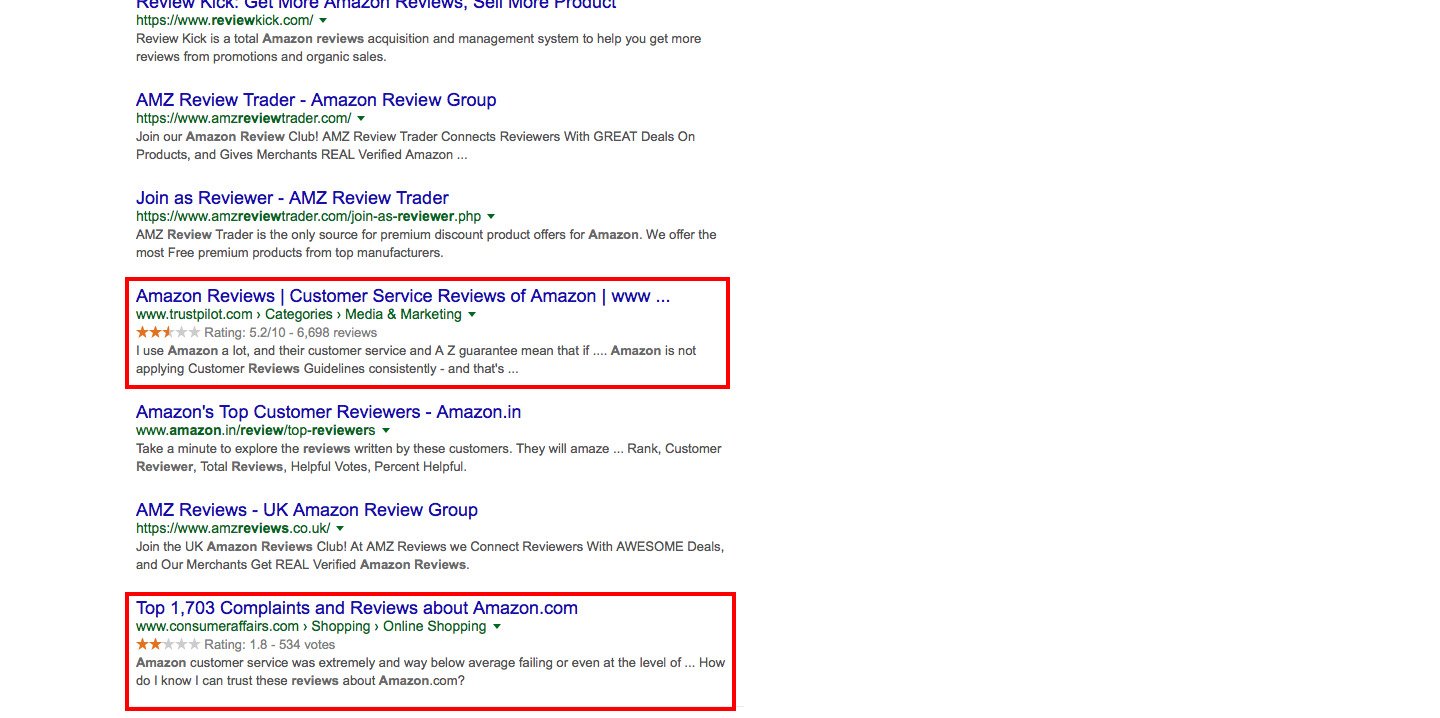 Google seller ratings, an automated extension that runs with your Google Ads, also picks and aggregates data from these platforms amongst others.
The best course to take for this channel is to claim your account on these websites, allowing you to be notified with each new comment. You could look at this list to find a list of online review collecting websites.
App Store/Play Store Review
Mobile apps are an important channel for driving eCommerce sales. Mobile commerce accounts for 30% of U.S. eCommerce and is expected to grow 300% faster than traditional e-commerce.
Ratings and reviews on App store are crucial to driving rankings, discovery, downloads, updates for your app mobile app.
One app maker reported that even a 0.1 drop in an online app rating caused a 5% decline in downloads, and a 0.3 decrease resulted in a 60% drop. Talking of reviews, about 70% of people read at least one review before downloading an app. Actively responding and resolving negative reviews thus becomes crucial.
Apart from regularly fixing reported bugs, you could begin with an in-app feedback loop. Asking for customer feedback within the app could make it less likely for your customers to leave a negative feedback in App store/Play store. Instabug — a beta testing, user engagement and crash reporting software for mobile apps, found an 80% decrease in negative reviews by doing so.
Since the reviews are, by default, shown in chronological order, you could look at ensuring that your latest few reviews are all positive or are dealt positively.
Conclusion
Mistakes happen and negative reviews are a business reality. Nevertheless, handled timely and patiently, negative feedback can turn into customer delight. Mistakes are forgivable if you're willing to learn from them and fix them.
How have you been faring at dealing with negative reviews? Do you have a negative-feedback turning to customer delight story? Tell us and our readers right below in the comments.