VWO goal reports display visitor data for the goal URLs. You can track different visitor activities on your website, such as clicks on links or element, form submits, page visits, revenue, and other custom conversion. Using VWO, you can slice and dice the report for date range, visitor segments, conversion percentage, and overall performance of the goal.
Go to the Goals dashboard under Track, and select the goal for which you want to view the report. 
Click the Detailed Reports tab on the goals page. The goal report is divided into four sections – filters, goal performance chart, goal performance metrics, and the funnels that are associated with the goal.

Reports Filtering
You can customize your goal reports using filters like date, visitor segments, revenue, time filters and other custom conditions you want to apply. 

Filter By Date
Select the date range for which you want to view the reports and click Apply.
Last 30 days: View reports of last 30 days from today.
Last 7 days: View reports of last 7 days from today.
Yesterday: View yesterday's reports.
Today: View today's reports.
Filter by Segments
Click on the segment you want to view the goals report for and click Apply. The goal performance chart is filtered to display the relevant data after selecting a particular segment. To know more about report segmentation, click here.
Report Specific Filters
Based on the goals you have defined, there are report-specific filters you can apply:
Goal URL – View report for specific URLs when tracking goals across multiple pages.
Goal Trigger Time (Day of Week) – View report for specific days of the week.
Goal Trigger Time (Hour of Day) – View report for specific hours of the day
Goal Revenue – (Only for revenue goals) filter report by revenue value.
Goal Performance Chart
By default, the goal performance chart displays the conversion rate data for the last 30 days. If you have applied the date or segment filter, the corresponding data is displayed in the performance chart.
You can choose to view interval-wise data of total conversions, total visitors, and total revenue by selecting the relevant option from the dropdown at the top left of the goal chart.
Goal Performance Metrics
The Goal Performance Metrics section of the reports page displays the performance of the goal. Filters applied to the report are considered for calculating the performance metrics.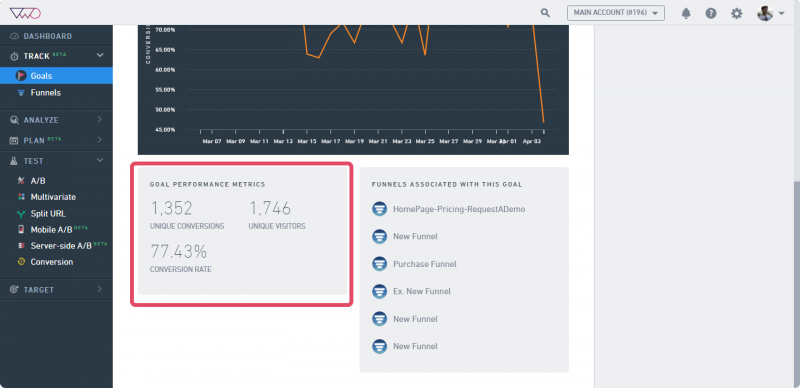 Visitors: Number of visitors who land on the goal page.
Conversions: Number of visitors who successfully complete the goal you have defined.
Conversion Rate: Percentage of the conversion ratio by dividing the total number of page visitors by number of visitors who successfully complete the goal.
Total Revenue: Displays the total revenue generated if you are tracking a revenue goal.
Funnels Associated with the Goal
A goal can be part of multiple funnels. This section lists all the funnels to which the same goal is added.