5 Ways to Utilize Thank You Pages for Better Conversions
Mohita Nagpal
A lover of the written word, I plan to be the planet's first sit-down comedian. When I am not rethinking a misplaced comma, I write about conversion optimization and website usability. You can follow me @mohitanagpal
Thank you pages are usually an after-thought, a quickie, a clumsily put up half-hearted meal. Why? Because all your effort and energy has gone into creating that high-converting landing page. And once a customer converts, you show them a template 'thank you' message which ends the conversation then and there.
You know what you have just done? Left an awful lot of money on the table.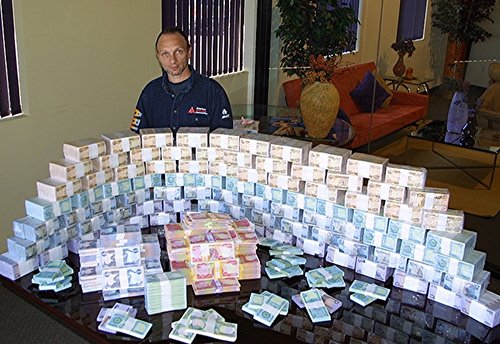 Thank you pages are one of the most under-optimized pieces of real estate on your website. There's so much you could do here to engage the customer further or reconvert them.
The first step to optimize thank you pages
The first step is to put the 'landing page best practices' on the back-burner. These practices tell you to remove all distractions — the navigation menu, social sharing button — so that the user just focuses on the CTA. But the same practices, when applied on the thank you pages, can work to your disadvantage.
You need the navigation menu and those social sharing buttons to engage the user further or they will just exit.
5 ways to optimize a thank you page
Following are 5 ways to optimize your thank you pages for reconversions, depending on what funnel offer they have taken.
1) Reinforce positive brand image
#Buyer type: The virgin
This is their first time on your website and they just commented on a post. Please don't get excited and push them into signing up for that webinar just yet. They need some nurturing to get there. Rather, have them admire those testimonials on your thank you page like one admires beautiful sculptures at art exhibitions.
Here, Traffic Generation Cafe shows its testimonials on the thank you page to build credibility.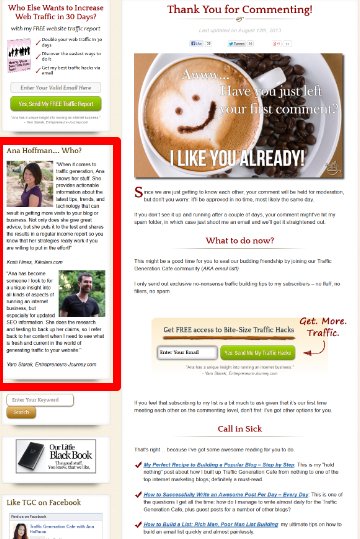 Have some big names in your industry say why you are awesome to reinstate product superiority. Recognizable faces foster credibility and create good reputation.
You could also show them the links to your best content, the one relevant to their industry or the one that is consistent with the action they have just taken. So if they just signed up for an ebook on SEO, show them the links to your best SEO content. If they signed up for a travel brochure on Paris, show them more enticing content related to Paris.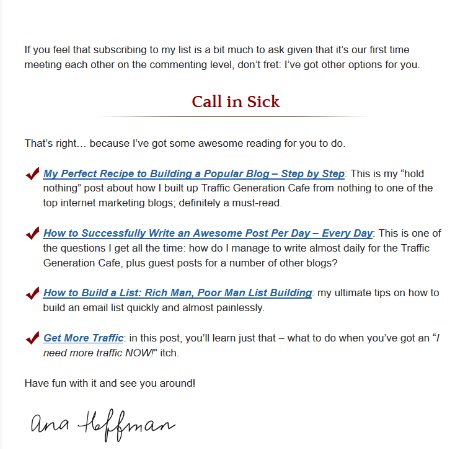 Traffic Generation Cafe also lists its actionable content towards the bottom of the page for new users.
Takeaways
Display your testimonials
Display your best or the most relevant content
2) Give low-risk tasks
#Buyer type: The reluctant converts
They have been to your website a few times and know their way around. But their journey hasn't been exactly smooth and they took a lot of time to part with their contact details. You don't want to push them just as yet. You need to adopt the kid glove strategy here. Put them in the oxymoronic 'reluctant converts' category and give them the most low-risk tasks.
Tell them to follow you on Twitter or share with the world how they downloaded that ebook of yours.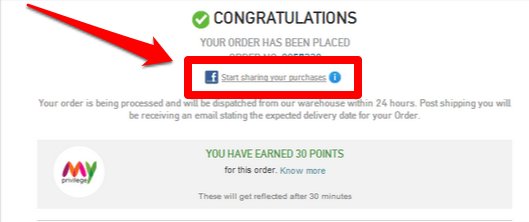 By engaging with you this way, they are more likely to come across positive reviews about your work or product as well as give you some free publicity. According to a survey, 39% of digital marketers around the world believe social sharing is very effective in boosting conversions.
Takeaways
Request them to follow you on socials media sites
Tell them to share their purchases
3) Make them engage more
#Buyer type: The smooth converts
Their traits are that they take lesser time than their reluctant counterparts to become leads. They have the potential to become loyal readers of your newsletters or blogs. So if they just agreed to attend your webinar, just offhandedly drop in the suggestion that they should subscribe to your blog as well.
Unbounce did this recently when they organized a webinar on leveraging content for conversions.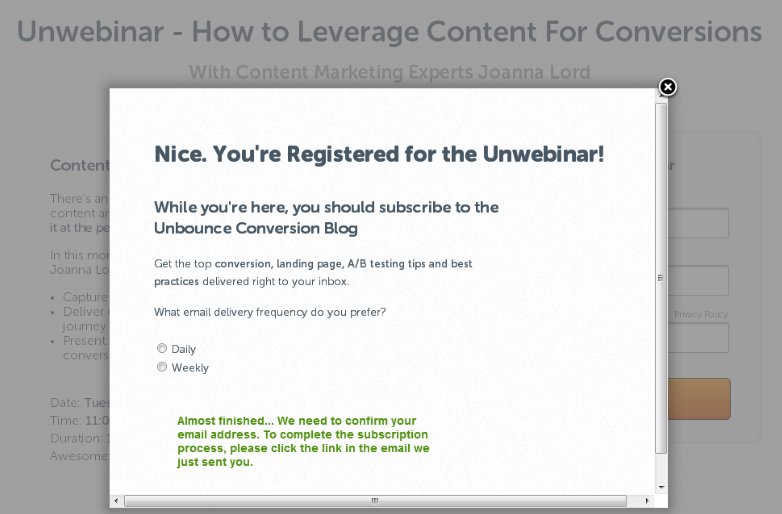 According to the conversion expert, Oli Gardener, co-founder of Unbounce, around 2,500 people signed up for the webinar. Of these, around 1,000 people agreed to subscribe to their blog. That's a jaw-dropping 40% conversion rate!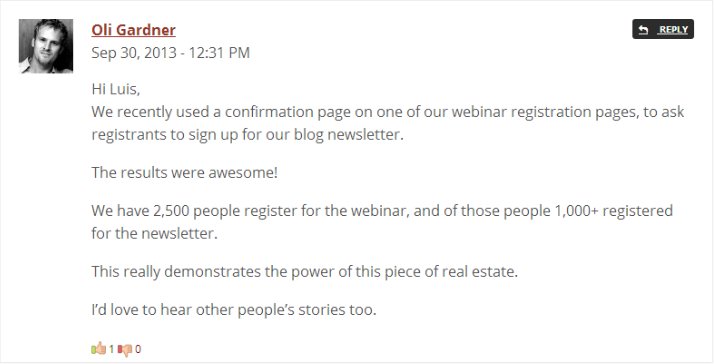 This could also be an opportune time to ask the buyers to complete their registration process if they availed the guest checkout facility earlier. It will allow you to get more information on the customer which is critical to develop buyer personas.
If you want to engage them at a deeper level, you can also offer them whitepaper downloads.
Takeaways
Engage them by asking them to subscribe to your blog or newsletter
Ask them to subscribe to your partner's blog or newsletter as part of a co-marketing campaign
Engage them further by offering whitepapers
Remind them to complete their registration process
4) Time to talk money
#Buyer type: Fully nurtured/Returning visitor
These people don't bounce off your website, they spend more time on your site than the average user, they tweet and like your latest blog or product and are even reading your newsletter. They are engaging with your website!
These are full bloomed flowers ready to be plucked. If they have taken your middle of the funnel offer, it's time to tease them with your bottom of the funnel offer. Which means that if they have registered for a webinar, ask them if they want a sales call or a product demo.
See how upon subscribing to CrazyEgg's blog, you are offered a 30-day free trial of their software as the next step.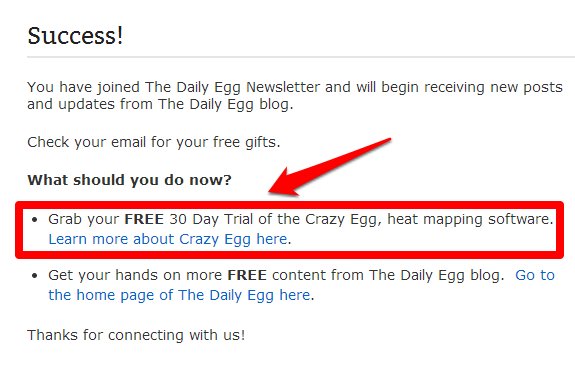 You could also offer a free consultation call, a product demo or send discount coupons for their next purchase.
Takeaways
Show them your product offer
Offer free demo, consultation or any information that directly triggers sale
5) Get feedback
#Buyer type: The regulars
They are your loyal customers. They are regulars. When they shop from you the next time or upgrade their account, ask them to fill out a short feedback form.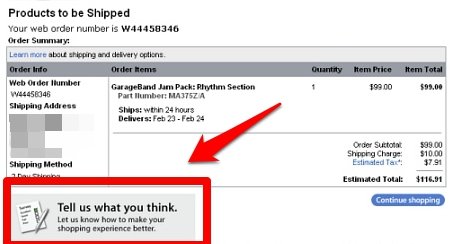 You could ask questions the answers to which would fill the gaps in your buyers persona. (Check out this link on how to create marketing surveys)
You could ask:
What are your problem areas?
How are you trying to fix them?
What are your goals?
Or, you could ask questions related to your product:
How does our product solves your problem?
How would you like us to improve?
Why did you decide to buy from us?
Answers to these questions could help you figure out your value proposition (if you haven't figured it out by now), improvise on your product as well as garner crucial insights on the purchasing process.
A/B test your thank you pages
You have spent a considerable amount of time and money creating different thank you pages for buyers in different stages of the funnel. You want to be doubly sure you are going the right way. Just A/B test them before you go out all guns blazing.
Image Credit
Money on table@Michael Mandiberg