Graphical visualization of dense information is perhaps the most important component for metrics-heavy apps such as Visual Website Optimizer. Accordingly, intuitive display of A/B test results is a priority for us. In the same spirit, we're happy to  introduced new test result charts. Take a look at the screenshot below and bask in awesomeness: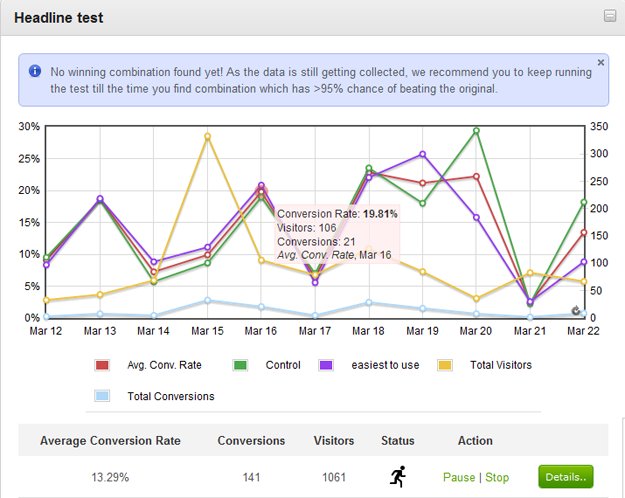 On the left Y-axis you can see conversion rates for control and different variations. The red series represents average conversion rate. On the right Y-axis you can see total visitors in the test and total conversions. Also, as you can see, hovering on points pops up a box summarizing that day's performance of the variation. What is not obvious in the screenshot is that by clicking on series legends, you can switch them on and off. Plus, hovering on series legend highlights the respective series and dims all other series. How cool?
These shiny new charts are powered by an open-source library called Flot. This library is absolutely fantastic and very, very powerful. In fact, it is so powerful that we were able to implement new charts in a single day. Special thanks to @NilsFredrik of Maksimer for giving inputs for the new charts and for insisting that we should use Flot for this purpose. We owe new charts to you, Nils-Fredrik 🙂
Do give new charts a spin and let me know your feedback. If you have any ideas on how we can  improve visualization of A/B or multivariate test results, I will be very happy to hear them out. Simply leave a comment on this post and let us start a conversation.
So, do you like new charts?