Extend Your Conversion Funnel Beyond the "Thank-You" Page
Increasing conversion rate of a "thank you page." That means, increasing the conversion rate of a page that appears after the conversion has just been completed. Sounds ironical. Doesn't it? So till the time you grin about the whole thing – let me quickly present some counter arguments to support the whole idea of why "thank you pages" should do more than just give a confirmation message of a completed task on a website.
1) This is usually high-value traffic. After all, they showed at least some trust in you by completing one conversion goal on your website.
2) Even if it is just for a few seconds, visitors are wondering what to do next? If you give them a simple thank you message, you're essentially giving them no choice but to leave your site. Why would you do that?
Let's read further to know how thank-you pages are usually missed opportunities and how you can still leverage them for higher conversions.
Goals You can Accomplish on Thank You Pages
Invite Them to Engage on Social Media Pages
Kiva has a great thank you page that provides confirmation after the donation, gives details about the transaction, and tells visitors what to do next. The cherry on the cake here for me is, how the confirmation receipt has been shifted to the right hand side of the page, just above the social media buttons to get them the much-needed attention.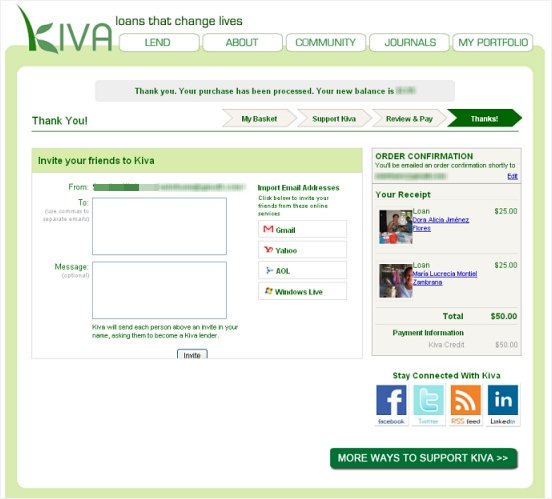 And why just join your social media networks? You can even ask your customers to share their purchase with their social network in just 1-2 clicks. Amazon implements this brilliantly on their thank you pages: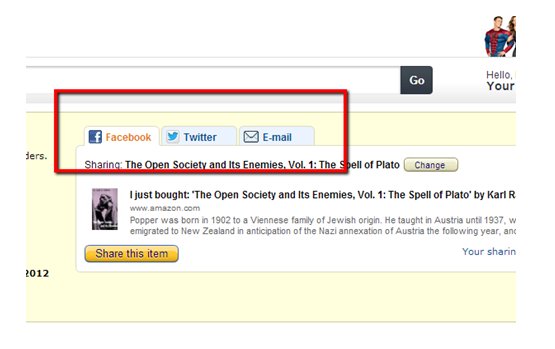 Cross-Sell Your Products or Services
Although many argue if checkout pages should be used for cross-selling or not, thank you pages are your sure bet! Encourage them to buy more from you. You can even offer them a coupon or something that's valid only for the next 48 hours of their purchase maybe? Bliss, with its clean thank you page design, provides a perfect case in point here: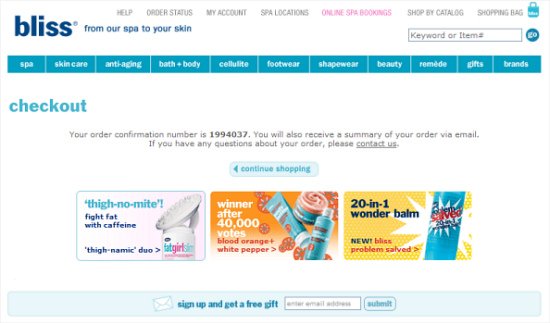 Offer Relevant Content Material
It could be anything – Downloads in the form of PDF, whitepaper, product guides, eBooks, downloads, et al. This is how HubSpot does it: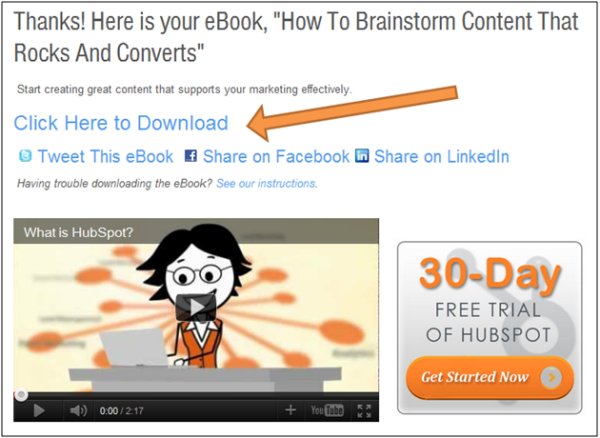 KISSMetrics offers their popular infographic choices on their thank you page for their new subscribers: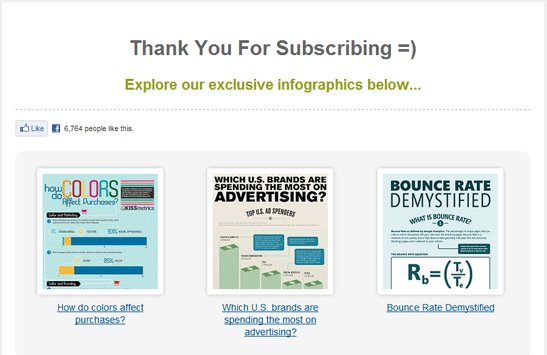 Increase Site Engagement
Show around 3 relevant blog posts that are related to the conversion just completed by the visitor. (Bonus points if you're making progressive profiling work for you)
You can see how Chris Goward's team at Wider Funnel changed the design of a thank you page for their client, Tourism British Columbia, to increase engagement on its site by 22%. You can read the complete case study in his book, You Should Test That!
Here's the control page: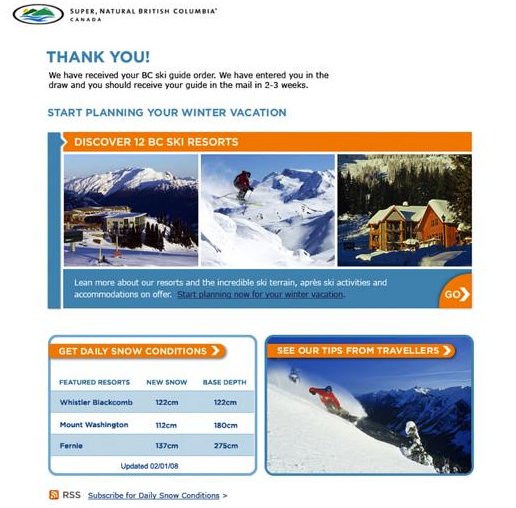 And here's the Variation page by WiderFunnel Team that won: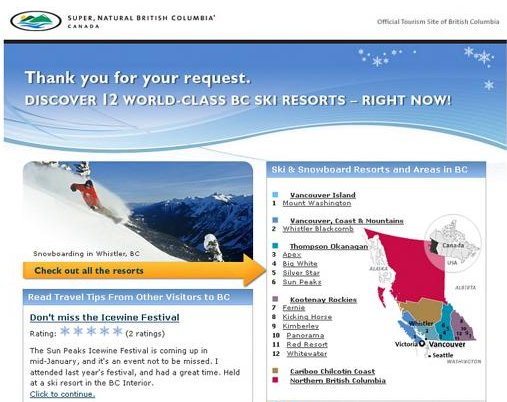 Collect Feedback
Notice the "Tell us what you think" box at the end of the Apple's checkout page. Now a happy customer may not always click that box and submit the feedback, but a frustrated customer most probably will. If not anything else, you'll have some valuable feedback that you can work upon to improve your conversion rates in the future.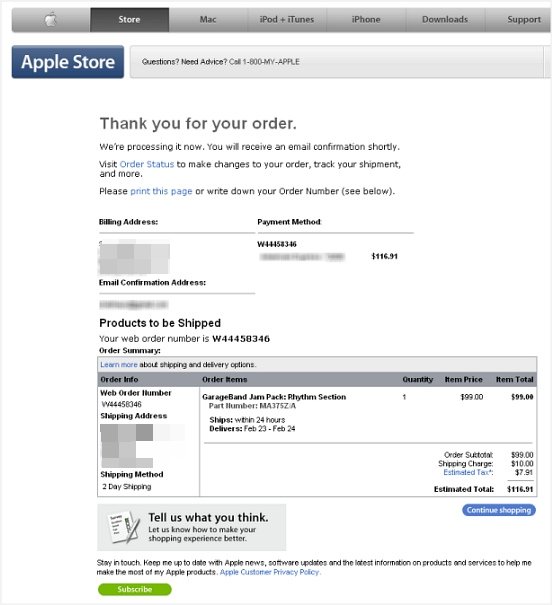 Basic Contents of a Thank You Page
The thank you message, of course
Details of the conversion (like ticket details of the theater seat, transaction amount, show timings, etc)
Communicate if any further action is required – If you need to carry a mobile message or something to collect the tickets, if the receipt is available for print or download, make sure you mention it clearly on the page.
What should the visitor expect next from your side? Like a phone call in one business day, an immediate verification email, or SMS?
What should the visitor do next? (This is where the goal for your thank you page comes in)
Do's of a Thank You Page
Show Some Enthusiasm – Don't be boring! Throw in some words like "Congratulations," "Success," "Hurray! You're done!" Spread the joy, my friend!
FinerMinds does a good job to express their excitement! But unfortunately, there's too much content here. I wouldn't want to read that much on a thank you page! Sorry!

Add the Human Touch – Include a picture of the CEO, the team, video of any team member talking, or a human signature. This will add to the credibility of your website. And people are definitely more convinced to take action when they trust you. The FinerMinds image above is again a good example here. Check out the image of the Founder of the site and his signature at the end of the image.
Keep Your Call to Action or Text "Above the Fold" – You only have a few seconds before they close the tab so include a call to action above the fold.
Display Your Ongoing Offers and Let Them Share – Show ongoing offers on your thank you pages and provide an option to share them on social media. But be careful about what you're letting people share. You wouldn't want them to share the thank you page, so the link to share should share only the landing page or banner of that offer. Make sure you're not making this mistake! Here's a great article about how you can make the right social sharing buttons. NFL Shop encourages their customers to shop more with them by offering them a discount on their thank you page: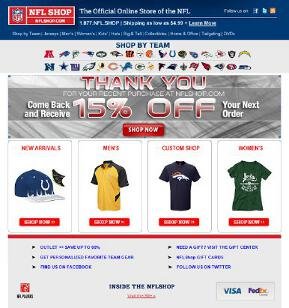 Dont's of a Thank You Page
Flood the page with too much content – I don't remember if I've read any more than 4-5 lines on a thank you page ever. Unless really necessary, please let this page provide the breathing space for your site visitors. It can be overwhelming for visitors to have to read long, winding content on even a thank you page. Besides, too much content may make your call to actions on the thank you page go unnoticed. So, please save it for the other pages! Make it easy for them to decide what they want and take action.
Promise Anything You Can't Deliver – If you're not sure that your representative will be able to get back to them within the next 24 hours, kindly don't say that! Tell them you'll get back to them shortly. While not being specific about details may not be the best practice, it's still better than disappointed customers who knows you don't stick to your word.
It's so common to hear people talk about landing page optimization, checkout process optimization, but thank you pages are the ignorant pages that not many people care about. Simply throw in a two line confirmation message with some details and you're done!
If a particular page has the potential to add value to your conversion goals then why not leverage it? What if it's not a part of the funnel? It still impacts the metrics of the whole site. Right?
Your Turn
Have you ever tried A/B testing your thank you page? How did it turn out? What more innovative ideas do you have to contribute for thank you pages? Do share it with me in the comments section.
Image Credits: