Top 3 eCommerce Conversion Trends of 2013 You Must Adopt Right Now
There's so much that you can improve on an eCommerce website. You have product pages, images, videos, checkout process, copy, pricing strategies, and so much more. Chances are, you are probably all pumped up about improving the conversion rate of your website if you're about to set up your first A/B test.
But with so much information on the Internet, it's easy to feel overwhelmed about where to get started, or even zero-in on the next change you must implement to keep your conversion cycle rolling.
For those of you who're stuck in such a "what next?" dilemma, here's a quick list of the top 3 eCommerce conversion optimization trends of 2013 you must adopt without any delay:
1. Add Instagram Photos of Your Customers on Your Website
A recent TechCrunch article talks about how pictures shared by real people are seen to have a great impact on conversion rates. Retailers encourage their fan base to share their pictures flaunting clothes, accessories, shoes, or even click themselves with products bought from them and use a particular hashtag for them for easy tracking. Apparently, this gives people a good idea about how apparels or jewellery will look on normal people in real life, and not on some made-up model who has been Photoshopped to Barbie-like beauty.
Olapic[1] is a New York-based startup that helps retailers collect and sort out these pictures from various social networking sites and even provides analytics suite to track which images work the best, what are the trending products and a lot more actionable data.
This is what the TechCrunch article has to say about the results:
During its beta, clients saw an increase between 5 and 7 percent in their conversion rates when they displayed user-generated photos on their site, and click-throughs on the most engaging photos was between 15 and 20 percent. The majority (82 percent) of the latter came from Instagram.
Apart from using individual hashtags for different product types, you can also maintain the same hashtag for your brand that can be easily memorized by people.
When uploading pictures on your Instagram to create a buzz about the new product arrivals, you can also include a discount code or include the direct product page URL in the description to increase conversions.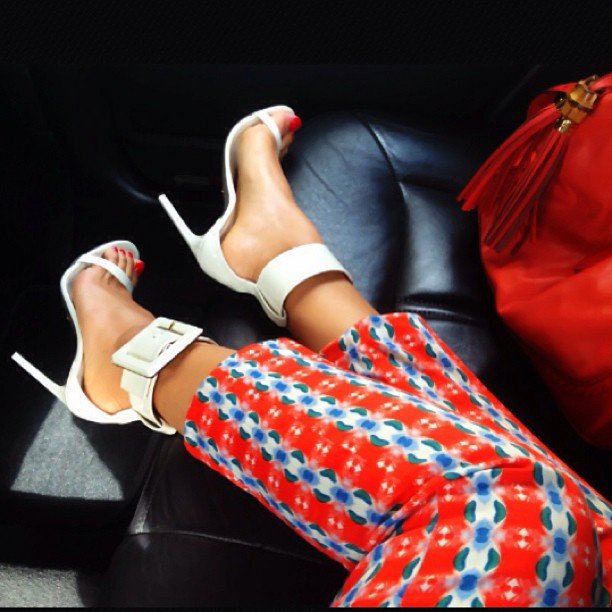 2. Track Their Location and Tell Them If You Ship To Their Country
ThreadLess utilizes this amazingly well on their homepage. You can see how they mention it on their homepage in an interactive tone and places it just right on a bright yellow background: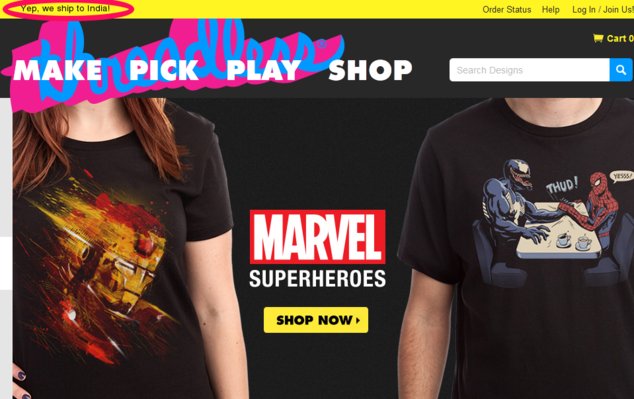 This can be an awesome add-on to your website if you cater to customers in many countries. If you're a VWO user, you would definitely know that setting up a location-specific test is just a matter of a few minutes with VWO's Behavioral & Geo Targeting feature. In case your portal is confined to only one country, maybe you're shipping to some remote locations where most websites do not ship.
This idea is something that I've hardly seen implemented on any website but it seems that this trend should pick up soon in 2013. After all, it's royal pain to go through tiresome shipping policies only to find out that your location is not shipped to.
3. Show Them a Coupon Codes Link and Not a Coupon Codes Box
Now this is not really the trend per se. But this definitely makes for a good testing idea. In fact, if you talk about the "eCommerce conversion trends," showing a coupon codes box is actually the "trend" that has been adopted by so many retailers.
But thankfully, probably a few brands now understand that this box might actually be increasing their cart abandonment rate (because visitors who don't have the promo codes would leave the site to google for them and get distracted in the process to never come back again).
Some retailers went one step ahead and added the "View current promo codes" link right below the coupon codes box. Sephora is one great example here which provides a "view promo codes" box below their coupon box.

This seemed like a great idea to me. Don't make them go away from your site, give them what they want right there. Problem solved! This would increase buyer satisfaction and probably return visits too.
But a few days ago, I had this small discussion on Twitter with Craig Sullivan, who's an Independent Conversion Optimization Expert. He pointed out a few loopholes with this new method:
Right now the "View Promo Codes" link below the box means that retailers have to cut off on their margins, instead of using the discount as a subset to improve conversions. It's important that this method should be tested for profitability metrics.
When you make things too easy and everyone is getting an off, it doesn't seem like a "win" to the customers anymore. They don't feel special. And the promo codes of that website lose their charm.
Now those were brilliant points. But what can be done? We discussed this quite a bit and came up with a solution.
What if we remove the "Enter Promo Code" box and show only "Got a Promo Code?" as a link instead? A blank box seems to scream to buyers that they are missing out a saving opportunity. But when you show it as a link, those who have it will click the link, those who don't will simply move onto the next step.
As a result, the link is more likely to have reduced exit rates and this works well for the profitability of the retailers as well as buyer satisfaction.
Now of course, a few customers will still randomly click the "Got a Promo Code?" link even if they do not have it. To manage expectations of these potential buyers, you can include a "Get a Promo Code Here" option in the same link. The only condition is, this coupon will be mailed to them only if they complete their current purchase, which they can avail on their next purchase. Be sure to mention this explicitly for your visitors.
In a nutshell, here's how the whole idea turned out – Add a "Got a Promo Code?" link on your checkout page. Clicking on this link will give two options to visitors: a) Enter the Promo Code Box (for those who have it already) b) Create a Coupon Code (for those who don't have it)
You may even change the link text to "Generate a Promo Code" instead of "Got a Promo Code?" on your checkout page and keep everything else the same. This is a likely option for those who think that their visitors would still abandon the cart and google for coupons if they don't have it and not click the given "Got a promo code?" link.
As mentioned before, this is just an idea until now. If you implement it on your website, I would love to hear how it worked for you. Maybe you can A/B test it? 🙂
Your Turn
Got some eCommerce conversion trends to share? Share with us at marketing@vwo.com.