7 Powerful Psychology Lessons That Will Boost Your Digital Marketing Game
This is a guest post by Alexander Bickov, a Riga-based product designer with over 15 years of UX design and digital marketing experience. His work is featured in the iOS App Store, Wall Street Journal, CNN, Business Insider, Forbes, and Big Think.
To be successful, digital marketers often have to be excellent psychologists. Knowing what makes people tick and placing those psychological triggers in the right way can be extremely helpful to increase conversion rates and reach better marketing results. The following are 7 must-know psychology lessons that you should apply to your strategy as soon as possible to boost your digital marketing game. Of course, it goes without saying that only through carefully calibrated experimentation should these lessons be applied for better engagement.
1. Emotional marketing
There are two types of strategies that affect consumers' buying habits:
Rational marketing promotes the quality and usefulness of the product, emphasizes the benefits, and appeals to the rational or logical consumer, whereas emotional marketing approaches consumers on a personal level and focuses on the tone, lighting, and mood to increase loyalty and boost conversions.
It's been proven that consumers base their purchase decisions around feelings and emotions rather than the rational information of products' features and attributes. So, it's worth remembering that customers will more likely be loyal to brands that evoke a positive emotional response. Use this knowledge in your content marketing strategy and create content that:
– Inspires, creates excitement and interest– Reminds of special moments
– Sparks conversations, reactions, and engagements
Apple is the perfect example of a company that uses emotions to connect with their consumers and increase brand loyalty. Apple's marketing strategies tend to create a desire to become a part of a lifestyle movement, to be a part of something bigger. When Apple joined Instagram, their #ShotoniPhone campaign fully encompassed those values. Instead of focusing on shiny product shots, Apple invites regular users around the world to share their iPhone photography with others.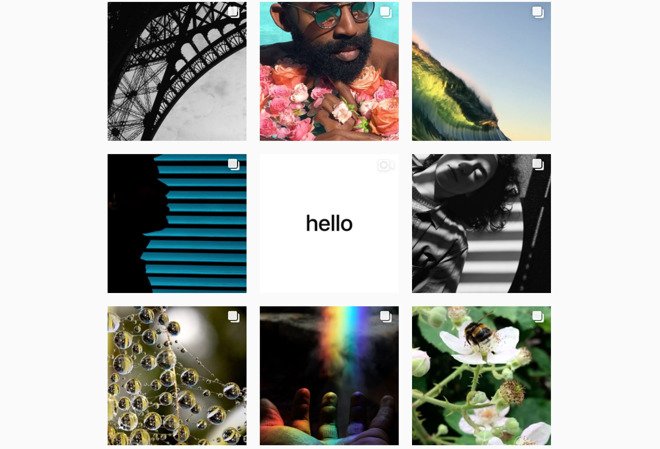 2. Social proof
Social proof is one of the most important tactics for influencing and convincing customers. It is based on the fact that people love to follow the behavior of others. We tend to adopt the beliefs or mimic the actions of people we trust and admire. Implement this knowledge in your marketing strategy by using:
– User-generated content, testimonials, and reviews– Influencer marketing
– Social plugins and sharing buttons.
For instance, retail company AMD improved their social sharing by 3600% by leveraging VWO Tools. It is a perfect example of using social proof to improve engagement and conversion.

3. Grounded cognition
Grounded Cognition theory is based on the principle that people can experience a story that they read, watch or hear as if it was happening to them. It also states that people tend to forget dry facts and figures. If you want your customers to remember your message, you have to incorporate it into a story. Taking this into account you can boost your CRO marketing by:
– Speaking to your audience in a friendly way
– Telling the stories they can empathize with
– Sharing a personal story or experience
High Brew Coffee provides a great example of a personal story that enables the audience to connect with the brand. The founder of the company, David Smith, together with his wife have shared their story of coming up with their business idea. They let the audience know exactly where it comes from—a long trip through the Caribbean with their whole family.
4. Paradox of choice
Giving people the freedom of choice can positively influence your marketing efforts. However, too many choices make people nervous and can negatively impact conversion rates. According to psychologist Barry Schwarz, providing people with a limited range of choices reduces their anxiety and leads to better marketing results. Use this knowledge and:
– Emphasize a few key points at a time
– Create clear CTAs
– Give your customers no more than two clear paths to follow
The power of relevant CTAs cannot be underestimated. PriceCharting saw a 621% increase in conversion by improving their CTAs using VWO testing. The Paradox of Choice theory can be applied also if you wish to offer your customers a wider range of choices. For example, while Amazon offers millions of products, they still manage to avoid choice overload. It's done by highlighting a few different categories of products, each with up to 7 product options.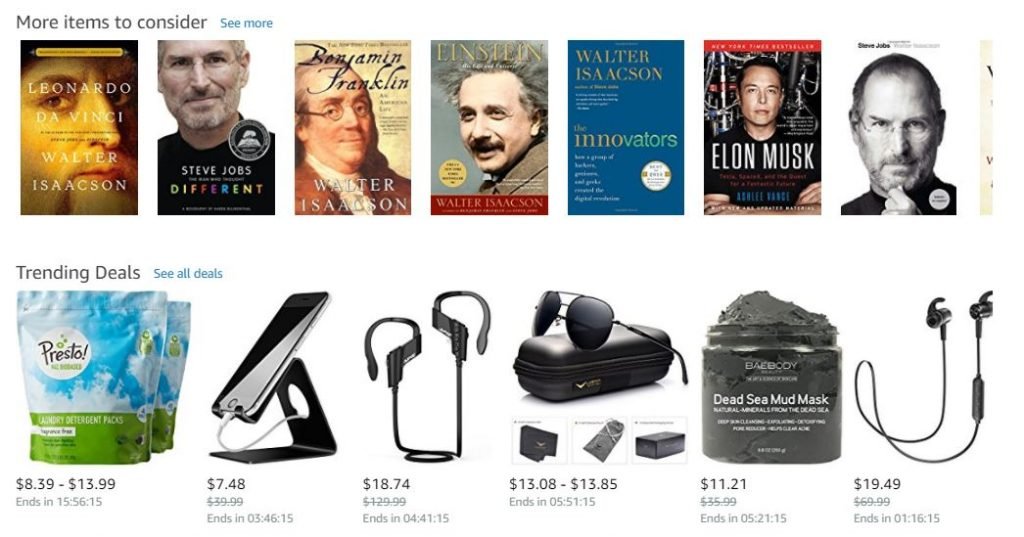 5. Information-gap theory
George Loewenstein proposed that people experience a strong emotional response when they notice a gap between what they know and what they want to know. This means that you have to create a feeling of curiosity within your audience and give them information that fulfills their need for knowledge. An effective way to incorporate it in your content marketing is by creating powerful headlines. There are plenty of free online tools that can help, such as the Coschedule headline analyzer.
Take an example of digital marketing expert Neil Patel who is a master of strong headlines that create curiosity and generate clicks: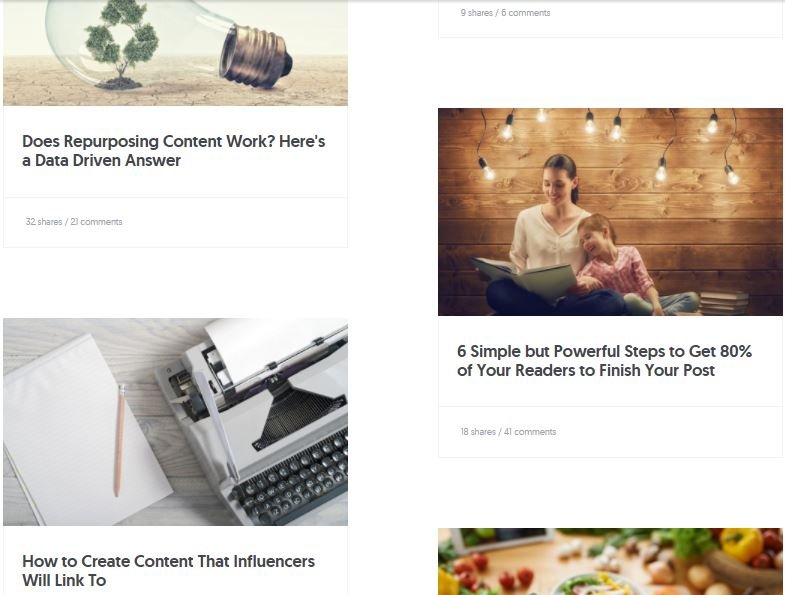 6. The commitment and consistency theory
This theory states that if you make a small commitment to something, you are more likely to say yes to a bigger commitment in the future. This means that if you get your customers to make a small commitment towards your brand, like signing up for a newsletter, they are more likely to make a larger commitment e.g. in the form of a purchase or a membership. To improve your marketing strategy, start with small commitments like:
– Ask for customers' contact details
– Invite them to subscribe to a newsletter
– Ask prospects to share your content on social media
– Offer them to sign up for an e-book or webinar
Offering users an opportunity for free trials is another good way for improving engagement. Software company Teamleader increased their free trial sign-ups by nearly 13% through rigourous A/B testing.
7. Loss aversion theory
Loss aversion theory refers to the tendency of people to avoid losses rather than acquire gains. The negative feelings associated with a loss are twice as powerful as good feelings of a gain. You can effectively use this theory to your advantage if you analyze your audience, learn their fears, and create content that emphasizes the benefits of your brand that eases those fears.
There are many keyword research tools that can help you better understand what questions people are asking. For instance:
– Google keyword planner
– Keyword explorer
Additionally, many analytics tools can help you find the best way to address your audience's concerns and understand if you've answered their questions well. These tools can help you discover how people interact with your content, what channels do they use, what kind of content works well and what kind of content doesn't engage them. Use them to make the implementation of loss aversion theory more effective.
–Web analytics tools such as Google Analytics and Google Trends–Engagement analytics tool for Facebook, Twitter, Google+, and LinkedIn, Buffer
Wrapping it up
Using psychological theories is a great way to improve the success of your marketing messages without any additional technologies or big budgets. These theories can help you better understand your customers, understand how they think and create content that cuts through the information overload we're all bombarded with.
However, to successfully do this, one cannot be doing random experiments. Only calibrated experimentation and testing can help achieve improved conversion rates using these theories.