VWO Podcast Is Out! Get All Deets Here.
Hey there!

We are beyond delighted with your unwavering love for our content. Your support has enabled us to reach so many audiences, and we couldn't have done it without you. We've been working hard to keep up with your demand to see more of our content, and we're thrilled to announce something new and exciting – our very own VWO Podcast. 🥳🥳🥳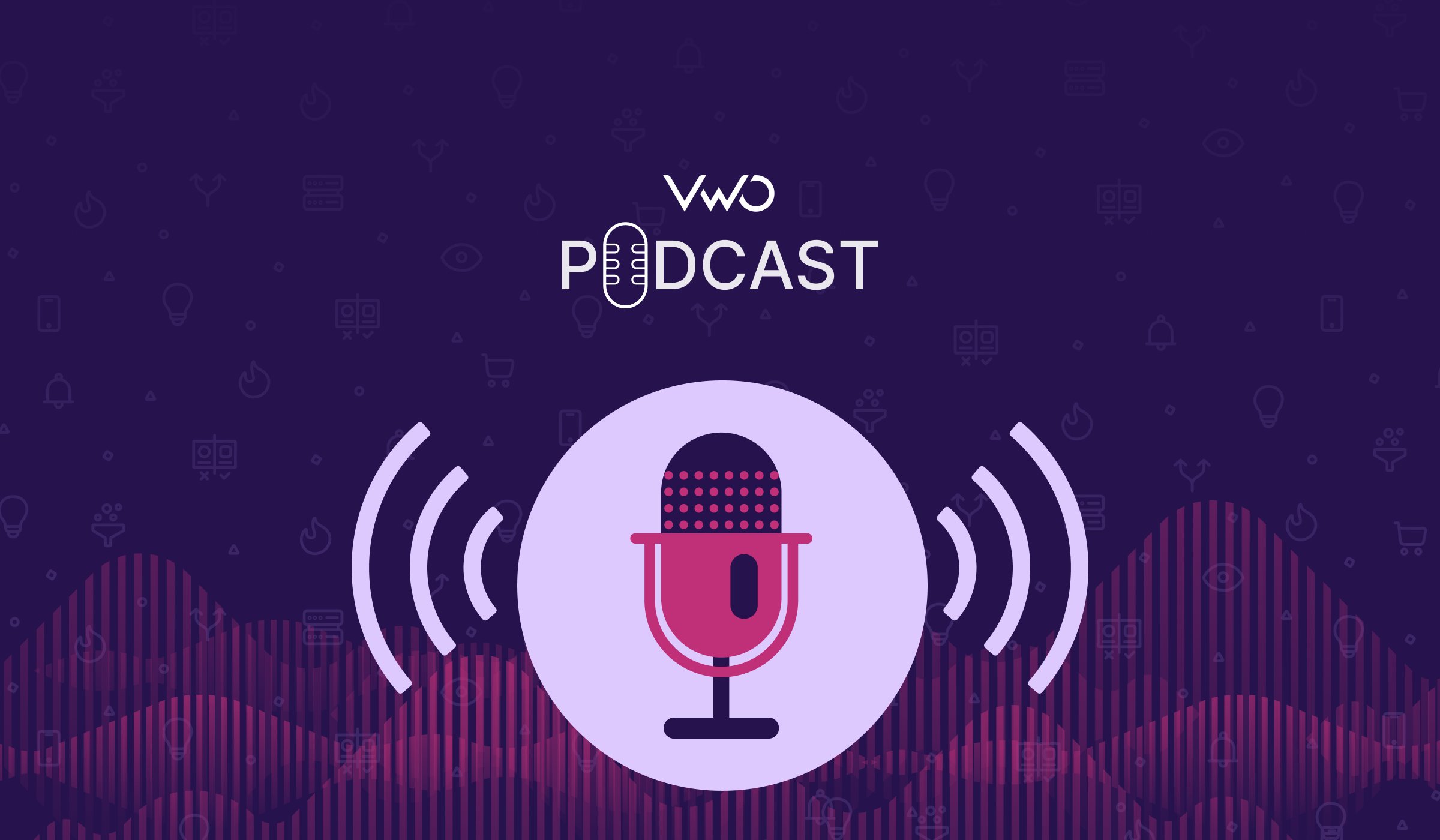 Podcasting is a fun and interesting space where you can enjoy any content of your choice anytime and anywhere. So, let's say you're in a rush to pick up your kid from school, but you also want to utilize the time to learn about data-driven personalization. You don't really have to choose between the two. Tune into the relevant podcast episode and gain some valuable insights on the go. Also, we know that everyone learns differently, and some of us just absorb information better when we're listening. All in all, our objective is to make the process of acquiring information or knowledge easy and fun for our audiences.
We spent a lot of time curating VWO Podcast for you, featuring exclusive episodes with industry leaders who will share their knowledge and insights about everything related to conversion optimization, UX, experimentation, data analytics, and so on.
So, who are the top industry leaders on our podcast?
Darrell Williams – Darrell Williams On Using Hick's Law To Drive CRO Success
Currently serving as the Head of Insights and Optimizations, Darrell has several years of experience as a growth marketing expert with special focus on CRO, SEO, and analytics. In one of our episodes, you'll hear the expert shedding light on the perils of offering too many choices to your customers and overcoming this problem by leveraging feedback & prioritizing products/services.
Chris Marsh – How Chris Marsh Added +$3M to Client Revenue With CRO & UX
Chris Marsh is an independent CRO consultant who shines bright in the CRO community on LinkedIn, offering his thoughtful suggestions and tips for audiences. You'll hear the expert talk about how he added +3M to client revenue using the right approach toward CRO. Want to replicate his success? Well, Chris says it's not simple or easy, but it's not impossible either. Just have the right approach and give this episode a listen.
Brian Massey – Brian Massey On How Data Has CHANGED The Way We Design
With 15 years of experience under his belt, Brian Massey is the conversion scientist you must listen to if you want to take a scientific approach to conversion rate optimization for maximum results. He says the design process is getting smarter. Marketers no longer exhaust budgets and then analyze if it was money well-spent. So, what do they do instead? This is why he discusses how data can improve design and boost ROI.
Julia Ritter – Julia Ritter on How To CONVERT Users From Email Campaigns
Having worked as the Email Marketing Manager at Mailjet by Sinch, Julia Ritter loves sending out emails and measuring their performance. Julia drops a bomb that people usually receive up to 50 emails per day! How do you make sure they open and read yours? Join Julia as she shares the do's and don'ts of email campaigns along with actionable strategies to improve email open rate and click rate.
Our lineup of industry experts doesn't end here! But for now, we'll leave you with a taste of what's to come. Want to discover more? Subscribe to our podcast and join us on this exciting journey! 😉
Here's where you can listen to our podcast
Our podcast will be available on Spotify in video format and on other streaming platforms like Apple Podcasts, and Google Podcasts in audio form. We'll be releasing a new episode every Wednesday. Make sure you hit the follow button on Spotify so you'll be notified when a new episode is out.
Spread the word!
We're excited to share our VWO Podcast with you and hope you'll enjoy listening to it as much as we enjoy creating it. If you find it helpful and informative, do share it within your network. We want to help as many people as we can.
Your feedback is important to us, and we'd love to hear from you. So, go ahead and tune into our first podcast episode. Enjoy listening! We'll catch up with you soon. Until then, keep listening and stay tuned!