VWO acquires Concept Feedback – Get winning A/B testing ideas through expert UX feedback
We're proud to announce the acquisition of Concept Feedback, a leading community and resource for locating and contracting with website design and user experience (UX) experts that is used by brand marketers to increase conversion rates.
Now get winning A/B testing ideas through expert UX feedback!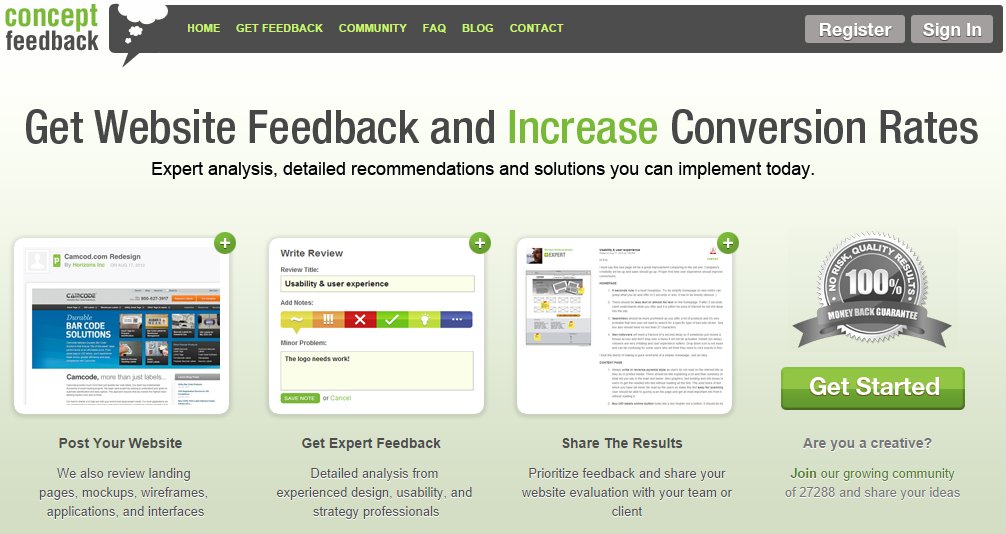 As part of the acquisition, Concept Feedback's offering will be gradually integrated with VWO (VWO), with Concept Feedback continuing to operate independently. Concept Feedback aligns with VWO's flagship feature, the IdeaFactory; a curated library of more than 300 testing ideas and case studies for website optimization and conversion tracking. Concept Feedback will provide a similar functionality, enabling VWO's customers to tap into expertise and new ideas from thousands of UX designers.
The primary reason we're acquiring Concept Feedback is because we LOVE the community of 26,000+ designers that has blossomed there. We've had a long relationship with Concept Feedback. Back in 2010, we got feedback from the Concept Feedback community on the design of VWO's homepage. The community is so fantastic that one of the members even provided a mockup for an entirely new redesign. Recently, for the new design of VWO.com we got done this fantastic explanatory video on A/B testing by Andrew's new company Demoduck. Andrew moved on from Concept Feedback, a project that he poured his soul into for a long time, which was co-developed by the awesome team of DevBridge.
So when Andrew was looking for a new caretaker for the community, we leaped for it.
VWO was built to remove the barrier of technical expertise limitations in website A/B testing, a major pain point for marketers looking to optimize their online businesses. As marketers begin to realize there is a quick and easy way to perform optimization tests, their next logical step is to expand into new testing areas, as we've seen with the emerging 'Power Tester' class – people who consistently launch multiple website tests per month to increase conversions and revenue.
Aligning Concept Feedback with VWO and IdeaFactory will bring an endless supply of new ideas, best practices and expertise from carefully vetted design and testing experts to the table for VWO's customers. Having website optimization 'always-on' democratizes the process, allowing businesses of all sizes to have the same success as those with massive marketing budgets.
This marriage of A/B testing and expert UX / web design feedback will benefit both the Concept Feedback community of 26,000 users and VWO's 3700+ customers, and we're super excited about this made-in-heaven match!
In case you're interested, here's the coverage by VentureBeat