The dummies' guide to increasing conversions using email (re)marketing
As co-founder of an email marketing company I'm lucky enough to see a lot of email marketing campaigns.
But let me tell you this: most businesses aren't using email remarketing to lift their conversions and their profits.
The upside here is that if you can learn to nail email remarketing you'll not only dramatically lift your conversions but you'll be a long way ahead of your competitors.
Take Flightfox.com: they have been using email remarketing for just three months and it is now accounting for 10% of their overall revenues.
TEN PERCENT!
If you're not doing email remarketing you're leaving money on the table. In this post I'd like to show you how to get started with email remarketing and give you a basic framework so that you can learn to nail it, just like Flightfox.
The following are my three top tips for people who want to begin with email remarketing.
1. Just do it
The motto of Nike and startups everywhere, 'Just do it' is the goal here. I see far too many businesses get hung up on ensuring everything is perfect.
Are all our systems tracking results correctly? Is our email template stunningly beautiful? What if people unsubscribe?
These are all fair concerns but until you have something up and running they shouldn't be your priority. You want to setup the most basic remarketing emails first – get them going, start analysing the results and optimise from there. Without real data you can't make accurate decisions anyway, so don't panic at the start.
Knowing which remarketing email will give you the highest ROI
You are tracking your funnel analytics, right? (Right?!)
If you use Google Analytics or similar you should know exactly which steps customers take when starting with your product and what percentage of people pass through each step in the funnel.
To determine the best place to start with remarketing emails you just need to look at the step in your funnel that has the highest drop-off rate.
For most e-commerce stores this is completing payment as part of the checkout. For most software-as-a-software (SaaS) businesses this is becoming a paid subscriber. In both instances the drop-off rate can be as high as 95%.

Imagine if even a fraction of that 95% didn't drop-off: that's a lot of sales that you could be capturing!
Once you've confirmed the point in your funnel that has the highest drop-off rate you should simply setup a remarketing email that targets all customers who drop-off at that step, 24 hours later. Here's some tips to help get you going quickly when writing your first campaign:
Keep it simple. Plain text works surprisingly well so don't underrate it. You don't need to do anything fancy.
Be personable. People love dealing with real humans. Put yourself in your customers' shoes: don't sound creepy, don't be overly salesy. You want to build trust with every communication you send.
Have a call to action. End your email with a single call to action: 'Click here to complete your checkout', 'Click here to view our pricing plans', etc. Guide the customer through your funnel.
Allay your customers' fears. Understand what your customers' key concerns and questions are. Use this first remarketing email as a chance to address those concerns and get them over the line. Perhaps they're concerned about giving you their credit card details, perhaps they don't understand how to setup your product – survey both current users and users who abandon your product to get an understanding of what's in their heads.
Some examples
Here are two examples you can use to get you started even faster.
Firstly, here is the email copy used by Flightfox (the one that increased their revenue 10%). Flightfox customers run a 'flight contest' where experts find the cheapest flight available. They have a two step 'checkout' process, similar to an e-commerce store – this email is a great example of points 1-4 above.
Secondly, an email used by Brennan at Planscope.io. Brennan's email is so awesome, someone blogged about it. It is a great example of how to get customers to respond and subscribe to a SaaS product.
2. A/B test everything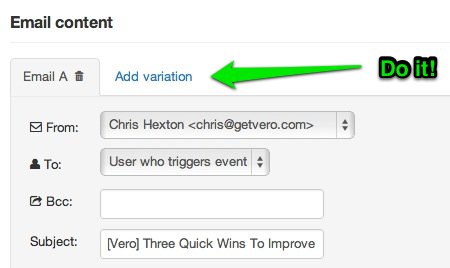 Once you've made some headway with your remarketing efforts you should begin to test your campaigns. Lots of businesses test their email newsletters but not enough test their transactional and remarketing emails.
Setting up just ONE test can really pay off.
The example I used above, from Flightfox.com, is their current, killer version. The got to this point by incrementally testing different email body copy to see what worked best for them. This resulted in a 100% lift in conversions for this email – from one A/B test.
Just like A/B testing landing pages, A/B testing emails is no longer difficult.
Your customers are different from other businesses' customers so the only way to find what truly works for you is to test everything.
As an investment of time, the ROI on testing is fantastic. With a few hours work you double the effectiveness of a remarketing campaign. This results in a permanent increase in sales.
Test, test, test!
Note: Ensure you're using a good quality tool that automatically tracks conversions, otherwise your numbers won't be accurate.
3. Segment like a pro
At this point you are miles ahead of the competition. You've setup your basic remarketing email and you've begun testing it to optimise for conversions.
Having seen the power of these emails – you're hungry for more. What can you do next?
The good news is that there so many things you can do! My personal recommendation on what to tackle next is basic segmentation.
Every business has at least one key attribute they can use to segment users. Find yours, track it and split your emails using these details.
As an example, ASOS collects information on whether a customer is a male or female in one click. This keeps their sign up simple but gives them a really powerful attribute to filter with.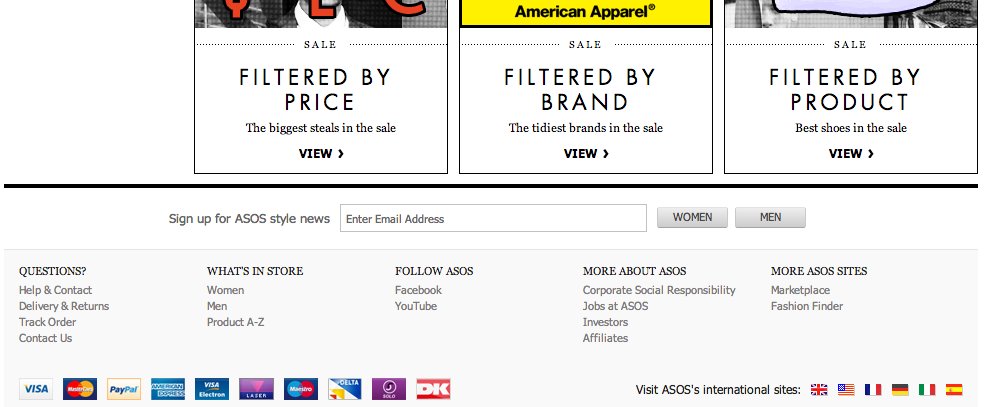 (Click to view larger image)
As another example, we personally split users of Vero based on various usage patterns: we segment users who have installed our Javascript tracking code and users who have not, users who prefer one coding language over another, and customers who run e-commerce stores vs. SaaS companies.
The goal of tracking each behaviour is always to provide more relevant examples in each of our our remarketing emails.
For example, in our case, customers can integrate Vero using a variety of coding libraries. Early on in our product's lifecycle we decided ask users by what coding language they preferred when they signed up: Ruby, Javascript or other.
By sending a different welcome email with specific integration instructions and code examples tailored to each user in their chosen language we were able to lift integration rates by 50% within just a few weeks.
As a sophisticated example from another industry, Marketing Sherpa recently published a study I am fond of discussing segmentation carried out by online food ordering service Seamless. Their goal was to increase downloads of Seamless' mobile applications (iPhone, iPad and Android) – a growing sales channel for the company.
Traditionally they sent the following email when a customer completed an order:
In an effort to lift conversions they tracked the specific device website visitors were using when they completed their order and tailored the thank you email to have one of the following three banner ads: http://www.marketingsherpa.com/heap/cs/seamless/3.htm. Each of the three ads features a single device and call to action, instead of the generic 'Download Seamless for apps for iPad, iPhone or Android devices'.
By customising the banner ads to feature each specific customer's mobile device they were able to double the click-through rate on the banner ad and increase app downloads by 50%! A great outcome and, I think, a top-notice example of more sophisticated segmentation.
If you're using an analytics tool then you probably already know a lot about your customers that you can use to segment without asking for more information. Even a basic amount of segmentation can go a long way, so use your customers' behavior as a guide – you just need to analyze and apply it!
Conclusion
I hope you've found these three trips useful and that you can apply them immediately to start seeing increases in your conversions.
If you knuckle down and follow these steps over the next few weeks I have no doubt you will see a dramatic lift in your conversions.
For those who want to read more about email remarketing, here are some of my favourite resources. They're insightful and practical and I'd encourage you to check them out: