How To Boost Travel Website Bookings Using Funnel Optimization
Nitin Deshdeep
Nitin is a traveler, a cinephile, and a webaholic. (He just can't get enough of cat videos!) Professionally, Nitin is a marketer at VWO, who loves to write about Conversion Optimization.
Conversions do not come easy for travel websites.
Compared to regular eCommerce stores, travel sites have poor conversion rates.
This is mainly because travel sites tend to have longer and more complex conversion funnels (owing to elaborate searches and high AOV). When any stage of the funnel is not optimized, users leave.
Users require persistent convincing on each stage of the travel funnel, so that they do not abandon a booking.
This post covers some essential optimization practices/strategies that can help your travel website convert more.
Read on to find how you can optimize certain pages of your travel website funnel.
The Travel Website Homepage
The homepage of a travel website is where users generally land first. They reach the homepage through different channels such as search engine results pages, social media, and online ads.
The homepage helps users form the first impression about a website. Therefore, it's necessary that users find the homepage simple and intuitive. Below are a few ways you can ensure that.
Simplify Navigation
Unlike eCommerce stores, where users often find items right on the homepage, travel sites require users to "search" for their preferred deal.
They ask users to type in the destination location, input their preferred date range, and (at times) select specific filters. While this in itself can act as friction for some users, a homepage with complex navigation can prove to be even worse.
A homepage with clear and clutter-free navigation helps users spend less time and effort in searching for a destination. The easier users find it to search for a destination, the higher are the chance of conversions.
For instance, Bizztravel Wintersport, a Dutch travel company, improved conversions on its site by 21% by simplifying the way users searched for a holiday destination.
Avoiding clutter also helps you direct users' attention right where you want to, e.g., search fields, special deals, etc.
Don't let your website visitors wander without reason.
Priceline is a great example of a clutter-free travel website homepage.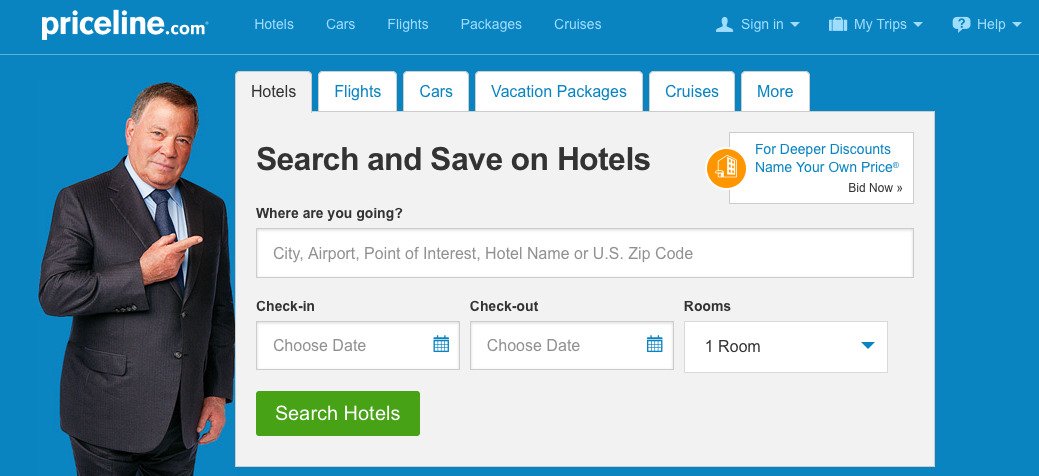 Optimize for Mobile
According to a recent report by Criteo, the mobile platform accounts for 27% of all digital transactions in the travel industry.
With this figure only rising, it's necessary that every travel website offers a user-friendly mobile experience.
Similar to a desktop website, a mobile website or an app must be clutter-free and intuitive. On top of that, the desktop and the mobile website/app must work seamlessly in tandem.
You can also leverage the native features of mobile devices (GPS, click-to-call, etc.) to offer a better user experience.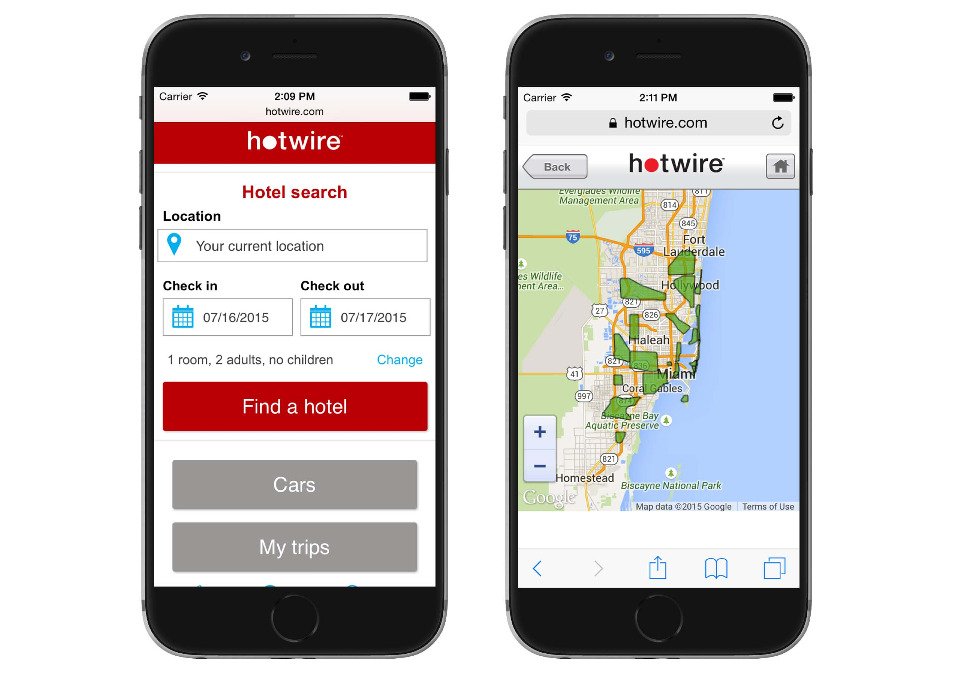 Feature USPs
If your company has unique benefits to offer to users, you must display them on your homepage. Such unique benefits (or USPs) convince users, and push them towards a conversion.
Sunshine.co.uk, a UK-based travel agency almost doubled its revenue when it clearly presented its USPs to users. The agency ran a survey across its website users, and found out that the website didn't communicate its benefits effectively.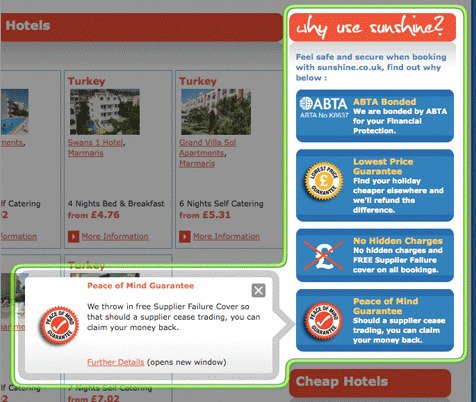 Even when you're a trusted name in the industry, displaying the benefits of your offering can still be beneficial; it can strengthen your brand image even further.
Below is a screenshot from Expedia's homepage, which presents its USPs prominently.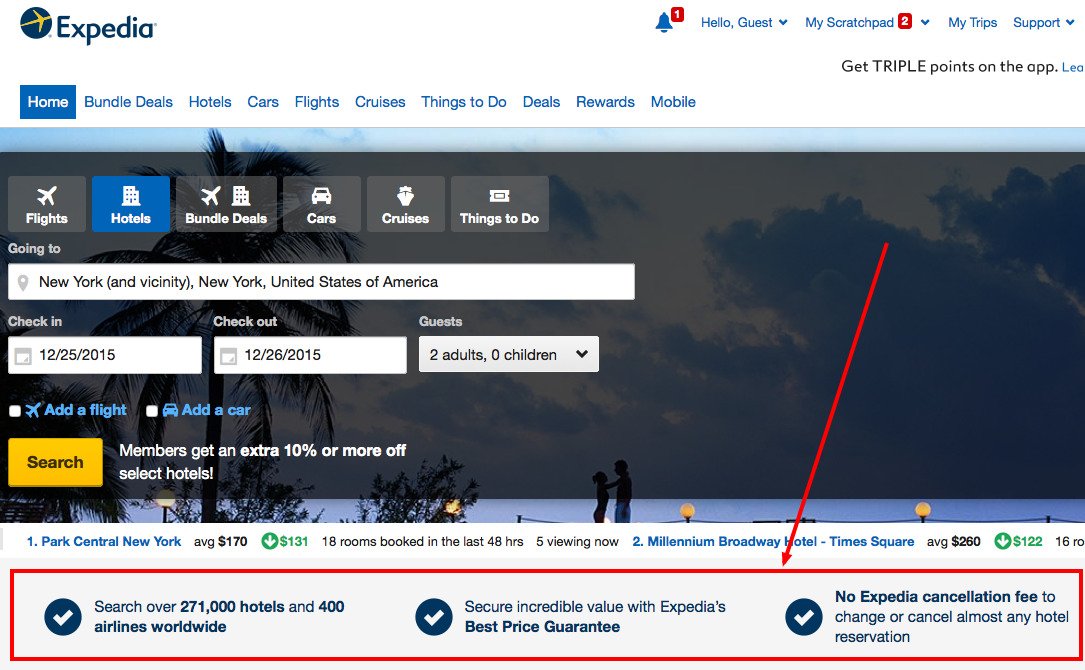 Use Relevant CTA Copy
Using the right text for your CTA is essential in nudging users forward into your conversion funnel.
Often, extraneous CTA text confuses users, and leads them to leave the page. As a thumb-rule, CTA text should exactly denote the action that users are expecting after clicking on the CTA button.
Many lost conversions can be attributed to ambiguous CTAs.
Provident Resorts, a Florida-based company, ran a multivariate test on its homepage, pitting multiple variations of the CTA text against each other. As expected, the most relevant CTA text performed the best, and improved the click-through rate by over 9%.

Employ Cross-sell
Cross-selling is a great way to increase your Average Order Value. Especially in the travel industry, it can be said that cross-selling is demanded by users themselves.
This is how travel websites employ cross-sell: Booking a flight? How about reserving a hotel room as well, at a cheaper price. Reserving a hotel room? How about renting a car for the duration of your stay.
Cross-selling not only helps your business, but also makes traveling convenient to users.
Users expect cross-selling on a travel website. Fulfill their expectations.
Even if your business offers exclusive services of flight booking or hotel booking, you can always find a partner with a complementary business to yours, and offer a bundled package to users.
Check out the search box on Travelocity.com.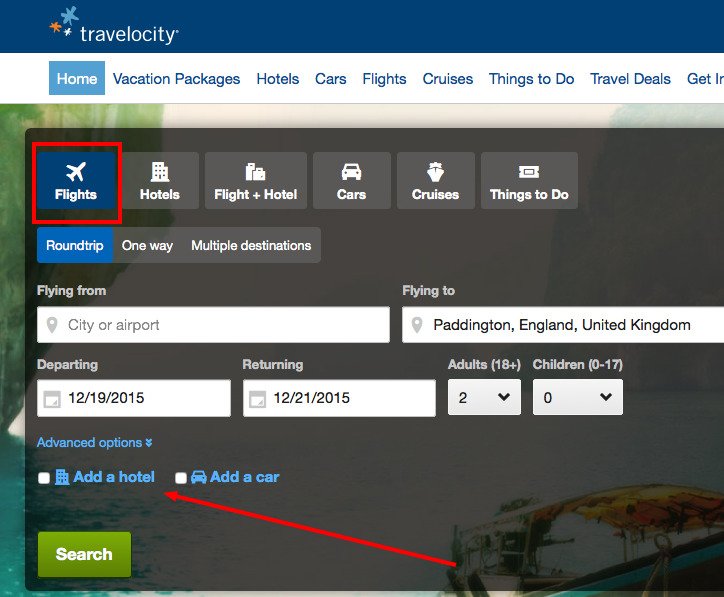 When searching for a flight, the box offers an option to club together a hotel or a rental car.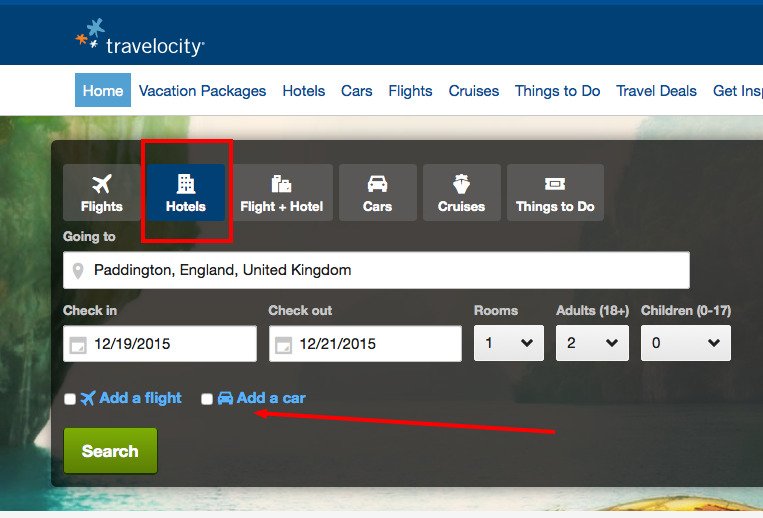 When searching for a hotel, the box smartly cross-sells an additional flight or a rental car.
Search Results Page
Once users enter their preferred destination and date range, they are led to the results page. The results page has a listing of flights, hotels, or any other service users searched for. The result page, too, is critical in determining whether users will convert or not. Here are a few ways you can optimize the results page:
Help Users Choose
Most times, the results page is full of hotels or flights which users haven't used before. Naturally, it is difficult for the users to choose one from the lot. Here is when you should help your users select the best deal.
Firstly, display the prices prominently.
Price is the one of the most important criteria based on which most users choose a service. When the price for different service providers is placed without clear distinction on the results page, the usability of the website gets affected.
Also, when you're offering a discount on a service, mentioning the discount only in terms of percentage can still prove useless to some users. It's smart to provide users with the new price of the service (after the discount), and the savings which users can make if they choose it.
Secondly, provide ratings on the results page.
The quality of service is the another major factor users consider while making a decision. So how can users determine the service quality of different hotels or flights? With the help of reviews and rating.
Along with reviews and a rating score, providing your own suggestion about the services can help users greatly.
Take an example from Booking.com.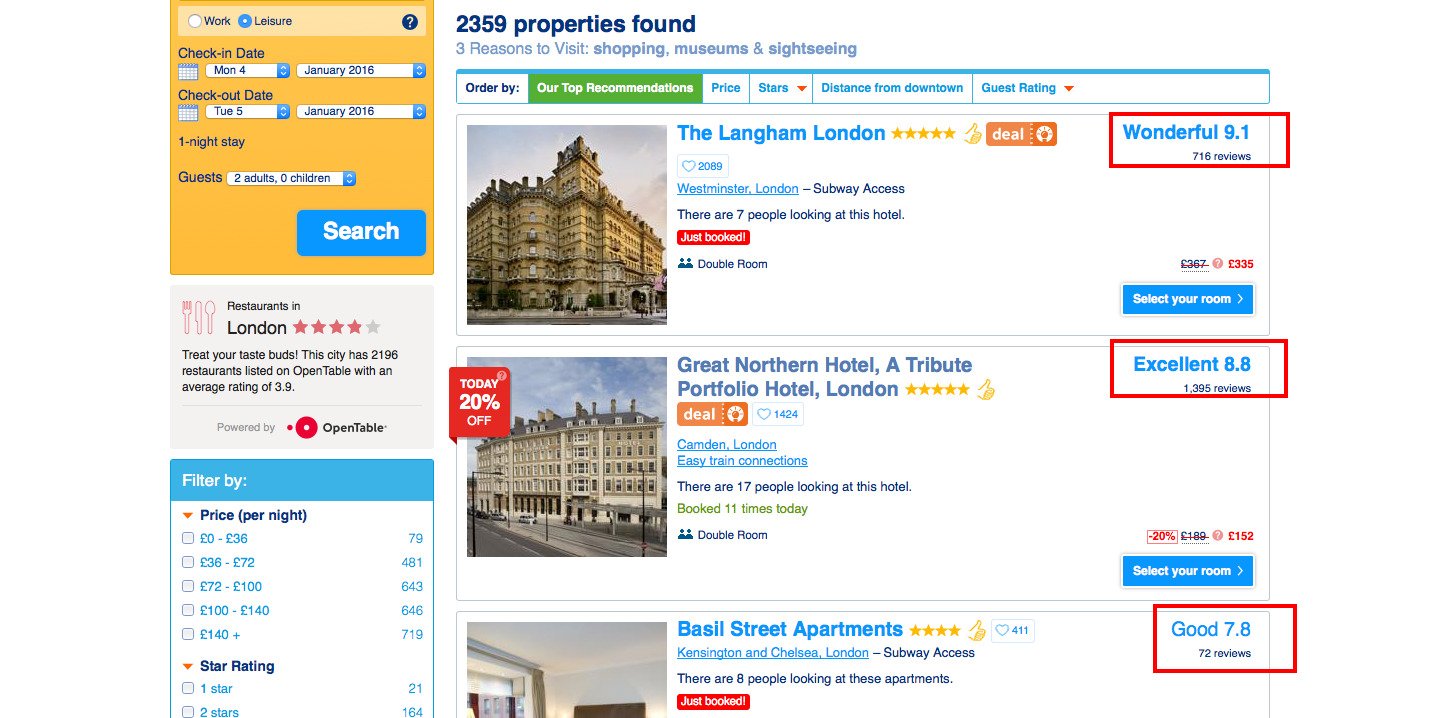 The results page shows different hotels with individual rating scores. It also mentions the number of customers that have reviewed the hotel, helping users judge the authenticity of the rating score. Based on this, the website offers its own viewpoint about the hotels, labeling them as "Good," Excellent" and "Wonderful." This gives a clear idea of the service quality that users can expect from the hotels.
Don't just offer options to your users. Advice them on what's best.
Additionally, users searching for hotels are often specific about the location, too. Many times, users search for hotels located at specific region in a city. Travel websites can make booking easy for those users by showing hotels on a responsive map. Here is how Hotwire does it.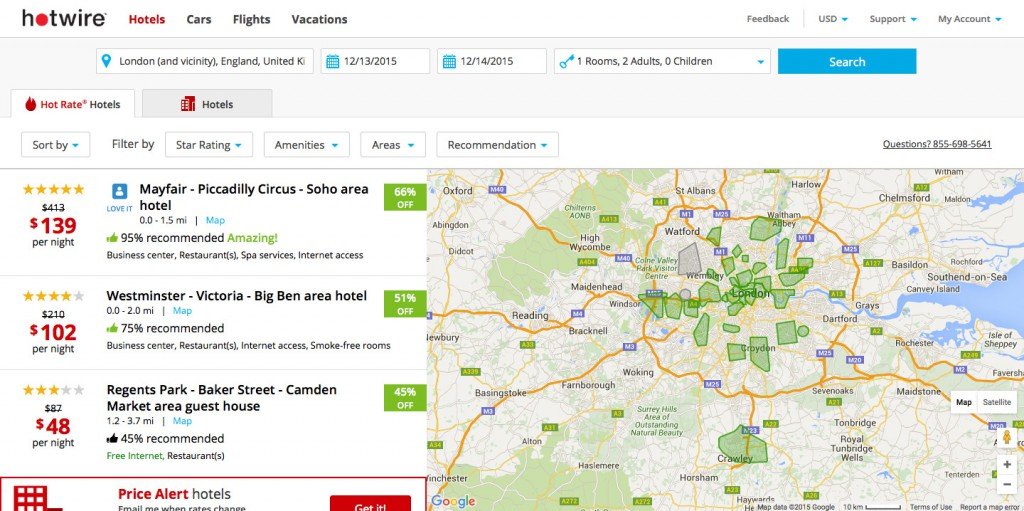 Give Them an Option to Cancel
Booking a travel requires a lot of thinking. It's not only because of the amount of money involved, but also because of the real-life experience offered by the services.
To reduce friction in the process of choosing a hotel or flight from the results page, give users an option to cancel their booking later.
The luxury of cancellation greatly reduces the level of commitment that users will have to make.
With low commitment involved, users find lesser friction in completing a booking.
For example, Djoser.nl, a dutch travel website, increased its booking by 33%. All it did was offer users with an option to cancel their booking within the next 72 hours. Here is their page.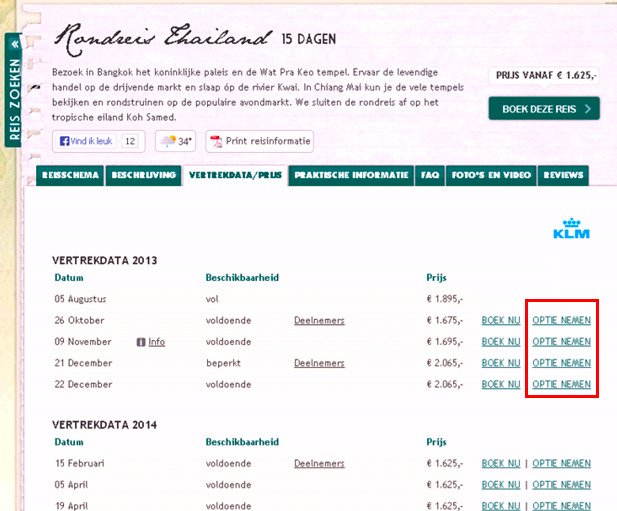 (The text "Optie Nemen" translates to "Take as an Option" in English.)
If possible, you can even let users make a booking without a payment. When no cost commitment is involved, it's even easier for users to book a service. Here's an example from Booking.com.

Offer Personalized Suggestions
The past booking history of users can tell a lot about their preferences.
With the help of this information, you can offer hotels and flights to users that are most relevant to them.
Consider this: Some of your users always book a hotel that offers free wifi and complimentary lunch. Whenever they search for a hotel on your website, you can display recommended hotels that offer free wifi and lunch. Such a personalized offer will help users choose a hotel of their preference quicker.

You can further optimize the recommendations by highlighting the specific services that users look for in a hotel, e.g., beach view, snow view, proximity to airport, etc.
Similarly, you can also recommend flights on the basis of user history, e.g., flights without stopovers, flights with stopovers at particular locations, etc.
Employ Urgency
Urgency is when you ask users to act quickly in order to receive an incentive.
The eCommerce industry has been using it effectively to increase conversions.
You can employ the same on your travel website, too.
Offer special deals with discounts or incentives to users for a limited period. The incentives that can only be redeemed in a specific time range will push users to buy it, before the deal ends.
Here is an example of urgency, employed by Booking.com. The website offers up to 21% discount on a hotel. However, the deal only stands for a day.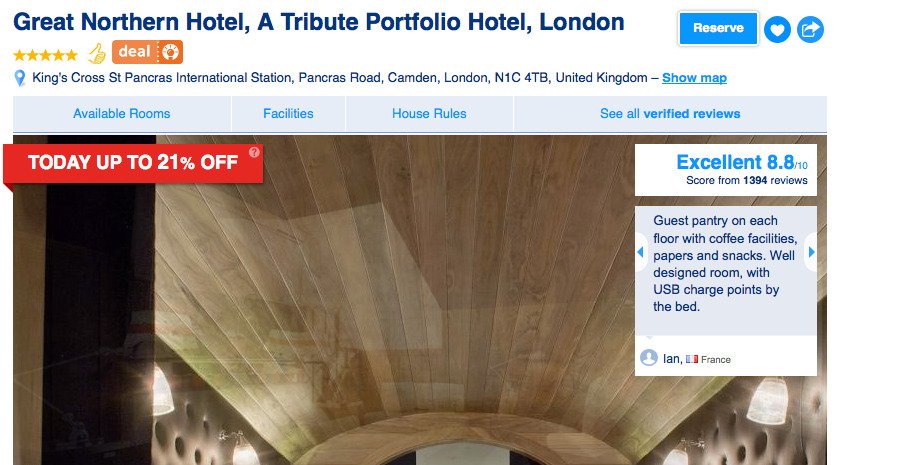 You can also display the number of users viewing a particular listing on the results page to instill urgency among users. The number of people who are looking at a property increases its perceived popularity and, hence, the users' urge to act fast to get it before someone else does. Here's how Agoda.com does it.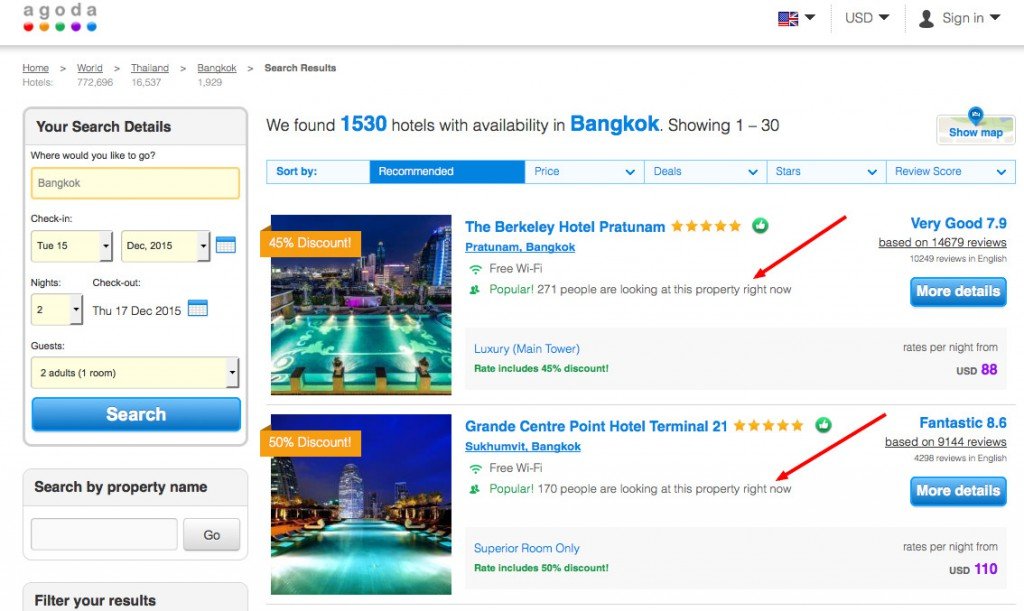 Use Scarcity
Similar to urgency, scarcity also pushes users to act quickly.
Scarcity is when your show that your product is a limited commodity and if users don't buy it now, they might miss out.
You can employ the scarcity principle to the number of rooms left in a hotel, or the number of seats left in a flight.
For example, on its results page, Booking.com displays the number of unoccupied rooms in a hotel. Going even further, the website predicts the time in which all the rooms of a hotel will be booked. That is an excellent practice of the scarcity principle.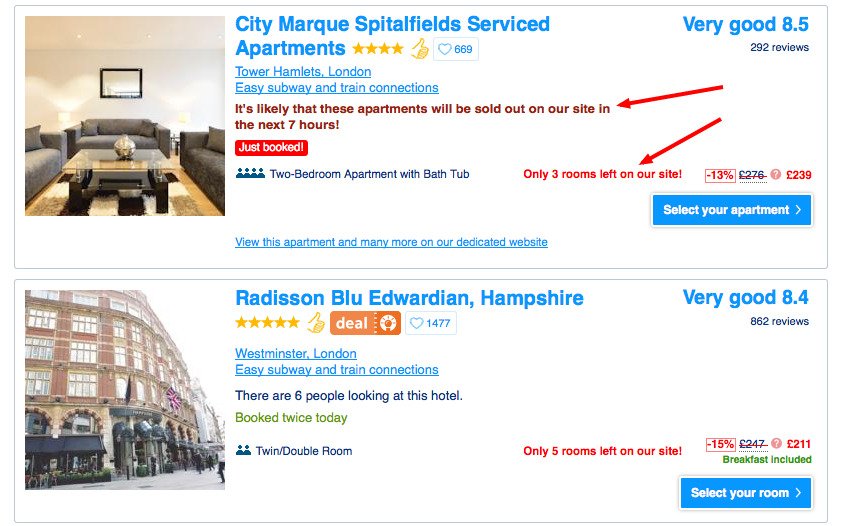 Suggest Off-Peak Time  
Normally, users search for hotels or flights for specific dates, and make a booking. They don't bother to search for different dates, when the prices might be lower.
Why?
Well, sometimes, because they have inflexible travel plans. But mostly, because it's a time-taking process and it does not guarantee a lower-priced deal on hotels or flights. Basically, users don't want to think; they want the websites to tell them what to do.
It'll be highly convenient for users if the travel website itself notified them about the off-peak time.
Many travel websites are already practicing it.
For instance, take a look at the results page of Travelocity. The website lets users know if the dates they've used to search hotels have high occupancy rates.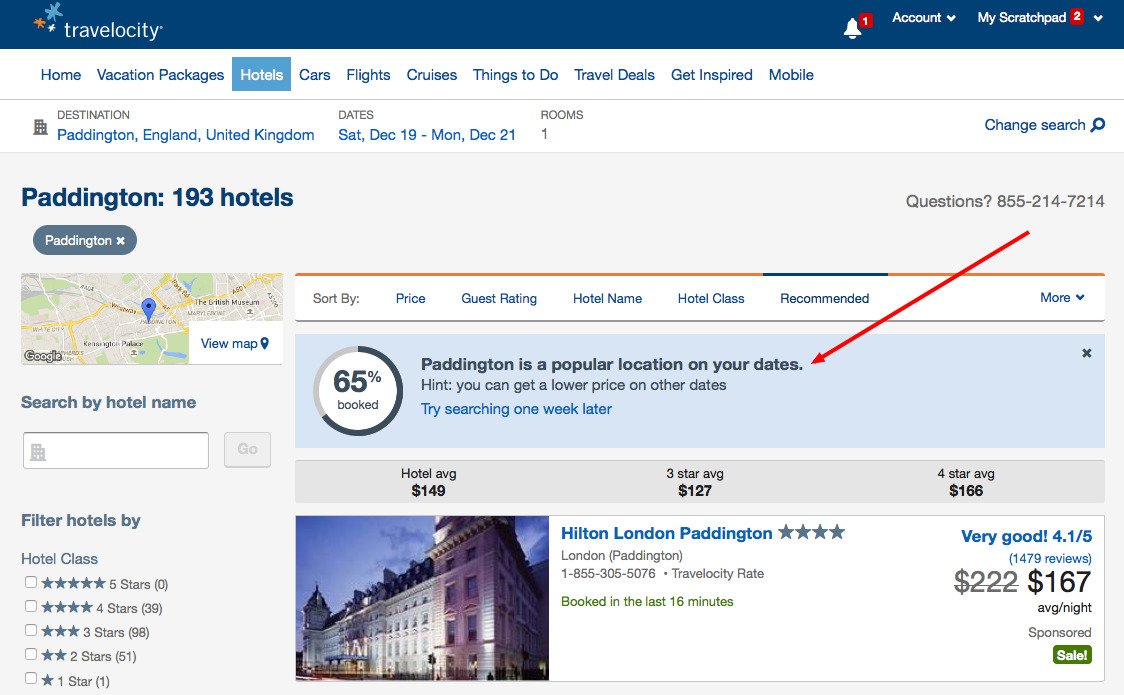 Similar to Travelocity, your website can also help users choose a date range that has cheaper prices.
You know what time is the cheapest to make a booking? Your users must know, too.
Booking Form Page
When your users have chosen a flight or a hotel, the last step is filling up their information on the booking form.
Form optimization is equally important in your conversion funnel. When users have done all the research and chosen a flight or a hotel, you don't want them to abandon the booking.
Below are a few ways you can optimize your forms:
Use intelligent forms.
Put as few form-fields as possible.
Test different form layouts.
Use multi-step forms.
Find more of such form optimization methods, and read more on the aforementioned ones in this elaborate post, "8 Indisputable Ways To Increase Web Form Conversions."
So Where Are You Going to Start?
The above mentioned ways can help you boost conversions on your travel website. So, which ones are you willing to try on your website?
Also, don't forget to A/B test the changes before you actually implement them on your website permanently. We'll be eager to hear about your results.