5 Tried-and-Tested Methods To Collect User Feedback With Surveys
Those days are over when companies used website surveys to react to negative feedback from unhappy customers. If you want to stand out as a brand in an increasingly competitive business, you need to go the extra mile in listening to each and every customer.
With feedback becoming a new currency, you can't stand aside. Collecting feedback offers much more than just the knowledge of what your customers disliked and what you can do better. Website surveys can provide you with a way to approach your customers at the right moment and time.
They can help you learn the why behind your customers' behaviour and the reasons for which people choose your products and prefer them to your competitors. With this knowledge, you can better communicate your product advantages and work out a new value proposition. Also, analyzing feedback with website surveys can help identify conversion rate blockers, especially for eCommerce businesses.
Thanks to website surveys, you can learn about new market trends and demand for new features, and product types, and understand how your customers' needs change. This gives you an unprecedented opportunity to tip the market by adjusting your product to your client's needs better and faster than your competitors.
However, running short rounds of website surveys from time to time is not enough to put yourself in your customers' boots. Collecting feedback on a regular basis should become a part of your company's culture. That's where the feedback loop can help understand this better.
What is a feedback loop and how does it work?
The feedback loop focuses on the consistent collection of feedback and its implementation. This system suggests looking at feedback collection as a process rather than some activity.
That's what the feedback loop looks like in practice.
Step 1. Ask for feedback – send your survey to a customer
Step 2. Collect feedback in one place – keep it in one tool and categorize for an easy reference in the future
Step 3. Analyze and plan – shape your product's appearance based on what you've learned from customer surveys
Step 4. Implement – adjust your product based on what customers said
Step 5. Notify – inform your clients of the recent update or improvement in some area of your product.
Start this process again.
In this article, we want to show you how to navigate the first two steps in the feedback loop. When reading this article, you will learn about the strategy behind organizing a website survey and also discover the tools necessary to execute the process in the right way.
1. Trigger on-page surveys at the right moment
Ask for feedback when your customers are more likely to respond instead of bombarding everyone on your email list. Some brands are still using the 'spray-and-pray' technique of sending online surveys – they usually use some newsletter template and send an email campaign to the entire list of subscribers.
Low response rate, subscribers deleting or sending your email to spam are one of the outcomes of such traditional campaigns. Instead of proceeding with this scenario, you can choose a more targeted way to reach users who are ready to share some feedback. As a result, you would display your survey at the right moment, when a reader is more likely to take action.
Here are some of the triggers you can use to target users more effectively:
landing page URL
new vs. returning visitors
browser
time spent on page
clicking a certain link
exit intent
pages in a session
Also, with tools such as VWO website surveys, you can combine different triggers. For example, you can choose to show a survey to returning web page visitors (condition 1), who viewed at least 3 pages on your website (condition 2).
Action point. Brainstorm the scenarios for potential triggers you can use and match them with the goal of your survey. For example, if you are aiming to collect feedback on your new web page design, think of what type of customer can provide the most informative feedback. For example, this can be a user who scrolls down the page by at least 80% and stays on the page for at least 1 minute.
2. Conduct NPS surveys on your website
Asking for feedback in customer surveys at the wrong time and place is one of the reasons why you get almost no data to analyze while ending up with a low number of survey responses. When opening your NPS survey your clients can be busy, at work, or simply not receptive to emails, text messages, or calls.
NPS surveys are crucial for understanding how satisfied your clients are with your service and help identify the red flags for the customers who are about to churn. With this survey, you can also get feedback on what you can improve to serve customers better.
Displaying your NPS survey on the website is one of many ways you can use customer surveys. Check out what an NPS survey can look like when embedded on your website.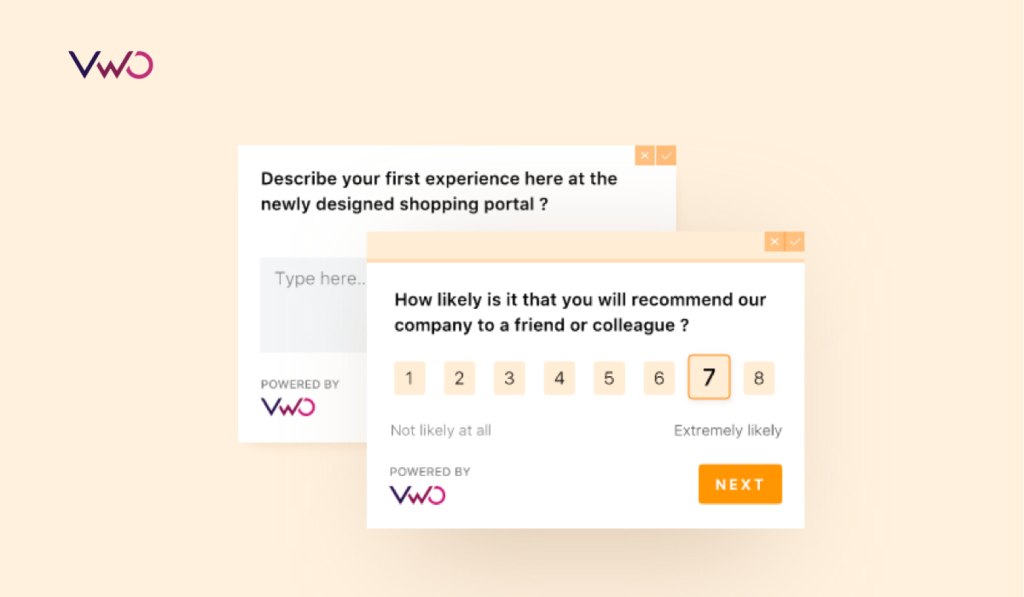 You can trigger such surveys on the client portal, the place that only customers can access. Also, you can define when the survey should be displayed. For example, an Internet provider could show an NPS survey right after a user prolongs a subscription or pays a monthly bill through a client portal.
Action point. Check out these steps to create a survey and brainstorm the option on where you should be placing the survey once it is ready (think of specific pages that you can use as triggers).
3. Use single line text box in a website survey
In some situations, it is not sufficient to collect predefined responses from your website visitors or clients. Sometimes, a problem is too complex and you would want your customers to be honest about what doesn't work with your business. Take customer support as an example.
After your support agents have answered a customer's question, there are a few ways you can proceed further. You can create a survey asking to rate a customer support agent and answer "Was it helpful?"
However, this response doesn't give you a lot of context on your client's perception of the customer support department. That's why you can add an additional question for users who were not satisfied with the support using the single-line text box in the website survey.
Later, by collecting and sharing this more in-depth feedback with your agents, you will be able to develop more proactive customer support. That's because your customer support will be working more on dealing with challenges customers face and offering a better service even before a problem appears.
Here is an example of this survey question type.
4. Use QR codes in a thank-you message
Have you ever been invited for an online survey in exchange for getting an Amazon card? If you have ever taken up this challenge, you would most likely do it for the sake of getting some gifts, not because you were that interested in sharing your feedback. If you haven't, then the incentive was not strong enough.
In both cases, offering an incentive before a user fills out a survey is a bad idea. Users who participate in paid or incentivized surveys and are told to receive a gift after completion usually do their best to help and that doesn't always mean being honest.
Instead of offering a gift at the beginning of the survey, make it a surprise for an engaged user who doesn't need a present to share some feedback. Once they have invested some time in helping you improve your product, as a matter of gratitude you can offer a small discount, a promo code, or something else that your users would appreciate.

For example, you can use a QR code generator to create a QR code which you can embed as an image in the thank-you screen of your website survey. So why not just paste a link leading to their reward? With a QR code, your coupon is automatically added to the checkout making it easier for a customer to redeem it.
In addition, with QR codes you can track what users are taking action as it offers more advanced analytics.
5. Incentivize your partners to use website surveys
For some businesses, a company website is only one of many places to sell products. Brands that rely heavily on affiliate partners distribute their goods through other websites.
Often, this model of selling products also means losing control over how your brand is communicated and how products are delivered to an end customer. However, this doesn't mean you have to ignore positive affiliate marketing trends and shift away from this marketing channel.
There is a way how website surveys can help you regain control when working with affiliate partners. So how can you convince your partners to make website surveys and collect feedback?
To involve other parties who are distributing your products, you need to create a solid incentive. That's because implementing your survey can take up your partners' and affiliates' time they would otherwise dedicate to growing sales.
They might not realize that getting their audience feedback has a direct impact on the sales volume and revenue and that's what you need to communicate to them more often.
There are a few things your affiliate partners can ask their website visitors.
How clearly does your affiliate partner communicate your product?
Why is your product not attractive enough for people to buy?
Are there any issues with how the website functions (usability issues, speed)?
Working closely with your partners doesn't stop there. You should also consider checking how attractive your affiliate and partnership program is as well. By directing a survey to your partners (not clients), you can learn what blocks them from selling more of your products and work towards making your program more attractive.
Also, based on what answers your partners provide, you can prepare automated and personalized reports which would provide them with guidance on selling more.
Here are some questions you can consider asking your partners.
Which marketing materials were most useful?
How easy were marketing materials to find?
Are there any other marketing materials you would be interested in using?
Conclusion
Collecting feedback should not be a one-off activity, but an ongoing practice in your company. If you want to make your website surveys efficient and get more information from your customers, you need to be strategic in targeting, timing, and content of your surveys.
Choosing the right tool for surveys is also crucial for your success. Consider choosing the one that gives you more options on targeting and embedding your surveys on the website – that will make achieving your goals with website surveys much easier.