Why Random A/B Testing is a One Night Stand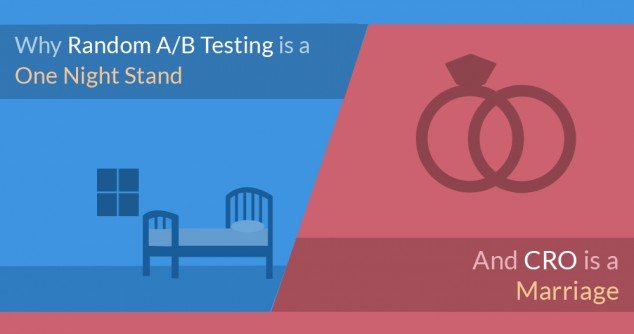 So you run a test or two, have your moments of virtual euphoria and promise yourself to roll out a meticulous Conversion Rate Optimization (CRO) strategy to increase website sales and revenue. But then… You lose steam, the inspiration wears off, you don't have the time or the mental bandwidth to conduct the research this "long and winding" process requires. You want quick, Flash-like results, so you give into the delicious temptation of running more random tests.
A successful random test, after all, is like a seductress. The northward-looking graphs, that beautiful-almost-perfect statistical significance, the simple awareness that a mere tweak can bring in so much more fortune. It's all nothing short of a digital orgasm.
The case for random testing
As the headline of this article suggests, there are going to be some hidden and not-so-hidden innuendos around one-night stands. So if morally-questionable analogies aren't your thing, try to make them your thing and read ahead. Here are some virtues of random testing:
They are seductive. Addictive too
A/B testing is seductive. It works like a charm. Run one successful test and those shiny numbers won't let you sleep in the night. Buoyant by the successful result of one test, you will want to jump on to the next bed test.
Immediate gratification
The ratio of "time invested" against "gains in sales/revenue figure" is high. You invest 5 minutes setting up a mindless test and you get a conversion boost of 10%. Similarly, you invest 15 minutes in a bar (modesty is thy name) and get some massive ego/vitality/happiness boost. That's some insane luck and optimization of time. Rejoice while it lasts.
Justify your existence
Getting nasty e-mails from the boss? He wants results and you need to justify your fancy designation and salary. Run a quick test and justify your existence.
Releases 'feel-good' hormones
Research has shown that running a successful A/B test makes the brain release a feel-good chemical called Dopamine. Well, that's a giant piece of lie. But you get the idea. Successful tests make you feel good. And so does good sex.
But the flip side…
You are not going to be lucky every night time
You might have had beginner's luck, but not every random test is going to end up on your success list. You are going to make some bad choices and that's going to lead to some fantastic where-did-I-lose-it-kind-of-existential-crisis.
There is going to be a void
A random CTA change might lift your conversions, but the increase is going to be just a pebble in the pond. It won't significantly affect your bottom-line. You will have to make big, research-backed design changes to fill the conversion-shaped emptiness of your website.
In short, you will have to learn to live with a permanent void in the world of random testing.
You will be like a rolling stone
However fancy Bob Dylan may have made it sound, but living a life with no direction and plan is kind of uninspiring after a while. With random testing, it's like the 60's hippie movement. Each day as it comes. There is going to be no plan to fall back upon. There are going to be a few good tests and then there are going to be many that suck.
So random testing is okay while you are still testing the waters of optimization, trying out a tool, selling the concept to your boss or just discovering its virtues. But you need a streamlined process, a well-oiled structure and something more stable and scientific to be able to use A/B testing in the long run to increase conversions.
The case for CRO
You need a Conversion Rate Optimization (CRO) strategy. A strategy which stands upon the wheels of research, asking questions, arriving at a hypothesis, testing, reporting and analyzing. A/B testing is not equivalent to CRO, it's just a part of the CRO process. Albeit, the sexiest part. The CRO process requires planning, thought, commitment and patience – all the hallmarks of a wholesome marriage. So, here's why CRO is a lot like marriage.
There's the courtship period
You can't jump into bed with CRO right away, there's a courtship phase wherein you lay out the strategy, work on a process, figure out the rules and prepare the ground for a sound and long association.
Requires commitment
Once you commit yourself to a CRO plan, you will have to keep infidelity at bay. Random testing will be lurking at many corners, trying to seduce you with the sinful promise of the forbidden and the mysterious. But you will have to keep your eyes fixed on the strategy at hand so as not to ruin the marriage. Difficult, but worthwhile in the long run.
But it will make you richer
Or at least your bosses. And if you are lucky, the fortune should trickle down. CRO can holistically work to lift your conversions the way random/fluke testing can't. Of course, there's no guarantee. But making research-backed design changes that significantly change visitors' behavior on the website is more likely to increase your bottom-line than making a mere CTA color change.
Happy conversion optimization to you
Whether you are embarking on your A/B testing journey or beginning your CRO journey, we have collated two options just for you:
VWO Testing  – For A/B Testing
VWO Platform – For Conversion Rate Optimization