Today we've released a change in Visual Website Optimizer code snippet that will make the process of integrating VWO to your website a lot easier! As you will see, the change is a significant improvement over the previous code snippet and we recommend you to update it on your website as soon as possible to enjoy all its benefits (of course, it is backward compatible; So your existing VWO code will also work — but the new one is much faster).
The new code is cleaner and much easier to implement
The old snippet required you to insert code at two places: one in header and one in footer. The new code requires only one small snippet to be inserted into the website header. Yes, that's it! No more you are required to add separate code snippets in header and footer.
Now, all the code required to run VWO, create and run unlimited number of A/B and multivariate tests, measure conversion rates, track heatmaps and clickmaps, etc. is contained in one snippet at a single location. This is what we call as single-tag integration! See, the screenshot below on which code snippet you need to add to integrate VWO with your website: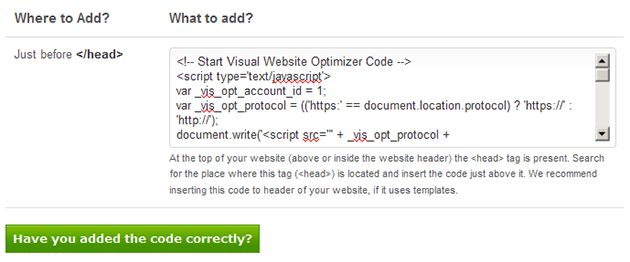 The new code is faster
The old code downloaded the static JavaScript file (required to run VWO) on all pages irrespective of whether a test is running on the page or not. It meant that the static file was downloaded for all your site visitors even if you are not running any test or test is only running on certain parts of your website.
The new code downloads the static JavaScript file only if and when it is needed. That is, the file is downloaded if a test is to be run on a particular page. Otherwise, it is simply skipped. What this means is a much faster experience for visitors to your website who aren't included in the test.
We strongly recommend you to update to the new code! You can find the updated code in your test reports (under section Add code to website section)