Why Communication is Key to the Success of Your CRO Program and How You Can Improve It
If you're new to CRO, there's one aspect of it that can prove to be challenging for you – maintaining consistent communication between teams during the different phases of the program.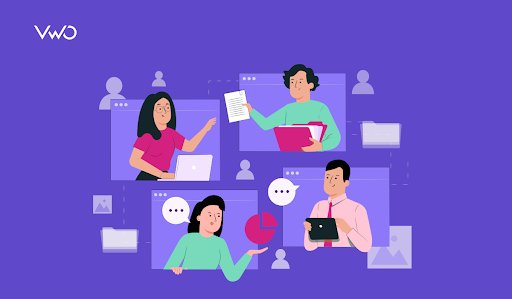 Let's understand this with an example. Suppose you are the business head of a supermarket located in a busy area. One fine day, you decide to interchange the grocery aisle with the dairy products to check if it has a positive impact on the sales. Meanwhile, your store manager, customer service representatives, and your area sales manager are totally unaware of this change.
How do you think this change will work out for them?
The store manager will find it challenging to keep an eye on the inventory as a frustrating amount of time will be spent in locating the stock.
Your customer service representatives will be dazed and might not be able to assist customers towards the right aisle to collect grocery or dairy items.
And, if the sales figures nose dive after the experiment, you'll have a tough time convincing your area sales manager about the untimely change.
Did you see what happened here? Your idea was good and your intentions positive, but the lack of communication made the whole experiment a train wreck.

The result is quite similar when there is no communication between the teams while running a CRO program. Your website or landing page is like a virtual shopfront for the visitors. This is the same virtual shopfront where marketers work for higher conversions, sales teams work for getting more leads, designers work for keeping the user experience upbeat, and developers code for hours to keep the store running.

Any change that you're planning to bring via A/B testing, by gathering insights from heatmaps, or session recordings, will have an impact on the visitors. It's therefore pertinent that you have a strong communication strategy to keep all the teams sailing on the same boat.

In this blog, we will be covering the steps that you should follow at different stages of running tests in your CRO program to have clear communication with your teams.
Stage 1: Before running the test
When your plan is still in the blueprint stage, it's a great idea to give a heads-up to your team. This will ensure that there is higher engagement and active participation in the subsequent stages.
Here are the top three steps that you can follow to get started –
Train the teams
You might be a CRO expert, but not everyone in the team is expected to be the same. Start with training the team. Begin with the basics; like what a hypothesis is, what a baseline is, what multivariate testing is, and so on. Of course, you don't want to bulldoze them with all the CRO glossary, because then it will work to the contrary. Keep the training light and relevant to the initial few tests. Tell them about customer experience optimization, and while you're at it, procure the right testing tool for your tests, and train your team to get comfortable with the same. This is significant because going forward you don't have to face a crowd of blank faces.
Set goals
This is where you give direction to your ship. Communicate the goals that you're planning to achieve with your experiment. Are you planning to increase the dwell time of the visitors? Or, are you trying to identify user behavior with two different versions of the home page? Be clear with your plan.

Once you're done with this, discuss with the team to create a roadmap. Tie up the goals to the business objectives and individual KPIs so that team members can look at their impact and also be motivated to participate. Decide a duration and milestones that you're planning to hit at different time intervals. If you do this right, this will save you a lot of time from having multiple meetings with different teams just to decide the timeline of the activity.
Follow up
Follow up is a great way to check if the idea has deep-seated among all the members of the team. With busy turnaround times and cluttered project boards, it's natural for them to forget or misinterpret the ideas and goals as time passes by. However, before you get all nosy with other's work commitments, decide on a schedule, and a communication medium for following up with your colleagues. This way you can keep the conversation going without making it irksome.
Stage 2: While running the test
Alright, your ship has set sail. Now, it's time to decide how often and through which medium you're best positioned to communicate with your team.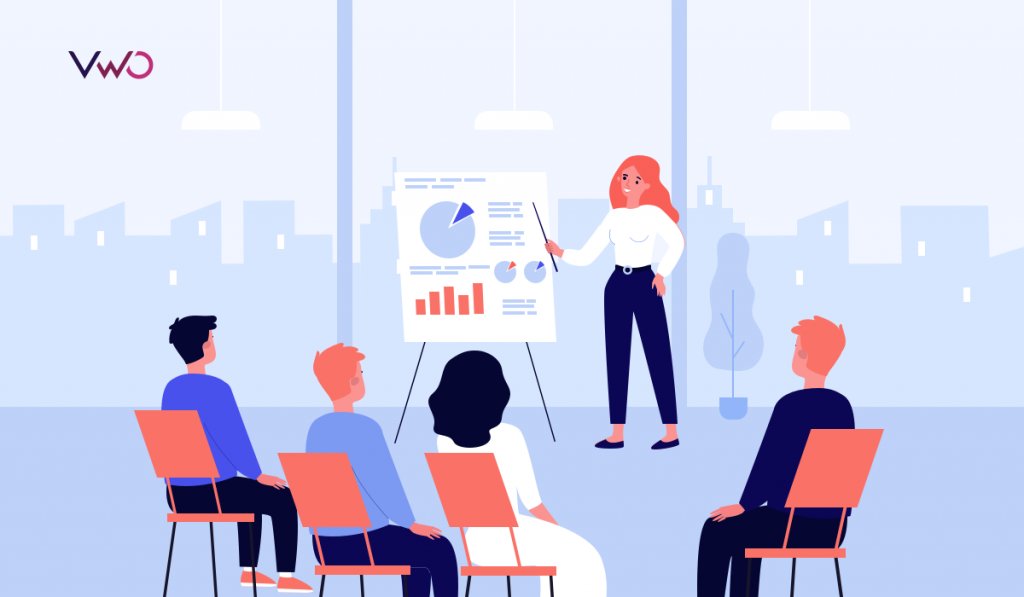 Decide a medium and frequency
Too many online meetings can cause Zoom fatigue. Too many emails will cause email overload. The decision of working with different teams for running a CRO program is to create a harmonic environment for discussions, and not to make them abhor it. To make sure that you don't end up spamming your teammates, decide the best communication tool for reaching them, and the frequency.

Do they want synchronous discussions like video calls and online meetings?
Do they want to keep it asynchronous with emails and chats?
Or, do they prefer the middle road – a combination of email and video-like screen recordings?

Since you'll be exchanging a lot of information with your team, this step has a significant weightage on your communication strategy.
Stage 3: After running the initial few tests
You've come a long way from where you started. But, was your ship able to withstand the tidal waves, or were there a few casualties on the way? It's time to share the results and get feedback.
Share results
You might get all geared up while sharing the results of the tests. After all, you want to show the world the returns from your months of planning, discussions, and reviews. However, there are some pointers that you need to consider.
What
Your results will have a lot of numbers. You can't go along filling hundreds of sheets with every number that you come across. Keep it precise. Make a list of the most crucial statistics that you want to include in your report, show comparisons, trends, and charts so that it takes minimal time to assimilate the information.
When
The frequency of sharing the results is significant here too. If you're running multiple tests simultaneously it's wise to spread them across the time timetable so that there is no overlap. This will give your team and senior management sufficient time to evaluate the performance of each test.
How
Spreadsheets, meetings, or presentation slides? Choose the one that works best for your team. Alternatively, a screen recording tool can also be great for sharing the performance of the tests.
Ask for feedback
Feedback helps us grow. A good feedback session with the team will be great for implementing corrective actions and avoiding mistakes in the future. To make this idea more effective, you can take the initiative by sharing your lessons with the team. What did you learn from the test, and what are the areas you personally think can be improved? This will be a welcoming gesture, and it will open the gates for an active session of sharing feedback.
Tune in to the below episode from the VWO Podcast to know how you can implement this feedback and improve customer experience.
In summary
If your CRO program is the ship, your teams are like the sails. Without the active participation of your teams, your CRO experiments can fall flat on the ground.

To fire up the communication between teams, it's a smart idea to split your communication strategy into three stages – before, during, and after the tests. This will give you a good idea of which aspects you need to emphasize at each step.

Start by training the teams and deciding the goals with them. This will definitely boost the camaraderie which in turn will make it easy for you to follow up with them without being a nuisance.

While the tests are in the running phase, review the performance with the team. If you had overlooked an aspect, this activity will prove to be life-saving. Also, ensure that you have discussed what communication medium will suit them the most and what frequency they are expecting.

At the final stages, think of the numbers that were most effective for the tests and include only those in the reports. A lot of the results at this stage will be shared with the senior leadership team, so this part gets even more significant. Once all the reports are shared, ask for feedback, and discuss the roadmap for upcoming experiments.