Easiest way to track conversions across multiple domains (using third party cookies)
We're excited, very excited. Today we launched a new feature that allows VWO users to track goal A/B test conversions across multiple different domains and sub-domains without doing any extra settings. Due to restrictions posed by the way cookies work, earlier if multiple domains were involved we instructed users to take a hackish approach to track conversions. But now, it just works out-of-the-box. No extra setting, no code fiddling. Finally, cross-domain tracking is a reality.
Why is this significant?
A lot of internet marketers like to track a visitor across different domains. This isn't for any malignant purpose, but simply because their services involve multiple domains. Consider following scenarios (all of which our users have come across):
Doing a site-wide A/B test where www.example.com is the main website and www.example.org is the variation
Involvement of third-party payment processor. For example, if your site is located at www.mystore.com and your conversion goal is visit to a page www.shoppingcart.com/purchase.html
Suppose you have an international website and you want to do a consistent test across www.example.com and www.example.nl
You redirect visitors from multiple different lead gen pages to a main product website
While earlier doing such A/B tests was a painful job because cookies on one domain cannot be accessed from another domain, now (using VWO) it is as simple as it can get. If you create an A/B or multivariate test which has multiple domains, simply select an option (during test creation) which tells VWO to use third-party cookies for tracking visitors and conversions. After that, your test will work as expected (without doing any other changes) even when multiple different domains are involved!
What are third party cookies and how do they work?
Now here is the interesting part: how do we make cross-domain conversion work? The answer is third party cookies. See the following image to understand how it works: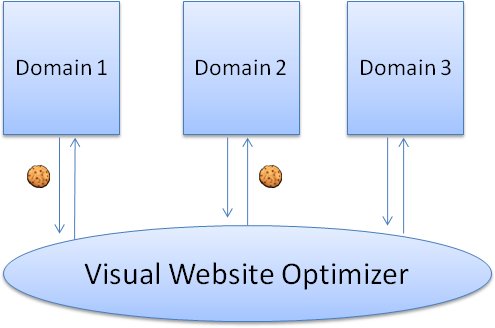 If you enable third-party cookies option in your test, in addition to storing visitor data (variation shown and conversion goals triggered) in cookies belonging to your domain, VWO will send that data to our servers too. Once the data has been sent, our servers set cookies for the domain dev.visualwebsiteoptimizer.com. If your test involves another domain, next time your page requests test data, our servers send back visitor data too (because we can access visitor cookies set by our servers). In a way, our servers act as proxy between your multiple different domains and hence conversions can be tracked. Third-party cookies don't tend to work smoothly on IE, Safari and Opera. However, after crazy amount of research and testing, we made it to work on all major browsers. So, this new method of cross-domain tracking should be fairly accurate.
Note that third-party cookie tracking is disabled by default. You need to enable by selecting an option during test creation process.
Feedback?
We believe that cross-domain tracking is an important milestone in the evolution of VWO. To best of our knowledge, no other A/B or multivariate testing tool provides this functionality out of the box. So, if you happen to do a test which uses this new feature, please let us know your feedback on effectiveness and accuracy.