Key Differences Between Multivariate Testing (MVT) And A/B Testing
Multivariate testing (MVT) is a form of testing in which changes are made to multiple sections of a webpage on a site, and then variations are created for all the possible combinations of those changes.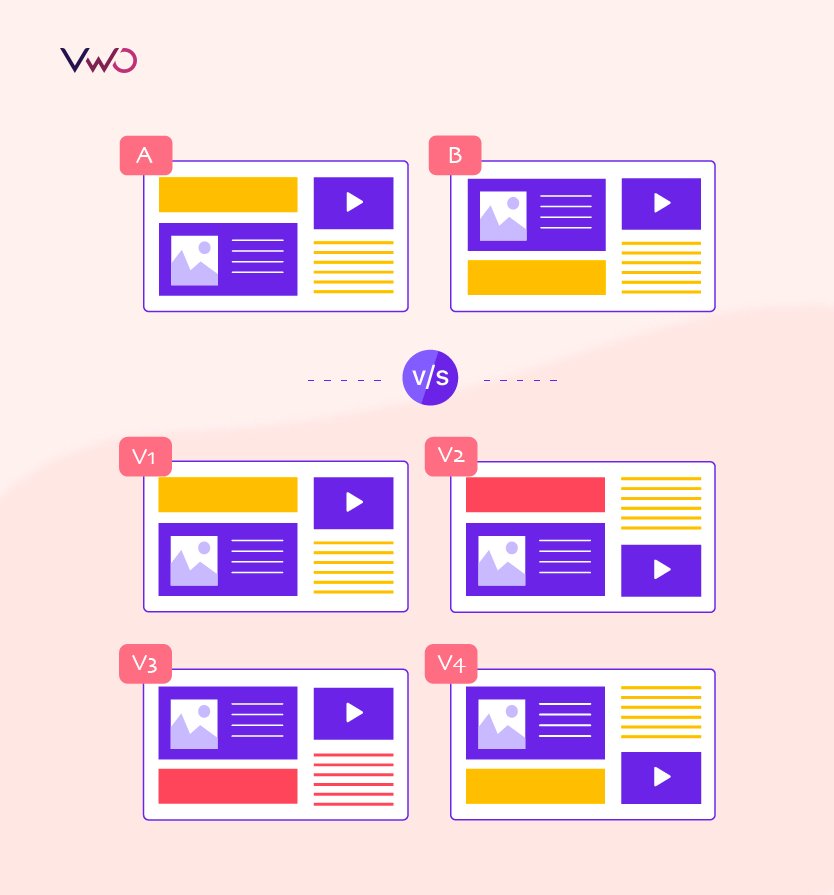 Many people seem to get confused about the terms A/B testing, split URL testing, and multivariate testing. Essentially, A/B testing and split URL testing are the same concepts but Multivariate testing is different. So for all practical concepts, consider A/B Testing = Split Testing.
The following table will illustrate the difference between Multivariate Testing and A/B testing (or split testing).
 

What is A/B Testing?

What is Multivariate Testing?

What is it?

In A/B testing you split traffic amongst two or more completely different versions of a webpage (landing page, home page, etc.) The variations of your original page can differ in any manner. You can either just change the headline; or you can even change the entire design, layout, offer and what not in the variations. What you change in an A/B test is only limited by your creativity. 

 

For example, if you are A/B testing on your landing page you may want to create one version with 15% discount, the other with free shipping and one with the same offer but different page design.

In a multivariate test, you identify a few key areas/sections of a page and then create variations for those sections specifically (as opposed to creating variations of the whole page in an A/B split test). So for example, in a multivariate test you can choose to create different variations for 2 different sections: headline and image. A

multivariate testing software

will combine all these section specific variations to generate unique versions of the page to be tested and then simply split traffic amongst those versions. That is, you will get these variations of the page: Headline1_Image1, Headline1_Image2, Headline2_Image1, Headline2_Image2.

How it works?
Traffic Required
Relatively Less
Huge
Best used for
Testing radically different ideas for conversion rate optimization
Optimizing and refining an existing landing page or homepage without doing significant investment in redesign
Example Case Study
Signups increased by 60% after actually removing the signup form

Hyundai and VWO Multivariate Test Case Study
I hope that was a good comparison between A/B testing and multivariate testing. If you think I left any point, please let me know. I will update the comparison table accordingly.