Optimization Has Never Been More Important Than Now: Endless Gain CEO Neil McKay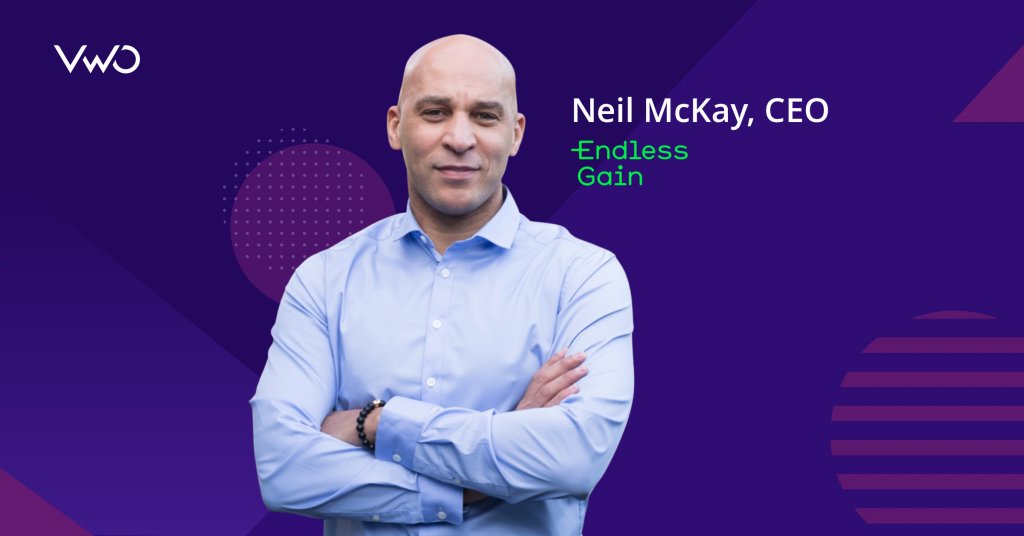 VWO has been partners with Endless Gain, a multi-award-winning optimization agency in the UK, for over 5 years now. Endless Gain is a pioneer in bringing biometric user research and a consumer psychology-based approach to conversion rate optimization. By combining biometrics and psychology, they have developed an unrivaled method for creating, optimizing, and personalizing customer experiences to increase revenue for their clients.
We speak with Endless Gain CEO Neil McKay about his views on optimization and partnerships.
Tell us about Endless Gain.
Endless Gain is a conversion optimization agency and our focus is to help our clients improve the buying experience for their customers. By doing so, more people are likely to buy from our clients' websites, leading to higher sales and revenue for them and better website experience for their customers. As a result, everybody wins.
Why customer experience optimization? How did that become the focus of the company?
My previous company was a digital marketing agency, and we saw a lot of revenue being spent to drive traffic to websites. But often, when that traffic got to the website, we didn't know how that traffic performed. And more and more clients were asking us what's happening with all that traffic. All transactions and conversions were attributed to the source—PPC, for example—but it wasn't as straightforward as that. A lot of other things were happening on the website that influences customers' buying decisions positively and negatively, and these were not being considered when measuring the success of the activity.
I really believed that by creating a business that focused purely on optimizing what happens on a client website, we'd be able to help the clients increase the return on investments from all marketing and retention channels. This way, we would be helping businesses become more self-reliant as opposed to dependent on third-party channels and solutions.
I spent over 12 months researching the sector before we eventually launched in January 2016.
You refer to yourselves as strategic partners. What is your approach to partnership?
Anybody can optimize a website. A business can do it themselves in-house if they want to. Our role is to work closely with the brands to understand exactly what their strategic goals are, and we gear our optimization towards that.
Optimizing a client's website can involve several things: doing research, implementing JDIs based on the research, creating hypotheses, designs, coding experiments, running them and analyzing them, and constantly looking to find new opportunities to improve the customer's experience.
Often, in optimization, when running experiments, the focus is on exploiting what already exists. But there are also areas where we explore new opportunities, to see if there is a new market or a possibility of reshaping the way things are done. And we do that for all our clients. By exploring new ways of doing things, we've been able to make things better, which have been game-changers for not only our clients but also for their sector.
And how long have you been in partnership with VWO?
We've been in partnership with VWO since the business set up. In fact, I was working with VWO before that when I spent a year beta-testing the business. I worked with Harinder Singh and both he and VWO have always been very helpful and supportive throughout our business' various stages of growth.
So what makes Endless Gain a good fit for clients?
We might not be the right fit for everybody, but we are the right fit for brands who have a high volume of transactions going through the website, brands who are looking to grow aggressively, who want to extend their team through partnering with an agency like us. Optimization should also be within their company's culture.
What was the most important lesson you learnt during the growth of Endless Gain?
The more you know, the less you know. The more you optimize, the more you realize that there is still so much to learn about optimization.
While optimization is very much based on science and there are hard and fast rules, there's also a lot of flexibility. There are many ways to get the desired outcome. It's about finding a methodology and process that works the best for you.
What are the typical optimization challenges clients face?
One of the most common things we see is that clients know they've got a problem on their website, but they just don't have the time to improve it. As a result, they fall further and further behind on achieving their strategic goals. We allow clients the opportunity to carry on with their primary and most important roles (trading) while we optimize their website for them.
When we optimize a client's website, we don't just stop at that. We take those learnings and stretch them across the client's ecosystem. So, for example, if we see a particular pattern in customer behavior and we're able to improve it on the website, we look at how we can take that experience on to their app, email marketing, catalogs, TV campaigns, etc. We look at how far we can stretch that experience within the client's ecosystem to create a better CX.
So how often can one iterate on the same page or experience?
You can iterate on the same page as many times as you like, but commercially we'd suggest you stop when you see diminishing returns. Until running experiments on a page is no longer bringing you the returns that you would require.
And even then, there still may be more to squeeze from the page. Have you reached the local maxima? Conduct more research and see if there are new insights. Consider if it's time to shift from exploiting to exploring.
What do you expect from a typical optimization solution?
We did an in-depth market study on 100 experimentation and personalization platforms earlier this year, which gave us an opportunity to look at different kinds of optimization solutions in the market.
Based on that, plus our company's experience with different platforms, I would say a good optimization platform should allow scalability, straightforward experimentation, the ability to process and inject data from the client's databases, personalization, and AI, and integration with the website's analytics platform, along with a clear roadmap of feature updates created through customer feedback.
A good optimization solution should also have great customer service for agency partners and clients and quick response and support when things go wrong.
What have you learned about client servicing and continuity over the years?
Business is about relationships. Things are not always going to go well, but if you have good relationships with your partners and clients, you can get through the challenging times together and shore each other up. But if you haven't maintained a relationship, it's unlikely you will be able to work together long-term.
So, communicate like crazy with your clients, your partners, your internal teams… explain, discuss, and debate if required. But always communicate and maintain positive relationships.
Any advice you'd like to give to optimizers and e-commerce businesses in this changing landscape?
Optimization has never been more important than it is now. Because of the shift in the landscape, more activities are and will be taking place online. Consumer behavior has changed and is changing. Research your customers, your sector, understand the changes in your customers' behavior and adapt your offerings to their needs accordingly.
If you haven't already, start your optimization journey. And if you're already optimizing, focus on how you can do it better and faster to give your customers an experience that turns them into fans of your brand.