How SaaS Businesses Can Optimize for Product Qualified Leads in 4 Steps
The term Product Qualified Leads (PQLs) is not new—It's been used by tech and SaaS companies for many years now. One of the first online mentions of PQLs was back in January 2013 by venture capitalist Tomasz Tunguz. Now the managing director at venture capital firm Redpoint, Tunguz defines PQLs as:
Potential customers who have used a product and reached pre-defined triggers that signify a strong likelihood to become a paying customer.
Since then, many thought leaders, tech and SaaS companies have introduced variations of the term in an effort to explain what PQLs are and why they are important for today's fast-growing companies. PQLs are different than Marketing Qualified Leads (MQLs) or Sales Qualified Leads (SQLs). One common misconception here is that PQLs are better than Marketing Qualified Leads (MQLs) and/or Sales Qualified Leads (SQLs).
They are different since they allow us to measure product growth. In this article, I'll be sharing with you a simple 4-step process to optimize for PQLs for your tech or SaaS company. If you're looking to build a product-led organization using PQLs as a way to measure product growth, this is the process you'll need to follow.
Step 1: Define the Product Actions that Indicate Qualification
The PQL approach uses in-product insights to predict when a lead is ready to make a serious commitment, either after the trial or within a limited-time offer period. Unfortunately, a 2019 survey of more than 500 SaaS founders reports that only one in four companies currently track PQLs.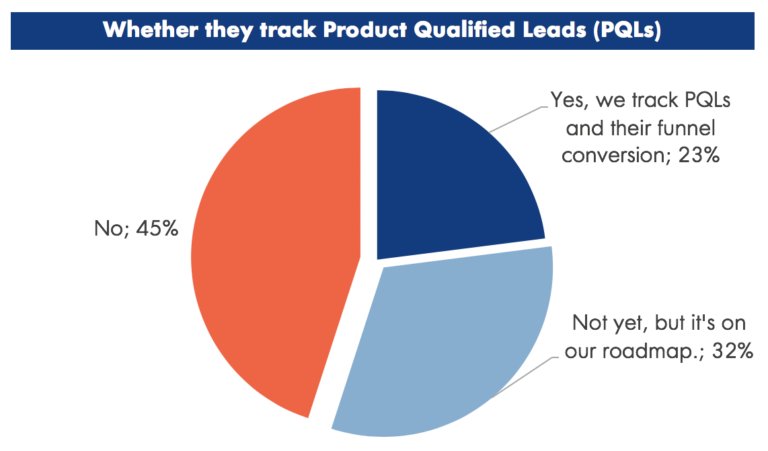 By measuring PQLs, you can essentially identify the users who demonstrate buying behavior related to bottom-of-the-funnel actions, rather than middle-of-the-funnel ones. These actions or events show us that a) the user is experiencing value out of the product and b) the user is now ready to become a paying customer. Of course, as with MQLs and SQLs, PQLs are not the same for every company.
According to the product engagement platform, Sherlock, success in terms of product qualification for a SaaS company is a combination of two things:
Activation—Is the account set up? Has the user reached the first meaningful outcome?
Engagement—Is the user engaged during the free trial? What are the features they are using more often and what kind of actions are they taking?
This shows us that if we want to measure PQLs, it's imperative that we start defining both activation and product engagement criteria. These criteria (actions) indicate qualification and can help us identify PQLs for our organization. Let's put that into perspective with some examples from existing SaaS companies, some of which you may already know.
Airtable
Airtable is a very cool and easy-to-use software for teams that need access to a database that works like a spreadsheet. What's more, teams can build their own spreadsheets within Airtable that can be used for various activities such as project management, campaign tracking, content marketing, and more.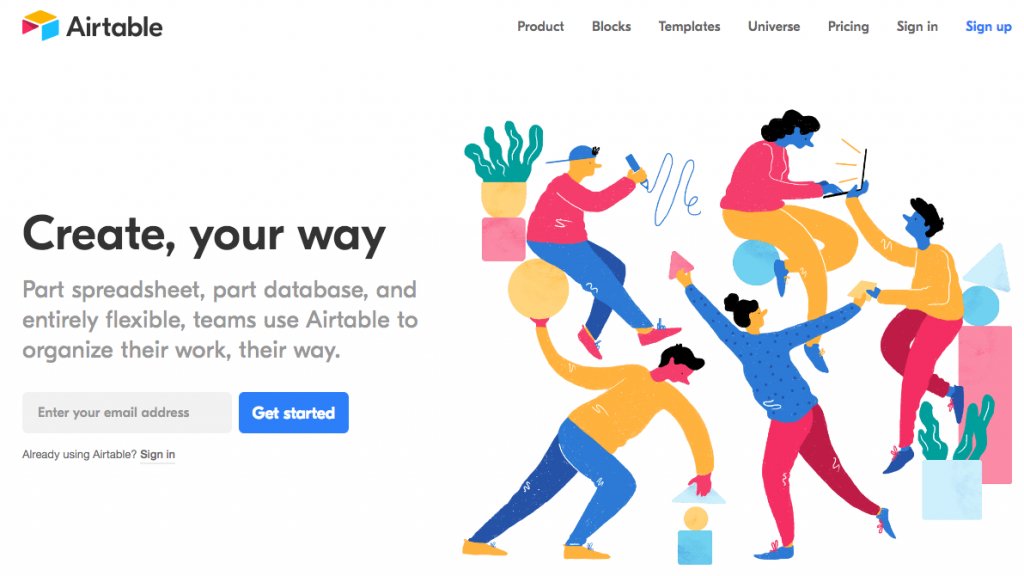 Airtable is a product-led company that uses a freemium model as a way to acquire customers. It also offers a variety of free templates that users can use and edit as a way to activate users more quickly. This also helps Airtable significantly reduce time-to-value, as users experience value from the product right away.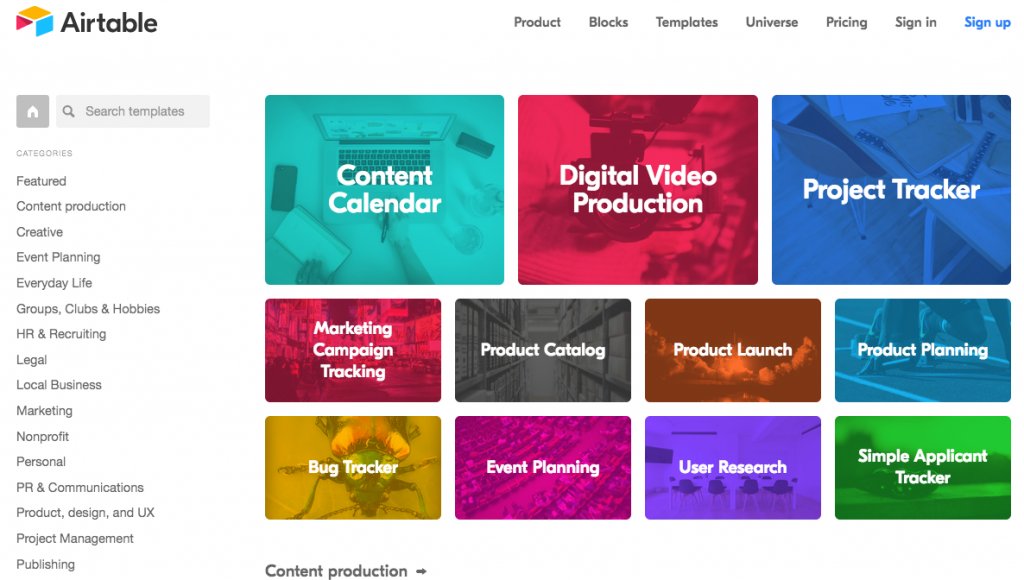 The question is, how can Airtable define product qualification and identify the users that are more likely to become paying customers? In other words, how can Airtable know when a user is a PQL?
For a company that offers a freemium model like Airtable, it could be something like the following: users who have created more than 5 Airtable bases (product terminology for databases) and invited more than 10 of their friends to join the tool are considered to be PQLs.
Author's Note: This is just an assumption for the sake of example, and has no relation to the actual metrics that indicate product qualification for Airtable.
To come up with these benchmarks for your product, you need to monitor user behavior before and after someone becomes a PQL. Put simply; you need to be able to find how measurable actions on a product level (i.e., create 5 Airtable bases) affect the likelihood of a user sticking with the product. And these actions have to be strictly related to the value someone gets from your product.
Expensify
Let's move on to the second example. Expensify is a receipt and expense management software tool. It follows a product-led approach and offers a free trial for each of its four pricing plans.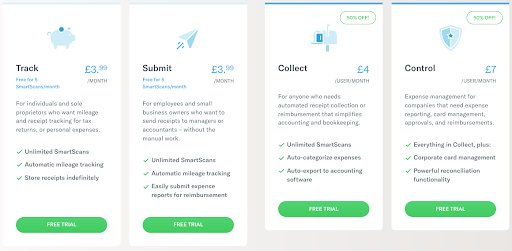 The learning curve here is short, and users can experience value within the product relatively quickly. What could indicate product qualification after someone has subscribed to one of Expensify's pricing plans? It has to be an action that's strictly connected to the value users get from the product.
For Expensify, it could be when someone sends more than five invoices within a month. If you think about it, the volume of invoices a user sends is directly correlated with the value the user gets from the tool. Thus, once again, the action(s) that indicate qualification is connected to the value that users experience within the tool.
The first step is to turn data into PQLs to take a look at the actions that indicate qualification. As you can see, these actions are different for every company. Your job is to find the actions that indicate both activation and product engagement for yours and qualify your leads based on how users perform those actions. Let's move on to the second step.
Step 2: Segment Users Based on Product Engagement Scoring Using The Product-Led Growth Flywheel
The Product-Led Growth Flywheel is a framework developed by Appcues. It divides users into four main categories based on product engagement and usage criteria:
Evaluators—Users who are interested in some features of your product as a potential solution to a problem they have.
Beginners—Users who understand how your product can help them and spend more time with it.
Regulars—Users who are proficient with the core features of your product and now want to expand in other use cases.
Champions—Users who have developed a strong relationship with your product and recommend it to other users.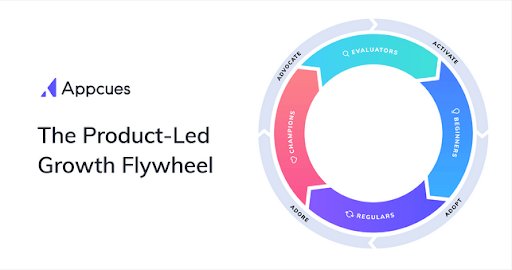 At this stage, you need to segment users based on the category they fall into. This segmentation—as mentioned earlier—should be based on actions that indicate product qualification, which is, in turn, is based on activation and engagement criteria. Let's see what this process looks like for an existing company.
SaaS
Bonjoro is a SaaS company that helps companies across different industries convert users into customers using video. Bonjoro managed to reduce its churn by 60% back in 2018 by focusing on PQLs. You may be wondering how it's possible to reduce churn by that much while focusing only on PQLs.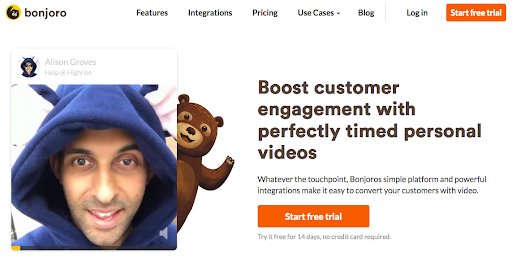 After doing some research, Bonjoro understood that it should segment users based on the number of videos its user was creating on a weekly basis. Thus, it did so using the following five categories:
Non-starter (< 5 per week)
Beginner (5 -10 per week)
Medium (10 -20 per week)
Heavy (20 – 50 per week)
Power User (50+ per week)
While the categories are not split into four as in The Product-led Growth Flywheel, the thought-process behind the segmentation is practically the same. The company segments users based on a value metric that indicates product qualification, making it easier for them to reach decisions on a product, marketing, sales, and even operations level.
Segmenting your users based on how they behave is essential to not only understand who are qualified to become paying customers, but also to be able to identify patterns and create strategies to increase free-to-trial conversion, reduce churn and improve product engagement. Now that you've learned how to segment your users based on product engagement, let's move on to the next step.
Step 3: Identify Patterns & Do Exploratory User Research
Are there any patterns in your case that have emerged from the previous step? Have you managed to get closer to understanding your users? How can you use these patterns to optimize your performance in various stages of the customer lifecycle? These are some of the questions you need to answer in the third step.
The segments you've created in the previous step will tell you how engaged users are with your product, what features they are most interested in and mostly using, and also help in identifying patterns about the users themselves (i.e. what roles they have, how many years of experience they have or in what kind of companies they work for).
This process is not only important on a product level. It can also help you on a marketing and sales level. Let me give you an example. Let's assume you've used the Product-Led Growth Flywheel to segment your users and come up with four categories of users:
Category 1
Category 2
Category 3
Category 4
Let's also assume that, based on your observations, Category 1 has a) the highest Lifetime Value (LTV), b) the lowest churn rate for your SaaS company, and c) users usually acquired from a specific channel (i.e., paid social). Let's further assume that you've managed to identify common characteristics between the users who belong in this first category.
What you can do next is to ask for your marketing and sales departments to try to focus on bringing in more users from Category 1 and less users from other categories, since the former are better for your business. Thus, the importance of segmenting your users based on product engagement can have a positive impact on your organization as a whole.
After all, keep in mind that only 13% of MQLs ever convert to SQLs and that this process takes 84 days on an average. This means that PQLs is definitely a way to speed things up and get better results for your SaaS or tech company. The question is, how can you use these segments to better understand your users and identify patterns?
In a speech he gave on SaaStock back in 2017, David Apple (ex-VP of Customer Success & Sales at Typeform) explained how Typeform divides its users into four categories based on product engagement and churn. Those categories were the following:
One-Offs—Customers who churn between the first three months
Casuals—Customers who churn between 3-12 months
Reactivators—Customers who use the product once, churn and then reactivate
Stickies—Customers who stick around for more than a year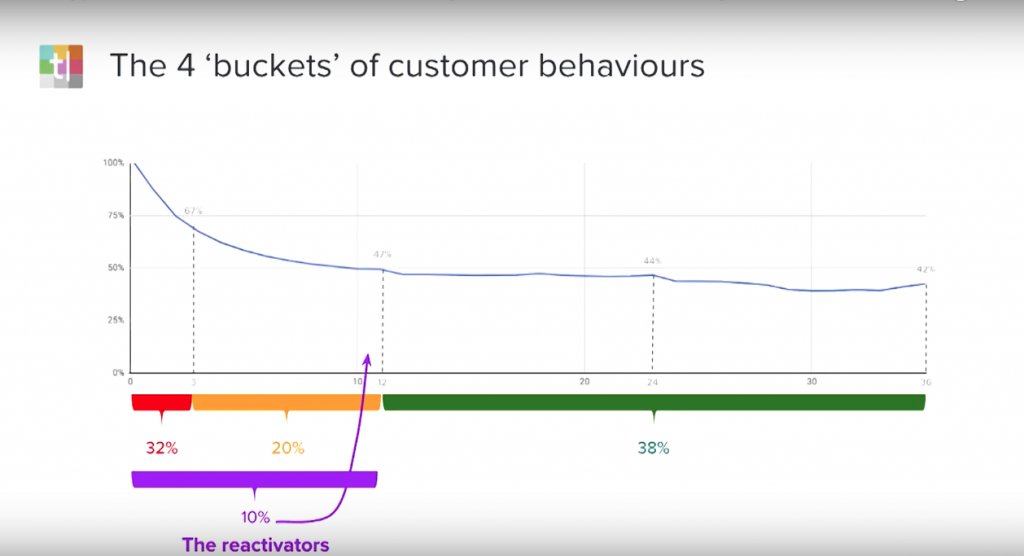 This process of segmenting churners taught Typeform that people who stick with their product for approximately 8-9 months are never going to churn. It also allowed the company to understand that its churn rate wasn't as bad as they thought, since they were measuring product usage and qualification in the wrong way.
Segmentation, in that case, allowed Typeform to better understand and interpret their churn metrics. Moreover, it allowed Typeform to optimize its acquisition efforts, as it knew who the ideal customers for the company were, where it could find those customers, and how much it could spend on acquiring them.
These patterns may not be visible right away. In fact, in most cases, they won't be. This is why you need to do some exploratory research. In other words, you need to start talking to your customers—you need to get closer to them and genuinely listen to what they have to say.
According to a 2018 survey of 1,700 product managers by Pragmatic Institute, respondents spent 32 hours per month replying to emails, 43 hours attending meetings, and 29 hours supporting team development efforts. The amount of time they spent talking to users is 8.5 hours per month.
It's my belief that product teams—and especially product managers—should be spending more time talking to users and less time on other, tactical activities. Only in this way can they identify exactly what it is their users want and need. Let's move on to the final step of the process.
Step 4: Experiment
The last step of the process requires you to run experiments that will allow you to see the effect in things like product engagement, activation or adoption. Experimentation is a critical part of the process and basically never ends. The results of experimentation can have a huge impact on the important metrics (such as conversions) of your SaaS company.
Something really important here is to establish benchmarks and try to iterate based on those benchmarks. For example, for Slack, a benchmark that shows a strong likelihood that the user (or team in Slack's case) is going to stick with the product is the number 2,000. As Slack's CEO Stewart Butterfield put it:
Based on experience of which companies stuck with us and which didn't, we decided that any team that has exchanged 2,000 messages in its history has tried Slack—really tried it.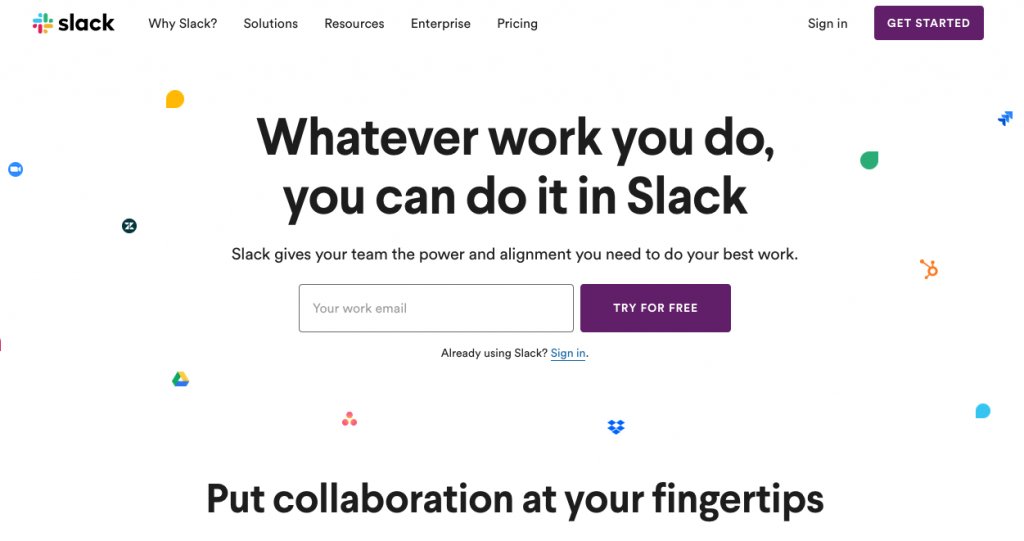 Butterfield continues:
For a team of around 50 people that means about 10 hours worth of messages. For a typical team of 10 people, that's maybe a week's worth of messages. But it hit us that, regardless of any other factor, after 2,000 messages, 93% of those customers are still using Slack today.
This means that 93% of the teams that exchange 2,000 messages since they started using Slack will stick with the product in the long-term. The question is, why is this important for a SaaS business like Slack? Because knowing this number allows Slack to start experimenting on a product level to discover what will make its users/team exchange 2,000 messages.
In the same vein, you should be experimenting on a marketing and sales level. To do that, you need to have your product, marketing, and sales teams aligned under the same goals and objectives. Fortunately, SaaS companies that have a growth team are 2.6x more likely to run one or more experiment at a time.

What's more, SaaS companies with a growth team are 50% more likely to have a clear definition of an activated user. The reason why this is worth mentioning is because a) only 44% have defined user activation currently and b) these experiments can have an actual impact on user behavior. Let's close this article with some final thoughts.
Final Thoughts
As many product growth experts claim, adding PQLs to your growth mix can have a significant impact on the entire funnel. In other words, it's not just activation, or adoption that's affected—the process can have an impact on your company as a whole. However, your PQLs are not suitable for every company or type of product.
Companies that adopt a product-led growth approach can use PQLs as a way to optimize their performance. However, a SaaS company selling to enterprises can't use PQLs, since the learning curve might be significantly higher than a SaaS that sells to SMBs. In addition, most enterprises have a longer trial period, but the users may not have permission to test the product. Thus, talking about PQLs here would be irrelevant.

In most cases, though, SaaS companies can—and should—be using PQLs to measure significant actions on a product level. After all, this is the main difference between a product-led approach and a marketing or a sales-led one. Using the 4-step process I've just shared, you can now start optimizing for PQLs for your own SaaS business as well.