Lessons on Customer Experience from Everlane
This article is a transcription of the fifth session from VWO's Masters of Conversion webinar series featuring Nadia Sko, Former Lead Digital Product Design at Everlane, and Vipul Bansal from the VWO marketing team. Nadia now works as Product Design Lead at Y Media Labs, California.
Nadia walks us through her thoughts about the X (experience) in UX (user experience) and why it plays a central role in crafting seamless experiences.
Here's a synopsis of this interesting conversation.
What is experience?
Marketers undertake activities like researching the market, seeking customer feedback, and experimenting, for one main reason – to create the right experiences for users. This is because great experiences lead to frictionless customer journeys and pave the way for higher conversions.
Tapping on these lines, Nadia begins the session by explaining what is experience and deciphering its importance in the retail industry. According to Nadia, experience is a feeling, and not a habit. When you visit a coffee shop and the barista creates a latte art, that is an experience. The early morning coffee you have everyday from your coffee pot is not, it's just a habit. She explains that in retail, simply giving your customers access to your products is not enough. You need to go beyond that and create frictionless and seamless experiences for the customers.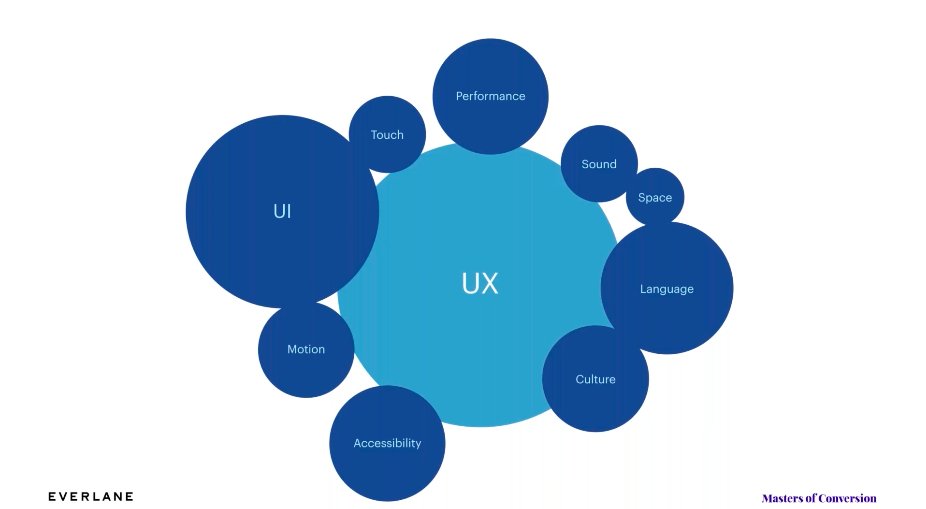 What is the role of technology in creating these experiences?
Technology by itself may not lead to creating the right experiences especially when it's not designed keeping the customer at the centre. Nadia explains this with the example of self-checkout machines.
The self-checkout machines were launched to reduce in-store dependencies and long checkout queues, especially in the departmental stores. However, the technology failed miserably. Rather than offering convenience, they either were unable to identify items, showed payment errors, or confused customers during the checkout process.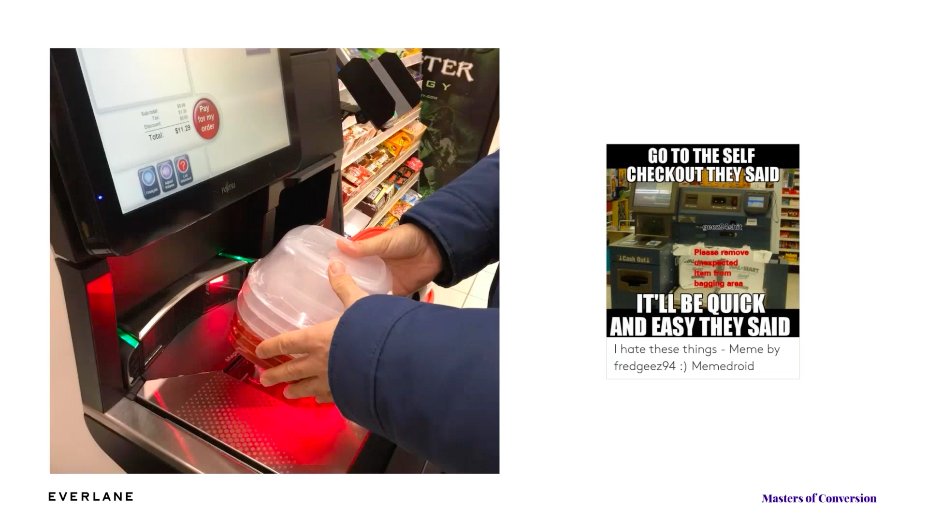 Amazon Go's 'Just Walk Out Shopping,' on the other hand, proved the opposite. Besides promising convenience and creating a smooth checkout process, it ensured an experience that customers wanted to relive frequently.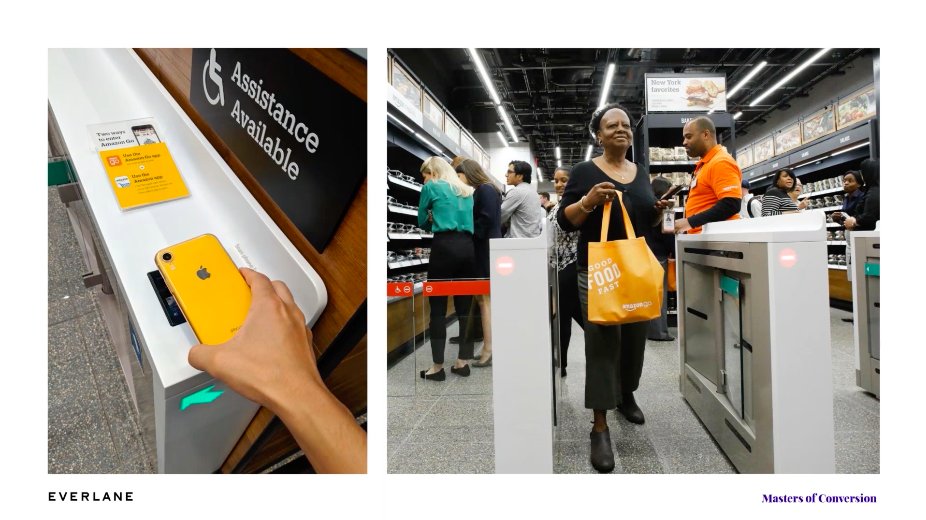 The best use of technology in retail is to create a smooth transition between online and in-store environments. Nadia explains how you can do so with connected customer profiles, creating contextual moments, and using technology as a bandaid and not a painkiller.
"Technology is not a bandaid; it's a painkiller."
What is a great retail experience?
Nadia emphasizes that a great retail experience is about capturing the essence of what you're selling.
So, how can you do this? You can tell a story, evoke emotions, and build a community.
Narrate a story that sells: One way you can capture the essence is by telling a story. As humans, we are wired for stories, and every brand has one. For instance, at Everlane, transparency is all the story. They want everyone to know where the product they're buying came from, how it came about, and its impact on the world.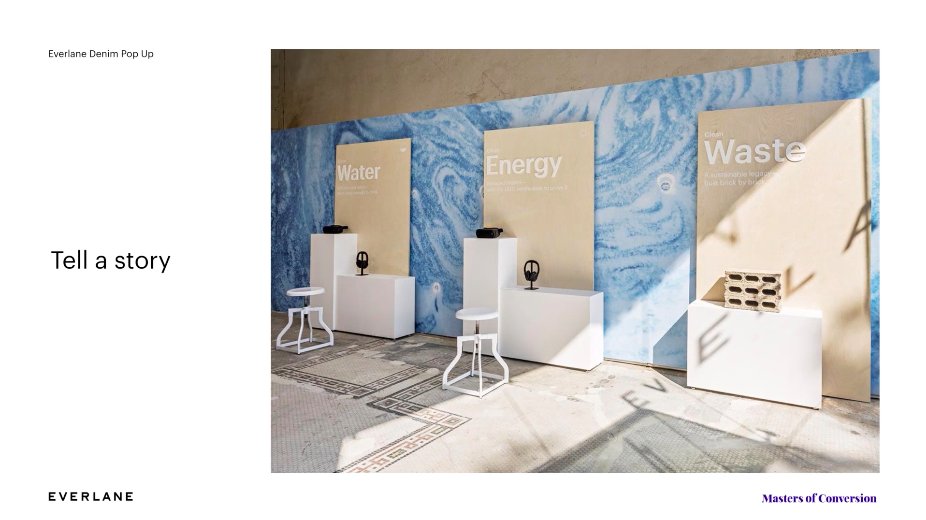 Evoke emotions: Another way to capture the essence is by evoking emotions. For instance, if you sell mattresses, you must convey coziness, sleep, and the like through your in-store and digital properties.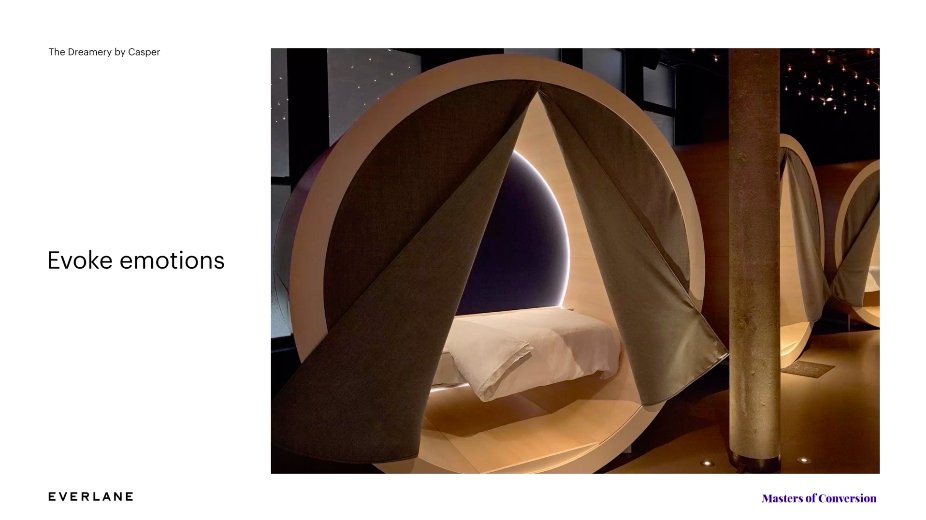 Build a community: Humans seek to be a part of a community. Apple is a wonderful example of building a sense of community in retail environments with the series of events that take place at Apple stores.
Storytelling, emotion, and community building are the key ingredients to memorable customer experience.
How does the above translate into eCommerce?
Nadia explains how eCommerce is no longer just about convenience and speed. A great eCommerce experience comes from three elements:
Inspiration and personalization
Recognizing that conversion, even though a key success metric, is a moment in the customer journey and not the final destination
Building customer trust
Nadia uses the example of Everlane's online space to explain the point of building customer trust. Their website shows customers where products are made, and shares everything about the factory and the manufacturing practices used. There is transparency around costs too.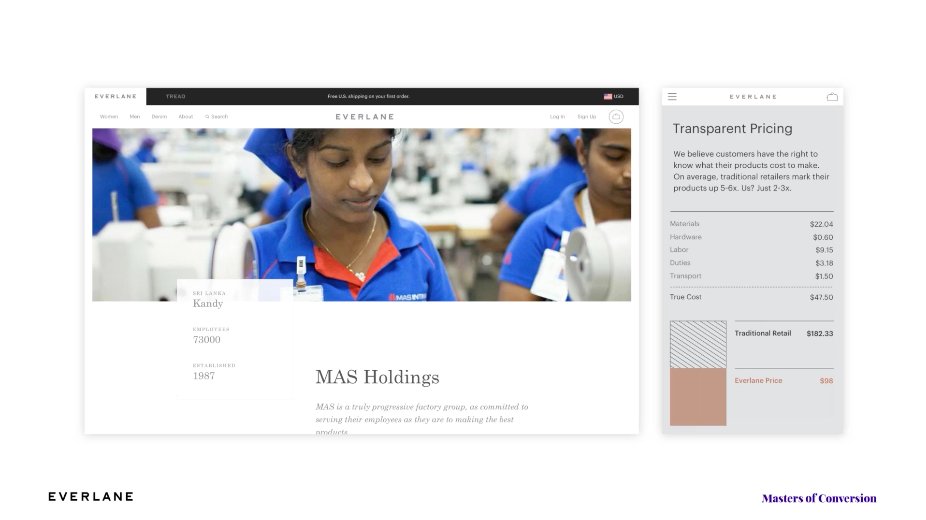 When you show your customers who you are and how you work, you take the first step toward building trust. And Nadia believes that trust is the first principle of conversion.
Concluding her session, Nadia states that the experience landscape is rapidly evolving, and knowing how to operate amid such volatility is strategically imperative. The sooner you understand your target audience's basic psyche and decode their definition of experience, the sooner you'll unlock doors to success.
We hope the webinar enriches your understanding of the importance of building strong customer experiences and spurs creative thinking about the effective ways to overcome challenges in the process. We invite you to share your thoughts and feedback.
You can also watch and register for our webinars here.