Launching VWO Web Rollouts: Make changes to your website and release them without involving IT
Update: In the first phase we launched VWO Web Rollouts for our customers but it is now available for everyone to sign up for and is free till the pandemic lasts. Get started here.
Ten years ago, we launched the first Visual Editor for CRO teams and, by reducing the dependence of marketers on developers, it transformed how businesses would create variations of their existing websites for A/B tests. Over the years, as our Visual Editor has gone through several iterations of improvements, our customers have repeatedly requested that they use the same editor for releasing changes on the website as well. They told us that instead of creating multiple versions of the website and A/B testing between them, sometimes they wanted to make direct changes to the website. So towards that, today, we are happy to launch 'VWO Web Rollouts', a new product that lets teams do exactly this, and more.
VWO Web Rollouts allow marketing, CRO, and business teams to make quick changes to their websites & digital products and push those changes live to their visitors sidestepping delays caused by sourcing developer resources and subsequent coordination with the IT team. We prioritized the release of VWO Web Rollouts because, during the ongoing COVID-19 pandemic, we realized that many organizations are constantly evolving their operational procedures and customer policies multiple times a week (sometimes even daily) and they want an equally agile way to update their websites to announce them to their customers. We believe that VWO Web Rollouts will make their job easier.
How to get started with VWO Web Rollouts?
We want all businesses that can benefit from VWO Web Rollouts during the COVID-19 pandemic to be able to use it. So, we've decided to give access to VWO Web Rollouts at no cost until 30 September 2020 or until COVID-19 subsides. Sign up here.
If you use any of the other VWO products, you would have already installed VWO Smartcode on your website and since VWO Web Rollouts is powered by the same VWO Smartcode, you don't need to do anything else. However, if you don't have VWO Smartcode on your website, the first and only step that will require your IT team's help is to get VWO Smartcode installed.
What does VWO Web Rollouts do?
VWO Web Rollouts is designed to help teams accomplish the following three functions with speed and agility:
1. Edit & publish changes on your websites & web applications
With user-friendliness at the heart of the product, VWO Web Rollouts is designed to help you point and click at any element on your website and edit with the help of a nifty Visual Editor. Using the Visual Editor to make changes to your website is as simple as using a presentation tool like Microsoft PowerPoint. Once you've finished editing the website, you can push changes live with the click of a button.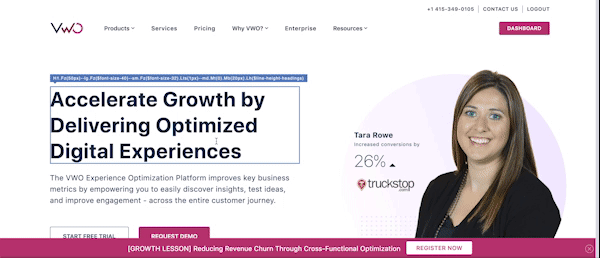 As an example, your organization could use VWO Web Rollouts to publish COVID-19 updates and their effect on your policies like United Airlines did on their website (they didn't use VWO Web Rollouts, this is just an example).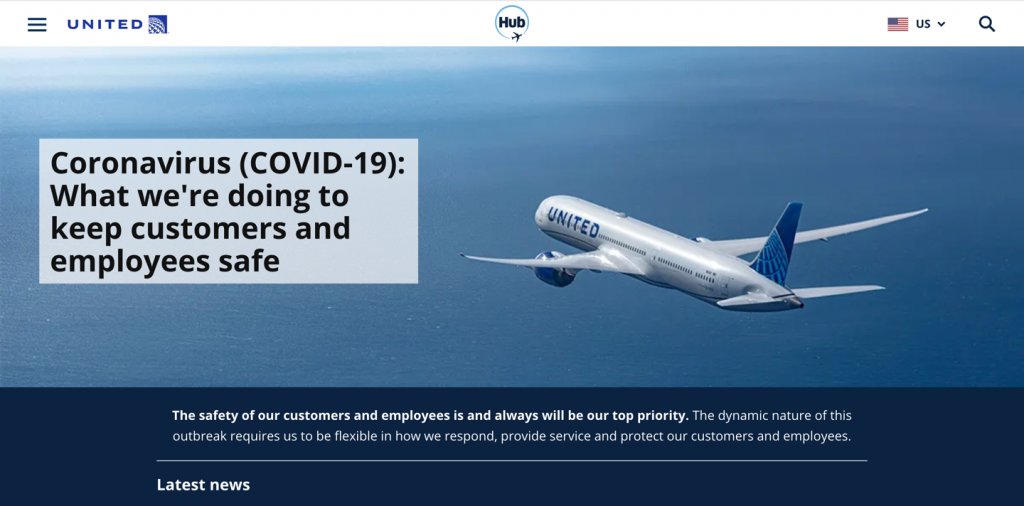 2. Use ready-made widgets to collect contact details for further communication
In addition to editing your existing website, VWO Web Rollouts also lets you add new features to it by utilizing our library of ready-to-use widgets like popups and banners. Popular use cases of these boxes arise when companies want to share business updates that warrant more attention than others.
For example, Grubhub is asking their visitors to order from their member restaurants to keep such businesses afloat. Form pop-ups like these are one of the many formats in VWO Web Rollouts that you can use to drive action.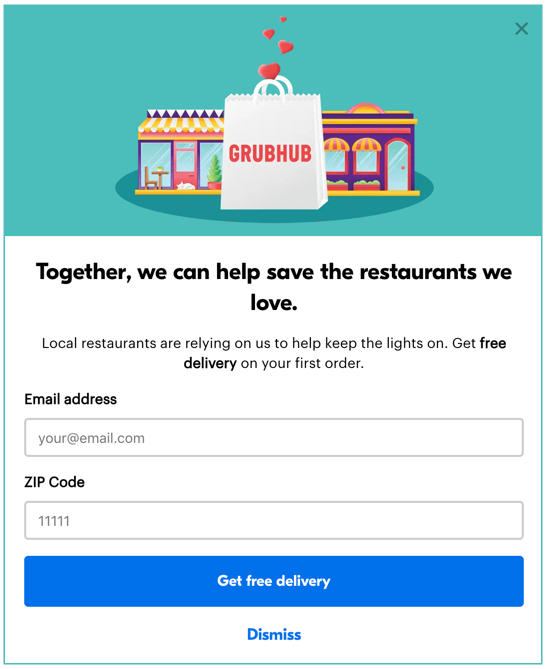 Similarly, travel companies might want to share their ongoing policy changes for flight and travel bookings by adding a popup or a modal box using VWO Web Rollouts.
These pop-ups can be customized around your brand guidelines. For critical information that can't wait, you can also choose our prebuilt pop-ups and get started.
For companies looking to announce COVID-19-related information, we have also stacked the pop-up library with one.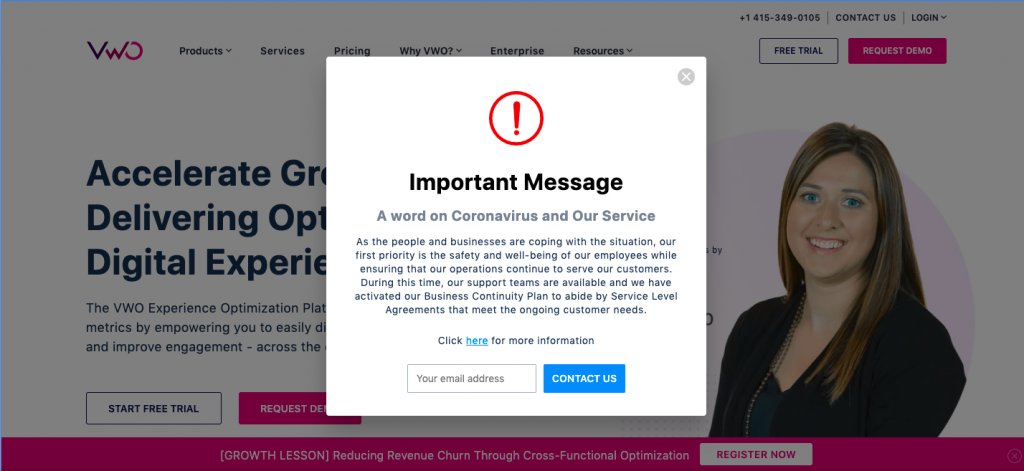 VWO Web Rollouts supports text, image & form pop-ups along with a few hybrid variants like subscription pop-ups to collect visitor information.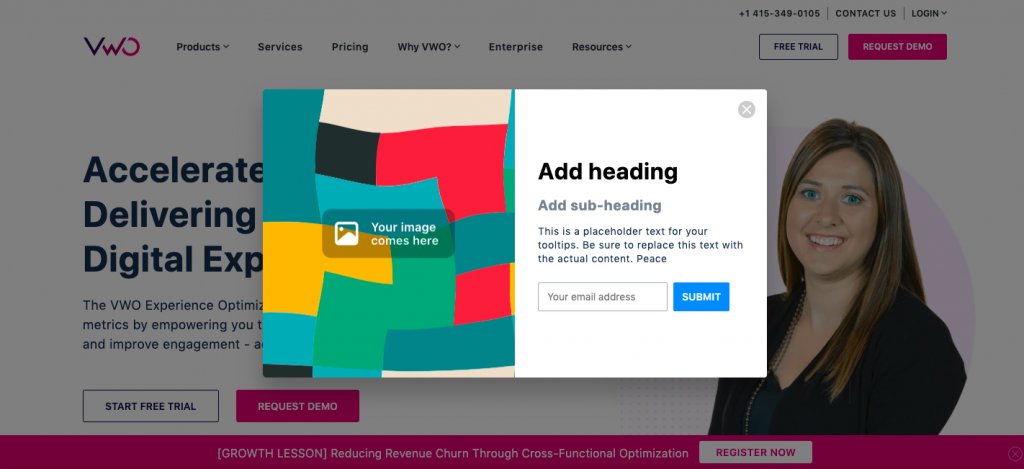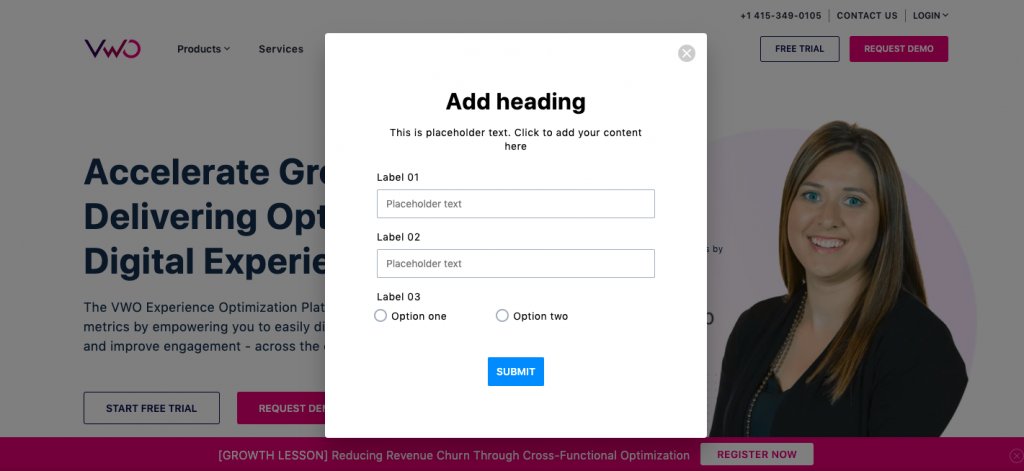 3. Redirect users to important announcements
VWO Web Rollouts lets you redirect users to important communication from pages that typically see more traction (eg. home page) via horizontal bars in the header or the footer. You can launch such announcements or action bars with custom branding (or choose one from our prebuilt library)
We have also accounted for additional flexibility in letting users work with custom sizes and placement options inside VWO Web Rollouts
For example, Microsoft has a top bar that routes visitors to their response to COVID-19 from their home page.

Or Sephora that routes visitors from their homepage to their bit against Coronavirus. Unlike Microsoft, Sephora chose to place the bar right after the first fold and the beginning of the second.

Just like Microsoft and Sephora, you can direct your visitors towards your COVID-19 policy by creating an announcement bar via VWO Web Rollouts. To help you do this fast, we have packed the announcement bar library with a pre-built COVID template that you can start using with just one click.
If you are familiar with VWO's Visual Editor, you'll find working with VWO Web Rollouts to be a similar experience: Adding elements, triggering widgets (all formats you read above), resizing & cloning elements or pages along with client-side editing and more are orchestrated in identical ways like you'd see in the Visual Editor.
4. Show different website content to different segments of users
Using VWO Web Rollouts, you can target website content and online customer experiences around multiple segments like country, city, mobile/desktop devices, traffic source, campaign type or a combination of these (e.g. visitors from San Francisco using iOS see a particular message and others see something else).
For more on the entire list of all segments available inside VWO Web Rollouts, refer to this helpdesk article.
How to get free access to VWO Web Rollouts?
To get started with VWO Web Rollouts at no cost, just write to us at support@vwo.com or reach out via our support handles (Intercom chat, social, or a hello to your account manager) — we shall configure a VWO Web Rollouts account for you in no time!
Summing up
To conclude this announcement, we would like to reiterate our advice to businesses that during the COVID-19 pandemic, they should focus on optimizing trust with their customers, employees, and suppliers. Specifically for VWO customers, we recently posted a blog on how to use different capabilities of VWO when customer behavior is volatile and uncertain. At VWO, we're doing our best to ensure our customers and employees are minimally affected. But we understand that times are challenging. So if there's anything where we can be of help to you, please feel free to reach out to us and we would love to figure out if we can help your customer experience optimization efforts run as usual, amidst all the disruption around us.