A Conversation with Peter Sandeen: All You Need to Know About Value Proposition
A good value proposition forms the core of all conversion strategies. It forms the basis for convincing and converting visitors to customers. A unique value proposition determines whether a visitor will care to understand and pay for your product/service or run off somewhere else.
Today, we have someone who is considered an authority on value proposition. He has been featured in ProBlogger, Kissmetrics, Think Traffic, among other websites. He distinguishes himself with his expertise in communicating clear and effective value propositions for his clients. He is Finland-based business marketing consultant Peter Sandeen.

Peter's strategies has helped many businesses improve their conversion rates, get rid of their identity crisis phases, and make a mark for themselves in their respective industries.
So, in this interview, we're going to leverage Peter's expertise and experience to learn more about value propositions and how you can use them to improve the conversion rate of your website.
SMRITI: Welcome to the blog, Peter!
Let's start simple to give some reference to our new readers who might still be unaware of the concept of value proposition. How would you define it in simple words? And what do you think are the 3 main qualities that a value proposition should have?
PETER: "Value proposition" is often defined as the "value customers get from you". I think that's a lazy definition. It makes the concept of value proposition mostly suitable to executive meetings.
I define it as "the collection of the best reasons your target customers have for taking the action you're asking for". For example, your "business value proposition" is built from the best reasons your target customers have for noticing you, paying attention to you, joining your email list, and buying your products.
In other words, when people understand (and believe) the ideas in your value proposition, they're as likely to buy from you as they can be.
That's why I think your marketing should almost entirely focus on your value proposition. Everything else is — by definition — less likely to make people pay attention and buy.
P.S. If you want to get clarity on what your value proposition is — why people should pay attention to you, join your list and buy your products — you can download the FREE PDF that explains Peter's quick 5-step process in detail that he uses with his clients to come up with an effective value proposition.
A strong value proposition is built from ideas or 'reasons to act' that are unique, believable, and desirable. If any of those is lacking, your marketing just can't be very effective and your conversion rates will be far from what they could be.
If it's not unique to you, it doesn't give people a reason to pick you over a competitor.
If it's not believable, well, people don't put any weight on it.
And if it's not desirable — more than anything else — it doesn't give people any reason to be interested in what you can offer.
But when it is all that, it almost guarantees that your marketing has impact (assuming you get your value proposition across in your marketing).
SMRITI: You're one of the best known conversion experts in the industry. But you distinguish yourself from other experts with your specialization in figuring out clear value propositions for your clients.
What prompted your inclination toward value proposition more than other aspects of conversions like CCDs (Conversion centered design) or copywriting?
PETER: I used to do a lot of copywriting. And I've been interested in CCD and other conversion aspects, too.
But when you define and use "value propositions" the way I do, they're the most natural place to start conversion optimization. And they make by far the biggest differences in results 😉
I think too many people focus on minor details (e.g. button colors, page layout, word-choices) when their marketing — everything from advertisements and landing pages to emails and sales copy — still revolves around messages that don't make people convert.
Simply put, even the best landing page design won't make anyone convert if they don't have a reason to do so.
Your value proposition is the collection of the best reasons they should convert, so it's natural for me to start conversion optimization and marketing strategy work by defining a clear, strong value proposition for the client.
Then we know we're not just trying to make people take action without actually giving them the best reasons to do so.
And to be honest, I find the concept more fascinating (and it's more natural for me) than any of the other aspects of marketing.
Figuring out what makes the biggest difference to people and then delivering it feels like the "right" way to do marketing. It's not manipulating people even the slightest; instead, it just helps people see the most value possible in what you offer them.
SMRITI: For most people I know, finding their value proposition is the hardest thing to do. This is especially true for small businesses that are still working their way up and struggling hard to distinguish themselves from the crowd.
What advice do you have for such businesses? How do you think they can come up with an effective value proposition if there's no core feature that gives their business an edge over their competitors?
PETER: There's always something that makes you the best choice for your target customers. Always.
But many people fall for one or more of the typical mistakes:
Who are you targeting? It's easy to target a market segment that's too wide. When you're not specific enough, you'll struggle to provide unusual value for anyone. And then you can't come up with a strong value proposition.
What your competitors do? For example, every web hosting company claims to have fast and reliable servers. So, people no longer make decisions based on those claims. Instead, they look for something that makes you different and better than your competitors. If you try to claim that you have even faster and more reliable servers, it doesn't make a difference to people.
How do you back up your claims? People don't automatically believe you. They're unlikely to think you're simply lying, but your claims lose impact if you can't make people truly believe them. You can't just say that you're product is "the best" if you can't quantify and prove it somehow.
Sure, there are plenty of other things you need to consider too.
But the start is always your target market. When you know whom you're targeting, you can figure out a way to deliver exceptional value for them.
The most typical reason people find that part hard is that they're not really clear about their target audience. They think they are, but they're not quite specific enough.
So, if you struggle to see how you could deliver exceptional value, get clearer about whom you're targeting and what they want. And then deliver it more, faster, better than anyone else.

SMRITI: What's the most successful CRO test run by you? Please share your story with us.
PETER: The most successful single test was a sales page test I did with Danny Iny. Long story short, I wrote a new sales page that increased sales by 423%. I've run series of tests that have created more significant improvements, but so far, that's the biggest improvement any one test has made.
In that case, the difference came from the approach. In other words, I highlighted different aspects of the product, that is, different reasons to buy it. So, even though I didn't consider it "value proposition" at the time, that's really what made it work.
But I think a more interesting test was a test I ran on my own site. Not because of remarkable conversion improvements, but because it shows how easy it is to miss what people need to hear to convert.
I hate it when people just present test results without giving enough background information to understand what the test is all about.
This is a simple opt-in landing page test. The traffic came (during the test) almost entirely from a page (on another site) that showcases landing pages.
So, the visitors were only looking for design ideas for their own pages, which makes them very unlikely to convert. The control's conversion rate was 14.58%, which goes to show how relatively "cold" the traffic was. You can see the Control page below: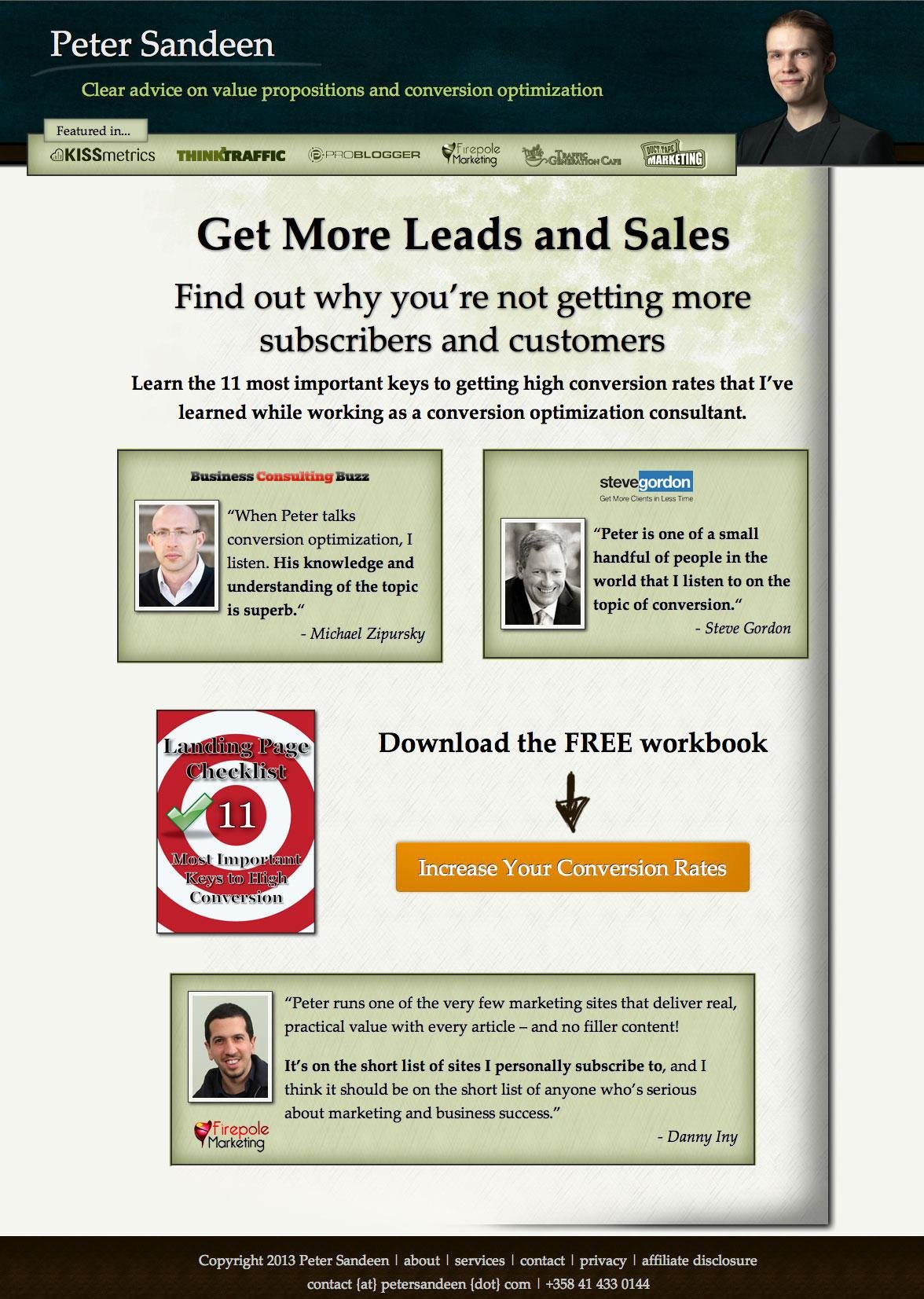 The only change made on the test page was the order of the testimonials, as you can see below: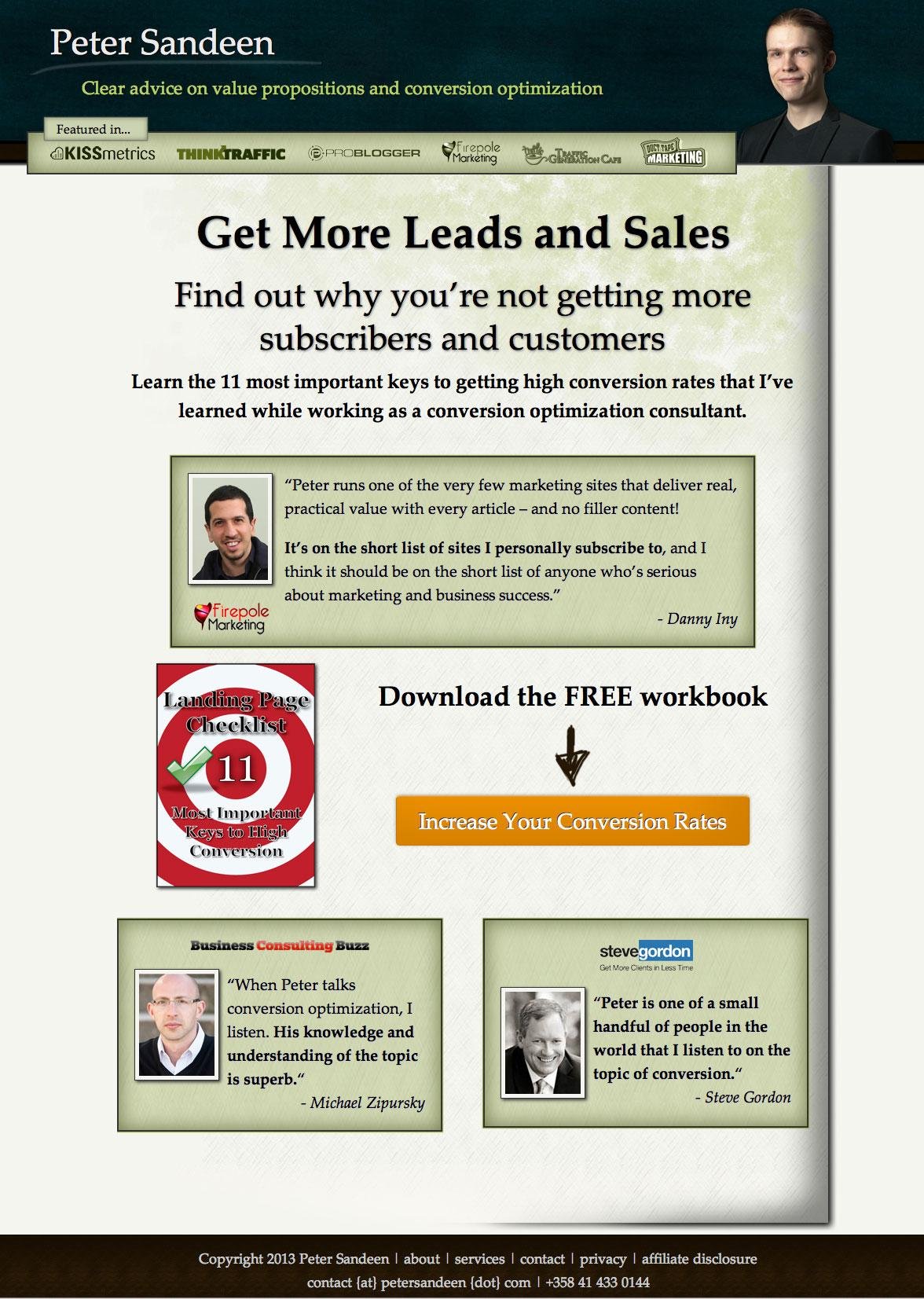 Conversion rate went up by 94.59% (at confidence level of 97%).
It would make sense if the top testimonial said something about the freebie or even my expertise relating to the freebie, but it doesn't.
Instead, the testimonial alleviated the visitors' fear of joining yet another email list.
Previous tests had already shown that creating more trust made a huge difference in conversion rates. But I hadn't thought of the — perhaps obvious — issue of joining another list as the biggest problem.
Maybe conversion optimization is so interesting because you run into results you just didn't expect and realize something about what makes people take action you hadn't thought of before.
Thank you so much for your time, Peter. This is extremely useful and something that is often overlooked by most businesses even now. I'm sure your advice will come handy when our readers want to come up with an effective value proposition for their businesses.