How We Used an Inbound-Outbound Hybrid Process To Accelerate Our Sales Funnel
Zoeb Khan
Marketer at VWO, design enthusiast, has a penchant for wise sayings and vows to climb Mt. Kilimanjaro before turning 30.
Like most SaaS marketers, we were always sold on inbound. Outbound, not so much. We've done our fair share of outbound campaigns but admittedly, the results were never very compelling.
Don't get me wrong. Outbound works and every sales guy will vouch for that. The only trouble is to make it work on scale when your expertise lies in inbound.
If you are not convinced about Outbound yet, give these a good read.
An Argument for Specialized Sales Teams — An Interview with Aaron Ross. (Aaron managed several important breakthroughs within outbound which enabled them to add over $100m in incremental recurring revenues over a few short years. Yes, outbound Sales can be that vital.)
So we decided to take another shot at it, ideating the process from scratch. The idea was to build our expertise in outbound while not taking our foot off inbound.
Our efforts culminated in what we now call the "funnel accelerator." By using the comparative benefits of both inbound and outbound processes, we were able to:
Accelerate high-quality lead discovery and,
Speed up movement of inbound leads through the funnel
If you are looking to pilot your outbound process (right from prospecting to tracking results) or looking to accelerate your funnel velocity, this post is for you.
Let me take you through a series of questions we had to answer ourselves while planning our outbound process, and along the way you'll see how it morphs into an inbound-outbound hybrid.
Prospecting Leads for Outbound Using Inbound Leads as Cue
Things had to begin somewhere. Most outbound campaigns involve customer prospecting as the first step. Inbound to the rescue. We had just held a webinar with Kissmetrics on 'A Step by Step Guide to A/B Testing Research.' These leads had similar qualities:
We've already built a rapport with them.
We are fresh in their minds.
The quality of the leads upon analysis showed most of the attendees were relevant to our target market.
Creating The Contact Tree of Decision Makers
The attendees acted as a blueprint to search for decision-makers around them. The interest of the attendees in the webinar was a strong cue that their employers might be interested in A/B testing and conversion optimization, by extension. To build the 'contact tree' we had to first come up with the job titles of decision-makers. Here's a sample list of keywords for the job-titles and job-functions we wanted to target.

This list was derived after I researched a few customers we acquired in the month of August, 2015. I chose this month because we hit our highest MRR (Monthly Recurring Revenue). Also,  the profiles of customers in August was a good representation of our ideal customer base. For good measure, I also conjured up any other obvious possible job titles. The below image is a sample of the final contact list:

Our first touch was the analyst who attended the webinar. The other contacts like VPs and Digital Marketing Managers were added so that we can target the other decision makers, too.
Our objective was to capitalize on the opportunity presented by these leads. We could in theory:
Push our attendees down the marketing funnel quicker.
Reach out to decision makers who were not part of the funnel yet.
Planning the Outbound Email Campaign
The main questions we needed to answer before setting it up were:
How many emails do we need to send to each lead?
How many people (specific to each company) do we send it to?
How do we pitch?
To what degree should we personalize the emails?
What should be the content of the email?
How will we send the emails and track progress?
For my research, I looked up outbound campaigns done by other SaaS companies to see if any practices could be emulated. Some of the companies I looked at were Freshdesk, SalesLoft, Pipedrive among others.
How many emails do we need to send to each lead?
We held a meeting with our sales team, saw the track record of emails used by them. We optimized the sequence for an outbound strategy and came up with a four-step email plan.
1) The personalized introductory email
2) Follow-up email
3) "Have you seen previous emails?" email
4) "Direct me to the decision maker" email
That's when further inspiration came in the form of Ceros.
Ceros (an interactive content creation software for marketers & designers) targeted us with their outbound campaign.
Ceros sent two emails in five days to five people in our company. The first was the pitch. The second was a classic follow-up.
Here's the screenshot of the emails: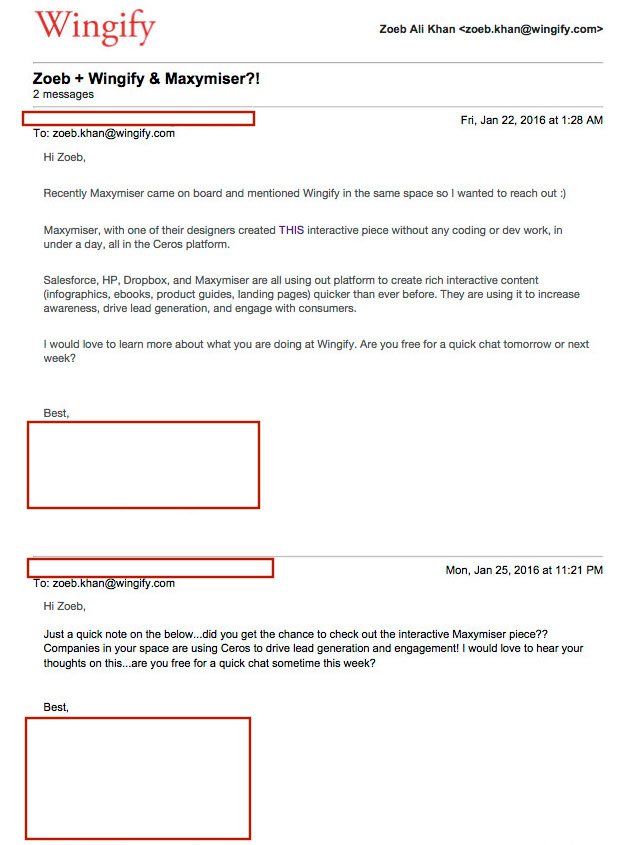 The pitch was hard hitting. It told us how one of our competitors is using Ceros, and why we might be missing out.
We may not have gone ahead with it, but it did affect two crucial things. One, my colleagues and I were talking about it — a small brand-building exercise in itself. Second, we became motivated about our own campaign.
How many people (specific to each company) do we send it to?
To decide on the number of people to send it to, we used a simple logic: The bigger the company, the bigger its marketing team, and hence a greater number of emails to be sent. And vice versa. However, we also realized that the number of emails won't matter unless we target them to the right people.
How do we pitch?
For our initial pitch, we identified three broad segments of target audience.
Users of our rival technology, such as Optimizely, Omniture, Maxymiser, etc.
Agencies.
Companies that are not currently using any A/B Testing tool.
The segmentation would help us decide how to craft the pitch.
To what degree to personalize?
The next challenge was personalization. Inspiration was necessary.
Here are 3 examples of personalization that I found interesting:
1) "How Freshdesk poached us from Zendesk using their remote sales team (and our integration with them!)." The salesperson email to the founder of Timedoctor contained a custom image.
The introduction was also engaging,
"Hi Liam,
First of all, a big congratulations on your awesome idea! The uniqueness of your concept and service is inspiring. I remember using Timedoctor to see how I prepared for my exam, after seeing my father use it for his company. I loved it! My best wishes to your team. "
As Liam himself pointed out it's personal, real and grabs your attention. Liam even mentions that he did a search to check whether the sales person's (Preethi) father had signed up for Timedoctor. Liam was of course assured that this was true. The end result: Freshdesk poached Timedoctor from Zendesk, and now even have an integration with them.
The writer Janet Choi says you must go beyond a first name, try using behavior targeted mails, i.e. sending emails based on the individual specific actions.
3) Finally I used Justreachout.io and contentmarketer.io for contacts. They've got some tried and tested email templates, which begin with quoting and appreciating an article or a blog post the author wrote. They claim it to be the best way to grab attention.
What Should be The Content of the Email?
Here are the email templates I used.
Scenario 1 :First email – Rival Tech User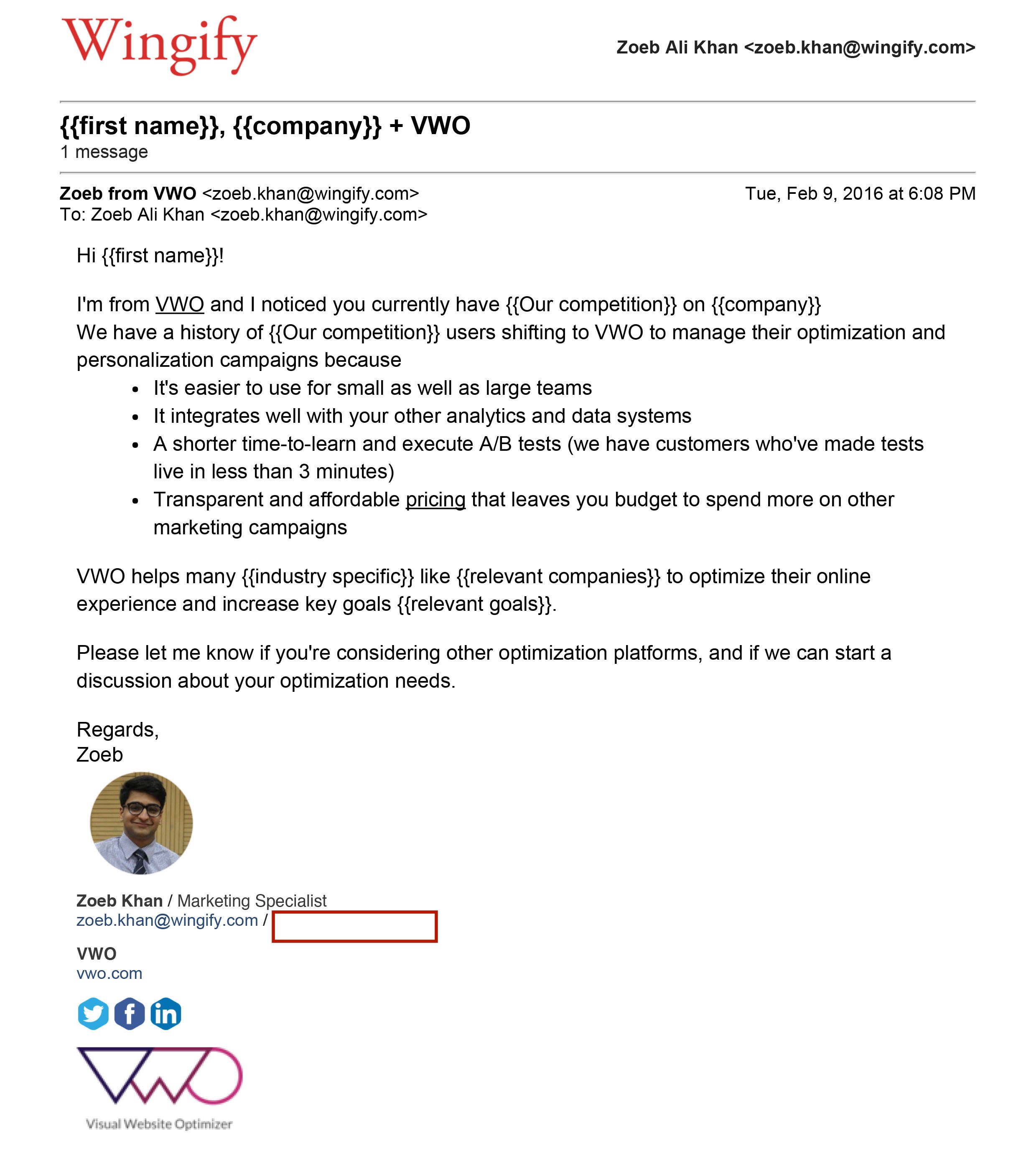 Scenario 2:  First email – Agency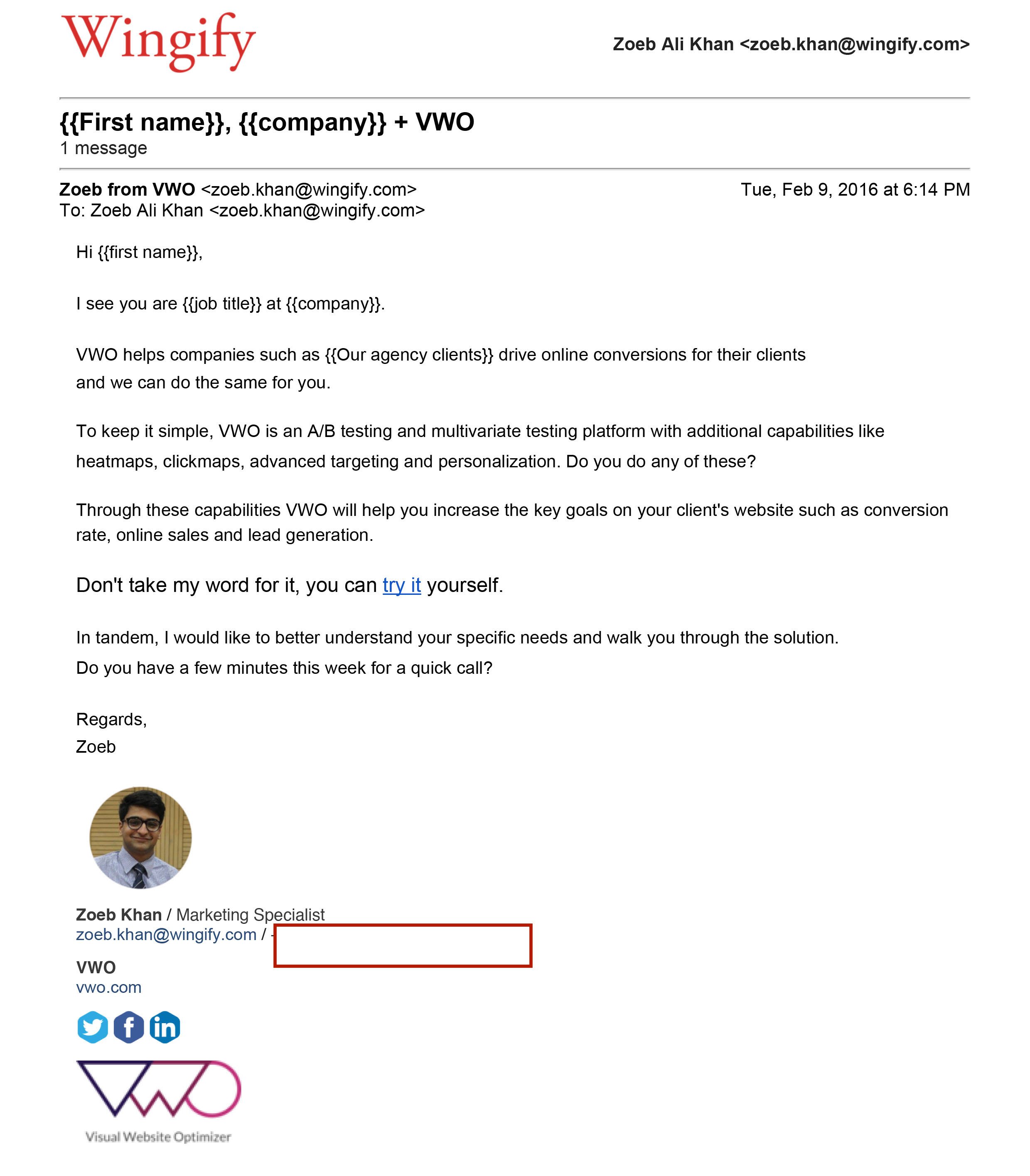 Scenario 3: First Email – no A/B testing tool being used by target company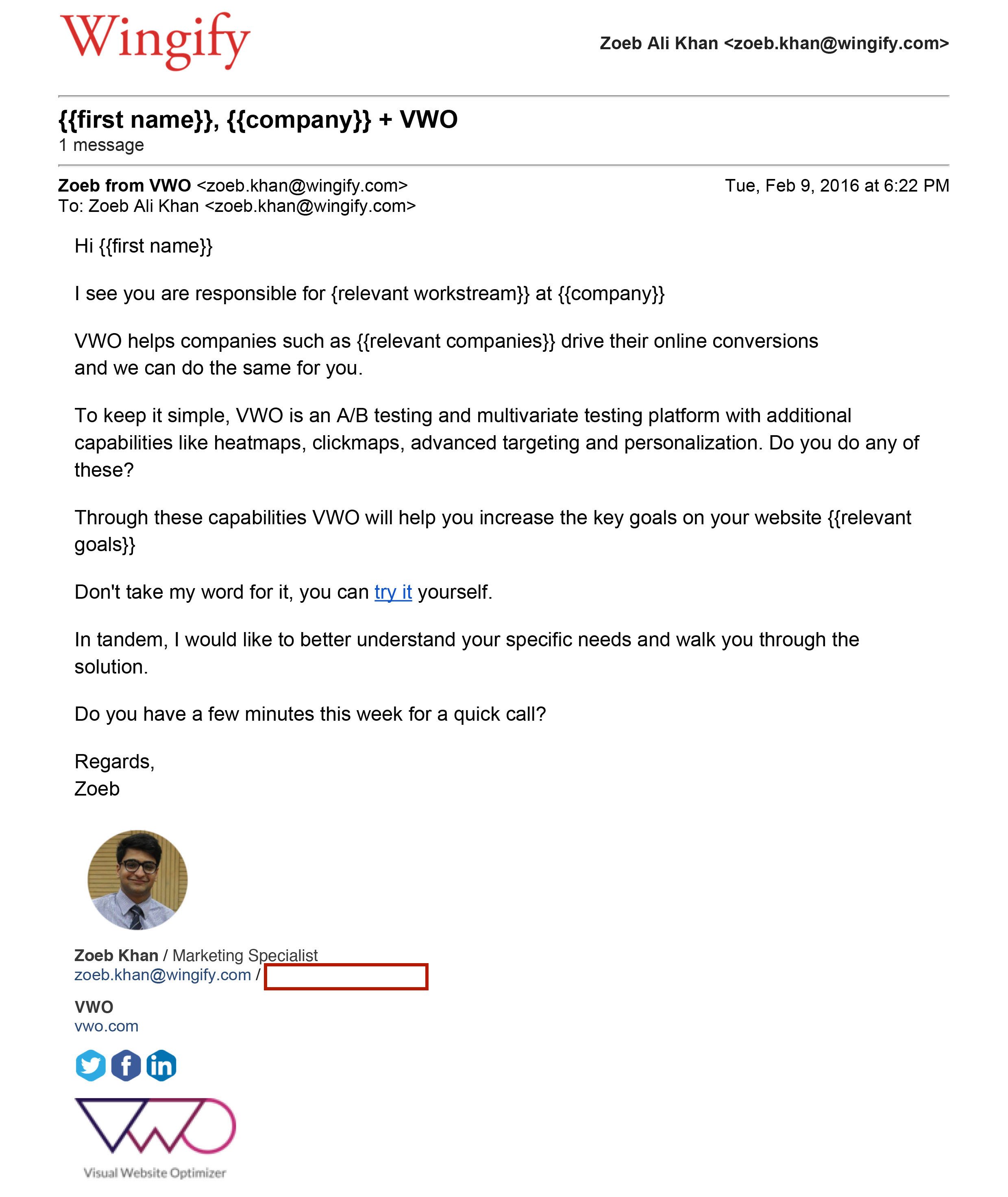 Here is the first follow-up email that we sent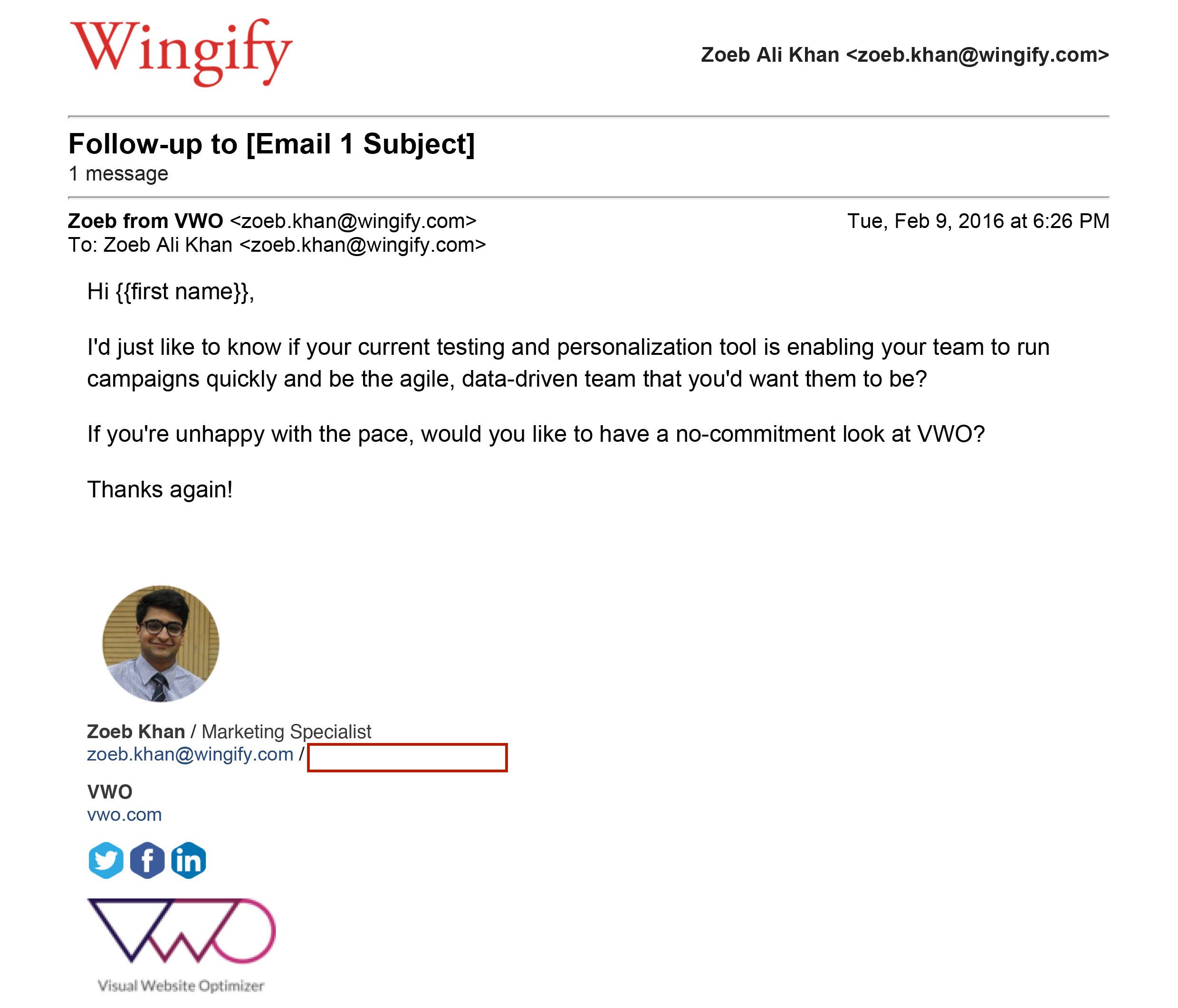 The next follow-up email asking if recipients have seen my previous emails
After two follow-up emails, we thought it'd just be rude to email again. We surmised that lack of any response after the the follow-up mails is either because:
the recipient isn't interested in our solution, or
the recipient is not the the appropriate person to take a call on our offer.
Since we had targeted only those firms that 'could' benefit from our solution, we were fairly certain the first isn't the case. What was left was to explicitly ask them to point us in the right direction.
Further Follow-up (Asking recipients for the right direction)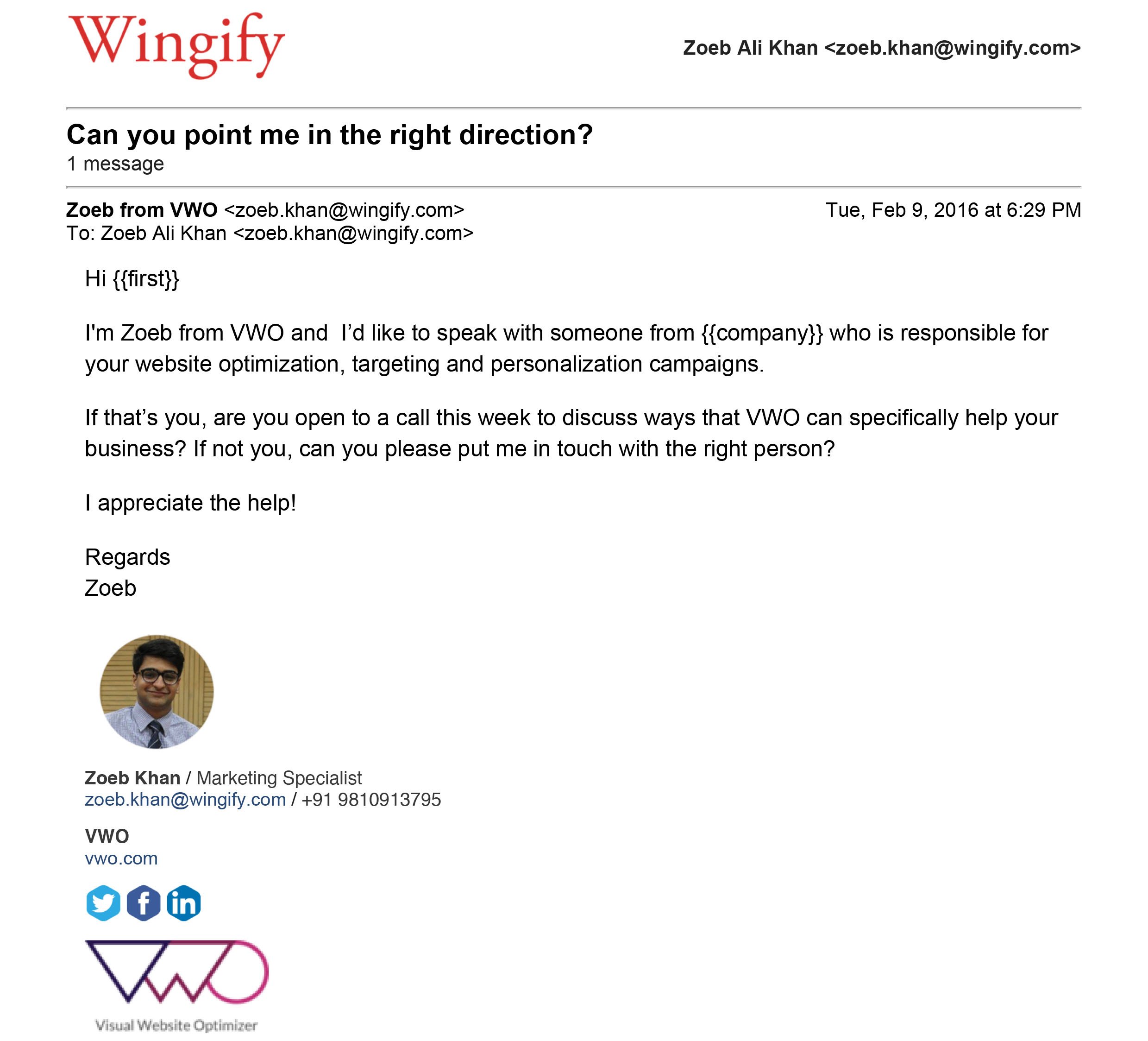 How will we send the emails and track progress?
The first round of emails were all sent manually. To track opens and clicks, I used Email Tracking by HubSpot.
The micro metrics we tracked were opens, clicks and replies. This made sense since in the pilot stage we wanted to measure if our emails were getting any attention. Here are a few sample results of the email campaign and my learning from it.
ToysRus (Toy seller, ecomm store Alexa 546): Owing to their large size, we emailed 12 people at the organization. We obtained a stupendous 50% open rate, but no replies.
Learning: It made me realize how tough it is to obtain responses from large-sized companies.
Care2.com (Online Petition website, Alexa 4056): I mailed 5 individuals in the organization, achieving a 80% open rate. Furthermore, one email got 10 opens; which means it did get spread within the organization or at least got enough attention. With the 3rd email, I got a reply that directed me to another individual. Disappointment struck when further emails to this person gave me no opens or replies.
Learning: Don't get too excited too quickly when you get attention. Also, getting a reply might take longer you'd expect.
Magicbricks (real estate aggregator in India Alexa 2549): This one was an anomaly, a black swan of sorts. I did not manage to get the contacts around our attendee since Magicbricks employees use Times group — which has a portfolio of several companies — as their employer on LinkedIn. However, my first email to the webinar attendee resulted in a quick response wherein she desired a meeting with us.
Learning: Open rate and reply rate are highest with the people who've already interacted with you previously.
Zed.com(Big Data Solutions for mobile) – This company is huge and thus, around 20 people were targeted. Encouragingly, one gentleman replied to my third email. The message itself wasn't so encouraging though; he told me that VWO is not in their immediate plans.
Learning: Be prepared for the long haul. This one took me 3 weeks to even extract a Yes or No.
We had begun to get disillusioned with the responses, many opens but barely any replies. We needed to try something better for a higher chance of replies. A simple analysis told us that our best chance were with the audience who had already engaged with us – the webinar attendees.
How We Used the Learning in Our Next Campaign
Our combined learning from the first campaign gave us something new to try — sending an email to just the webinar attendees. To make sure we don't come across as spammy, we excluded the people that were included in the first campaign. Here's what our email looked like: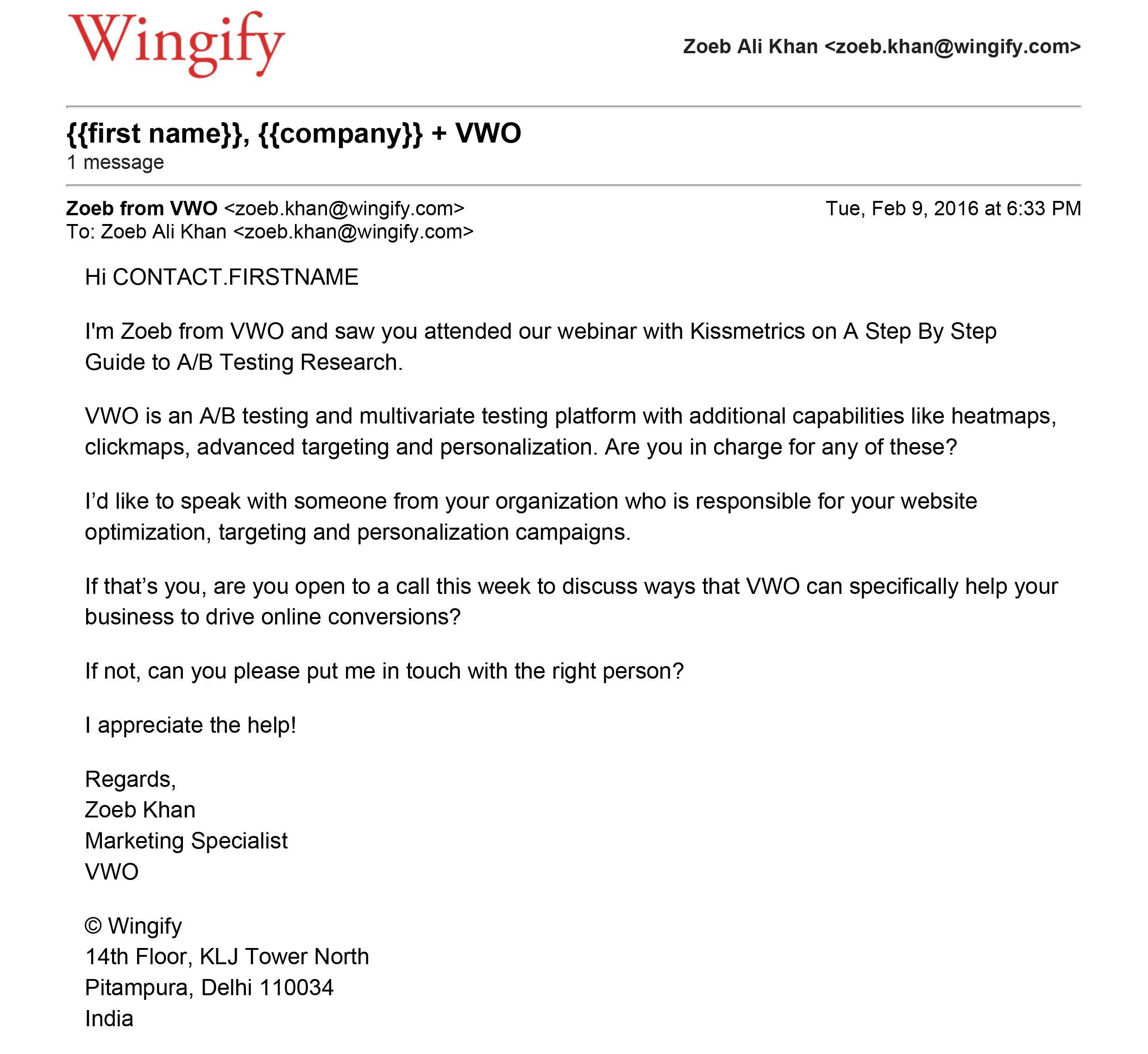 Here are the results:
278 emails were delivered.
The open rate was 58%.
A total of 14 replies that told us whether they were 'interested', 'not interested', or wanted to 'talk later.'
It was very positive, in that at least 8 of these individuals wanted to get a demo and talk to sales; it was a step in the right direction for us.
I followed this up with another email that was sent to 138 people. This was sent to those who opened the first email but did not reply. I got a staggering open rate of 75%. And two more replies.
Sure, a lot is left to be done. But, our efforts are getting increasingly better results.
Here are some of the key takeaways from the Campaign:
1) Selling the product at first can be too direct for a first email, look to build a relationship instead.
Give them something of value to act as a common ground to get them interested. For example, one of our highest performing email has the subject: "<FName>, I've found A/B testing ideas for you."
Add a personal touch if you can (avoid spray and pray).
2) The outbound emails worked best with attendees (highest number of opens and responses came from the attendees). The leads that went into the sales pipeline also happened to be from these attendees.
3) Contact the leads within one week of your event to ensure recency. For instance, a SalesLoft webinar I attended sent me a resource email within 24 hours.
4) Emails also act as a brand-building exercise.
5) Outbound campaigns can speed our marketing funnel process greatly. Instead of waiting for the potential leads to take the first step, we capture and engage them much earlier. Some individuals even reveal their reasons for not using VWO.
6) Here's a simple framework you can use for your outbound email campaign flow
Show value. Make it personalized and give ideas they can use.
Tell them about the product.
Follow-up.
Second Follow-up (for good measure).
Ask the recipients, "Not sure what to do? Point us in the right direction please?"
If you are planning to kick off an outbound process, I hope our learning helps you. I'm also curious if some of you guys have already tried outbound. How did it work for you? Share your experience right below in the comments.