The engines at Wingify are always running at full steam ahead. Visual Website Optimizer is getting better all the time (even though sometimes the changes are not immediately visible). Here is what's new!
The A/B Testing IdeaFactory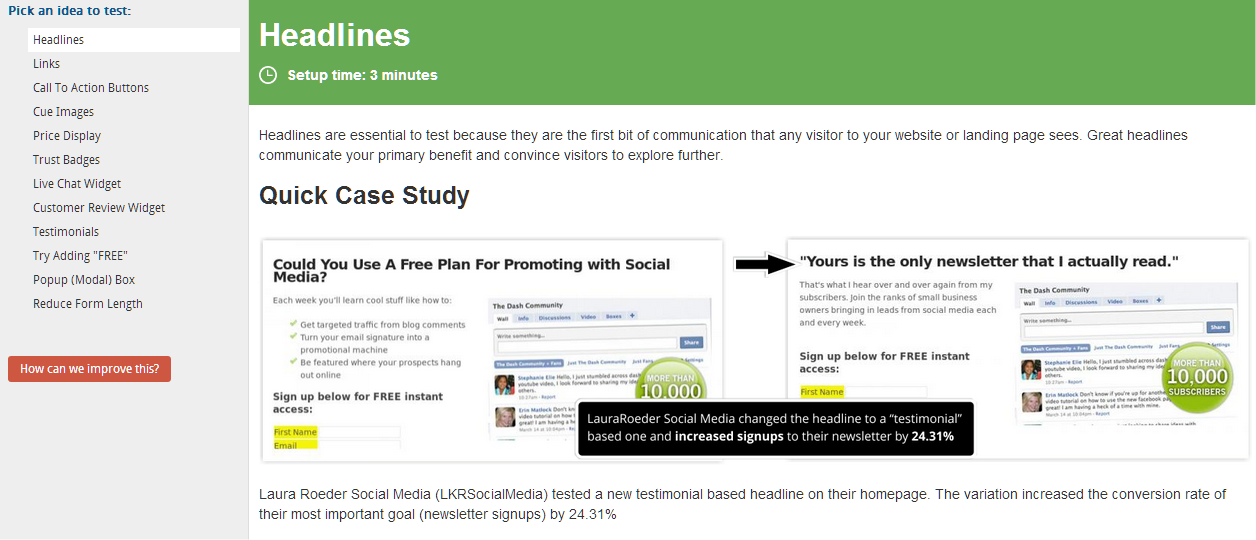 We regularly get email from users who've hit a testing roadblock. Generally, most people quickly go through the usual Headlines, Call To Action and Copy tests after which they're stumped for new optimization ideas. To solve that problem, we've created the IdeaFactory. It's a bold, shiny, red tab in Visual Website Optimizer that you simply can't miss.
In this new feature, we've put together a collection of testing ideas along with quick case studies for demonstration purposes. We're still iterating on this so please try it out and tell us how we can improve it. Whatever thoughts, ideas, criticism or feedback you have, we want to hear them.
Clone Elements in the Visual Editor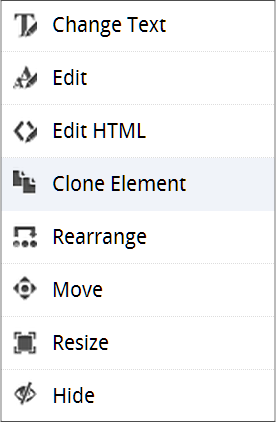 Until some time ago, duplicating website elements like headlines, buttons or entire sections wasn't intuitive enough. Thankfully for us, users made that amply clear and therefore, we present to you the "Clone Element".
The "Clone Element" menu option replicates the selected block of code, allowing you to clone any element or section on your websites and landing pages. Here's a quick use case for the Clone Element feature.
GetResponse tested two call to action buttons (buttons) on their homepage instead of the usual one. The second CTA button was for a "Free Trial" of the email marketing product. Result: 158% increase in free trial signups with no affect on paid subscriptions.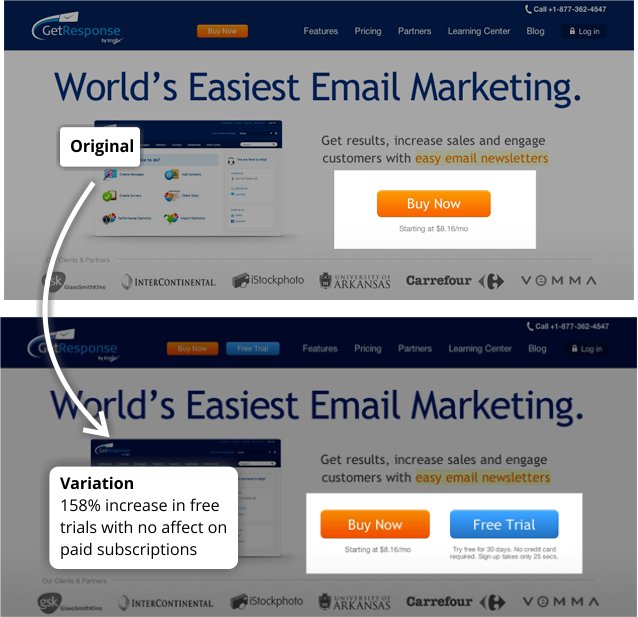 This test is a prime candidate for Clone Element awesomeness. Setting it up in Visual Website Optimizer is four simple steps.
Clone the original orange CTA button with the underlying text.

Change the background color of the cloned button to blue with the "Change Styling" function.
Edit CTA button text and the text underneath it with the "Edit Text" functionality.
Remove the rough edges of the entire block with "Change Styling" to add margins or padding.
That's it. All it takes is 10 minutes and you're good to claim a 158% increase in trial signups. And yeah, our engineering team would really appreciate some nice thank-you greetings.
Other Updates
Support for single page websites (URLs with hashes)
Single page websites, where all navigation is done through scrolling and in-page links are becoming ever popular. Thinking ahead, we've included support for hashes (#) in Visual Website Optimizer. Now, Visual Website Optimizer will recognize them and URLs with hashes (www.example.com/#contact) can be used in the Test Page Pattern, Test Page URL, "Visit to a page" conversion goal and Split URL tests.
Restore accidentally deleted tests and reports
Once upon a time, when you deleted a test in Visual Website Optimizer, we tried our best to wipe it off the face of the Earth. Apparently, some people weren't too happy about that and made it clear to us in no uncertain terms. Now when you delete a test it's simply stopped and shifted to the "Deleted" label. If you want to delete it forever, we have a button which says and does just that: "Delete Forever".
The "Engagement" goal has been upgraded
Earlier, "Engagement" only tracked clicks on links. Since users can engage on a website in other manners as well, the goal has been expanded to also trigger when buttons are clicked or forms are submitted. Detailed information is available on our Knowledgebase.
New dashboard for trial signups
If you signup for a new free trial account, you'll see a slightly changed dashboard. This was done after we conducted a usability test through UserTesting.com that helped us understand how to better introduce Visual Website Optimizer to a first time user.
Our new Engineering blog

We face some very interesting engineering challenges. Serving about 2700 customers (8000 requests per second) without breaking anything for anyone isn't exactly easy. To cover how we face and solve our challenges, we've launched the Wingify Engineering blog. The first post is an introduction by our CTO Sparsh on the things to come. If you love to dabble in servers and code, you'll find it a good read.
And finally…
Deep (surprise surprise, it's a name) joined us a month ago. He has summarized his experience in a post on the Wingify team blog. We're always looking for exceptional people to join us and if you're interested or know someone who might be, check out our Careers page.