Let's admit it: getting ideas for A/B and multivariate tests is a hard job! It becomes even harder because of your familiarity with your website or landing page. Since you breathe-and-eat your website every day and know all its intricacies, it becomes incredibly hard to think of improvements. This phenomenon even has a medical name: Blind Spot.
To get ideas on what you can test in your next A/B or multivariate test, we have a A/B testing case study search engine called Ideafox. Also, earlier on this blog I talked about a service called Feedback Army which lets you have feedback from 10 people for $10 (I see the price is $15 now). Feedback Army is great service and we had received lots of relevant feedback from that site (in addition to some actionable ideas for A/B testing). As also noted in original post, the only drawback of this service is that people who give feedback are hired from Mechanical Turk, so feedback length is short and doesn't go into too much depth (since those people are only paid 50 cents per feedback). Inspite of this, Feedback Army has a great ROI for an investment of $15.
What if you need feedback on your website from a professional?
Enter Concept Feedback, the website to get expert website evaluations and feedback. It is a community of design, usability and conversion lovers who comment and give feedback on your website and landing page. They have experts for three categories of feedback:
Design
Usability
Startegy
Experts have years of experience in their respective fields along with professional degrees in design. So, you can be guaranteed to get top-notch feedback on your website from Concept Feedback. Of course, all this comes at a price. You need to shell out $100 per expert feedback. So if you want feedback from 5 experts, that is going to cost you $500. It's a little expensive but as you will read below, the quality and amount of feedback that you get from an expert has way more value than $100.
Evaluation of Visual Website Optimizer website on Concept Feedback
To try out the service, I evaluated Concept Feedback to get feedback on Visual Website Optimizer website design. Oh boy, I was pleasantly surprised with the quality of feedback on as many five different pages of our site: homepage, signup page, features page, case study page and blog. Here is some of the feedback produced verbatim:
"I would do something to visually separate this section of the site from the rest. Perhaps make the background blue and reverse the text in white, make the call to action orange?"
"I would reduce the # of statistics in the call to action area. While these are great to display and to the point, 4 might be a bit much. Consider showing 1-3. Perhaps in a slider form."
"I would make your headlines sans-serif to help readers visually distinguish and scan your content easily. This goes for h1's, h2's, h3's etc. Making them a different color (besides black) will also help."
All these comments come with a screenshot of your page so you can see where exactly the expert is referring to when he says "make your headlines sans-serif" (in this case, he was talking about our blog).
What's more? The expert even quickly created a mockup of what according to him our site should look like. Here is the version he redesigned: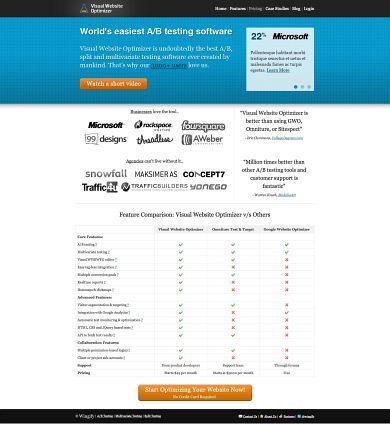 I think this redesign is definitely an improvement over existing design. What do you think?
Conclusion
For getting ideas for A/B and multivariate tests, nothing works better than feedback and evaluation services such as Feedback Army and Concept Feedback. The 'strategy' feedback type in Concept Feedback is especially relevant to A/B tests because there you have access to experts who have experience and knowledge in conversion rate optimization.
So, next time you are stuck and can't think of anything to improve on your site, you know where to get feedback from.