Happy Halloween! We have been working hard on improving Visual Website Optimizer by continuously adding features and enhancements. Before I tell which new features we have added lately (and in case you haven't noticed yet), here's a peek at the Google-style Halloween themed doodle we drew for our logo.

New security features in Visual Website Optimizer
For us, ensuring security of customers' data and website is of utmost importance. We know that some of our customers may be (rightly) fanatic about activity in their Visual Website Optimizer account (as it can potentially impact their websites). For the record, these are some of the existing features of our security architecture:
We don't store your passwords in plaintext so even we don't know what your passwords are (we salt and hash them)
We prevent wrong login attempts by showing a captcha after 3 consecutive incorrect login attempts
To this list of security features, we have added two new options:
1. Account activity alerts

If you enable this feature, your account administrators or you will start getting email alerts about any activity happening in your account (that can potentially affect your live website or account settings). So, if someone from your team is making changes to a currently running test or someone creates a new test and makes it live, you will get notifications about that. These alerts will help account administrator detect any unauthorized activity and take preventive measures towards it.
2. Only allow logins from specific IPs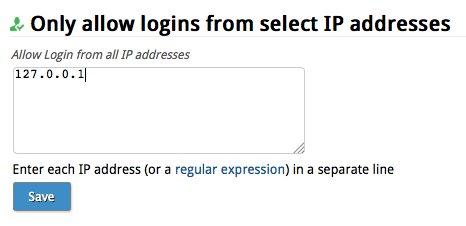 Anyone with your username and password can potentially login to your account and make changes to your website. To prevent such unauthorized access, you can now specify if you would like to limit logins to your account only from specific IPs (or range of IPs). This will ensure that your account can only be accessed from those specific IPs. But do make sure that you don't inadvertently block yourself out of your Visual Website Optimizer account.
Custom split ratios among variations

This is a neat little feature that has been requested by many users. By default, Visual Website Optimizer splits traffic among variations in equal proportions. So, if you are doing A/B/C test, that split will be 33%, 33% and 33%. But in few cases, users may want unequal split and this new feature will allow them to specify any ratio they want traffic to be distributed into.
Halloween gift: unlimited simultaneous tests
Earlier, we limited the number of tests you can run simultaneously according to plan you had subscribed to. For our basic plan, it was limited to 3 simultaneous tests and for the next higher plan, it was limited to 10 simultaneous tests. We have now decided to lift that restriction and allow all users to run as many tests they want (of course, the number of visitors they can test is still limited according to their plan). Even our 30 day free trial has unlimited simultaneous tests!
Hope you like these new announcements. We will be adding a lot of new features and enhancements, so if you have any specific request or need clarification, please feel free to email us at info@wingify.com