5 Features Of A Highly Converting Pricing Page
Note: The article is written by Dave Schneider, cofounder of NinjaOutreach. Any and all opinions expressed in the post are of Dave. Brickbats and bouquets can be sent at the contact details in the author bio at the end of the post.
Over the past year we, at NinjaOutreach, have been optimizing our pricing page according to five key elements, which has increased the conversions 8x.
Now, what made us want to do this?
Consider that everyone who buys NinjaOutreach has to go through one page – the pricing page.
So it's important VERY important to get it right.
And, in typical fashion, we got it wrong, for a long, long time.
As a result, our pricing page conversions were lackluster, to say the least.
But here's how they've changed over time: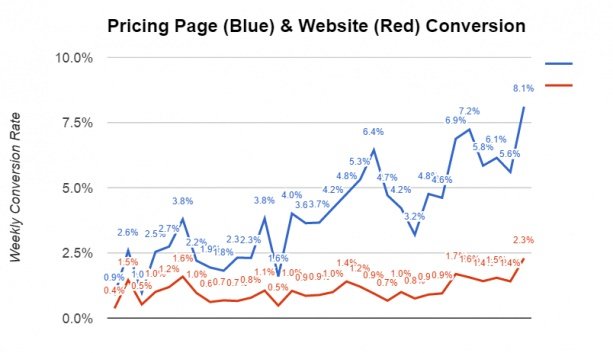 In short, what started off as a pricing page that was converting at around 1%, eventually grew to a page that converted at as high as 8%!
That means 8x the sign ups for the same amount of traffic. Talk about gamechanging.
What did we do differently?
Here are the five elements of a highly converting pricing page that took our conversions out from the gutter.
1. Testimonials
Testimonials are nothing new – but I find most people slap them on the home page and that's it.
Additionally, they often look very fake/contrived.
However many people don't even see your home page, and if they do, it doesn't mean that they don't need some additional coaxing on the pricing page (spoiler – they do).
So I like to lead with a big testimonial straight across the top. Here's how ours reads:

Boom!
Does that look contrived? I think not.
This is a testimonial that you are not going to miss, and it speaks well beyond any "particular" aspect of the software, but just in general to it being impressive.
In fact I liked the idea of testimonials so much I decided to add them below the pricing page as well, but here's how I did it: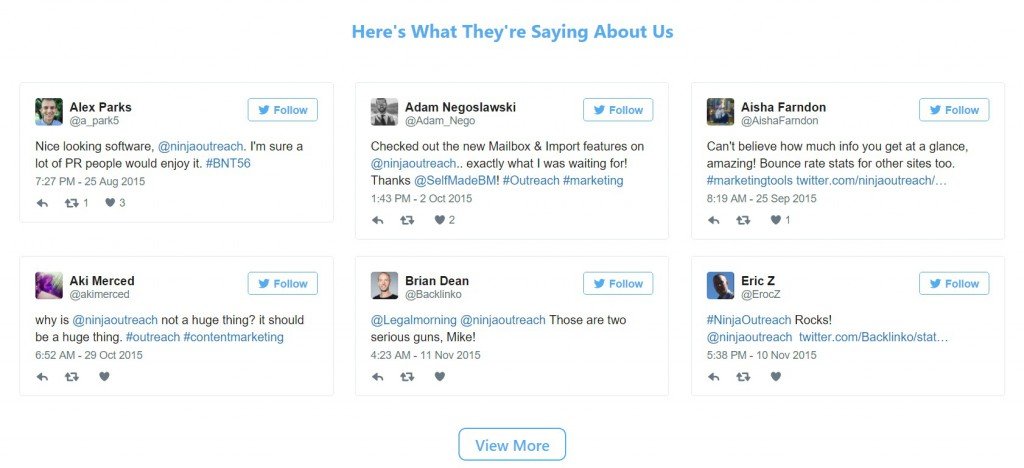 Essentially we used embedded tweets to highlight what people were saying about us.
There are three things I really like about this strategy:
Embedded tweets used as testimonials are not that common, so they are eye catching. I've only seen them on three websites, one of which is ours.
They're extremely easy to read because they're all less than 140 characters, and they are easy to find/dig up. We have nearly a dozen behind 'View More'.
People know these aren't fake or tailored in anyway, because they're actual tweets and you can click through to them and see them still live. They're excellent for social proof.
If you aren't leveraging testimonials on your biggest money page, what are you waiting for?
2. Strong Call To Action
If you've been involved in marketing for even a split second, you're surely familiar with the terminology Call To Action.
Let's face it, a lot of people go to the pricing page and on account of one last moment of hesitation flake out.
For those people, my answer is a strong call to action that tells them to act now:

This is NOT a testimonial – it's different.
It's a statement that tells them:
What they're going to get: "access to over 4 million influencers in your niche"
When they're going to get it: "immediately, now"
How they're going to get it: "unlimited searches and access to all features"
Why they should get it: "cancel anytime, 30 day MBG"
It's important for a call to action to touch upon as many of these elements as possible.
What does your call to action look like?
3. Decide: Monthly vs. Annual Plans
Some people come to the pricing page ready to buy, and for those people, you should have an option that matches their additional level of commitment.
Typically, that's an annual plan.
Now this applies more to subscription services than other services, however, it's definitely worth mentioning.
In my experience around 5-10% of people will sign up for an annual plan, and as a business owner, if I have the opportunity to get someone to commit to a year upfront versus paying me monthly, I'm going to take the year.
And I'm happy to offer a discount for it.
We typically give out a 25% discount on annual plans. Traditionally I see somewhere between 20-33%.

Naturally, I'm going to highlight this discount upfront, as opposed to just changing the pricing table on click.
I find that people who sign up for the annual plan are more likely to convert, because they recognize they're getting a deal.
If you have a subscription service, you need an annual plan option.
4. Multiple Plans To Choose From
Here's some insights into our customer base:
Bloggers
Entrepreneurs
Startups
Small Business Owners
Large Companies
Marketing agencies (large/small)
eCommerce Sites
It's pretty clear we serve a wide range of clients and my guess is so do you.
As a result, we want to have plans that adjust to the varying needs of each client.
Typically, plans vary on things like:
Currently, we're only capitalizing on the first two, in that higher plans get access to more usage and users on their account.

I can't tell you the number of times I've gone to a pricing page only to find that there just wasn't a plan that fit what I needed.
Sometime that was on purpose, for example, they aren't trying to appeal to low market customers. I had that experience recently with Baremetrics, who changed their lowest plan from what was $29/month to now $79/month.
Other times, I think it's just a bad pricing page that doesn't quite have it down.
For example, a recent one I turned away from was Elev.io: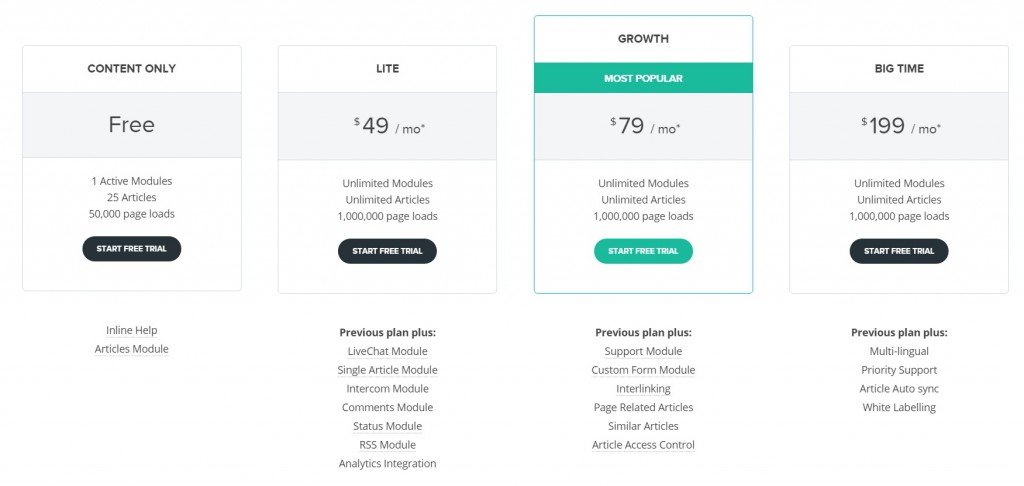 I wanted this product, and I wanted the support module, but I DIDN'T want it at $79. In fact there were plenty of elements at the $49/mo plan that I didn't need, like Status and RSS, that I would have gladly traded with.
Contrast that with Segment.io, who I feel really nailed what plans needed to include what integrations: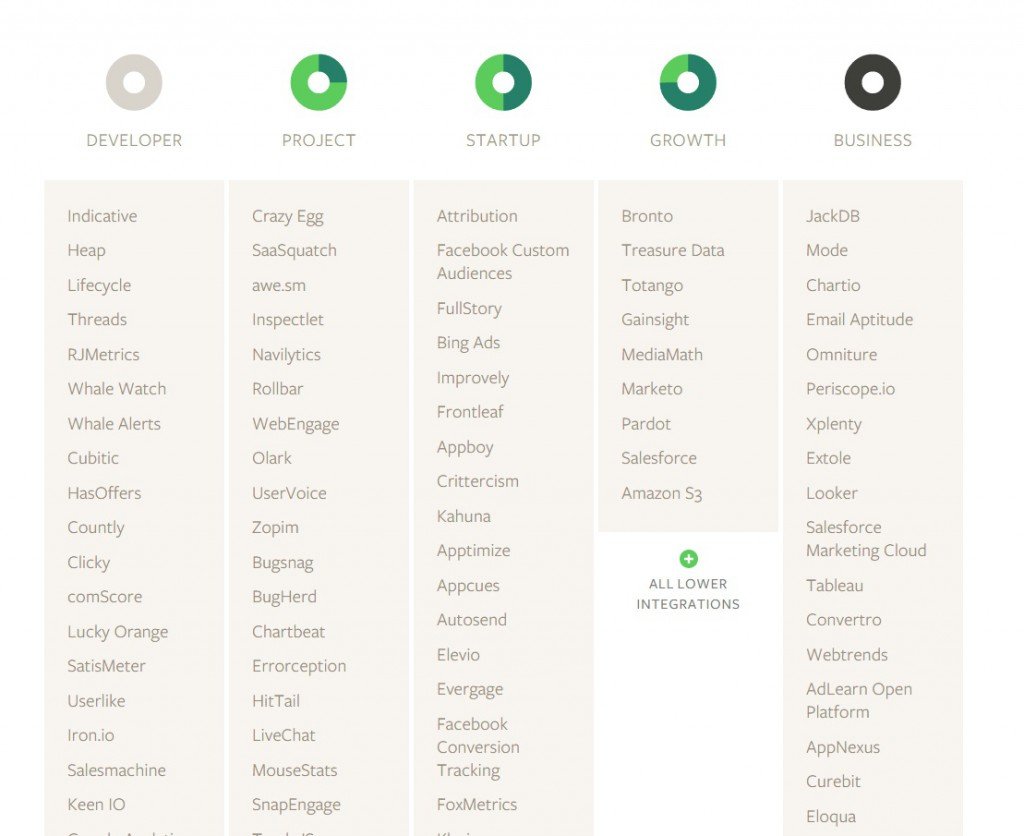 I asked Segment how they came up with their plans, and they said they understood what integrations different sized companies needed, and made it a part of each plan.
Which makes sense, because I haven't even heard of most of the integrations on the enterprise plan.
5. Keep It Simple Stupid
Let's take a moment to look again at Segment, and their actual pricing page tiers: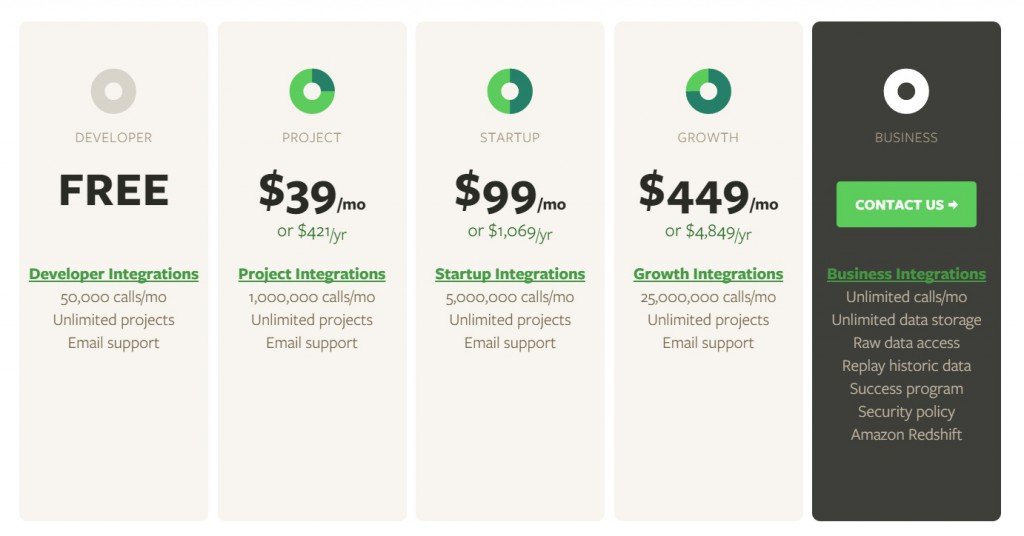 What I like here is that they have separated out their monster integrations list below, so as not to overwhelm people.
Instead, they focus purely on the differentiators between each plan:
Integrations (displayed below the pricing tiers)
Calls per month
Honestly, I could do without Unlimited Projects and Email Support, because in general, I find it's not worth showing the user features that apply to all plans.
No one is going into this thinking about email support, and whether or not they get it – in fact it's an expectation of the minimum of good service.
So I would remove it, because I think it's an unnecessary distraction and makes me think that that's the ONLY support I get (which is not true, because someone from Segment actually met on the phone with me).
In short, keep the pricing page simple and highlight only the necessities of each plan.
How To Apply This To Your Business
Optimizing our pricing page was one of the biggest wins of 2015 and directly led to us quadrupling our website conversions.
Take some time to revisit your original pricing page assumptions, apply this article, and let me know the results!