10 Ways To Build An Actionable Content Marketing Strategy To Boost Conversion Rates
Yash Vardhan
Yash works as a content marketer at VWO. Apart from this, he is a huge foodie and an Android fanboy.
Content marketing is an essential technique that's considered to bring in a huge return with a potentially low-tier budget.
What's so special about it?
For one, content marketing can act as a backbone of all your marketing strategies, from paid campaigns to outbound strategies. Every marketing tactic is augmented to an audience with the help of content marketing.
Thanks to content marketing, businesses have been able to increase their website reach, improve conversion rates, lead generation, and more.
Even then, there have been common misconceptions that content marketing isn't the best way to improve your conversions. We can see that 38 percent of organizations are yet to give content marketing a serious chance. This leads to a lower emphasis on content marketing as a growth and conversion-driving method. So how can you have a systematic content marketing approach and build a bulletproof strategy?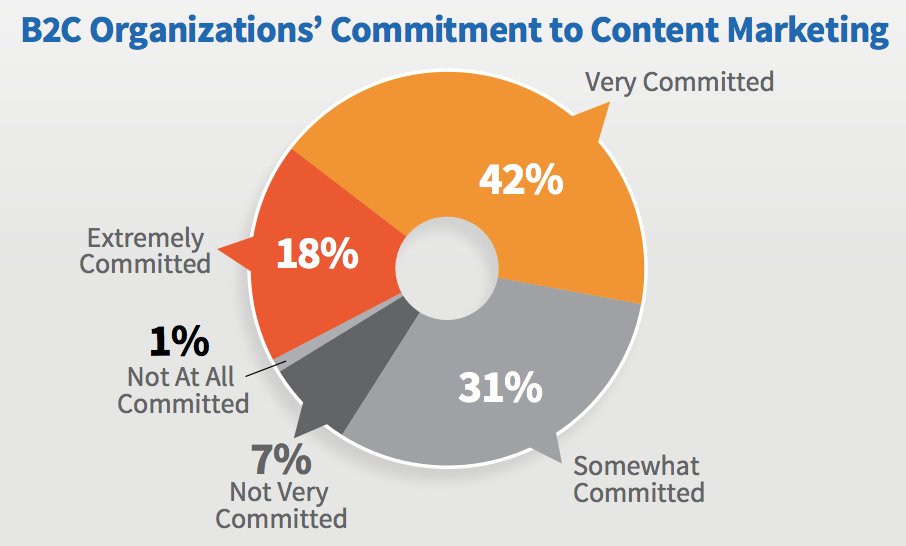 Here are 10 reasons to build an effective content marketing strategy and improve your low conversion rates.
1. Aggregate Resources to Run Content Marketing
One of the challenges marketers face is the shortage of resources.
This may be true for an organization that reaches a certain level of maturity, but content marketing still gets you results even with minimal resources.
There are 2 crucial parts of content marketing which are discussed as follows:
Team:

A significant problem stated by CxO's and marketers in various organizations is about building a team. Content marketing requires dedication and a clear strategy, but building a team is not a necessity. All you need is a clear content promotion and distribution strategy. And this has been validated by growing startups time and again.
Marketing Tools:

Scarcity of marketing tools can also stall the progress of your marketing efforts. Generally, one can do most of the stuff manually, but the downside to the manual approach is a lot of time gets wasted. Here are a mix of free and premium tools that one can use as tools to streamline their content marketing efforts –

Keyword Research: Google Keyword Suggest, Google Trends, SEMRush, and Ahrefs.

Writing tools: Microsoft Word, Hemingway Writer, and Dropbox Paper.

Content Ideation and research tool: Buzzsumo, Alltop, Uber Suggest, and Google Search Suggestions.

Content Distribution (Social and Organic): Buffer, Meet Edgar, Contently, Stumbleupon, Feedly, and LinkedIn Pulse

.

User Engagement tracking: VWO, Kissmetrics, Mention, Google Analytics, and more.
It's a myth that content marketing requires a lot of resources that come at a premium. As a result, it is considered out of reach for most of us. However, if you put a little effort in finding the right set of tools, you'll have these just with little spending.
2. Figure Out the KPIs for Your Content Strategy
Figuring out the critical KPIs, or key performance indicators, will tell you if you are achieving your target and if not, how much effort has to be put in. The KPIs you choose should indicate your progress toward your goal.
For content marketing, here are a few KPIs that you should always document:
Time spent on a blog or other content pieces

Forms filled for gated content like eBooks, Whitepapers, and so on

Bounce rate of your blog and averages views

Subscribers gained for a newsletter/email list

Social media shares

Conversion rate/Desired action was taken

Inbound links generated

Comments posted on your blog
For example, if you want to increase conversions and sign up customers for a trial, you would be measuring conversion rate as one of your KPIs.
3. Map Your Content Strategy to Your Marketing Funnel
Whilst creating a content marketing strategy, it is important that the creation procedure relates to various stages of your marketing funnel.
If a standard marketing funnel is divided into 4 stages, it is imperative that the content strategy is in line with it.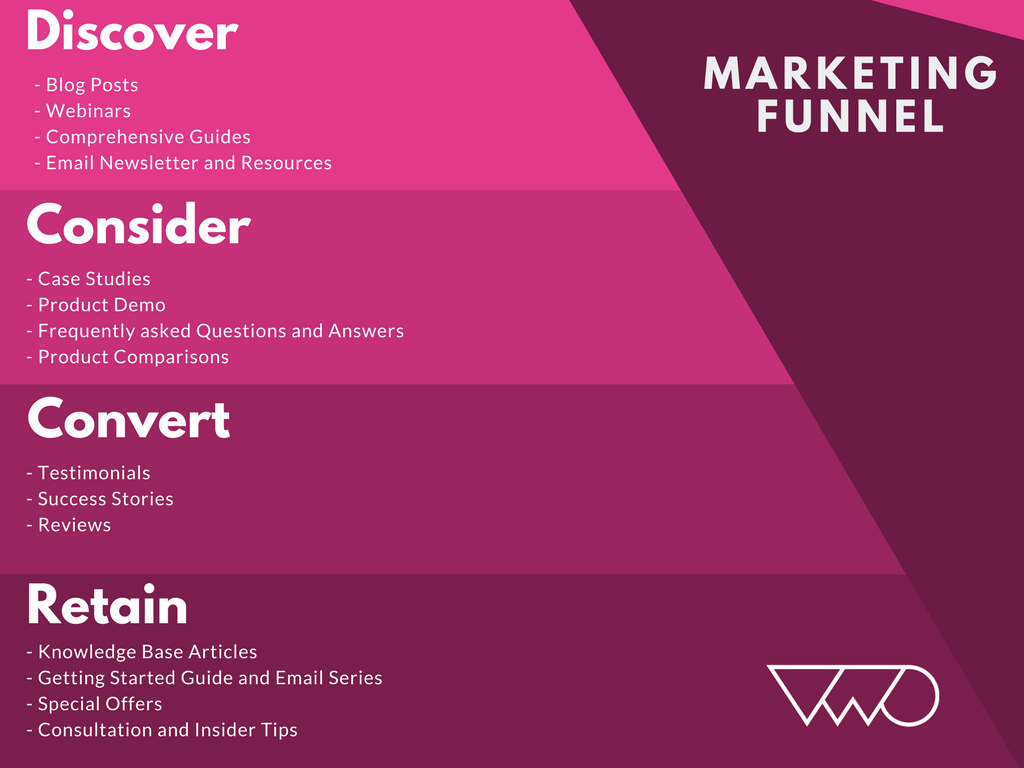 A guideline, like the one above, can you give a clear picture about creating an effective content strategy. This strategy can guide your audience or customers at every stage of their journey.
4. Streamline Your Content Strategy
It's a nightmare for marketers to streamline their content strategy. And it's a task that a content marketer has to overcome, as the smoother the process to churn out quality content, the smoother it is to engage with your target audience.
Here is a quick strategy flow that you can follow to streamline your process:
Build a Content Calendar
Build a content calendar even when you are planning to publish a couple of articles over a month or so.
Strategize your content marketing around content bundles. Target no more than 2 keywords for a month.
Using the 2 keywords, share multiple content collaterals on your website as well as on guest blogs and web pages for a month.
Depending on your team size, you can scale from just 2 keywords to more.
In the next month, move to the next set of keywords from the pool of your target keywords.
For each month, repeat Steps

b

and

c

.
Automate your social media distribution
The most common reason that discourages marketers to use social media to market their content is the distribution part. Posting on social media becomes tedious when you publish over 10–12 social updates daily.
To solve this problem, use social media automation.
Build and follow an outreach program
Outreaching is crucial if you want to promote your brand and build links. It also puts you in the spotlight with influencers and provides the much-needed exposure.

Email and social media are the two best channels for an outreach program.

If you're starting out, you can use various templates available on the Internet. We like these ideas

shared by

HubSpot

and

Mailshake

.

Automate your outreach campaigns by using tools like

Gmass

or

Ninja Outreach

. Set up automatic follow-ups so that you can focus on what really matters.
With these 3 elements of content marketing in place, you will realize how effective content marketing is. Most importantly, you and your team will become a content-generating factory in no time.
5. Solve the Dilemma – Long vs. Short Content Pieces
It's a common belief that long-form content works better if it were to rank for any given keyword.
While this is true in most cases, yet writing short-form content does not batter your business. The reason behind it is the purpose of your content.
There are various factors that you need to consider before concluding that "My blog post has to be a long one." Don't compromise on the quality of your post because it needs to have a certain length.
Instead, pay attention to these factors:
Target Audience:

When you are ideating your content strategy, it is important to figure out your audience. See who you are targeting, what problems you are trying to alleviate for your audience, and where you fit in. Now, devise the purpose of your post.

Writing Style:

Some content writers and marketers have the habit of writing unnecessarily lengthy content. Some want to keep their content short and to the point. If you're changing your writing style, be steady.

Type of Content:

Not all content can be words. As a business, you need to have diverse content creation and distribution strategy. Most successful business owners and individuals invest in a variety of content verticals like blogging, infographics, eBooks, Whitepapers, video walkthroughs, and more.

Content Posting-Frequency:

The length of your blog posts also matters on your posting frequency. To post articles or other content pieces every few days, you would have to write

brief and small pieces of

content. However, people who tend to post once in a week or two tend to write longer content. Avoid being stringent to a strict deadline if you or your team feel that you are compromising on the quality of your content.

Post Format:

The format of your post has a lot of impact on the readability. If you lean toward writing short paragraphs with a good amount of whitespace and images, you can produce a short form or long form content and both can be equally engaging.
6. Don't expect to get fast results without a proper structure
While marketers may agree that content marketing is a lengthy process and does not get immediate results, at times, it may be the only way to build authority for your business.
To elaborate we are going to discuss the CRM Industry. CRM stands for Customer Relation Management systems.
What is a CRM?
A CRM system gives other teams, such as sales, customer service, business development, or marketing, a better way to manage the external interactions and relationships that drive success. A CRM tool lets you store customer and prospect contact information, identify sales opportunities, record service issues, and manage marketing campaigns, all at a central location. The purpose is to make information about every customer interaction available to anyone in your company who might need it. [Source]
The CRM industry is a crowded and competitive space. CRM is the backbone of any brand's sales and marketing process.
Giants like Salesforce and SAP are battling it out in the open; and brands like Hubspot, Pipedrive, FreshWorks, and others are being billed as the up and coming CRM platforms.
Yet, the industry is still blooming. How do you then outrank the competition?
Paid advertising and outbound marketing are a costly affair.
We will share a small story about a fairly new SaaS company named Pipedrive that tapped content marketing to not only get noticed but also get lot of conversions.
Pipedrive is a young CRM platform that has been targeting small- to mid-level businesses. It focuses on content marketing efforts to improve its conversion rates.
Pipedrive devised a content strategy around sales management (a highly competitive keyword on Google and in the CRM universe). It took 3 months for it to rank from nothing to the first position on Google.
"Sales management" has a monthly search volume of approximately 10k with a high competitive score.
After a lot of brainstorming and coming out with a well-laid strategy, Pipedrive's content marketing team could deliver in under 3 months.
So, before you play down content marketing as a strategy, think about Pipedrive—a nascent CRM platform that is now present in 140 countries with 4 offices across the globe.
You can read the complete case study here.
Content marketing might not bring you fast results, but planned execution can bring in massive results in 6 months.
7. Focus on Social Media
Marketers disregard social media as a viable, alternative method to build traffic and drive user engagement.
We were able to identify 2 major reasons for it:
Marketers believe that social media is meant only for businesses, which are targeting millennials and tech-savvy consumers.

Social media efforts result in wastage of valuable time. Marketers believe that if they can create quality content, search results will automatically bring in customers, en masse.
There are additional points other than the above reasoning.
Almost 2 billion people are using social in one form or another. If you are not leveraging social media, you are losing a huge chunk of the audience.

I'm sure, you've heard the phrase, "Putting all your eggs in one basket." This phrase means banking excessively on just one method for achieving success. In content marketing, while search results bring in a major chunk of your audience, a simple change in the Google algorithm can completely block your traffic. So, there is a need to explore other channels as well to maintain a consistent traffic flow.

You can't build a relation without interacting with your customers and clients. Social media is one of the best ways to start building one.
8. Don't Write Content Just about Your Brand
A common habit among marketers is of focusing their content only on their own product or service. To your target audience, this comes off as too promotional, so at times, the audience complains that it's hard to trust such brands.
This can become a major problem for marketers who are trying to cultivate a meaningful relationship with their audience that benefits both parties.
Then what should you do?
The key purpose of content marketing is to develop a worthwhile relationship with the target audience. The readers should relate to you as a brand that genuinely treats a customer's problem as its own problem.
Start looking for challenges your audience is facing. Create content that offers effective countermeasures to help overcome those challenges.
When your audience notices that your content is consistently relevant, they will keep coming back for more.
9. Invest in Content Marketing to improve Conversions
Many organizations start delving into content marketing because they think the investment is zero or next to zero.
While this concern is true to an extent. You should understand that quality content creation has no importance if it's not promoted on the right channel at the right time.
Promotion depends on your audience type.
For example, for targeting B2B audience, you may use professional networks like LinkedIn and GrowthHackers as well as public platforms like Twitter by using retargeting and online behavior.
Investing a small amount (a few hundred dollars a month) can help you promote your post to not just a few hundreds, but many thousands.
10. Write for the Web
Writing on the web is different from other forms of writing. Choose a topic and run a search query on Google, and you'll find a sea of similar articles.
Therefore, it's important to stand out.
Here is a popular framework that can help you improve the usability of your blog post and allow it to be more in sync with your audience.
Starting Afresh
Even if you have failed with content marketing at some point in your professional lives, that's not the end you can try again.
To get results from your content marketing efforts, you need to give it a lot of time.
Look for small wins to gain the initial momentum. For example, set a target of building 5 inbound links to your website in the first month, or get 500 shares about your blog in 2 weeks' time. When you start achieving your subgoals while going for the bigger goal, it becomes more quantifiable and attainable.
If you're serious about content marketing, I'm looking forward to learning what sort of problems you faced or are facing during your journey in this field. Did you solve it, or are you working toward it? We would love to hear from you in our Comments section.