VWO eCommerce Cart Abandonment Report 2016
Nitin Deshdeep
Nitin is a traveler, a cinephile, and a webaholic. (He just can't get enough of cat videos!) Professionally, Nitin is a marketer at VWO, who loves to write about Conversion Optimization.
Cart abandonment has long been one of the biggest pain points for the eCommerce industry. Numerous studies have reported the average cart abandonment rate to be over 60% across all websites.
In other words, 6 out of 10 "add-to-cart" actions on eCommerce sites do not result in sales!
To alleviate this situation, eCommerce marketers need to understand their users' behavior better. They need to know the following:
Why do users abandon carts?
What measures can be taken to prevent cart abandonment?
What really makes a user return to an eCommerce site and check out an abandoned cart?
How can window shoppers be converted into customers?
VWO ran a survey with online shoppers, gaining critical insights on common cart abandonment issues. The respondents, more than 1000 in number, were in the age group of 18 to 65 years and belonged to the US territory.
Note: This report does not claim to represent the full picture of the state of cart abandonment worldwide. It attempts at providing answers to some of the most important issues regarding cart recovery, and eCommerce optimization as a whole.
Here are the key findings from the report:
Why Do Shoppers Abandon Carts?
The biggest reason users don't complete the purchase process is "hidden item costs." Not showing the total bill amount upfront doesn't sit well with them.
One-fourth of the respondents will not check out if they encounter "unexpected shipping cost." Other crucial concerns for users include "having to create a new account for checkout" and "payment security."
eCommerce sites can reduce cart abandonment by providing the estimated cost of shipping and additional taxes on the product description page itself.
If Shoppers Choose to Buy the Product They Abandoned, How Would They Do It?
About a quarter of respondents (22%) would buy the product they initially abandoned from another website if offered a better deal.
This user preference was followed by "buying the product from a physical store" and "buying from a more trustworthy website."
Interestingly, a total of 41% respondents would go on to purchase the product from a different site.


eCommerce sites can display popular trust seals and employ social proof to nudge users towards completing a purchase.
What Convinces Shoppers To Buy From an Unfamiliar Website?
A user's perception of a new website is influenced greatly by the experiences of other shoppers with that website. 30% users would buy products from an unfamiliar website based on the customer reviews presented there.
Trust seals prove to be the second biggest factor, followed by "a deal too good to pass."

eCommerce sites should encourage users to write reviews for the products they've bought. After users complete a purchase, they can be targeted with emails, soliciting product reviews. They can also be provided with incentives, if required.
Do Shoppers Add Products to Cart Without the Intention of Buying? If Yes, Why?
Almost half (45%) of the users who add a product to their cart without willing to buy it, do that to know its final price. Users want to be aware of all the costs which might show up at the checkout page, such as the shipping cost and taxes.
35% use the add-to-cart function as a wishlist. 10% users hope to get a discount on the product later.
This again emphasizes the importance of providing transparency in the product cost.
What Motivates Shoppers to Buy the Product They Abandoned?
A whopping 58% respondents said that emails and ads, which offer a discount on an abandoned product, brings them back to the website. This proves the effectiveness of retargeting in reducing cart abandonment.
Applying the scarcity principle to retargeted emails/ads also works with some shoppers. 9% respondents said that they return to buy a product if it's going out of stock.

eCommerce sites need to master retargeting for retrieving lost carts. (Here's a post that lists out the popular tools and tips for retargeting.)
Do Shoppers Abandon a Purchase When Their Bank Rejects the Transaction?
25% respondents said that they've abandoned a purchase at least once because of the bank rejecting the transactions.

eCommerce sites need to offer multiple payment options to users. The mode of payment can include digital wallets and cash on delivery service.
What Motivates Window Shoppers To Make a Purchase?
99% users who don't actively look for products to buy admit that time-bound offers encourage them to make a purchase.
Almost half of the respondents (48%) will buy a product if offered a limited-time discount, even when they're just window shopping.

eCommerce sites should run time-based offers (promoting urgency) to attract window shoppers.
Which Part of the Checkout Process Frustrates Online Shoppers the Most?
Nothing frustrates shoppers more than filling a piece of information twice — 32% respondents admitted to this.
A close second was "too many form fields" having the votes from 26% respondents. 14% said "not being able to change/modify order" is what they hate the most in a checkout process.

eCommerce sites must ensure that their checkout process has minimum friction. They should ask only the most relevant and necessary details from users. Here are a few other actionable tips to optimize web forms.
Do Online Shoppers Abandon Carts If They're Asked for Personal Information?
Almost 60% respondents have at least once abandoned a purchase because the website asked them for information they didn't want to share.
34% respondents admitted having abandoned a purchase when they were asked to provide their social security number. Other information points consist of gender type, phone number and date of birth.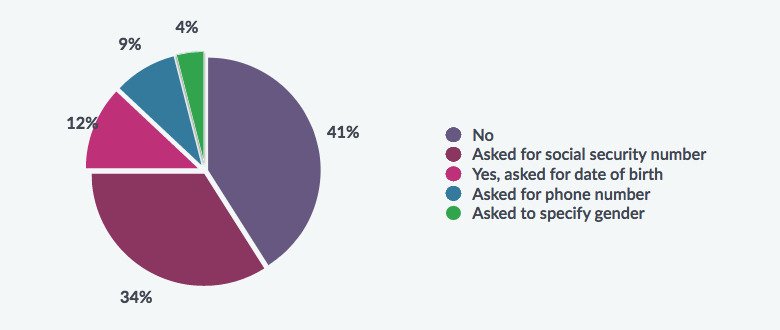 eCommerce sites should ask users for only that information which they'll be actively using.
Conclusion
Cart abandonment is still a major bane to eCommerce businesses. This report attempts to shed light on the common factors why shoppers abandon a cart and how eCommerce marketers can overcome them. The key strategies to alleviate cart abandonment include retargeting, employing scarcity and urgency principles, maintaining transparency in prices, and minimizing form-friction.
What Do You Think
How useful did you find our report? Do you want any additional questions to be included in our next survey? Tell us in the comments section below.