Sometimes you may notice that your visitors are internally redirected in a loop during a Split URl test. For example, say you have set up a Split URL test on your website. When a visitor lands on the test page, the visitor is redirected to the Variation URL per the traffic allocation defined by you. For example, on the Variation URL, the visitor clicks any element/link that takes them back to the Control page. However, the campaign is set up on the Control URL, so the visitor is again redirected to the Variation URL and the process repeats in a loop while the visitor stays on the variation URL.
Reason: We know that if a split URL campaign is running and the visitor lands on the campaign URL, the visitor continues to see the control URL or the variation URL, depending on the version they became part of, as the VWO campaign cookies would have been dropped in the browser for control or the variation. Further, when the button or the element on the variation URL which redirects to the control URL is clicked, the visitor is again redirected to the variation URL because of internal redirection leading to the Split URL campaign.
Solution: If you do not want VWO to redirect the visitor to the variation URL again and instead stay on the control version, you can set up the following segmentation:
Cookie Value _vis_opt_exp_ID_combi –> is blank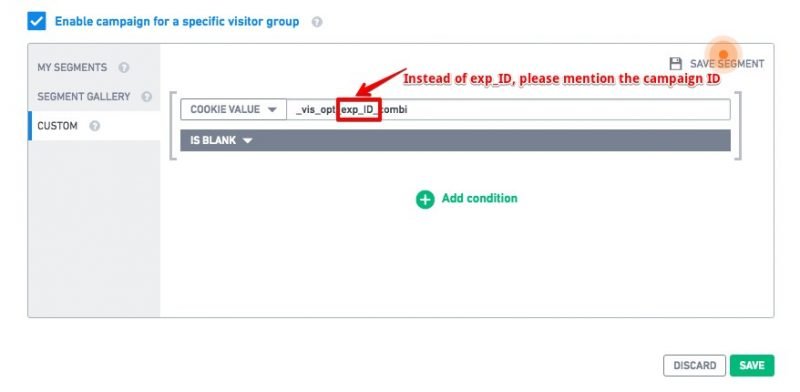 The _vis_opt_exp_ID_combi cookie is dropped in the browser whenever a user becomes a part of the campaign. So, for the first time, the cookie will not be present; and the user will become a part of the campaign. The user will either stay on the control or get redirected to the variation. For the next time, the cookie will be present, so the segmentation will not be qualified. Therefore, the user will not be redirected to the variation again.
The VWO campaign segmentation is checked only once by default. To make VWO check it again, add the following code before VWO tracking code on the campaign URLs:
For one campaign:
<script type="text/javascript">

_vis_opt_check_segment = {'Test_ID': true} 

</script>
For multiple tests:
<script type="text/javascript">

_vis_opt_check_segment = {'Test_ID1′: true,'Test_ID2': true} 

</script>
For all the tests:
<script type="text/javascript">

_vis_opt_check_segment = {'global': true} 

</script>
Note: Please do not add the above code snippets to the Goal URLs which will be defined in the campaign.