The Form Analysis dashboard is where you create tests to analyze form usage in your website. Using the dashboard, you can perform the following actions:
Start tracking forms
Filter and search for form analysis
Archive and delete form analysis
Start and pause existing analysis
To access the Form Analysis dashboard, click Form under Analyze on the navigation bar. You will find all your forms listed here.

Start Tracking Forms
To analyze a form, click Create. To learn more on how to start tracking forms, click here.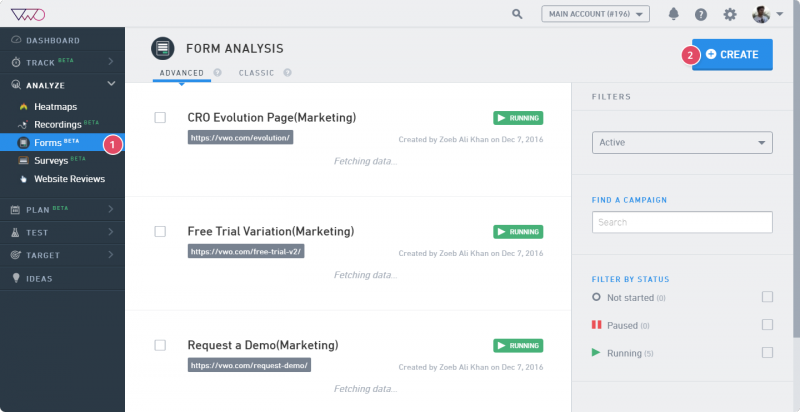 Filter and Search for Tests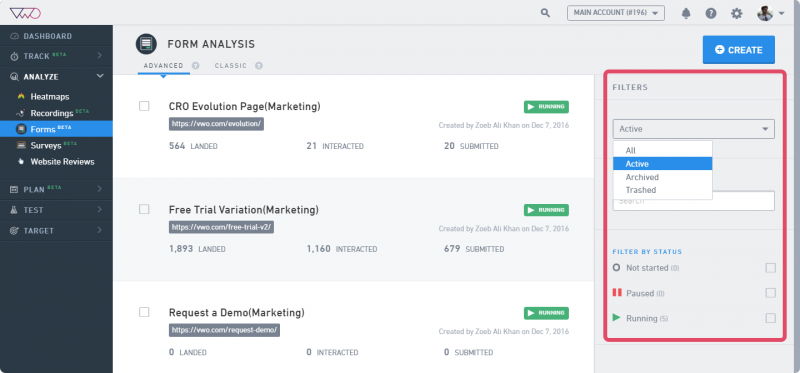 Filters drop-down
All: Shows all analysis. This filter is selected by default.
Active: Shows active tests.
Archived: Shows archived tests.
Trashed: Shows deleted tests.
Filter By Status
Running
Paused
Not started
Draft
Filter By Label: Show tests tagged with a specific label.
Search for a form analysis report using Find a Campaign
Start, Pause, Archive, and Delete Tests

To start analyzing forms, select the test and click Start on the toolbar.
To pause an analysis, select the test from the list and click Pause on the toolbar.
Deleting a test removes it permanently from VWO. To delete, select the test from the list and click Delete on the toolbar.
Archiving a analysis removes it from the dashboard, but you can access it in the future. To archive a test, select the test and click Archive on the toolbar.