[New Feature] Now automatically preview your A/B test on multiple browsers
There's great news for anyone using VWO to carry out A/B tests on their websites and landing pages. Your chosen A/B testing software now supports Multiple Browsers Previews i.e. you can preview how your variations will appear on different browsers before starting your test.

This feature is available to all users (including free trials) irrespective of what plan you're subscribed to. Within the app, you'll notice that instead of your usual previews, there is a new window.
Through this window, you can select the browser you want to test your variation in. As of January, 2013 the supported browsers are
Google Chrome (versions 22, 23 and 24)
Mozilla Firefox (versions 16, 17 and 18)
Microsoft Internet Explorer (versions 7, 8 and 9)
Android (Ice Cream Sandwich for Tablet and Mobile)
iOS 6 (iPhone and iPad)
Browsers and versions will be added and removed according to their increasing/decreasing usage.
Why do multiple browsers previews matter?
We all know how different browsers may render the same pages differently, and with constantly varying browser share on the Internet, making sure your website and the variation pages in your A/B test appear correctly on all major browser becomes a pain. Of course, you can always test a page manually on different browsers (and given availability of resources and time, we still recommend doing the same). However, sometimes you just need a quick way to ensure that users included in A/B test will see your webpages as intended, no matter which browser or platform they're using.
In case you find out that a variation is not appearing fine on a particular browser (say IE 7), you have two options:
Either edit your test and fix the variation
Or, simply exclude the particular browser from the test in a single click
We have implemented the latter feature of reviewing the screenshots and excluding the browser from the test right there in preview window. Here's how the review process looks like:
Review options in multiple browser previews


The review controls (that allow you to accept or reject screenshots) allow your team to review screenshots collaboratively as the screenshots that are not fine appear as flagged in the reports.
Genesis of this feature
This feature came about as direct feedback from customers and agency partners when Paras and Sparsh (our CEO and CTO) went on a business trip to Europe. Instead of integrating with expensive external providers for generating screenshots across browsers and platforms, we developed the technology in-house from the scratch. It took us time to perfect the technology, but in-house technology meant that all our users will be able to enjoy this feature (and not just the premium ones). Before launching this feature, we asked our selected partners and customers to try the feature and give us early feedback. Here's what some of them had to say:

At Traffic4u we launch a lot of tests and we want to make sure all variations look and behave the same in different browsers. We are very happy with the new screenshot functionality we suggested: it helps us to improve our clients' conversion rate even faster!" – Janco Klijnstra, Traffic4U

"Quick load times & no queues. Popular browsers supported. Handy way for a developer to quickly check a test, especially if our test department is busy." – Conversion-Rate-Experts
The new Multiple Browsers Previews will save you the hassle of firing up different browsers and seeing how code changes look on each of them separately, and should tremendously increase the value you derive out of VWO.
Additional features released
This is not all! We have been constantly working on improving your favorite A/B testing tool behind the scenes. Since our release of Mobile A/B testing, here are a few other updates that we've rolled out:
Updates to our Javascript library – VWO's client side Javascript library has been updated for much faster and robust performance.
Improvement in Timezone setting – We updated the timezone setting to better display reports.
Milestone: 2000+ paying customers!
We recently hit the 2000 paying customer mark! Today, we have customers across 50+ countries and across verticals (from eCommerce companies to publishers to SaaS players and even NGOs). Needless to say, we're very happy about achieving this in 3 years of incorporation.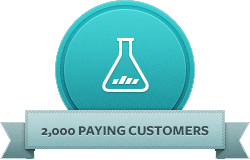 We're expanding and are in search for designers, marketers and engineers. If you're interested (or know someone who might be), we have full time positions based out of Delhi, India.
Finally, we really want to hear from you
Let us know what you think of Multiple Browser Previews. Is it helping? Do you think it's a step in the right direction? Is there something we can add/subtract that would make sense? Let us know your views in the comments form.