To set the definitions right, it is generally agreed that bounce rate is the percentage of visitors who exit the website immediately after arrival. Conversion rate is the percentage of visitors who complete website goal, which may be a signup, subscription, purchase, download, etc.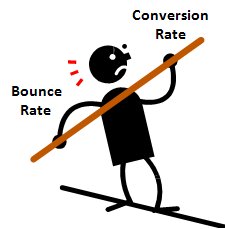 Most people believe that bounce rate and conversion rate is inversely proportional. That is, if bounce rate goes up, conversion rate would go down and if bounce rate goes down, your conversion rate will go up (because apparently you will have more interested visitors). On the face of it, this seems to be true and hence the proposition that fixing the bounce rate OR the conversion rate alone will achieve business goals seems to be true.
Sadly, this relationship between bounce rate and conversion rate is an illusion. To understand that there is NO relationship between these two metrics, you need to know what bounce rate really is. Does the bounce rate talk about visitors who viewed just one page on your website? Or should it capture more nuanced idea of visitors who stumbled across your website by chance? Most web analytics tools define bounce rate as the former: that is, a single visit is considered a bounce. Bounce rate, defined in such a manner, conveys completely wrong information.
Increasingly, visitors are becoming goal oriented.  For example, if they need to see your shipping policy, they will Google it, read about it and leave your website.  That visit is not a bounce: visitor got what he was looking for. Similarly, most of you will exit after reading this post for say 3-5 minutes. Do I consider you a bounced visitor? No, not at all.  You were engaged for a long time, how could you be classified as a bounced visitor. However, the web analytic tool I use will classify you as a bounce because you just read one page on the website. Realize that bounce rate which you are reading out from your tool is not what it says. Scrutinize definitions and understand what the metric is saying to put it in the right context.
So, what is the best way to represent bounce rate? I think bounce rate is best captured by measuring what percentage of visitors spent less than 30 seconds on your website. Any time  spent which is less will signal that visitors arrived on your website by chance and is NOT at all interested in what you are offering, hence quickly went back to what he was doing. All other visitors spending >30 seconds, even if they just see one page, should be classified as non-bounced visitors. To summarize:

Bounce rate = Number of visitors who spent < 30 seconds on the website /
Total number of visitors
Unfortunately, measuring exact time spent by a visitor by web analytics tools is difficult and most of them will approximate this number. That said, I think bounce rate should be defined by time spent on website and not by pageviews.
Coming back to conversion rate, how is it related to bounce rate? As traditional thinking goes, the visitors who bounced bring the conversion rate down as they have no chance of completing the website goal. I fully agree that bounced visitors (by definition) have no chance of completing the conversion goal. Then, I ask, why to include bounced visitors in conversion calculations at all? To truly reflect the progress you have been making on your website, conversion rate calculations should NOT include bounced visitors. Bounced visitors never really cared about your website, non-bounced are the ones who engaged and spent time going through what you are offering. Conversion rate should capture how good a job your website is doing for getting those visitors (who care about your website) to complete the goals. Conversion rate, ideally, should be calculated as following:

Conversion rate = Number of non-bounced visitors who completed the goal  /
Total number of non-bounced visitors
So, now we have two metrics which are not at all related to each other: bounce rate and conversion rate. Both of these metrics convey different information regarding how you are performing. Hence, both of these metrics should be separately optimized. Optimizing bounce rate is for convincing more number of people to engage with your website. Optimizing conversion rate is for convincing the visitors who are already engaged to complete your website goals. Reducing bounce rate AND increasing conversion rate are two different activities.  Remember that.
What are your views on relation between conversion rate and bounce rate? How do you and your web analytics tool measures bounce rate?